Buoyant leasing industry heading to cycle peak? October 2014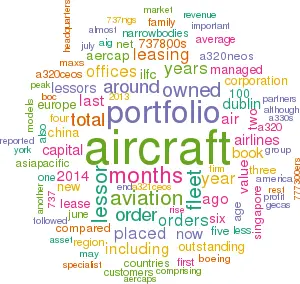 It has been a bumper year for the global aircraft leasing industry and — while not at the peak of the leasing cycle — the industry is significantly past the cyclical low point and is reaping the benefits of relatively bullish airlines, many of whom are expanding largely via leasing rather than through buying equipment themselves.
As a result the proportion of leased aircraft in the global fleet is still rising, and is now around the 41% to 43% level according to many analysts; this compares with a 25% slice in 2000 and 11% in 1990. Many forecasts say the proportion will rise above 50% sometime in the next decade — though there may be a couple of warning signs that a frothy leasing cycle peak may not be too far away.
First, there is a glut of orders from some of the smaller lessors (see below), and second — and probably most significant — some significant deals have been made or are in the process of being made: AIG has finally offloaded ILFC, Avolon's private equity and sovereign wealth fund owners are trying to sell the lessor, and Terra Firma has hired financial advisers to "explore its options" for AWAS. Clearly the best time to sell is as close to the cyclical peak as you can — but before everyone else recognises that a peak is coming.
In addition there is an unanswered question. Three LCCs — norwegian, AirAsia and Lion Air — who between them have orders for over 1,000 narrowbodies (representing 12% of the current backlog of narrowbodies at Boeing and Airbus) have signalled their intention to lease out aircraft. Each has suggested that one of the thoughts behind the move is that leasing companies make a higher margin than airlines, however erroneous the logic behind the thought. Some of the intention may be for inter-group leasing; some may be for efficient use of ordered equipment that is surplus to requirement when delivery approaches. However, none of them have publicly addressed the logic of the disparity between the airline model and aircraft leasing model: is it commercial suicide for an airline to pursue a business of leasing aircraft that are surplus to its own requirements to another airline? There are a handful of other carriers who may have appeared to have over-ordered.
In Aviation Strategy's annual survey of the leasing industry (see table, xxx), the overall fleet for lessors with more than 100 owned or managed aircraft totals 6,347 — compared with a total of 6,287 for comparative lessors as of 12 months ago (see Aviation Strategy, October 2013) and 5,879 as of two years ago.
There has been a significant change to the traditional Big Two (GECAS and ILFC), with AerCap acquiring ILFC in May this year and finally putting an end to the long-running attempts of AIG to sell its lessor. With the combination of AerCap's existing fleet to that of the now-gone ILFC's, the new Big Two (GECAS and AerCap) together account for 45.6% of the 100+ lessor fleet.
Both these companies are still comfortably ahead of the chasing pack of lessors, although in terms of outstanding firm orders (from lessors with 100+ aircraft), their dominance is less pronounced, as they account for 34% of orders. Aggressive ordering over the last 12 months has seen Air Lease Corporation now command the largest single lessor order book (with 363 aircraft), while BOC Aviation and SMBC Aviation Capital have also been bullish over the last year, adding 125 and 84 net orders respectively.
Interestingly, there has also been a raft of new orders from lessors with less than 100 aircraft in their current portfolio (pushing the share of orders from 100+ fleet lessors from 88.3% of all lessor orders a year ago to 83.4% today) — see table, xxx.
Over the next few pages Aviation Strategy profiles the leading lessors (defined as having more than 100 jet aircraft) in descending order of portfolio size.
General Electric Capital Aviation Services (GECAS)
It has been yet another year of trimming the portfolio at GECAS, with the owned and managed fleet now standing at around 1,600 aircraft, compared with 1,680 a year ago (and 1,830 three years ago).
However, a reduction in the average aircraft age that had been occurring over the last couple of years appears to have stopped — as at June 30 2014, by value 44% of GECAS's owned portfolio is five years old or less (compared with 45% a year ago and 41% 24 months previously), while 28% is aged between six and 10 years (29% a year ago), 24% is between 11 and 15 years (20%) and 5% is aged 16 years or more (6%).
More interestingly, there has been yet another shift in the relative importance of narrowbodies to widebodies over the 12 month period. As at mid-year 2014, narrowbodies accounted for 59% of the total fleet by value (compared with 45% a year ago, and more than the 57% proportion they accounted for 24 months ago), with 19% being widebodies (up from 29% a year ago and 20% two years ago), 11% RJs and 5% cargo variants (the rest of the "fleet value" is in engines).
Part of the giant conglomerate GE, GECAS's portfolio is placed with more than 230 customers in around 75 countries, but while the US remains the largest market for GECAS, it is being caught by Europe. As at June 30 2014, 26.6% of the fleet by value is placed in the US — down from 29% a year ago and 47% in 2009. The European share is now 25% of the overall fleet value, followed by the Asia/Pacific region (20%), the Americas (12%) and all other markets (17%).
GECAS still lags behind ILFC (now AerCap) in terms of outstanding orders, and its order book increased only slightly over the last 12 months, to stand at 244 aircraft today. In total GECAS's order book comprises 161 Boeing aircraft (45 737-800s, 95 737 MAXs, 11 777-300ERs and 10 787-10s) and 83 Airbus models (three A320ceos, 60 A320neos, 19 A321ceos and one A330-300s).
Based in Stamford, Connecticut, GECAS has more than 500 employees and 23 other offices around the world. In the first six months of 2014 GECAS's segment profit increased to $695m (compared with a profit of $652m in January to June 2013). That's welcome news given that in calendar 2013 GECAS had to take $732m worth of pre-tax impairments, much of which was due to write-downs of ageing freighter aircraft.
AerCap (inc. ILFC)
At long last — and after several failed attempts — insurance giant AIG (which received a $182bn US government bailout in 2008) has managed to offload its "non-core asset" — International Lease Finance Corporation (ILFC). The deal was done in May of this year, with the troubled lessor going to AerCap for $2.4bn in cash and 97.6m AerCap shares. Those shares were worth $4.5bn as at the closure date and represent around 46% of AerCap's total ordinary share capital, although AIG is subject to a lockup period before it can sell them, which expires in stages from February to August 2015. In addition ILFC paid a "special distribution" of $600m to AIG prior to the closure of the deal., while Robert Benmosche, president and CEO of AIG, and David Herzog, EVP and CFO of AIG, joined the AerCap board.
The acquisition of ILFC boosts the AerCap fleet by almost 1,000 to 1,296 aircraft (of which 1,134 are owned and 162 managed) with an asset value of around $45bn. 59% of that portfolio is narrowbody aircraft and 41% is widebody, and of the owned fleet the highest proportion of total net book value is provided by 737NGs, accounting for 26%, ahead of A330s (18%), A320s (17%) and 777s (15%).
Clearly there needs to be some rearrangement of the newly-enlarged portfolio; AerCap says it has "sold, disposed or parted-out" more than 100 aircraft valued at around $2bn since the announcement of the ILFC deal (in December 2013) which is double its targeted annual asset sales. This is aimed at reducing the average age of the portfolio into its targeted sweet spot, which is between five and eight years; the average age of the owned fleet as of June 30, 2014 was 7.6 years.
The enlarged AerCap now has more than 200 customers in over 90 countries, and while ILFC was based in Los Angeles and had offices across the globe, NYSE-listed AerCap will continue to be headquartered in Amsterdam, and to its existing offices in Ireland, the US, China, Singapore and the United Arab Emirates, AerCap has incorporated certain ILFC offices, such as Shanghai and Toulouse.
Along with a massive injection of aircraft to its portfolio, AerCap has taken on the large debt pile that ILFC was carrying. At the end of the second quarter of 2014 AerCap's balance sheet now contains $31.3bn of debt, compared with debt of $6bn as at June 30 2013. In the first six months of 2014 AerCap's revenue was $1.1bn, with net income coming in at $191m (with comparisons to the previous half-year meaningless given the ILFC acquisition in May).
In July AerCap exercised options to buy 50 A320neos, and including ILFC's pre-existing order book AerCap's total outstanding firm orders stands at 229 Airbus aircraft (three A320ceos, 175 A320neos, five A321ceos, 25 A321neos, one A330-300 and 20 A350-900s) and 85 Boeing models (26 737-800s, 10 787-8s and 49 787-9s). As of June 30th, 90% of deliveries through to the end of 2016 had already been placed with customers, and 50% of all deliveries arriving by the end of 2022.
BBAM
BBAM's managed fleet has remained stable year-on-year at around 450 aircraft, with an asset value of $14bn. Its most important model is the 737NGs, of which the portfolio contains 177 aircraft, followed by A320s, of which it has 135. There are also 25 A321s and 23 777s.
Based in San Francisco, BBAM has eight other offices around the world, in Nevada, New York, London, Zurich, Santiago, Singapore, Dublin and Tokyo. BBAM has around 80 airline customers, including Air France/KLM, British Airways and easyJet in Europe; China Southern, China Eastern and Air China in the APAC region; Delta and United in the US; and Emirates and flyDubai in the Middle East.
BBAM has no outstanding orders, again making it the only Top 10 lessor (excluding BCC) not to have any firm orders.
SMBC Aviation Capital
SMBC Aviation Capital continues to grow following its acquisition from RBS by Sumitomo Mitsui Banking Corporation in 2012. Its portfolio increased by 31 aircraft over the last 12 months to 374 (with an average age of five years), of which 277 are owned and 97 are managed, and which is valued at more than $10bn. The lessor is a narrowbody specialist, with all but 12 aircraft in its owned fleet being A320 family or 737NG models.
SMBC Aviation Capital employs more than 110 people and is headquartered in Dublin, with other offices in New York, Seattle, Toulouse, Amsterdam, Tokyo, Hong Kong, Beijing, Shanghai and Singapore.
The portfolio is currently leased to 95 customers, including Aeroflot, Norwegian and Air Berlin in Europe; Qantas, Air China and MAS in the Asia/Pacific region; and Etihad and Air Arabia in the Middle East.
SMBC Aviation Capital's ambitions were shown by the order it placed in July, at Farnborough, for 110 A320neo aircraft (although they can be converted into A321 models) worth around $11.8bn at list prices. This brings the total order book to 143 aircraft, comprising 15 737-800s, 18 A320ceos and 110 A320neos.
CIT Aerospace
CIT Aerospace's portfolio has risen from 329 to 350 owned and managed aircraft over the last 12 months. The portfolio has an average age of six years, and mostly comprises A320s and 737s, with A330s on the widebody side. Altogether narrowbodies account for 85% of the portfolio by value.
They are placed with around 100 airlines in 50 countries, though CIT says that the "Far East/Asia is driving our growth", where 37% of the portfolio by value is placed. In terms of importance that's followed by Europe (25%), the US and Canada (19%), Latin America (12%) and Africa/Middle East (7%).
Owned by US bank holding company CIT Group, CIT Aerospace is based in Dublin and has offices in New York, Fort Lauderdale, Los Angeles, Washington, Toulouse and Singapore.
CIT Aerospace has 128 assorted aircraft on order, including four 737-800s, 30 737-MAXs, three 737-900ERs, four 787-8s, 16 787-9s, 47 A320neos, three A321neos, one A330-200, five A330-300s and 15 A350-900s
AWAS
AWAS's portfolio continues to rise, now breaking through the 300 aircraft level (compared with 263 of 12 months ago). Narrowbodies dominate the portfolio, which is placed with more than 110 airlines in 50 countries, including Aeroflot and Vueling in Europe and Thai Airways and Philippine Airlines in the Asia/Pacific region.
Based in Dublin and with offices in New York, Miami and Singapore, AWAS is owned by private equity house Terra Firma and the Canada Pension Plan Investment Board. Both are looking to cash out with a profit now that the leasing upturn appears robust (and some eight years after Terra Firma acquired the company, prior to merging it with another lessor it bought a year later — Pegasus) by hiring financial advisors to look at options for an IPO, sale or piecemeal portfolio break-up.
AWAS has a small order book compared with most of its rivals — just 20 aircraft, comprising a single 737-800, 16 A320ceos, one A321ceo and two A350-900s.
Aviation Capital Group
Aviation Capital Group (ACG) has kept its portfolio of owned or managed aircraft stable at around the 250 level over the last 12 months. It has a mixed fleet of narrowbodies and widebodies, including the A320 family, 737s (classics and NGs), 757s, 767s, 787s and A330s, that are placed with around 90 customers in 40 countries.
Owned by US insurance group Pacific Life, ACG has a headquarters in Newport Beach, California and other offices in Beijing, Dublin, Santiago, Seattle, Shanghai and Singapore. In calendar 2013 ACG reported a 12% rise in lease revenue, to $736m, with net income reaching $76m.
Its outstanding orders total 118 aircraft, comprising 10 737-700s, five 737-800s, 60 737 MAXs, five 787s, four A320ceos, 30 A320neos, four A321ceos.
BOC Aviation
It has been another year of growth for BOC Aviation, with its owned and managed fleet rising by 19 to 248 aircraft, which have an average age of less than four years and a total asset value (as the end of June 2014) of US$10.8bn. Almost 80% of the portfolio is comprised of A320 family aircraft and 737NGs, with the next most important model being the 777, of which it owns 17.
The portfolio is placed with 58 airlines globally, including THY, Vueling and Air France in Europe, and Southwest and Air Canada in North America.
Owned by the Bank of China, BOC Aviation has a headquarters in Singapore and other offices in Dublin, London and Seattle. For the first six months of 2014, BOC Aviation recorded a net profit of US$163m (which allowed it to pay a US$139m dividend to the Bank of China) — exactly the same as it reported for the same period in 2013.
BOC Aviation's ambitious growth plans have been boosted by a raft of new orders this year, giving it the largest increase in orders among all lessors (even beating ALC). In July the lessor ordered 42 A320 family aircraft, comprising seven NEOs and 36 CEOs, and scheduled for delivery from now until 2019. And in August BOC Aviation also placed a firm order for 80 737s (50 737 MAX 8s and 30 737-800NGs) — to be delivered over 2016 to 2021 — as well as two 777-300ERs.
In total, BOC Aviation's order book stands at 193 aircraft, including 32 737-800s, 50 737 MAXs, two 777-300ERs, 35 A320ceos, 18 A320neos, 30 A321ceos and 26 A321neos — which now gives it the fourth largest order total of all lessors.
Boeing Capital Corporation (BCC)
Based at Renton, Washington, Boeing Capital Corporation is a provider of "last resort" finance for a wide range of Boeing products, from aircraft to space and defence. It has gradually been reducing its exposure and today owns, has partial ownership of, or interest in 230 aircraft — 20 less than 12 months ago and 41 fewer than two years ago.
BCC has around 160 employees in Renton and other offices in Los Angeles, Beijing, London, Hong Kong and Moscow. In the first six months of 2014 BCC reported an 18% decrease in revenue to $172m, although earnings from operations was up 22% to $77m. The revenue fall was due both to the reduction in its portfolio and "non-recurring adjustments to estimated residual values". As at the end of June 2014, BCC's portfolio's value totalled $3.4bn, compared with $4.1bn a year ago and $6.4bn five years ago.
As BCC has stopped releasing a standalone 10Q (instead reporting within the overall Boeing results), there is no longer any information available as to the age profile of the BCC portfolio, nor to how exposed that portfolio is to a handful of airlines.
Air Lease Corporation
Air Lease Corporation maintained its steady progression through the ranks of the lessors by entering the Top 10 after adding 27 aircraft over the last 12 months and bringing its total jet portfolio to 189. Launched in 2010 by ILFC founder Steven Udvar-Hazy, the Los Angeles-based lessor now has a fleet with an average age of less than four years and with a net book value of $8.3bn.
The portfolio includes 60 737NGs, 55 A320 family, 31 E175/190s and 21 A330s, and they are placed with airlines in 47 countries. The Asia/Pacific region is now firmly established as Air Lease Corporation's most important market, accounting for 46% of the portfolio by net book value, with Europe in second place with 35%, and then Central America with 9%, the US and Canada with 5% and the rest of the world with 4%.
In the first six months of 2014 Air Lease Corporation reported a 25.7% rise in revenue leap to $502m, with net profit increasing by almost 50%, to $123m.
Air Lease Corporation is maintaining its momentum with even more new orders. In July, at Farnborough, the lessor ordered 60 A321neos and six 777-300ERs, while also confirming the purchase of 10 737-8/9 MAXs that had previously been MoUs. All these are due to be delivered between 2016 and 2023.
This brings the lessor's total order book up to an impressive 363 new aircraft — 50 737-800s, 104 737 MAXs, 16 777-300ERs, 15 787-9s, 30 787-10s, 31 A320neos, 12 A321ceos, 79 A321neos, one A330-300, 20 A350-900s and five A350-1000s. As they arrive through the rest of the decade Air Lease Corporation will almost certainly become a Top 5 lessor at some point.
ORIX Aviation
Part of the Orix Corporation (a Japanese financial services group), ORIX Aviation has maintained its portfolio at around 170 aircraft over the last 12 months. Based in Dublin and with an office in Singapore, ORIX Aviation has a wide mix of aircraft in its portfolio, although the majority are narrowbodies.
These are placed with 70 customers in 35 countries, including BA, United, Lufthansa and South African Airways. ORIX does not have any aircraft on outstanding order.
ICBC Leasing
Part of the Industrial and Commercial Bank of China, ICBC Leasing deals in aviation, shipping and other "large-ticket" equipment. With headquarters in Beijing and other offices in Tianjin, Bangkok and Dublin, the Chinese lessor has increased its jet portfolio by 56 to 168 aircraft over the last 12 months.
They are placed with 40 airlines, with one-third of clients being Chinese and the rest from around the world, including Emirates, BA, Air Berlin, and Aeroflot. The lessor has outstanding orders for 29 A320ceos, 20 A320neos and 12 A321ceos.
Aircastle
Aircastle's fleet was trimmed by 10 aircraft over the last 12 months and now stands at 148 owned aircraft, comprising 90 narrowbodies, 42 widebodies and 16 freighters The fleet is relatively old, , and much of Aircastle focus is on reducing this; in the first six months of 2014 the lessor sold 17 aircraft, most of which were classic models. As a result the average age has come down from approximately 11 years as of 12 months ago to 8.6 years as of mid-2014.
The portfolio is currently placed with 63 customers in 37 countries that include Delta and United in the US, Iberia and Monarch in Europe, and SIA and Korean Air in the Asia/Pacific region. The most important market for Aircastle is Europe, where 62 aircraft are placed, followed by the Asia/Pacific region, with 46 aircraft, with the remainder in North America (21), South America (13) and the Middle East and Africa (six). In terms of individual airlines, the greatest exposure is to Chile's LATAM, to which Aircastle is leasing four aircraft that account for more than 6% of the lessor's total net book value.
Aircastle is headquartered in Connecticut and has offices in Dublin and Singapore, and in the first six months of 2014 reported a 16% rise in revenue to $402m, although net profit fell by 17% to $60.5m. It has no orders.
Macquarie AirFinance
The gradual contraction of Macquarie AirFinance's owned and managed portfolio has continued over the past 12 months, and it's now down to 136 aircraft (compared with 142 a year ago and 155 24 months ago). Largely a narrowbody specialist, of the 128-strong owned portfolio 63 are A320 family aircraft and 57 are 737NGs.
They are placed with 73 airlines in 43 countries around the globe, with the most important market being Europe, where 52 aircraft are on lease, followed by the Asia/Pacific region (34) and Latin America (20).
Part of the finance giant Macquarie Group, Macquarie AirFinance has its headquarters in Dublin and other offices in Singapore and San Francisco. The lessor doesn't have any Airbus or Boeing aircraft on outstanding order.
Avolon
Avolon has increased its portfolio significantly over the last year, with 30 extra units resulting in the portfolio reaching 133 aircraft. Within the owned fleet of 123 aircraft (and which has an average age of less than three years), the overwhelming majority of models are narrowbodies, including 48 737-800s and 48 A320s.
These are leased to 49 airlines in 27 countries, with its most important market being the Asia/Pacific region, where Avolon has placed 37% of its portfolio (at clients such as AirAsia and China Eastern), followed by Europe with 22% (with clients that include Ryanair and Virgin Atlantic) and Latin America with 20% (including Avianca and volaris).
Avolon's 63 staff are employed at a headquarters are in Dublin and other offices in Connecticut, Dubai, Shanghai and Singapore. The lessor is owned by three private equity funds — Cinven, CVC Capital Partners and Oak Hill Capital Partners — plus the Singaporean sovereign wealth fund GIC. Avolon filed an application for an IPO in New York in June this year, but is reportedly in talks with banks and other investors in China and Japan over a potential deal that could be worth around $7bn.
In July Avolon ordered six 787-9s — which had a list price of $1.5bn — and bringing its total order book to 56, which also includes 20 A320neos, 10 737-800s and 20 737 MAXs. In July Avolon also announced it was a launch customer for the A330neo by making a commitment to buy 15 of the type, with a total list price of S$4.1bn and due for delivery from 2018 onwards — though this has yet to be turned into a firm order.
Pembroke Group
The Pembroke Group's fleet has risen by three aircraft over the last 12 months, bringing its portfolio to 105 (of which all but four are owned). Though the owned fleet is primarily A320 family aircraft (of which it has 45) and 737s (38 aircraft), the rest of the fleet is quite varied, including A330s, five different 777 models (10 aircraft in total), 767s and three 717s.
The portfolio is leased to more than 20 airlines, including Air Arabia, Cathay Pacific, TUI and Ethiopian Airlines. The lessor is owned by London-based bank group Standard Chartered and operates from offices in Dublin and Limerick. No aircraft are on order.
SkyWorks Leasing
SkyWorks Leasing manages a portfolio of 100, some 32 aircraft down from 12 months previously. The portfolio includes a variety of models, including A319/320s, 737NGs, 757s and 767s.
Based in Greenwich, Connecticut, SkyWorks Leasing's clients include Air China, Southwest and Virgin America. It has no aircraft on order.
MC Aviation Partners (MCAP)
MC Aviation Partners (MCAP) has maintained its fleet at around 100 owned and managed aircraft over the last 12 months. A subsidiary of Japanese conglomerate the Mitsubishi Corporation, MCAP is based in Tokyo and maintains other offices in Los Angeles and Dublin.
It is largely a narrowbody specialist, with more than 75 A320 family aircraft and 737-800s, and unsurprisingly almost half of its portfolio is placed with airlines in the Asia/Pacific region. The lessor has no outstanding orders.
Other lessor orders
During the first nine months of 2014 there has been a substantial addition to outstanding firm orders from lessors with less than 100 aircraft. They include:
40 A320neo and 30 A321neo aircraft for Hong Kong Aviation Capital (HKAC)

20 A380s for Dublin-based Amedeo, part of an ambitious plan to establish the lessor "as the primary leasing specialist" for A380s.

13 Airbuses for New York's Aerospace International Group, bringing its total order book to 16 A320s and 11 A321s

Eight A319ceos for New York-based Z/C Aviation Partners (of which four have been delivered).

Six 777-300ERs for Connecticut-based Intrepid Aviation (also with offices in Dublin and Singapore) — a widebody specialist, that has a total order book of 14 (including one A330-200 and seven A330-300s).

Four A321ceos for China Aircraft Leasing Company (CALC), which has a total of 32 Airbuses on order.

Three 737-800s (of which one has already been delivered) for San Francisco's Jackson Square Aviation.
Other lessors with outstanding orders are:
Alafco — a lessor that is majority owned by the Kuwait Finance House — has 125 aircraft on order, comprising eight 787-8s, 20 737 MAXs, 85 A320neos and 12 A350-900s.
AlphaStream Capital Management is a Swiss lessor with outstanding orders for 13 A320ceos and two A321ceos, while Moscow-based Sberbank Leasing has 12 737-800s on order.
Meridian Aviation Partners is a Dublin lessor owned by Canadian private equity company Onex that has two A330-300s on order, while the leasing arm of the state's Dubai Aerospace Enterprise — DAE Capital — has two 777Fs on order, and Monaco-registered Inception Aviation has two A330-300s on order.
Major Lessors
| Company | Total portfolio | Change from 12 months ago | Boeing orders | Airbus orders | Total orders | Change from 12 months ago |
| --- | --- | --- | --- | --- | --- | --- |
| GECAS | 1,600 | -80 | 161 | 83 | 244 | 5 |
| AerCap (inc. ILFC) | 1,296 | -16 | 85 | 229 | 314 | 21 |
| BBAM | 450 | 0 | | | - | -6 |
| SMBC Aviation Capital | 374 | 31 | 15 | 128 | 143 | 84 |
| CIT | 350 | 21 | 57 | 71 | 128 | -27 |
| AWAS | 300 | 37 | 1 | 19 | 20 | -36 |
| ACG | 250 | 0 | 80 | 38 | 118 | -29 |
| BOC Aviation | 248 | 19 | 84 | 109 | 193 | 125 |
| BCC | 230 | -20 | | | - | 0 |
| Air Lease Corporation | 189 | 27 | 215 | 148 | 363 | 86 |
| ORIX Aviation | 170 | 0 | | | - | 0 |
| ICBC Leasing | 168 | 56 | | 61 | 61 | -16 |
| Aircastle | 148 | -10 | | | - | 0 |
| Macquarie AirFinance | 136 | -6 | | | - | 0 |
| Avolon | 133 | 30 | 36 | 20 | 56 | 4 |
| Pembroke Group | 105 | 3 | | | - | 0 |
| SkyWorks Leasing | 100 | -32 | | | - | 0 |
| MCAP | 100 | 0 | | | - | 0 |
| Total | 6,347 | 60 | 734 | 906 | 1,640 | 211 |
Note: This table includes jet lessors with at least 100 owned or managed aircraft; we exclude entities set up solely to manage the leasing activities of a specific airline.
Other lessors with orders
| | | | |
| --- | --- | --- | --- |
| | Boeing orders | Airbus orders | Total orders |
| Alafco | 28 | 97 | 125 |
| HKAC | | 70 | 70 |
| CALC | | 32 | 32 |
| Aerospace International Group | | 27 | 27 |
| Amedeo | | 20 | 20 |
| Alphastream | | 15 | 15 |
| Intrepid Aviation | 6 | 8 | 14 |
| Sberbank Leasing | 12 | | 12 |
| Z/C Aviation Partners | | 4 | 4 |
| Jackson Square Aviation | 2 | | 2 |
| Meridian Aviation Partners | | 2 | 2 |
| DAE Capital | 2 | | 2 |
| Inception Aviation | | 2 | 2 |
| Total | 50 | 277 | 327 |
Single aisle order backlog
Customer
Airbus
Boeing
Total
share
multiple

of airline

fleet

Unidentified
368
930
1,298
14.9%
Lion Air
234
285
519
6.0%
3.5
American
171
165
336
3.9%
0.7
AirAsia
319
319
3.7%
2.0
Southwest
283
283
3.2%
0.4
ALC
122
154
276
3.2%
norwegian
100
146
246
2.8%
2.6
AerCap/ILFC
205
26
231
2.7%
GECAS
82
140
222
2.5%
BOC Aviation
108
82
190
2.2%
Indigo
182
182
2.1%
2.2
THY
89
90
179
2.1%
0.9
Ryanair
178
178
2.0%
0.6
easyJet
170
170
2.0%
0.8
Other
2,593
1,489
4,082
46.8%
Total backlog
4,743
3,968
8,711
Source: Company reports