Welcome to Aviation Strategy — the boutique Aviation Consultancy and Publisher of the highly-respected Aviation Strategy Newsletter.
Consulting
Our focus is on all aspects of commercial aviation. Our clients include LCCs, Regional, Charter and Network airlines, private equity houses, government and regulatory bodies, airports, banks, leasing companies and manufacturers. Based in London, our clients are global — in Europe, Asia, Africa, the Middle East and Americas. When required, Aviation Strategy forms teams of established experts to address particular issues. To find out more about Aviation Strategy please email info@aviationstrategy.aero.
Services
The principals and associates of Aviation Strategy have extensive experience in analysing, commenting, reporting and forecasting on all commercial aspects of the aviation industry.
Partners — Skailark
Skailark is a new technology company set up to provide competitive data and analysis to the aviation industry — informing decisions on strategy, transformation, M&A, fleet, and network.in the post-pandemic world.
Skailark has built up contemporaneous data on the detailed costs and key drivers for 200-plus airlines globally, information that can be accessed on a flight, segment, fleet, company or industry basis.
Skailark's web-based platforms allow for user-friendly dynamic modelling. See for example, the analysis of the proposed Frontier Spirit merger in the April 2022 issue of Aviation Strategy.
To understand more about the service please contact Christian Soyk through contact@skailark.com or visit https://skailark.com/

Partners — Global Aviation
Aviation Strategy has entered into a partnership with Athens-based Global Aviation SA . Global Aviation was founded in 1997 by Markos Tsaktanis, whose career includes top managerial and Board of Directors' positions at Aegean Airlines, Lease Corporation International (LCI) and Group 4, among others. Markos is now Chairman of the company while his two sons, Petros and Alexandros, are Managing Directors.

Newsletter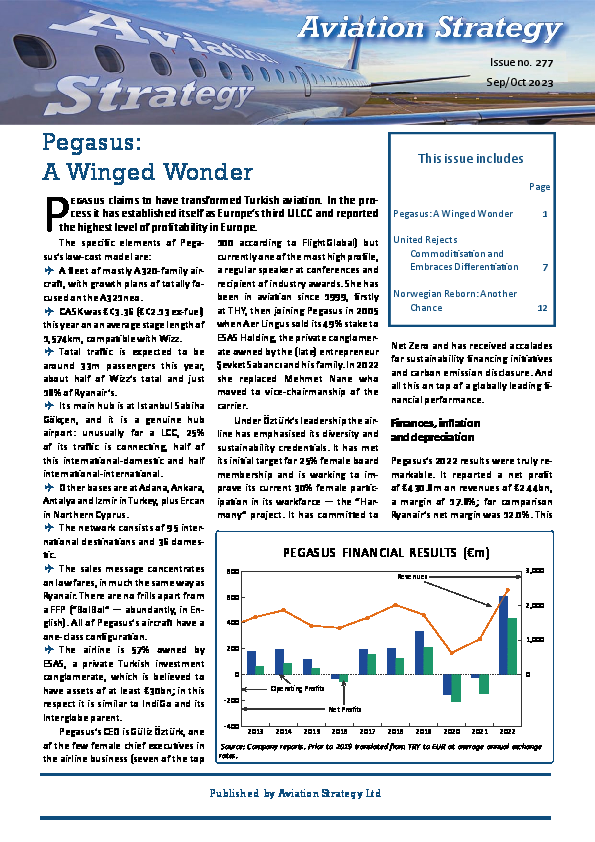 The specialist newsletter Aviation Strategy is normally published ten times a year (Jan/Feb and Jul/Aug are combined issues), although the Covid-19 pandemic recently disrupted production schedules. Our editorial policy is to analyse contemporary aviation issues and airline strategies in a clear, original and objective manner. Aviation Strategy does not shy away from critical analysis, and takes a global perspective, with balanced coverage of the European, American and Asian markets.
The newsletter is available under a personal digital subscription (special offers are available for multiple subscriptions, intra-net distribution and academic study) and is emailed on publication. A subscription also provides online access to over 20 years of archives.
Comments