Boeing and Airbus: Two paths to globalisation October 2014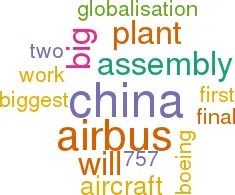 Boeing's big push on globalisation came with the 787 when substantial chunks of development and manufacture were spun out to Europe and Japan. But poor coordination meant that the manufacturer either had to take over sub-contractors or re-work finished fuselages back in the US. The upshot was years of delay and a horrendous cost overrun that will mean that the model does not make a real profit until after 2020. So Boeing's first big push to be global fell at the first fence and the company now places more emphasis on seeking cheaper facilities in the US but far from its unionised base in and around Seattle.
Airbus, meanwhile, has always had more distributed manufacturing thanks to the national work-sharing inherent in the original European consortium structure. Unlike Boeing which deals with many suppliers across the board Airbus tends to work with Tier One suppliers who are in turn responsible for dealing with their own network of parts providers. Now Airbus is to increase its offshore final assembly activity in two places: the US and China.
When the Mobile plant in Alabama starts work in a few months it will assemble the largest of Airbus's narrowbodies — the A321, probably the long-range version, recently named the A321neoL. It consists of a re-engined A321 that can cover nearly all the missions of the venerable 757. The fact that it will be made in Mobile makes it a much more acceptable option for Big Three US airlines, which are the biggest users of the 757 and so likely to be the biggest customers for any replacement. Should the A321neoL prove acceptable it piles pressure on Boeing to bring forward an all-new single-aisle as the design of the 737 family makes it less adaptable for moving up into 757 territory.
Airbus is still hoping to open a second factory in China to consolidate its recently acquired half-share of that market. John Leahy, the CCO of Airbus, thinks that China will overtake the US as the biggest airline market within a decade. Since Airbus decided in 2005 to open its assembly plant in Tianjin for A320s it has delivered about 200 airliners made in China. Since that first agreement with the Chinese for local production the Airbus fleet in China has risen from 240 to over 1,000.
The next plant in China will be used to fit and finish the interiors of A330s. Over a year ago Airbus unveiled a de-rated "lite" version of its best-selling A330 widebody aimed to providing a cheap, roomy aircraft for intercity hops around China. China suffers from air traffic constraints imposed among other things by military aviation, which puts a premium on bigger jets even for shorter flights. So far no Chinese carrier has signed up for the A330neo, but the plans for the finishing plant are expected to prompt an order in coming months.
Boeing, by contrast, has taken a strategic decision not to locate a final assembly plant in China (or seemingly any other country outside the US, for that matter), preferring to rely on its extensive use of its global network of sub-contractors to earn it favour with countries seeking manufacturing offsets against their big purchases of American aircraft. Given that final assembly accounts for less than 10% of the total cost of an aircraft, that might be a convincing argument. But the sheer visibility of a big assembly line and the sight of hundreds of workers finishing off the manufacture of impressive aircraft might work in favour of Airbus.
Given that the two follow each other in other ways — such as the move to super-twins in widebodies and new-engine options in single aisles — it is interesting to see a clear divergence in how to play the globalisation game.