Operating lessors: Resilient
business enters consolidation phase October 2016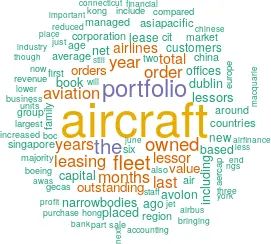 The operating leasing business has been more than resilient throughout the economic cycle, growing during 2008-2012 economic recession, with no casualties despite the numerous failures of small, under-capitalised airlines. It has now moved into a consolidation phase.
It seems clear that some western owners of lessors are trying to exit at what may be the cyclical pricing peak through an IPO or a trade sale. If the latter route then the majority of the prospective buyers are Chinese financial institutions. The attractions of the operating leasing industry are the promise of good financial returns and the ownership of moveable assets with apparently solid residual values.
In October, Avolon, owned by Beijing-based Bohai Capital, announced an agreement to acquire the aircraft leasing business of CIT Group, the transaction being expected to close in early 2017. This will elevate Avolon to third place in the lessor rankings, with a combined fleet of about 600 aircraft plus 264 on firm order. The combined owned in-service fleet will have an average age of 4.6 years and an average remaining lease term of 6.7 years.
The price to Avolon is reported as $10bn, some $600m above CIT's net asset value of $9.4bn as at mid-year.
From an integration perspective, merging leasing companies should be a much less complex exercise than merging airlines — staff are mostly highly specialised marketing or financial experts and there are certainly no union issues, and IT systems are fairly well standardised through the industry. The success of otherwise of a purchase, of course, depends on getting the price approximately right — reflecting the future value of the fleet and the reliability of the lessees.
Economic conditions have generally been favourable for the leasing industry in recent years. In particular, minimal interest rates have reduced the cost of debt to 2-3%pa for the better-quality lessors, while lease rates, although they have declined, still represent a 9%-plus yield (annual rentals as percentage of value). In turn, investors' expectations of risk-adjusted return on equity have softened from 15-16% to around 8%.
The impact of very low fuel prices has also generally been beneficial in that it has reduced financial pressures on airlines and reduced the risk of lessee defaults. On the other hand, lessors have invested heavily in new technology types, and a question has arisen as to whether these aircraft will maintain the lease premium over standard types needed to justify the higher purchase prices paid by the lessors.
A more general concern is the lessors' exposure to a serious downturn in the global airline industry in the next couple of years, or even a slow-down in Asia-Pacific growth. The lessors' orders are skewed towards the shorter term, whereas airlines have much longer-dated delivery schedules (see graph). A slump in aircraft demand would likely have to be absorbed primarily by the lessors.
Annual survey
Aviation Strategy's annual survey of the leasing industry (see table) reveals that the total fleet for lessors with a portfolio of more than 100 owned or managed aircraft is 6,497 — slightly lower than last year's total of 6,534 (see Aviation Strategy, October 2015).
The Big Two — GECAS and AerCap — have seen their dominance of the 100+ lessor fleet decline again, accounting for 40.8% of that fleet compared with 42.9% a year ago and 45.6% figure as of two years ago. Avolon, following the CIT purchase, has leapt from 15th to 3rd in the table of lessors. Despite another year of growth for SMBC Aviation Capital, this lessor lost a place in the ranking. ICBC, adding 81 aircraft, has risen from 11th place last year to 7th, while Lease Corporation continues its steady ascendancy up the ranks, rising from 9th to 6th place. The biggest faller was AWAS, down from 6th to 11th place in a year as it sold off a large chunk of its portfolio.
In terms of firm orders, of the top 10 lessors only ICBC Leasing, BOC Aviation and Avolon increased their order book year-on-year — all the rest either reduced their orders or had none outstanding to begin with. The Big Two now account for 33.5% of the total outstanding orders from lessors with 100+ aircraft, compared with 36.4% as of 12 months ago.
Despite a small reduction, Air Lease Corporation still has the biggest lessor order book (with 375 aircraft), and it's still just ahead of AerCap, which has 362 orders outstanding.
Over the following pages Aviation Strategy profiles the leading lessors — which we define as owning or managing more than 100 jet aircraft — in descending order of portfolio size.
General Electric Capital Aviation Services (GECAS)
It was another year of portfolio trimming for GECAS, with its total jet fleet of 1,450 owned and managed aircraft some 90 units fewer than 12 months ago — and almost 400 aircraft lower than its jet portfolio as of five years ago.
For the first time in a while the age profile of GECAS's fleet had become older. As at the end of June this year, 39.8% of GECAS's owned portfolio by value is five years old or less — compared with 48.6% a year ago.
As at mid-year 2016, narrowbodies accounted for 71% of the total jet portfolio by value (compared with 74.1% as of a year ago), with 23.7% being widebodies (20.9% 12 months ago) and 5.2% cargo variants (5.0%).
GECAS's portfolio is placed with more than 270 customers in 80 countries, but Europe has now overtaken the US to become its most important market, accounting for 25.7% of the lessor's fleet by value, just ahead of the 24.9% accounted for from the US (and which has fallen from 29% three years ago and 47% in 2009). The next most important market for GECAS is the Pacific Basin, with a 19.4% share.
Based in Stamford, Connecticut, GECAS is part of the GE conglomerate and also has 25 other offices around the world, employing more than 500 staff in total. In the second quarter of 2016 GECAS posted a 1% increase in net profit year-on-year, to $366m.
GECAS's order book has fallen by 26 aircraft in a year, and now stands at 250, comprising 130 Boeing aircraft and 120 units from Airbus.
AerCap
In the first six months of 2016 AerCap posted revenue of $1,240m — 7.3% down year-on-year — and reported net profit of $456m, which was 25.5% down on H1 2015. AerCap says the reduced profits were due to a number of factors, including "sales of older aircraft during, lower net gain on sale of assets and higher interest expense".
AerCap has continued to trim its portfolio following the purchase of ILFC in 2014, to reach 1,202 aircraft today — some 65 fewer than 12 months previously. Of that total portfolio, 1,070 are owned — which is 60 fewer than 12 months ago — and they have an average age of 7.7 years, thanks to ongoing disposal of older aircraft. In the second quarter of 2016 alone AerCap sold 32 of its owned aircraft, with an average age of 14 years.
The majority of the owned fleet is comprised of narrowbodies, including 446 A430 family aircraft and 313 737NGs. Other important models include A330s (111 aircraft), 777s (62), 767s (38) and 787s (40). As of the end of the first-half of 2016 99.4% of the fleet was out on lease to more than 200 airlines in around 80 countries.
AerCap is based in Dublin and also has offices in Amsterdam, Los Angeles, Shannon, Fort Lauderdale, Miami, Singapore, Shanghai, Abu Dhabi, Seattle and Toulouse. It has continued to buy-back its shares during 2016, purchasing more than 15.4m as of early August; since completing the purchase of ILFC in May 2014 it has spent more than $1.25bn on share repurchases.
AerCap's total outstanding firm orders stand at 224 Airbus aircraft (161 A320neos, 49 A321neos and 14 A350-900s) and 138 Boeing models (100 737 MAX 8s, 38 787-9s). All of the new aircraft it is receiving through to the end of 2017 have been leased, while 90% of deliveries through 2018 have also been contracted out.
Avolon and CIT Aerospace
As discussed above the CIT transaction should complete by early 2017.
Avolon became a fully-owned subsidiary of China-based Bohai Leasing (part of the Chinese conglomerate HNA Group), after the $2.6bn acquisition was completed in January this year (and with Avolon delisting from the New York Stock Exchange).
Bohai also owns Hong Kong Aviation Capital and as part of the deal Avolon took on management of that fleet, which was the driving force behind the substantial increase in Avolon's portfolio over the past 12 months, when it added 92 aircraft and built its owned and managed fleet to 244. The 222 owned aircraft have an average age of three and a half years. and are largely narrowbodies, including 116 A320 family ceos and neos and 66 737-800s.
The fleet is placed with 84 airlines in 41 countries, with the largest market for Avolon being the Asia/Pacific region, where around 50% of aircraft are leased, followed by the Americas, where 22% of the fleet is placed.
Avolon employs just over 100 staff, with a headquarters in Dublin and other offices in Connecticut, Dubai, Shanghai and Singapore, and with an office in Hong Kong launching in June this year.
In the second-half of 2016 Avolon will complete the acquisition of a portfolio of 45 aircraft from GECAS, which are currently on lease to 29 airlines in 15 countries. Avolon also has 133 aircraft on outstanding order (which includes 70 A320 family neos on order from HKAC).
Owned by giant US bank holding company CIT Group, CIT Aerospace is based in Dublin and operates other offices in New York, Fort Lauderdale, Los Angeles, Washington, Toulouse and Singapore.
CIT Aerospace increased its fleet by 10 aircraft since last year, bringing its portfolio up to 352 aircraft, of which 286 are owned. That owned fleet has an average age of six years and an asset value of $9.8bn, and the majority are narrowbodies — including 117 A320 family aircraft and 86 737s — though it also has 40 A330s. The portfolio is leased to more than 100 airlines in 50 countries.
The CIT Group, as a bank holding company, is subject to increasingly stringent capital adequacy regulations (and with over $50bn of assets is subject to enhanced prudential regulation under the Frank-Dodd Act) which significantly constrains the ability to grow an aircraft leasing business through the order book. Finding that its own share price did "not reflect the value of the commercial air leasing business" it initiated the process to separate CIT Aerospace earlier this year. Among the reported "invited" bidders were the HNA Group, ICBC, CDB and ORIX, and in October CIT agreed to sell the business to HNA's Avolon for $10bn, with the deal expected to be completed by the end of March 2017.
CIT Aerospace's order book has fallen by 12 units, to 143 aircraft, but the lessor has nearly $1bn of new aircraft scheduled for delivery in the next 12 months — all of which already have lease commitments.
SMBC Aviation Capital
SMBC Aviation Capital has increased its total portfolio yet again, adding 36 aircraft over the year to bring the total number in its fleet to 455 aircraft. Of these 300 are owned and 155 managed, and the owned fleet is made up almost entirely of narrowbodies, including 123 A320s, 122 737-800s, 31 A319s and 15 A321s.
The portfolio is placed with customers all around the globe, including United and American in North America; BA and Air France in Europe and China Eastern and Qantas in the Asia/Pacific region.
SMBC Aviation Capital is part of the Sumitomo Mitsui Banking Corporation and
employs 160 staff in its headquarters in Dublin and at other offices in New York, Miami, Toulouse, Amsterdam, Tokyo, Hong Kong, Beijing, Shanghai and Singapore.
SMBC's outstanding order book has come down slightly over the past year, to 202 aircraft that comprise 90 737 MAXs 110 A320neos and two A321ceos.
BBAM
BBAM's portfolio has remain flat over the last year at 408 managed aircraft, including 175 737NGs, 146 A320 family aircraft, 29 777s, 13 787s, 12 757s and 10 A330s.
They are leased to airlines that include Air China and China Southern in the Asia/Pacific region; Lufthansa and Air France in Europe; American and Air Canada in North America; and Etihad and Emirates in the Middle East.
BBAM has 120 staff at its headquarters in San Francisco and other offices in New York. London, Zurich, Santiago, Singapore, Dublin and Tokyo. BBAM has no outstanding orders, and it remains the only Top 10 lessor not to have any.
Air Lease Corporation
Air Lease corporation expanded yet again over the last year — though at a slower rate than the previous 12-month period — by adding 31 aircraft and bringing its total jet portfolio to 278 aircraft, of which 245 are owned and 33 managed. Incidentally in December last year ALC agreed to sell its fleet of 25 ATRs to Nordic Aviation Capital, and is now concentrating on the jet business.
Based in Los Angeles and Dublin, the lessor's portfolio has a net asset value of $11.7bn and an average age of under four years. The owned fleet is mixed, though overweight with narrowbodies that include 101 737NGs, 75 A320 family aircraft and 22 Embraer 175/190s. Widebodies include 22 A330 and 20 777s.
The portfolio is placed with 91 airlines in 53 countries across the world. By net book value the largest market for ALC is still the Asia/Pacific region, accounting for 45.3%, followed by Europe with 29.5% and the Middle East and Africa with 8.6%.
In the first six months of 2016 Air Lease Corporation recorded revenue of $693m, 18.9% higher than H1 2015, with net profit almost doubling — from $95.4m in January-June 2015 to $184.7m in the first half of 2016 That financial growth will continue as new aircraft steadily arrive from an order book for 375 units — still the largest of any lessor.
ICBC Leasing
ICBC Leasing is based in Beijing and is owned by the Industrial and Commercial Bank of China. It leases everything from aircraft and maritime vessels to trains and excavation vehicles, and has other offices in Tianjin and Dublin.
The lessor has increased its portfolio substantially in the last 12 months, to 269 aircraft, of which narrowbodies form the majority — including 88 A320s, 76 737s and 27 A321s. This has helped the lessor jump four places in the lessor table over the last 12 months.
It has 48 customers around the globe, with a large concentration of customers in the Asia/Pacific region, including AirAsia, Singapore Airlines and China Airlines. In Europe its customers include easyJet, Virgin Atlantic and British Airways.
The lessor has outstanding orders for 27 A320 family aircraft, 21 737-800s and two 737 MAX 8s.
BOC Aviation
BOC Aviation's portfolio rose by another nine aircraft over the last 12 months, bringing the total portfolio to 265, of which 226 are owned and 39 are managed.
The most common type in the owned fleet is A320 family aircraft (numbering 111), followed by 737NGs (76 aircraft), 777-300ERs (13) and A330s and Embraer E190s (11 each).
The portfolio has an average of less than three and a half years, and is placed with 64 customers in 31 countries, with 55% of the revenue earned in the first-half of 2016 coming from airlines in the Asia/Pacific region, and most of the rest located in Europe (22%) and the Americas (17%).
In total BOC Aviation recorded revenue of US$579m for the first six months of 2016, 8.2% better than January-June 2015, and saw net profit rise 23.8% to $212m.
BOC Aviation is based in Singapore and other offices in Dublin, London, Seattle and Tianjin. Majority-owned by the Bank of China, BOC Aviation listed on the Hong Kong stock exchange in June 2016, which was the largest aircraft leasing IPO in history and which raised $1.1bn from the sale of new and existing shares.
In November last year BOC ordered 11 737-800s and 11 737 MAX 8s, for delivery in 2018-2021, helping its outstanding orders to rise by 30 over the last 12 months (the largest rise of any lessor) and bringing the total order book to 211.
Aviation Capital Group
A subsidiary of US insurance group Pacific Life, Aviation Capital Group (ACG) is based in Newport Beach, California and operates other offices in Beijing, Dublin, Santiago, Seattle, Shanghai and Singapore.
ACG's fleet of owned or managed aircraft has increased by an estimated five aircraft over the last 12 months, to 265, thanks largely to the purchase of 20 737-800 and A320 aircraft (with have an average age of four years) from GECAS in the second-half of 2015. More than 95% of the portfolio are narrowbodies, and the fleet is placed with 100 customers in around 45 countries.
In 2015 ACG's lease revenue rose by 4.6% to $833m, with net income increasing 18.8% to $107m. Its outstanding order book has dropped by six aircraft, to stand at 99.
AWAS
AWAS's portfolio fell by 80 aircraft over the last 12 months, to 240, after it sold a tranche of 87 very young aircraft to Macquarie AirFinance for $4bn.
The sale was part of the plan by AWAS's owners — private equity house Terra Firma (which owns a majority stake) and the Canada Pension Plan Investment Board — to maximise returns at the top of the leasing cycle. However, an intended sale of AWAS to one of several Chinese suitors (including Bohai Leasing) failed to materialise, reportedly because Terra Firma thought the bids were too low. However, it appears that Terra Firma is planning to restart the sales process in early 2017, again targeting Chinese investors, and it is very likely that AWAS will have new owners by the time Aviation Strategy conducts its next leasing survey.
AWAS's remaining portfolio includes a mixture of narrowbodies and widebodies that are placed with more than 90 customers in 49 countries. AWAS is based in Dublin and has offices in New York, Miami and Singapore, and its order book stands at just 15 aircraft, derived from an order placed in June this year for 12 A320ceos and three A321ceos.
Macquarie AirFinance
Macquarie AirFinance delivered a second consecutive year of significant growth by adding 43 aircraft over the last 12 months, bringing its portfolio to 213 aircraft (of which all but two are owned).
The portfolio is largely made up of narrowbodies, with the owned fleet including 117 A320 family aircraft and 79 737NGs, supplemented by nine A330s, three E-Jets, two 777s and a single 757.
They are placed with 94 customers in 51 countries around the world, with the most important market being the Asia/Pacific region (where 77 aircraft are placed to customers that include China Southern, AirAsia and Qantas), overtaking Europe in the last 12 months (where 63 aircraft are contracted, to airlines that include BA, Norwegian and Vueling). The next largest market is the Americas, with 61 aircraft.
Macquarie AirFinance is based in Dublin and is owned by finance giant Macquarie Group, with other offices in London, Singapore and San Francisco. The lessor has no aircraft on firm order.
Aircastle
Aircastle's increased its portfolio by 18 aircraft over the last year, and it now stands at 169 owned and 10 managed aircraft, which have a net book value of $6.8bn.
The owned fleet comprises 120 new generation narrowbodies, 34 new generation widebodies, nine freighters and six classic generation aircraft, with a total average age of under eight years, (compared with an average age of more than 11 years as of six years ago) as it continues to "de-risk our portfolio" through a strategy of shifting its fleet mix to younger aircraft with longer remaining lease terms.
It has sold 43 aircraft since the first half of 2015 and in the in the first six months of 2016 acquired a total of 22 aircraft for around $660m (almost all of which were narrowbodies). Over the past five years the percentage of classic generation aircraft in its fleet as a percentage of net book value has fallen from 12% to 1%, while freighters have gone from 31% to 9%.
The portfolio is placed with 63 airlines in 35 countries, but the most important market for the lessor has changed over the last few years, with the Asia/Pacific region now accounting for 37% of total aircraft net book value (compared with 20% as of seven years ago), ahead of 24% for the European market (compared with 46% in 2009).
Aircastle is based in Connecticut and has offices in Dublin and Singapore, and its largest single customers (each accounting for more than 6% of total fleet net book value) are Avianca Brazil (leasing 10 aircraft), Chile's LATAM (three aircraft) and Lion Air (11).
In the first half of 2015 Aircastle recorded a 6.3% fall in revenue to $373.7m, while net profit was down by a third to $56.3m. This was partly due to lower gains from the sale of aircraft, lower maintenance revenue and impairment charges for an A330 after it completed a review of its widebody and freighter aircraft "given weaker market dynamics for these aircraft". Aircastle has no outstanding orders from Airbus or Boeing.
Boeing Capital Corporation
Boeing Capital Corporation (BCC) is based at Renton, Washington, and supplies "last resort" finance for all of Boeing products. Over the last 12 months BCC has reduced its commercial aircraft exposure significantly, and its portfolio of fully- and partially-owned aircraft has fallen to an estimated 175 (55 less than a year ago).
In the first six months of 2016 BCC's revenue fell by 26.4%, to $148m, with earnings from operations falling by 25.8% to $23m. As at the end of June 2016, the net value of BCC's portfolio's value was $3.8bn, compared with $3.9bn as of December 31st 2015 and significantly down on the portfolio value of $6.4bn as of seven years ago.
Much of this portfolio is placed with US airlines, and a majority of aircraft types are out of production models such as the 717 and MD-11; the BCC site currently lists a number of aircraft for sale, including six MD-11Fs that were all manufactured in the 1990s.
ORIX Aviation
ORIX Aviation is part of the Orix Corporation, a Japanese financial services group, and operates out of Dublin, and its owned and managed fleet has increased by 10 units to 170 aircraft.
The lessor has a mixed portfolio of narrowbodies and widebodies, and these are placed with more than 60 airlines in around 30 countries around the globe, including Air China and China Southern in the Asia/Pacific region and BA and Ryanair in Europe. There are no aircraft on outstanding order.
CDB Leasing
Based in Shenzhen, CDB Leasing is majority-owned by the giant China Development Bank and underwent an IPO on the Hong Kong stock exchange this summer — though this raised just US$800m, lower than the hoped-for range of US$1bn to US$1.1bn.
The company leases a variety of equipment, including ships, construction machinery and rail stock, and over the last 12 months has added an estimated 20 jet aircraft, bringing its total portfolio to 130 aircraft, of which the majority are narrowbodies. As would be expected, most of CDB's customers are Chinese airlines, plus customers in the wider Asia/Pacific region.
CDB has outstanding orders for one 737-700 and 25 737-800s.
SkyWorks Leasing
SkyWorks Leasing is based in Greenwich, Connecticut and has other offices in Dublin and Hong Kong. It manages a fleet of 102 aircraft, up by just two units over the last year.
The diverse portfolio includes A320 family aircraft, 737NGs, 757s, 767s, 777s A300-600Fs and 747-400Fs, though the lessor has no aircraft on order.
MC Aviation Partners
MC Aviation Partners (MCAP) is a subsidiary of Japanese conglomerate the Mitsubishi Corporation and its 70 staff work at headquarters in Tokyo and other offices in Dublin and Los Angeles.
MCAP's portfolio of owned and managed aircraft has remained flat at 100 units over the last 12 months, with 90 of the fleet being narrowbodies, including 46 A320s and 41 737-800s. The Asia/Pacific region remains its single largest market, accounting for 52% of placed aircraft, followed by the Middle East (14%) and Europe/Africa (13%).
It has no outstanding orders.
Note that Dublin-based Standard Chartered has dropped out of our table this year as it has just dipped under the 100-aircraft portfolio that we use at the minimum entry point for our survey. It has two A330-300s on order.
Other lessor orders
Other lessors with outstanding orders (but currently with less than 100 aircraft in their leasing portfolio) include Alafco, majority owned by the Kuwait Finance House, which has 125 Boeing and Airbus aircraft on order.
China Aircraft Leasing Company (CALC) has 102 Airbus aircraft on order, while Hong Kong Aviation Capital (HKAC) has outstanding orders for40 A320neos and 30 A321neos.
Dubai-based lessor International AirFinance Corporation has orders for 30 A320ceos and 17 A330-300s, while Dublin-based Amedeo has 20 A380s on order.
AlphaStream Capital Management is a Swiss lessor with outstanding orders for 15 A320 family aircraft while Singaporean lessor Global Aircraft Trading has 11 Airbus models on order
Moscow-based Sberbank Leasing has 10 737-800s on order, while Intrepid Aviation — based in Connecticut — has six aircraft on order.
MAJOR LESSORS
Total
6,497
67
834
1,020
1,828
35
Orders
Company
Total portfolio
Change†
Boeing
Airbus
Total
Change†
GECAS
1,450
-90
130
120
250
-26
AerCap
1,202
-65
138
224
362
-14
Avolon (inc CIT)
596
102
79
185
264
55
SMBC Aviation Capital
455
36
90
112
202
-9
BBAM
408
Air Lease Corporation
278
31
179
196
375
-11
ICBC Leasing
269
81
23
27
50
6
BOC Aviation
265
9
101
110
211
30
ACG
265
5
68
31
99
-6
AWAS
240
-80
15
15
10
Macquarie AirFinance
213
43
Aircastle
179
18
BCC
175
-55
ORIX Aviation
170
10
CDB Leasing
130
20
26
26
SkyWorks Leasing
102
2
MCAP
100
Note: This table includes jet lessors with at least 100 owned or managed aircraft; we exclude entities set up solely to manage the leasing activities of a specific airline. † Change from 12 months ago
OTHER LESSORS
Total
44
364
408
Orders
Boeing
Airbus
Total
Alafco
28
97
125
CALC
102
102
HKAC
70
70
International AirFinance Corporation
47
47
Amedeo
20
20
Alphastream
15
15
Global Aircraft Trading
11
11
Sberbank Leasing
10
10
Intrepid Aviation
6
6
Standard Chartered
2
2