Argentina: Emerging hotbed of
LCC activity October 2016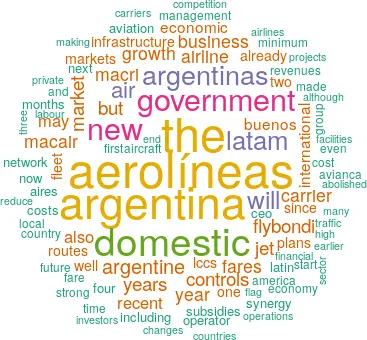 Argentina does not currently seem like a welcoming place for low-cost carriers. The economy is mired in a deep recession. Infrastructure costs are high. The government continues to set minimum air fares. Labour unions are militant (as was illustrated by the mid-October strikes at both Aerolíneas Argentinas and LATAM Argentina). And the country's airports are not ready to cope with any significant increase in competition.
Yet, recent months have seen a surge of interest in airline projects in Argentina. The list of people who have paid a visit reads like a Who's Who of global airline investors. There have already been some notable announcements.
Brazil's Synergy Group, majority-owner of Colombia's Avianca Holdings and 100% owner of Avianca Brasil, got there first. Earlier this year, Synergy secured a foothold in the Argentine domestic market by acquiring Macair Jet, a small turboprop operator, which it plans to rebrand and expand.
In the spring there was speculation that Irelandia might set up its third Viva brand airline in Argentina, possibly via buying an existing operator. But instead, a brand new airline with Ryanair involvement, Flybondi, was announced on September 30.
Flybondi hopes to take off next year as Argentina's first ULCC and expand rapidly in Latin America with A320s or 737-800s. The venture is backed by a group of prominent local and international investors, including Ryanair board director/ex-COO Michael Cawley, Air Canada ex-CEO Montie Brewer and BA CityFlyer Express founder Robert Wright.
Norwegian Air Shuttle is seriously interested in Argentina, too. It was reported in early October that CEO Bjørn Kjos had visited the country as Norwegian is evaluating plans for a base in Buenos Aires or Córdoba (the second largest city). Kjos was quoted calling Argentina a "hidden jewel" and saying that the country offered the largest potential for increasing visits he had ever seen. He was, of course, talking about potential transatlantic services, which would be years away. And Norwegian is also evaluating markets such as Chile.
In the meantime, there are major changes taking place at Aerolíneas Argentinas. After decades of losses, the state-owned flag carrier is making some progress towards a financial turnaround with the help of a new management team brought in from the private sector. Despite Argentina's deep recession, Aerolíneas grew its passengers by 10% and revenues by 4% in the first quarter of 2016. The management expects this year's loss to be less than one third of the $1bn loss predicted in January.
Market-friendly policies
All of that is happening because of the changes that have taken place in Argentina since President Mauricio Macri took office in December 2015 after 12 years of left-wing, populist rule by Cristina Kirchner. The Economist noted at that time that Kirchner's reign had "distorted the economy, made enemies at home and abroad and undermined institutions" and that Macri was promising "a return to economic sanity, diplomatic prudence and a more accountable democracy".
Macri has moved fast to implement reforms and rebuild relationships with the rest of the world. He has restored Argentina's access to international credit markets (by settling a court case filed by hedge funds over unpaid debt), abolished capital controls and floated the exchange rate. The Macri administration is in the process of removing energy and transport subsidies and restoring the credibility of the country's institutions.
The crackdown on the institutions has already led to changes at the statistics agency INDEC, which in June released revised figures for GDP for the 12 years up to and including 2015. Differences between the two sets of data were startling; for example, the 2014 figure was revised from 0.5% growth to a 2.6% decline. Having macroeconomic data that can be trusted is crucial for restoring investor confidence.
In recent months, a series of business forums have been held in Argentina with participants from all around the world. As a result of that and the reforms, the country is again attracting foreign direct investment.
After a recent government-sponsored forum, German engineering group Siemens committed to funding $5.6bn in infrastructure projects in Argentina, while General Electric said that it would invest $10bn in the country over the next decade. GE has already invested $1.2bn there in the past four months, which has included a $280m loan to Aerolíneas Argentinas to buy aircraft.
On the aviation front, the Macri administration is moving to eliminate subsidies to Aerolíneas Argentinas, intending to transform the flag carrier into a viable commercial enterprise, invest in aviation infrastructure, relax controls on domestic fares and allow more competition in the domestic market.
In January the government ordered the removal of subsidies to privately owned regional carrier Sol Líneas Aéreas, which had been Aerolíneas' feeder partner. Sol subsequently filed for bankruptcy and ceased operations.
Invigorating the commercial aviation sector will be a key component for making the new economic policies a success. As a side note, Macri himself may be well tuned to the needs of airlines because his family was the owner of Macair Jet (which they sold to Synergy).
One of Macri's immediate actions was to appoint a new CEO from the private sector for Aerolíneas Argentinas. Isela Costantini had been president/CEO of the local arm of General Motors and in 2013 had been included in Fortune magazine's list of the 50 most powerful women in business. Since she took office in January, Aerolíneas has benefited from many new policies (discussed in the section below).
The Argentine domestic market is currently dominated by Aerolíneas and its sister company Austral (around 74% of the seats), with LATAM Argentina having a 24% share and Andes Líneas Aereas and Macair Jet accounting for the remaining 2%. The flag carrier has expanded aggressively in recent years while the previous government restricted LATAM Argentina's growth in the domestic market.
But LATAM Argentina is now believed to be free to grow in the domestic market (subject to route approvals). In June it signed a partnership agreement with Argentina's tourism ministry for the joint development of domestic tourism. And it was recently re-authorised to operate international services from a second Buenos Aires airport (more on LATAM's plans in the section below).
All of that bodes well for Flybondi, Macair Jet and other potential LCCs that hope to carve out stakes in the Argentine domestic market and later also move to the international arena. Importantly, in May the Argentine government set a goal of doubling domestic air traffic in the next four years.
Another positive sign is that the strict government regulation of domestic air fares is beginning to give way to a liberal pricing regime. In February the government abolished controls on maximum domestic air fares. Although minimum prices remain — which could be a problem for LCCs — those controls too are likely to go in the not-too-distant future.
Importantly, Argentina has announced plans to spend $24-26bn on infrastructure projects over four years. Although the bulk of that will be on roads and rail, $1.35bn has been earmarked for upgrading air transport infrastructure, including the refurbishment of 17 airports. Funding will come from multilateral development banks, the treasury and public-private partnerships.
Some government officials have cautioned that the infrastructure upgrades must come before a competitive aviation regime. But new LCCs would probably start relatively slowly anyway, and they would prefer more basic facilities. They don't need fancy business lounges or costly air bridges. Hopefully the new entrants will have a say in the types of facilities to be provided.
This year's big concern has been the deteriorating economy. The austerity measures in Argentina have caused short-term economic pain. GDP forecasts for 2016 have steadily come down as the year has progressed; the latest projections see the economy contracting by 1.5-1.7%. In recent months inflation has been running at close to 40%.
However, economic growth is expected to resume in the final months of 2016 and next year could see a strong rebound. Argentina's GDP is projected to expand by 3-3.5% in 2017. Inflation is also expected to fall; the central bank's (ambitious) target is 12-17% in 2017, reducing to 5% in 2019.
So this could be an opportune time to get LCC projects started in Argentina. But such ventures may only be for the most risk-tolerant investors, because Argentina poses special risks.
It was indicative that in recent weeks Moody's and Fitch merely affirmed Argentina's credit ratings, rather than raising them. The agencies felt that the big credit positives (reforms and imminent economic recovery) were offset by political and economic risks. While Macri enjoys strong approval ratings, who knows what the next election will bring? Moody's wrote in a September 29 report: "It will take time for the full effect of the new policymaking to materialize and there is still a high risk that a different government could reverse these policy changes."
Ripe for LCC stimulation?
Flybondi's founders noted in their presentation how LCCs have stimulated demand in other countries. Air traffic in markets such as Turkey, India, South Africa and Brazil multiplied after LCCs arrived and drastically lowered fares. Within Latin America, LCCs now dominate the Mexican and Brazilian domestic markets (63% and 57% of total seats, respectively) and are a growing force in Chile (30%) and Colombia (7.5%).
There is no reason why Argentina would be different. It has broadly the same demographic and socio-economic characteristics and trends as other Latin American countries, including a rising middle class made up of many people who have not flown before. The country is large with poor road and rail infrastructure. Buses have traditionally been the only low-cost option for long-distance travel, but that mode is extremely time-consuming.
According to a recent LATAM presentation, Argentina and Ecuador had the lowest trips per capita among the top seven Latin American countries in 2014 — just 0.50, compared to Chile's 1.02 and the US's 2.68.
The Argentine domestic market would seem especially ripe for air travel stimulation because of the state-owned carrier's dominant position and because government controls have kept domestic air fares high.
In the following pages Aviation Strategy takes a look at each of the four existing or proposed airlines that look likely to be the main players in Argentina's future liberalised aviation regime.
The remaking of Aerolíneas Argentinas
Argentina's 66-year-old flag carrier has a colourful history. After its privatisation in 1990 managements from many different companies (including Iberia and American) tried to make it work, but Aerolíneas ended up filing for bankruptcy in 2001.
It was subsequently acquired by Grupo Marsans, a former Spanish tour operator consortium, but its financial struggles continued. The Argentine government renationalised Aerolíneas at the end of 2008, alleging that the private owners had mismanaged it financially, which had included running up $890m in debt. (Grupo Marsans ceased to exist in 2010 after another airline investment, Air Comet, was declared insolvent.)
Aerolíneas has benefited from government ownership in one important respect: it got a new fleet (debt-funded or on operating leases). It has also built an extensive domestic network and recorded significant traffic growth. Since late 2011, when the government imposed an austerity plan, Aerolíneas has even been trying to cut costs. But heavy losses have continued, so the cost to the Argentine taxpayer has been substantial.
Also, under government ownership, Aerolíneas' debt has ballooned even more (figure not available). When the new management took over, the carrier was behind in payments to Boeing, Airbus and Embraer.
Aerolíneas does not publicly release its financial results; in 2013, the latest audited year, it reportedly lost $247m on revenues of $2bn. But according to local newspapers, the government has been subsidising Aerolíneas to the tune of $700m annually. Transport Minister Guillermo Dietrich has reportedly estimated the total subsidies paid to Aerolíneas through 2015 at $5bn.
The Macri government wants to eliminate the subsidies, so the number one task of the new CEO is to make Aerolíneas profitable. Importantly, Isela Costantini is supported by an entirely new senior management team — all from the private sector and some with extensive airline industry experience.
CFO Pablo Miedziak, who came from the global hotel chain Starwood Hotels & Resorts, spoke of some of the challenges at a recent Airfinance conference. The new management had to start from scratch because Aerolíneas even lacked basic controls such as budgets and sales and performance targets. Operational performance was dismal (an early area of success: after seven months, punctuality is at 85%).
While Aerolíneas is now allowed to shed unprofitable routes, the initial focus has been on reducing non-operating costs and boosting revenues, as well as improving productivity and better matching aircraft to markets. In August Aerolíneas completed a refinancing that halved the interest rate. The new deal was a $280m, 10.5-year loan from GECAS that is secured by four A330-200s and three 737-700s scheduled for delivery this year and in 2018. GECAS is a longtime business partner and all of the aircraft are powered by GE engines.
Fleet renewal offers important ongoing cost savings. At the end of September Aerolíneas' 53-strong fleet consisted of A330-200s, A340-300s, 737-700s and 737-800s, while Austral operated 26 E190s. Aerolíneas continues to take A330-200s for growth and plans to reduce the A340 numbers to three by 2018. On the regional front, Aerolíneas is taking more 737-800s to replace the smaller 737-700s, which will facilitate some ASM growth as well as cost savings. The airline recently modified an earlier order for 20 737-800s to include 11 of the even more cost-efficient 737 MAX 8s.
On the revenue side, Aerolíneas is benefiting from a codeshare relationship with Delta that began in November 2015, as well as cooperation with other SkyTeam members (it has been in SkyTeam since 2012). The Delta deal gives Aerolíneas access to 16 US destinations, while at the Argentina end the airlines codeshare on two domestic routes and to Montevideo (Uruguay) and Lima (Peru).
Aerolíneas' own international network, which once spanned the globe, has whittled down to a handful of Latin America routes and five destinations outside the region: Miami, New York, Madrid, Barcelona and Rome.
Since 2008 Aerolíneas has focused on growing its domestic network, which now covers 36 cities. On many city-pairs it is the only operator. The carrier has already closed its regional jet business (operated by Sol) and is expected to shed a few more unprofitable routes, while maintaining a strong market position as competition intensifies. Aerolíneas will have to get its costs down, because it will be undercut by more efficient airlines when the domestic fare controls are abolished.
But Aerolíneas is already under pressure because the Macri government moved immediately to reduce the subsidies. This year's deficit was initially projected to be around $1bn, but the government has capped the subsidy at a much lower level for 2016; figures in the $260-450m range have been reported. Based on comments made by the CEO and CFO in recent weeks, Aerolíneas has reduced its operating loss materially this year. The goal is to achieve break-even in three or four years.
That may not sound very ambitious, but Aerolíneas is digging itself out of a deep hole and continues to be constrained by what the new CEO described to The Wall Street Journal as "a deeply ingrained bureaucratic culture". State-carrier mentality remains strong among the carrier's six powerful unions. It has been hard to sell ideas such as productivity improvements or increased worker participation in decision making. The pilots have gone on strike at least twice in the past month to demand higher pay.
With 12,000 workers, Aerolíneas is overstaffed, but given the current union attitudes it is hard to see how it could reduce the numbers. And it may not be possible to attain profitability without labour cost reductions. Privatisation might help but is probably not possible in the foreseeable future. When campaigning for president Macri promised to keep Aerolíneas in government's hands.
LATAM Argentina: Now poised for growth?
LATAM Argentina is one of several domestic units that the Chile-based group operates in South America as joint ventures with local partners. It was established in 2005 and it benefits from aspects of an LCC-style business model that LATAM implemented at its domestic subsidiaries in 2007.
Making the Argentine venture profitable had initially been a struggle because of the domestic fare controls, a 737-200 fleet and other factors. But the new business model, re-fleeting and a series of authorised fare increases helped. LATAM Argentina grew quickly. By 2009 it operated a 12-point domestic network and had captured 26% and 17% of the Argentine domestic and international markets, respectively.
But since 2009 LATAM Argentina has added only two domestic points and its market share has fallen slightly. The pause in growth may have partly been due to the difficulties LATAM had with the previous government, but the reasons are probably mainly economic. The fare controls meant that the carrier was not able to deploy the pricing aspects of the LCC-style business model and stimulate demand. Back in 2009 LATAM executives noted that the airline was already present in the 12 markets that could be served profitably in Argentina.
Argentina's prolonged recession has also contributed to the delays. LATAM executives said in August that even though today the Argentine market was "relatively healthy", the economic situation there still made them cautious.
LATAM Argentina has grown internationally, though. It has connected LATAM's Lima hub to two secondary cities in Argentina, after long serving it from Buenos Aires. From the capital it also serves three points in Brazil and one each in Peru, the US and the Dominican Republic.
With passenger revenues of $979.3m in 2015 and a fleet of 13 aircraft, LATAM Argentina is already quite a sizable airline. Its well-established domestic network and facilities and 11-year operating experience in Argentina position it well to start growing again when Argentina's economy recovers and the fare controls are abolished.
Interestingly, LATAM is currently working on another "redesign" of its business model in Brazil and in its "Spanish speaking countries". The key objectives are to increase efficiency, reduce costs, develop ancillary revenues and facilitate sustainable growth in domestic operations. While details are yet to be announced, it does seem like LATAM is preparing the domestic units for a new era of competition with ULCCs.
Flybondi — First ULCC disruptor?
Flybondi is the brainchild of its CEO Julian Cook, a Swiss executive who created FlyBaboo and also worked at GECAS, and Argentine entrepreneur Gaston Parisier. The two men revived an unsuccessful earlier project from 2008, because they felt that conditions had changed and that now was a good time to start a low-cost carrier in Argentina.
Flybondi seems to have solid credentials and plans. It completed its first financing round in August and is looking to raise a total of $75m. The intention was to submit route applications to the Argentine authorities in October, followed by presentations to labour unions and the start of operations in next year's third quarter.
The airline will be Buenos Aires-based and will initially operate 12 domestic routes from the capital, beginning with Buenos Aires-Córdoba. By 2021 the network will include 40 cities in Argentina and 34 elsewhere in Latin America. An initial fleet of six will grow to 25 by 2021. The choice is between the 180-seat A320 and 189-seat 737-800 and discussions with manufacturers are reportedly under way.
Flybondi promises great benefits to local employment: 1,500 direct and 20,000 indirect jobs. That could go down well with the government. The toughest task may be to get Argentina's labour unions to agree to the types of pay rates, productivity and flexibility that an LCC needs.
Notably, Flybondi has the idea of using a secondary Buenos Aires airport, rather than either Aeroparque Jorge Newbery or Ministro Pistarini International Airport (the two existing gateways, both hubs for Aerolíneas). There may be alternatives, such as an Air Force base at El Palomar just 20km away or La Plata Airport (67km from Buenos Aires). Such airports could conceivably offer lower costs for LCCs. But that part of the plan is believed to be very uncertain.
Flybondi promises "a new way to travel" in Argentina, for which the key component will be low fares. But the carrier faces some unique challenges, including the high cost of facilities provided by state-owned ground handling company Intercargo and the government imposing minimum fares.
The government controls mean that Flybondi may not be able to offer the types of ultra-low fares that would stimulate traffic. However, according to reports, Flybondi believes that it could manage for a while pricing near the lows. As the fares are in pesos, inflation will lower the minimum levels in real terms. And the carrier's leadership predicts that the minimum caps will have been removed by mid-2017.
Macair Jet — Future Avianca Argentina?
Although Macair Jet is primarily a charter and business jet operator, it does have a scheduled licence and permissions to operate various routes and larger aircraft, so Synergy Group could in theory build the operations relatively rapidly.
Macair Jet is based at Buenos Aires' Aeroparque Jorge Newbery. Although it has been in existence since 1995, at the time of Synergy's acquisition it operated only two scheduled air taxi routes, to Reconquista and Sunchales. The fleet was made up of six executive jets and one Jetstream 32.
Earlier this year German Efromovich, Synergy's founder and chairman, talked about relaunching Macair Jet as a scheduled operator by the end of 2016, equipping it with 18 turboprops and moving the base to Córdoba. He has also mentioned rebranding, though it not known if Macair would use the Avianca brand.
It is not clear how those plans are progressing. Synergy has its own financial issues and hands full with its other investments. Among other things, it is trying to secure new equity investors and a strategic partner for Avianca Brasil.
Nevertheless, Macair Jet gives Synergy a useful foothold in Argentina to tap future growth in a new market and to provide feed to Avianca's international services.
AEROLINEAS ARGENTINAS FLEET
| | | | | | |
| --- | --- | --- | --- | --- | --- |
| Total | 36 | 42 | 47 | 51 | (24) |
| | | | | | |
| | 2012 | 2013 | 2014 | 2015 | On Order |
| 737-700 | 22 | 22 | 22 | 18 | |
| 737-800 | 4 | 6 | 14 | 20 | (22) |
| A-330-200 | | 3 | 4 | 6 | (2) |
| A-340-300 | 10 | 11 | 7 | 7 | |
Source: Airline Monitor. Note: excludes Austral's fleet of 26 ERJ190 + 1 on order. In Sep 2016 Aerolineas converted 11 of the 737-800 orders to the 737 MAX 8