Air Berlin, Lufthansa and TUI:
A Teutonic solution October 2016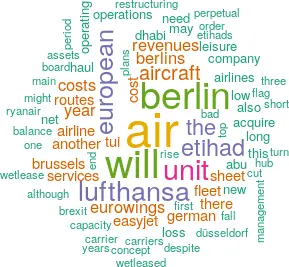 Air Berlin has announced yet another restructuring. This time it aims to shrink the scale of operations, abandon the core charter and seasonal "tourist routes", and (unfashionably) turn itself into a full-service hub carrier based on what it calls "dual hubs" at Düsseldorf and Berlin. It will concentrate on developing long haul services with connecting feed from major cities in Europe.
As part of this plan it has come to an agreement to wet-lease 40 A320s to Lufthansa for the next six years from April 2017 (subject to regulatory approval). At the same time it is ring-fencing its leisure oriented operations (including its Swiss and Austrian subsidiaries Belair and Niki) into what might be described as a "bad Air Berlin". This will involve a further 25 aircraft (including the 737s currently wet-leased to airberlin from TUIFly).
Then "good Air Berlin" will have a fleet of 61 aircraft — 30 A320 family, 14 A330s and 17 Q400s — down from an operational fleet totalling 136 at the end of June. In addition it plans to acquire ten more short haul jets, another three A330s and one more regional aircraft to leave it with a fleet of 75 — an effective 50% cut.
Subsequently it announced that it is in talks with TUI and Etihad to turn the rump of the leisure oriented businesses — the "bad Air Berlin" — into a new European airline.
What does all this mean? Air Berlin is in effect bankrupt, only supported as a going concern through its 29% shareholder Etihad. As the latest CEO, Stephan Pichler has admitted, it has been operating with a unit cost comparable to the Legacy airlines, but a unit revenue similar to European LCCs. Indeed, in each of the past ten years since its IPO, its average unit revenues have been lower than its unit costs, and it has lost a total of €1.8bn at the operating level and €2bn net over this period.
In the first six months of the current year, despite benefits from the lower fuel price, all key performance indicators deteriorated. Capacity in ASK terms was down by 5.2% year on year but demand in RPKs fell by 5.4% causing average load factors to dip. Unit revenues declined by 3.4% to 6.75€¢ (with a 5.9% year-on-year decline in the second quarter) but unit costs only fell by 1.3% to 7.72€¢; the company reported an operating loss for the period of €235m compared with a loss of €176m in the prior year. The net loss came in at €272m against a loss of €248m the year before.
The balance sheet is pretty much shot to pieces. On-balance sheet debt at the end of June stood at €1.3bn with cash of around €400m (it looks as if Etihad and its owners provided another €330m in loans in the period). To this should perhaps be added Etihad's €300m 8% perpetual convertible bond (plus €37m accrued interest), which is treated as quasi-equity in the accounts.
Long term assets stand at €650m, but this includes €400m intangible assets (essentially reflecting slots capitalised on the acquisition of dba and LTU). Overall net shareholders' funds (excluding the perpetual and intangibles) stood at a negative €1.7bn.
The company has been selling and leasing back what aircraft it owned — and all are now off-balance sheet. Capitalising the lease rentals might add an additional €5.5bn in debt. Under new accounting standards — see Aviation Strategy April 2016 — this will be required to be reported on balance sheet but will also be matched by a balancing asset amount.
There are three traditional airline management methods to return an airline to profitability. The first is to grow fast (organically or by acquisition) in order to reduce unit costs while hoping that unit revenues will not fall at the same rate. The second is to stagnate and forcibly cut admin, overhead, personnel and operational costs in order to cut unit costs while hoping that unit revenues will not fall. The third is to shrink to what are thought to be a core of profitable routes and hope that unit revenues will rise faster than unit costs. Air Berlin has exhausted the first two methods.
While Etihad (or rather its owner) has deep pockets, it is likely that its CEO James Hogan is getting a little fed up having constantly to top up its financial exposure to Air Berlin (although it does not report subsidiary losses on its own balance sheet). Legally Etihad as a non-EU shareholder cannot be seen to exercise control over a European airline despite its 29% shareholding (which would rise to an illegal 70% if it were to convert the perpetual convertible to equity), but it does have two seats on the board of directors and has parachuted in a couple of ex-Etihad executives onto the management team.
The prime focus for Etihad through its Etihad Airways Partners (which includes Alitalia, Darwin, Air Serbia and Jet Airways) is to support a full service network feed operation through its main hub in Abu Dhabi. To this end Air Berlin's scheduled services from Berlin and Düsseldorf to Abu Dhabi, and its code-share on connecting European services may complement Etihad's German routes, which are limited to Frankfurt, Düsseldorf and Munich. There may also be questionable modest benefit for connections from (and maybe through) Abu Dhabi onto Air Berlin's long haul routes. There may also be benefits from moving assets and combining resources between the EAP members. But the Air Berlin's short haul non-hub services are an irrelevancy.
Lufthansa in turn has said it will use 36 of the wet-leased A320s in its new "low cost" Eurowings unit and push the remainder into Austrian (subject to regulatory approval which it will surely receive).
On the matter of the ACMI wet-lease arrangement, from Air Berlin's perspective it may provide it with a modest margin over cost (although Lufthansa states that the rates will be "commercially competitive") and obviate the need to find even more redundacy payments, while for Lufthansa it provides capacity without the need to take on the responsibility for employees without capital exposure. The alternative for Lufthansa could have been simply to acquire the bits of Air Berlin that Etihad doesn't want, but that would have been political dynamite for its belligerent unions who are still battling the concept of Eurowings. This is despite the fact that the main unions at both Air Berlin and Lufthansa come under the umbrella of Ver.di. (Meanwhile, the aptly named UFO cabin-crew union at Eurowings is threatening strike action.)
Lufthansa could have walked away from the Air Berlin deal, but it appears that Lufthansa doesn't want Air Berlin to fail, at least in the short term — a weak rival in comfortable duopolistic competition might help to restrain the expansion of Ryanair, easyJet and Wizz (let alone Air France-KLM's Transavia) into its domestic market.
Nevertheless, taking on these wet-leased aircraft will propel Eurowings towards its ambitious aim of becoming one of the top three European LCCs adding to its current fleet of 21 A320s, 2 737-800s, 4 A330s and 10 CRJs — albeit still a long cry from Ryanair's 350 737s, easyJet's 257 A320s or Vueling's 110 A320s, let alone considering Norwegian's plans. And Ryanair, easyJet and Norwegian have lots of planes on order.
Just to complicate matters even further, Lufthansa has finally decided to exercise its option to acquire the 51% of Brussels Airlines it does not own; and it will consolidate the Belgian flag carrier from the beginning of 2017.
Brussels Airlines is now marginally profitable with an operating margin of 4% in 2015 on €1.1bn of revenues — at the top of the cycle. It operates 48 aircraft (30 A320s, 9 A330s, 1 737-300 and 8 RJ100s) through a hub operation at Brussels Zaventem. It is relatively low cost for a legacy flag carrier, the result following the demise of Sabena in the wake of Swissair's bankruptcy of the merger between Sabena's regional subsidiary DAT (renamed SN Brussels) and low cost hopeful Brussels-based Virgin Express. It has a niche position in the provision of virtually monopolistic services to the former Belgian colonies in Africa — where Lufthansa itself is weak (although SWISS is relatively strong).
Lufthansa has bizarrely suggested that it could incorporate Brussels Airlines into Eurowings, giving rise to concerns over national identity and branding — always important when dealing with flag carriers. If it does, it is possible that it will doom the Eurowings project to abject failure.
TUI meanwhile is another German operator in deep trouble. Its 2009 investment in Air Berlin, with a contra-deal to wet-lease 737s to Air Berlin's "leisure based" operations, has been a failure. It is faced with the disturbing thought of not having sufficient in-house capacity for its substantial tour operations on the traditional sun, sea, sex and sand leisure inclusive tours routes.
There have been rumours suggesting that TUI has been in talks with easyJet. The latter is deeply worried by the result of the UK Brexit referendum and has stated that its intention to acquire a European AOC to maintain an ability to fly between points in Europe that do not touch the UK should the UK lose full access to European open skies. One possible reading of the plan by Etihad, Air Berlin and TUI to set up a new European airline out of the "bad Air Berlin" could be an intention to sell the resulting combine to easyJet with a ready-made AOC — a rather expensive and complicated proposition which easyJet could not fall for.
There are further complications arising from Brexit.
Ryanair plans to expand its fleet by 50% over the next eight years and will be adding a net 25 aircraft a year for the foreseeable future. With the possibility of restricted economic growth in the UK it has stated that it will primarily base these aircraft in airports other than London Stansted (its largest base), focusing on markets that can provide growth. It has a low penetration in Germany — only a 6% traffic share — but is currently on the offensive.
It should also be remembered that Air Berlin PLC is a UK registered company. If the UK is excluded post Brexit from the European open skies, it would presumably need to re-register as a German holding company to ensure it retains its principal place of business within the EU. This will mean adhering to the Mitbestimmungsgesetz concept inherent in German corporate law — the principal of co-determination with employee representatives on both the shareholder-elected Supervisory Board (Aufsichstrat) and Management Board (Vorstand). Not a concept with which Etihad is conversant.
Will Air Berlin's latest restructuring work? Our best guess is that it will be able to reduce its losses, cash outflow and drain on Etihad's resources. It is however likely to remain as a main obstacle to a true restructuring of the German aviation market.
For the European industry to rationalise we need the barriers to exit to be minimised, for efficient carriers to be allowed to succeed and for inefficient carriers to be allowed to fail. That happened to a large extent through the clamp-down on state aid for flag-carriers. But Abu Dhabi has introduced another major distortion to the European industry.
AIR BERLIN: BALANCE SHEET DATA
| | | |
| --- | --- | --- |
| €m | June 2016 | Dec 2015 |
| Equity and reserves | 678 | 594 |
| Retained earnings | (2,003) | (1,719) |
| Equity due to Etihad | 337 | 326 |
| less Intangible assets | (401) | (405) |
| Net Assets | (1,389) | (1,204) |
| | | |
| LT Debt | (1,239) | (1,010) |
| ST Debt | (86) | (34) |
| Cash | 398 | 165 |
| Capitalised Leases | (5,450) | (4,959) |
| | | |
| Net Debt | (6,377) | (5,836) |
| Cash % revenues | 9.8% | 4.0% |
Source: Company reports, Aviation Strategy analysis
FLEET CHANGES
Total
134
30
34
48
75
63
118
Current
Proforma
Air Berlin
TUIFly
Eurowings
Brussels
"New" Air Berlin
"Bad" Air Berlin
Eurowings
737-700
5
5
737-800
7
30
37
A319
11
20
40
21
85
A320
61
20
9
A321
19
A330
14
4
9
17
13
Regional
17
10
10
18
20