Scrapping/parking decisions November 2001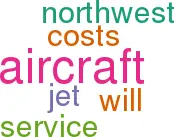 One of the perpetual questions facing the aviation industry is how much capacity is going to be deleted permanently. Almost inevitably the forecasts prove to be too optimistic, i.e. too high, or are simply unverifiable. It is very difficult to determine when an aircraft has been taken permanently out of service.
Indeed, with aluminium and engine part prices so low at present there is little incentive to make the scrapping decision. A widebody currently may command a scrap price of just $60–80,000 and half of that can be eaten up in cutting costs. Parking a jet costs anywhere between $3,000 and $12,000 a month at a facility like Evergreen's in the Arizona desert. The variation in costs largely depends on how many engines there are and the owners' requirements for maintaining the engines.
The temptation for an owner of an elderly jet would be to store the aircraft and hope for either an upturn in demand for recycled aluminium or some opportunity to bring the aircraft back into service. The latter is not totally improbable as long as fuel prices remain comparatively low.
In our October forecast we were looking at some 1,000 deletions during 2001 and 2002, and we have now identified 1,100 prime candidates: the following tables show those jet aircraft, currently officially in passenger service with European and North American airlines.
In the US Northwest operates the oldest fleet but this consists of refurbished DC–9s on which Northwest built its recovery plan in the mid–90s. It is unlikely that Northwest would accelerate their scrapping, although the carrier has stated that it will take all its 50 or so scheduled deliveries this year and next including 30 A320s.
The scale of the parking/deletion exercise on the part of the other Majors is now clear. Continental has grounded 50 jets, DC- 10s and MD–80s. United is to accelerate the retirement of 95 aircraft, 72 of which are 727s. Air Canada is removing 17 DC–9s and 38 737s, though 20 of these are to be shifted to the low–cost subsidiary, Tango. Delta will park some 60 jets. US Airways will retire 41 737–200s, 30 MD–80s and 40F100s. American intends to retire its 727 fleet.
JETS OVER 20 YEARS OLD IN NORTH AMERICAN FLEET
JETS OVER 20 YEARS OLD IN NORTH AMERICAN FLEET

| | | | | | | | | | | | |
| --- | --- | --- | --- | --- | --- | --- | --- | --- | --- | --- | --- |
| | | | | | | Narrow- | | | | Wide- | |
| | F28 | 727 | 737 | DC9 | MD80 | bodies | 747 | DC10 | L1011 | bodies | Total |
| Northwest | | 27 | | 172 | 1 | 200 | 14 | 40 | | 54 | 254 |
| United | | 75 | 22 | | | 97 | | 3 | | 3 | 100 |
| Delta | | 62 | | | | 62 | | | 21 | 21 | 83 |
| American | | 57 | | | | 57 | | 3 | | 3 | 60 |
| Air Canada | | | 28 | 19 | | 47 | 3 | | | 3 | 50 |
| Airtran Airways | | | 3 | 34 | | 37 | | | | 0 | 37 |
| American Trans Air | | 19 | | | | 19 | | | 14 | 14 | 33 |
| Air Canada Regional | 32 | | | | | 32 | | | | 0 | 32 |
| Midwest Express | | | | 24 | 7 | 31 | | | | 0 | 31 |
| Hawaiian | | | | 12 | | 12 | | 14 | | 14 | 26 |
| Continental | | 2 | | | 3 | 5 | | 18 | | 18 | 23 |
| WestJet | | | 21 | | | 21 | | | | 0 | 21 |
| TWA | | | | 16 | 2 | 18 | | | | 0 | 18 |
| US Airways | | | 1 | 3 | 14 | 18 | | | | 0 | 18 |
| Canada 3000 | | 1 | 16 | | | 17 | | | | 0 | 17 |
| Spirit | | | | 5 | 7 | 12 | | | | 0 | 12 |
| Champion Air | | 11 | | | | 11 | | | | 0 | 11 |
| Others (50 airlines) | 6 | 64 | 50 | 10 | 0 | 130 | 0 | 21 | 13 | 34 | 164 |
| Total | 32 | 254 | 91 | 285 | 34 | 696 | 17 | 78 | 35 | 130 | 826 |
JETS OVER 20 YEARS OLD IN EUROPEAN FLEET
JETS OVER 20 YEARS OLD IN EUROPEAN FLEET

| | | | | | | | | | | | | | |
| --- | --- | --- | --- | --- | --- | --- | --- | --- | --- | --- | --- | --- | --- |
| | | | | | | | Narrow- | | | | | >Wide- | |
| | 1-11 | F28 | 727 | 737 | DC9 | MD80 | bodies | 747 | DC10 | A300 | L1011 | bodies | Total |
| Iberia | | | 20 | | 25 | | 45 | 4 | 6 | 4 | | 14 | 59 |
| European Air Charter | 10 | | | 8 | | | 18 | | | 2 | | 2 | 20 |
| Air Lib | | 3 | | | | 1 | 4 | | 14 | | | 14 | 18 |
| Olympic Airways | | | 4 | 11 | | | 15 | 1 | | | | 1 | 16 |
| SAS | | | | | 16 | | 16 | | | | | 0 | 16 |
| Air Atlanta Icelandic | | | | | | | 0 | 10 | | | 3 | 13 | 13 |
| Ryanair | | | | 13 | | | 13 | | | | | 0 | 13 |
| JAT | | | 6 | | 5 | | 11 | | 1 | | | 1 | 12 |
| British Airways | | | | | | | 0 | 11 | | | | 11 | 11 |
| Air France | | | | | | | 0 | 10 | | | | 10 | 10 |
| Others (53 airlines) | 4 | 1 | 19 | 20 | 12 | 2 | 58 | 24 | 9 | 18 | 6 | 57 | 115 |
| Total | 14 | 4 | 49 | 52 | 58 | 3 | 180 | 60 | 30 | 24 | 9 | 123 | 303 |