Order backlog summaries May 2012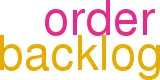 There is a current commercial passenger and freight aircraft order backlog of some 9,400 units equivalent to 45% of the current commercial active fleet (according to our analysis of the data from Ascend Online)
Prolongation of order backlog
The current backlog is equivalent to more than eight years' current production levels — the highest level the industry has seen.
53% of the backlog is due for delivery by 2015.
There are some significant long dated orders. A third of the backlog for the A320/737 and variants are for delivery beyond 2016 (with another 3% — probably
speculative — that have no firm delivery dates).
The dated orders extend over the next 14 years to 2026 — with Lion Air, IndiGo and AirAsia extending firm orders for 737s/A320s beyond 2023.
There is a level of undated orders which may be deemed unlikely to be fulfilled — but this only accounts for 3% of the total backlog.
Orders by type of customer
The lessors account for 15% of the total order book.
The European Legacy, US Legacy carriers and the three Gulf super-connectors each account for around 5% of the total backlog.
LCCs make up 30% of the customer base. Notably only 37% of their orders are for delivery before 2016.
Other airlines make up 40% of the order book — and nearly 70% of their orders are for delivery by 2015.
The largest individual orders are from Southwest, Lion Air and AirAsia.
The top 25 customers account for 45% of the total backlog.
Geography
Over a third of the orders are from operators in the Far East and a quarter in North America — although half of the North American orders are from leasing companies.
Europe appears slightly under-represented with only 18% of the total backlog (and 15% of the backlog ordered by airlines).
Two-thirds of the European orders are for delivery before 2016. • The majority of the orders from the Middle East are for delivery after 2015.
Types on order
Narrowbody aircraft account for two-thirds of the aircraft on order and widebody aircraft a quarter of the total.
The delays in the production programmes have impacted some widebody replacement programmes, so the scale of widebody deliveries is going to be substantially higher at 250 a year than in the past decade.
Only a quarter of the A380/747 deliveries are scheduled for after 2015.
By manufacturer
Airbus appears slightly ahead in the duopoly fight — with 46% of the commercial backlog against Boeing's 42%.
Boeing is slightly ahead on deliveries scheduled before 2016 — where the market shares are reversed — helped by the 787. (The A350 deliveries are expected to start in 2014 but only start to kick in reasonably from 2016).
Substantially all Embraer's orders are for delivery in the next three years.
ORDERS BY CUSTOMER
ORDERS BY CUSTOMER
2012-
2016-
2020-
2015
2020
2026
Total
Southwest Airlines
141
142
64
347
3.71%
Lion Air
64
169
112
345
3.69%
AirAsia
59
92
124
275
2.94%
Emirates Airline
108
128
-
236
2.52%
IndiGo
44
109
66
219
2.34%
Aeroflot
102
86
16
204
2.18%
ILFC
41
147
-
188
2.01%
Qatar Airways
63
114
10
187
2.00%
Norwegian
41
132
8
181
1.93%
GECAS
93
66
-
159
1.70%
China Eastern Airlines
129
18
-
147
1.57%
American Airlines
101
42
-
143
1.53%
Jetstar
51
73
15
139
1.48%
CIT Aerospace
70
66
-
136
1.45%
Aviation Capital Group
93
37
4
134
1.43%
LAN Airlines
87
45
-
132
1.41%
China Southern Airlines
125
5
-
130
1.39%
Not Known
109
17
-
126
1.35%
United Airlines
61
64
-
125
1.34%
JetBlue Airways
45
68
10
123
1.31%
Air China
90
24
5
119
1.27%
Delta Air Lines
50
56
12
118
1.26%
TAM Linhas Aereas
58
54
-
112
1.20%
Spirit Airlines
29
62
13
104
1.11%
ALAFCO
7
50
42
99
1.06%
Other 277
3,362
1,690
82
5,134
54.84%
TOTAL
5,223
3,556
583
9,362
100%
ORDERS BY OPERATOR AREA
ORDERS BY OPERATOR AREA
2012-
2016-
2020-
2015
2020
2026
Undated
Total
Africa
150
36
-
8
194
2%
Asia Pacific
1,880
1,245
360
11
3,496
37%
Europe
1,130
504
47
28
1,709
18%
Latin America
366
267
13
4
650
7%
and Caribbean
Middle East
376
405
59
49
889
9%
North America
1,043
1,070
104
53
2,270
24%
Unknown
77
13
-
104
194
2%
TOTAL
5,022
3,540
583
257
9,402
100%
53%
38%
6%
3%
100%
ORDERS BY AIRCRAFT TYPE
ORDERS BY AIRCRAFT TYPE
2012-
2016-
2020-
2015
2020
2026
Undated
Total
Regional Jet
369
199
44
31
643
7%
737/A320
3,164
2,039
488
179
5,870
62%
Other
228
251
17
4
500
5%
single aisle
Widebody
1,067
989
34
37
2,127
23%
Large
193
62
-
6
261
3%
(747/A380)
TOTAL
5,021
3,540
583
257
9,401
100%
ORDERS BY MANUFACTURER
ORDERS BY MANUFACTURER
2012-
2016-
2020-
2015
2020
2026
Undated
Total
Airbus
2,122
1,806
310
79
4,317
46%
Boeing
2,302
1,284
212
143
3,941
42%
COMAC
101
194
17
-
312
3%
Embraer
184
26
-
17
227
2%
Bombardier
109
62
-
14
185
2%
(Canadair)
Sukhoi
133
27
-
-
160
2%
Irkut
-
84
44
-
128
1%
Corporation
Mitsubishi
8
57
-
-
65
1%
Antonov
51
-
-
-
51
1%
Ilyushin
10
-
-
-
10
0%
Tupolev
2
-
-
4
6
0%
TOTAL
5,022
3,540
583
257
9,402
100%