Virgin America: Rapid growth, elusive profitability May 2012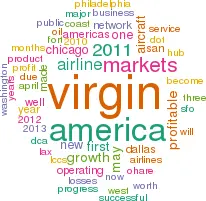 Now almost five years old, having achieved "major carrier" status with over $1bn revenues in 2011, and with an ambitious fleet plan to fund, Virgin America is feeling some pressure to complete an IPO. Unfortunately, the run-up in oil prices meant financial losses again in 2011, so the earliest that the San Francisco-based LCC could now enter the public markets would be 2013 or 2014.
Virgin America has incurred net losses totalling $460m since the beginning of 2008, when it began reporting its results (operations launched in August 2007). It has seen operating profits in only three quarters (see chart, page 6) and a net profit only once (3Q10). But Virgin America has deep-pocketed and patient investors, including Cyrus Capital, which recapitalised it in late 2009 and helped it raise $150m through a debt offering in December 2011.
Profitability has eluded Virgin America for a number of reasons. First, its start was delayed by two years due to questions about its ownership and control structure, so the airline launched into an extremely tough economic environment (the 2008 oil price surge, followed by the global recession). Then in 2009 one of its founding investors exercised an option to sell their stake back to the UK-based Virgin Group, which led to an almost year-long Department of Transportation (DOT) enquiry about the airline's US citizenship status. Virgin America lost about a year of growth since it was unable to obtain any aircraft financing during the DOT enquiry. After a successful recapitalisation and DOT clearance, the airline staged its second "take-off" in January 2010.
Difficulties in obtaining gates and slots at desirable airports have also impeded Virgin America's progress. Many LCCs need large primary markets to be profitable, and that is especially the case with
However, Virgin America has accomplished a great deal in the past 18 months in terms of building a foundation for a successful future. First of all, it has been able to venture into several important (and potentially more profitable) new markets, including Dallas Fort Worth (December 2010), Chicago O'Hare (May 2011), Philadelphia (April 2012) and Washington DCA (this summer).
Network expansion
When it became clear that the Toronto-US West Coast markets did not have sufficient demand, Virgin America suspended what was its first international destination in April 2011 (after just 10 months), in favour of focusing on larger and more lucrative markets. Its first target was Dallas Fort Worth, one of the largest business and leisure travel markets from the West Coast. The airline boosted its DFW flights from one to three per day from both LAX and SFO, aggressively challenging AMR on its home turf. One year on, it appears that the Virgin brand and service have been well received in Dallas, though fare wars have been intense so the routes may not yet be profitable. This spring Virgin America has targeted US Airways' Philadelphia hub, adding service there from both LAX and SFO in April.
Gaining access to slot-controlled Chicago O'Hare in May 2011 was a major victory. The opportunity came when Delta and Northwest consolidated operations at the hub after their merger and were forced to renegotiate contracts with the airport. Chicago is one of Virgin America's most competitive markets, given that it is a hub for both American and United, though it is the only LCC serving the West Coast from Chicago O'Hare.
So, Virgin America has finally made good progress towards its stated goal of serving all the major US hubs. The biggest omissions are Atlanta and Houston – both on the management's shortlist. The two additions this summer (Washington DCA and Portland) will bring the airline's network to 19 points: LAX, SFO, JFK, Washington Dulles and DCA, Boston, Ft. Lauderdale, Seattle, Las Vegas, San Diego, Orlando, Dallas Fort Worth, Chicago, Palm Springs, Philadelphia, Portland and three points in Mexico.
Second, Virgin America has made stunning progress on the liquidity and aircraft financings fronts. The late-2011 fund-raising gave it decent cash reserves for the first time in its history — $160m or 15.4% of annual revenues at year-end. Lease financing commitments are in place for all 13 A320-family aircraft slated for delivery through September 2013. And a pre-delivery payment facility is in place for the first 20 A320s VA is due to take directly from Airbus from mid-2013.
All of that means that Virgin America can wait another 12-24 months before going public. But it cannot really wait longer than that because of the start of deliveries of the $5.1bn, 60-aircraft Airbus order placed in January 2011. It will want to tap the public markets (debt or equity) to fund those deliveries. Therefore Virgin America must become profitable in 2012 or 2013.
Third, Virgin America has already made important technology investments such as switching to the Sabre reservations platform in late 2011 (something other US LCCs have typically done much later). The new system will accommodate the significant growth the airline forecasts, improve codeshare and interline capability and facilitate FFP enhancements.
Ambitious Virgin?
The Virgin brand has gone down extremely well in the US. Virgin America has been a huge hit in the marketplace with its upmarket product that features "mood-lit" cabins, superior in-flight entertainment systems and other amenities. It continues to win "best airline" type awards.
It is also clear that San Francisco is an excellent base. The product has been keenly embraced by the typical younger Silicon Valley business travellers, as well as small and medium-sized businesses in the Bay Area generally. As California's only airline, Virgin America is in a position to develop an attractive niche as San Francisco's hometown or business airline, mirroring what JetBlue has done at JFK and Boston.
Virgin America has been very successful on the revenue side. Among LCCs, it has been closest to industry-average RASM because of its full GDS participation, three-class service, upmarket product, extensive use of alliances and legacy-style revenue management. But Virgin America has not performed so well on the cost side; in the past four years, its ex-fuel CASM has not improved despite significant ASM growth. The reason for this is continued havy spending to facilitate growth (facilities, training etc).
Rapid growth — specifically the large number of new markets in Virgin America's network – is exerting considerable pressure on profit margins. The management said recently that established markets (those added in 2010 or earlier) were in fact profitable in 2011, and the new markets added last year are expected to become profitable this year. Given that the 2010-2011 operating losses were only marginal (1.7-2.6%), and now that oil prices appear to be moderating, an operating profit in 2012 may be achievable.
Virgin America's aircraft orderbook indicates that it has ambitions to become a much bigger player, operating perhaps 120-130 aircraft by the end of 2018, compared to the current 51 (as of May 1). The airline is due to receive 30 A320s in 2013-2016 and 30 A320neos in 2016-2018. Because of its greater range, the A320neo would allow Virgin America to expand its network to Hawaii.
One interesting new development is the tightening of links between the Virgin Group airlines, made possible by the Sabre transition. In early May Virgin Atlantic, Virgin America and Virgin Australia announced that they had teamed up to launch a joint "Virgin Skies" media campaign, to mark their global FFP partnership – perhaps a step towards deeper cooperation.
VIRGIN AMERICA'S FLEET
VIRGIN AMERICA'S FLEET

| | | | | | | |
| --- | --- | --- | --- | --- | --- | --- |
| | | In | | On | | |
| | | Service | | order | | Options |
| A319-100 | | 10 | | | | |
| A320-200 | | 41 | | 31 | | 38 |
| A320neo | | | | 30 | | |
| TOTAL | | 51 | | 41 | | 38 |