Orders slump in the first quarter of 1999 May 1999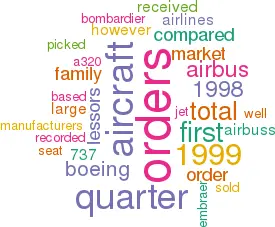 First quarter figures for jet manufacturers confirm the peak in the ordering cycle has passed.
In January–March 1999 the jet manufacturers received 193 firm orders. Airbus recorded 63 orders, compared with 193 in the first quarter of 1998, and Boeing received 32 orders, compared with 119 in January- March 1998. However, the big winner was Bombardier, which recorded an impressive 90 orders in the first quarter of 1999 — almost half the total orders Bombardier received in the whole of last year.
As can be seen in the chart below, there were very few orders for aircraft with more than 200 seats. The <100 seat market picked up 98 orders, largely thanks to Bombardier, while the 101–200 seat market recorded 80 orders, with Airbus's A320 family outselling the 737 family by more than 2:1. However, this should not disguise the fact that the 101–200 seat market total of 80 is well down on the orders received in 1Q 1998 — 283 aircraft.
Airbus looks to the lessors
Not surprisingly, Airbus could not repeat its impressive order tally of 1Q 1998, which was based on large orders from Sabena, United, TAM, LanChile and TACA. However, the good news for Airbus in 1Q 1999 was that it picked up a significant chunk of orders for its A320 family from lessors.
Large orders from Boullioun and GECAS, with a smaller one from ILFC, accounted for 45 out of Airbus's total of 63 orders in 1Q 1999. In contrast, lessors only ordered two aircraft from Boeing in 1Q 1999. While one quarter is too brief to be statistically significant, lessors appear to be building up their portfolio of A320s at a faster rate than 737s. In the whole of 1998, lessors ordered 52 A320 family aircraft and 47 737 family aircraft.
On deliveries, Airbus delivered 13 A319s, 25 A320s, 13 A321s, 8 A330s and 6 A340s in the first quarter of 1999, for a total of 65 aircraft — compared with 54 in 1Q 1998.
Boeing picking off Europe
Like Airbus, Boeing has failed to pick to the large orders that underpinned its total for the first quarter of 1998 (from Continental and Ryanair). As a result, Boeing's order total for the first quarter (32 aircraft) was half that of Airbus's figure.
Where Boeing has done well though is in picking off small customers in Airbus's back yard — Europe. Boeing sold 20 aircraft there in January–March, compared with just 13 European orders for Airbus. Elsewhere, however, Boeing did less well. It sold just two aircraft in its home market, North America, in the quarter, and none in the Asian market (where Airbus sold five aircraft to Singapore Airlines).
Boeing's total deliveries in the first quarter of 1999 were 148 (compared with 108 in 1Q 1998), made up of 14 737 classics, 61 737 next generation, 14 747s, 17 757s, 11 767s, 23 777s, 2 MD–80s, 5 MD–90s and 1 MD–11.
Bombardier rampant
Bombardier's order total of 90 aircraft was based on the sale of 54 CRJ–200LRs to Northwest Airlines and 25 CRJ–200LRs to SkyWest Airlines. The CRJ is fast becoming the aircraft of choice for regional operators, and other jet manufacturers — let alone turboprop companies — appear to be unable to prevent its advance.
Between them, British Aerospace and Embraer picked up eight orders in the first quarter of 1999, all of them from European airlines.
Embraer does have the protection of a large orderbook, although the March World Trade Organisation ruling against Brazil's Proex export finance programme is likely to result in higher prices for Embraer products in the future.
Embraer's hopes in the second quarter of 1999 may rest largely on an anticipated order for 15 regional aircraft (and 25 options) from Crossair. Embraer's ERJ–170 and ERJ- 190 aircraft are reported to be the favourites for this order, based on the aircraft's capability for short take–off and landing (STOL). A final decision is expected from Crossair sometime this summer.
AIRBUS FIRST QUARTER 1999 FIRM ORDERS
AIRBUS FIRST QUARTER 1999 FIRM ORDERS

| | | | | | | | | | | | | |
| --- | --- | --- | --- | --- | --- | --- | --- | --- | --- | --- | --- | --- |
| | A300 | A310 | A319 | A320 | A321 | A330 | A330 | A340 | A340 | A340 | A340 | |
| | -600R | -300 | | | | TBA | -200 | TBA | -300 | -500 | -600 | |
| European airlines | | | | | | | | | | | | |
| DaimlerChrysler | | | 1 | | | | | | | | | |
| Iberworld | | | | 2 | | | | | | | | |
| Swissair | | | | 7 | | 3 | | | | | | |
| European total | | | 1 | 9 | | 3 | | | | | | 13 |
| Asian airlines | | | | | | | | | | | | |
| Singapore Airlines | | | | | | | | | | 5 | | |
| Asian total | | | | | | | | | | | | 5 |
| Lessors | | | | | | | | | | | | |
| Boullioun AS | | | 15 | 15 | | | | | | | | |
| GECAS | | | 1 | 8 | 3 | | | | | | | |
| ILFC | | | 1 | 2 | | | | | | | | |
| Lessors total | | | 17 | 25 | 3 | | | | | | | 45 |
| TOTAL ORDERS | 0 | 0 | 18 | 34 | 3 | 3 | 0 | 0 | 0 | 5 | 0 | 63 |
BOEING FIRST QUARTER 1999 FIRM ORDERS
BOEING FIRST QUARTER 1999 FIRM ORDERS
717
737
737
737
737
737
737
737
747
747
747
757
757
767
767
777
MD
MD
-200
-300
-400
-500
-600
-700
-800
-900
-400
-400F
-400M
-200
-300
-200ER
-300ER
-200
11-F
80/90
European airlines
Air Berlin
4
CSA
2
Lauda Air
4
1
KLM
5
4
European total
2
4
9
4
1
20
North American airlines
Atlas Air
2
North American total
2
2
Latin American airlines
COPA Airlines
8
Latin American total
8
8
Lessors
GECAS
2
Lessors total
2
2
TOTAL ORDERS
0
2
2
0
0
12
9
0
0
2
4
0
0
0
1
0
0
0
32
OTHER MANUFACTURERS' FIRST QUARTER 1999 FIRM ORDERS
OTHER MANUFACTURERS' FIRST QUARTER 1999 FIRM ORDERS
ERJ
ERJ
CRJ
CRJ
CRJ
CRJ
CRJ
RJ
Do-
Do-
European airlines
-135
-145
-100
-100LR
-200
-200LR
-700
-100
328JET
728JET
Aegean Aviation
2
Jersey European
4
Maersk Air
2
LOT
6
European total
6
6
2
14
North American airlines
Air Wisconsin
5
Northwest AL
54
SkyWest AL
25
North American total
84
84
TOTAL ORDERS
0
6
0
0
6
84
0
2
0
0
98