Industrial action hits US industry results May 1999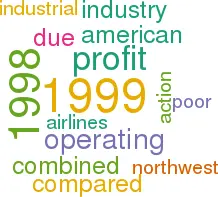 First quarter 1999 results for the nine major US airlines were poor compared with 1Q 1998, due largely to the effects of industrial action at American and Northwest.
Combined operating profit for the nine airlines in 1Q 1999 was $954m — compared with $1,477m in January–March 1998 (a fall of 35%). Combined net profit was $653m in the first quarter of 1999, 21% down on the comparative figure for 1Q 1998 — $835m. The gap between industry unit revenue and cost closed to 0.30 cents per ASK in 1Q 1999 — compared with a gap of 0.47 cents in 1Q 1998.
The poor industry performance relative to last year was due to just three airlines — American, Northwest and US Airways — which saw combined operating profit fall by $663m in 1Q 1999. American recorded the steepest decline in operating profit, from $427m in 1Q 1998 to $37m in 1Q 1999, thanks largely to industrial action by its pilots in February. However, American may be compensated for most of the strike losses after having successfully sued the unions in the courts. Northwest saw a $156m operating profit in 1Q 1998 turn into a $14m loss in 1Q 1999, due to continuing knock–on effects of the 1998 strike. US Airways recorded a $103m drop in operating profit in 1Q 1999 to $89m, due to "poor weather" and a change of computer systems.
Combined ASK in 1Q 1999 rose by 2.4% compared with 1Q 1998, but industry RPK rose faster — by 3.9% — resulting in a 1.0% increase in overall load factor to 68.7%.