Emirates and Etihad: merging paths? March 2009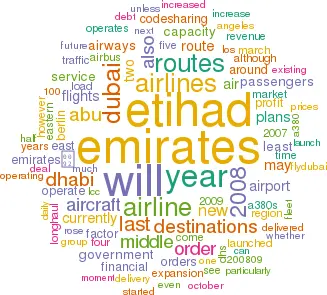 The Middle East accounted for 20% of all aircraft orders in 2008, and approximately 17% of all outstanding Airbus orders and 12% of all Boeing orders are destined for the Middle East (see chart, page 19). A number of airlines — backed by wealthy emirate states — have ambitious expansion plans, and in the first of two articles on Middle Eastern carriers Aviation Strategy looks at the prospects for Emirates and Etihad.
Emirates Airline
Around 3.5bn people live within an eight–hour flight of Dubai or Abu Dhabi, and the region is a natural "pinch point" between westward and eastward routes. That geographical advantage — combined with deep pockets of oil–rich emirates within the UAE — has led to the emergence of a wave of long–haul airlines in the Middle East, of which the two most ambitious are Emirates and Etihad. Emirates Airline was launched in 1985 and is a subsidiary of the Emirates Group, which is owned 100% by the Dubai government. It operates to more than 100 destinations in around 60 countries around the globe, and through the 2000s it reported steady increases in both operating and net profit (see charts, right).
However, in the first half of the 2008/09 financial year (ending September 30th 2008), while operating revenue at the airline rose 31% to Dhs 22.1bn (US$6bn), operating profit fell 90% year–on–year to Dhs 237m (US$64m) and net profit fell 88% to Dhs 284m (US$77m).
In that six–month period yield rose by 20% and unit revenue by 11%, but unit cost increased by a hefty 40%, with fuel costs more than doubling in the half–year, from Dhs 4.1bn (US$1.1bn) in H1 2007/08 to Dhs9.2bn (US$2.5bn) in H1 2008/09. Traffic rose by 11% in April–September 2008, just behind a 13% increase in capacity, leading to a 1.4 percentage point fall in load factor, to 78.3%.
Tim Clark, president of Emirates Airline, insists that the only factor holding Emirates back in the first–half of the 2008/09 financial year was fuel prices and — now that they have come down — prospects for the second half are very good, with the airline having no plans to reduce its workforce. Premium traffic on some routes has been soft (with some passengers trading down from business to economy) but in general bookings are holding up well, it is believed, and Emirates forecasts net profit of Dhs 3bn (US$0.8bn) in 2008/09, compared with Dhs5bn in 2007/08. As Clark put it, "we expect to close the full year in March 2009 with robust profit".
But it is not so much the short–term that Emirates may be concerned about as the long–term, as the airline currently has 182 aircraft on order as it seeks to operate a fleet of 400 aircraft by 2025. With no plans to curtail these fleet plans, Emirates has a huge amount of capacity coming in over the next few years, not least of which will be 54 A380s.
Four A380s were delivered in 2008 (the fourth of which was received on the last day of the year) and they are being used on routes from Dubai to New York JFK, London Heathrow and Sydney. The next A380 delivery has been delayed until April, but seven or eight will be delivered in the 2009/10 financial year. However, Emirates is looking to reduce the weight of future A380 deliveries in order to be able to use them on routes to the west coast of the US, to destinations such as Los Angeles and San Francisco. This is a 17–18 hour journey from Dubai that is currently not achievable with A380s unless weight can be reduced significantly, in co–operation with Airbus. Incidentally, all the A380s on order will have a three–class configuration, capping maximum passenger capacity at around 500.
The airline did launch a Dubai–San Francisco service in December 2008 using a 777–200LR on a polar route (which saved 45 minutes of flying time), after agreement with the Russian authorities. This followed a Dubai- Los Angeles route that started in October, and Emirates intends to increase frequency on both routes from the current three weekly flights to five per week in May, as long as new 777–200LRs arrive on time (there have been delivery delays). Emirates currently has eight of the model, and they are also being used on the Dubai–Beijing route.
Other new routes launched last year were to Kozhikode (Calicut), Guangzhou and Los Angeles, and altogether capacity rose by 25% at Emirates in 2008. This year, however, the expansion focus is changing, with relatively few new routes (one of which will be to Durban, starting in October, joining existing South Africa services to Cape Town and Johannesburg), with the airline instead focussing on adding capacity to existing routes. Overall, Emirates' ASKs will grow by around 14% in 2009 (compared with an average annual growth rate of 20% over the previous five years).
In the last couple of months it has increased frequencies to many of its 14 destinations in the Middle East, but with an average of one and a half to two new aircraft being delivered each month this year, Emirates' attention will soon have to focus on new routes. It has a long list of target destinations all around the world, and particularly in North America (routes to Houston and Los Angeles are operating at more than 80% load factors) and South America.
In Europe Emirates operates to more than 20 destinations. The UK (five destinations) and Germany (four) are its most important markets, but Italy is a key development target for Emirates. The airline has applied for 21 weekly slots at Rome, 21 at Milan and 14 at Venice – it currently has less than 10 slots at Italian airports, but says that demand for its existing Italian services has been high.
The Asia–Pacific region accounts for approximately 30% of Emirates' revenue and in addition to this, the "West Asia and Indian Ocean" market accounted for another 9% of Emirates' revenue in 2007/08. Emirates currently serves 10 destinations in India – making it the most important market in terms of daily flights – and they operate at an average of 75% load factor. In December 2008 Emirates started code–sharing and a reciprocal FFP with India's Jet Airways, which itself also code–shares with Etihad. (Emirates currently has 10 code–sharing deals, and Clark reiterates that Emirates will not join a global alliance.)
In the future Emirates could potentially use A380 equipment on the densest routes to India, though nothing is yet decided on this. Emirates also owns 44% of SriLankan Airlines, but a 10- year management contract ended in early 2008 and at the same time the two airlines ended their code–sharing agreement (which SriLankan replaced with a code–sharing deal with Etihad).
Indian–Dubai traffic flows have increased heavily in recent years and (until recently) have been helped by the massive construction boom in Dubai. Dubai has been determined to turn itself into the Middle East's prime business and leisure centre, and this ambition is underlined by expansion at Dubai's airports. Dubai International Airport is raising its capacity to 60m passengers a year, and last October Terminal 3 was opened, which is devoted mainly to Emirates' flights. The terminal has 26 gates, five of which are dedicated to A380 services, and can handle up to 43m passengers a year.
However this facility will be dwarfed by the new airport at Jebel Ali (officially called the Al- Maktoum International Airport) which will have six runways and cater for at least 120m passengers a year when it becomes fully operational in 2017. On the other hand, this new airport will cost at least US$80bn, and given the concern over rising debt levels in Dubai (see page 19) there must be a doubt as to whether this airport will be completed as planned.
Etihad Airways
Significantly perhaps, the Dubai government also has plans to launch an LCC operation called FlyDubai sometime this summer. The carrier will operate 54 189–seat 737–800s; 50 were ordered last year, for delivery from May this year until 2015, although the model can be converted into 737–900ERs. Four others are being leased from Babcock & Brown. The 737s will be used on regional routes and Emirates says that FlyDubai will operate independently from the main airline. The LCC will operate out of the new airport at Jebel Ali, but it could take passengers away from Emirates mainline, unless the route network is kept completely separate. While the destinations it will serve are yet to be announced, FlyDubai does say that it will operate to "the whole Middle Eastern region, North and East Africa, the Indian sub–continent and South–East Europe". Incidentally, in February Emirates' internet site started to offer its customers onward connections to a number of LCCs, including easyJet and AirAsia. Etihad Airways operates to more than 50 destinations worldwide and is based in Abu Dhabi airport, where it has its own terminal. Launched by the Abu Dhabi government only in 2003, the airline initially flew medium–haul and longer routes before expanding onto regional routes in 2007.
Today Etihad employs a total of 7,000 staff, of which 755 are pilots and 2,900 are cabin crew. In 2008 Etihad carried 6m passengers, 34% up on 2007, and had a load factor of 75% (63% in business class, 77% in economy), compared with 68% in 2007. Last year Asia/Pacific flights saw load factor of 84% and Europe 73%.
Like Emirates, Etihad connects long–haul markets via its Middle Eastern hub, but has an advantage over Emirates in that it has a better developed regional network, which ensures more feed into its long–haul flights.
Etihad is targeting 25m passengers carried in 2020 (generating revenue of U$13bn), based on a network in that year of more than 100 global destinations served by a fleet of more than 150 aircraft. Underpinning that ambition is a very large order book, which totals 118 aircraft (see table, page 18). The fleet stands currently at 42 aircraft but at last year's Farnborough show Etihad placed orders for 100 "firm" orders (as well as 105 options), which had a list price of $43bn.
However, it wasn't until December 2008 that the Airbus order — for 25 A350–1000s, six A380s and 20 A320s (making it the largest aircraft order placed by any airline in the whole of 2008) — was confirmed. Final confirmation was held up by negotiations between Mubadala Development, the Abu Dhabi sovereign fund, and Airbus, under which Airbus finally agreed that some A350 parts could be built in Abu Dhabi itself. Eight A330s are also on order (three of them freighter versions), for delivery in 2009–2011, while in terms of Boeing aircraft 35 787s and 10 777–300ERs are on order.
Nine aircraft were delivered in 2008 and Etihad launched six routes last year, to Beijing, Minsk, Almaty, Kozhikode, Chennai and Moscow. This year Etihad is launching routes to Lagos and Abuja in Nigeria, (joining the existing African routes to Casablanca, Khartoum, Cairo and Johannesburg), and a third route to Australia (joining Sydney and Brisbane) – to Melbourne – will be launched in March.
A second US destination will also be added in September with a service between Abu Dhabi and Chicago, and an initial three–times a- week service on A340–500s will increase to a daily service in October. Etihad also operates to New York and Toronto.
A route to Athens will begin in June, starting with a three–flights–a-week service operated with A320s, before increasing to a daily service by 2010, and in the same month a route to Istanbul will also begin. This will bring European destinations to 13. Etihad has recently increased its London Heathrow–Abu Dhabi service from 17 to 21 flights a week after leasing two pairs of Heathrow slots from Luxair in a five–year deal, and Etihad plans to increase flights further, to five–a-day over the next couple of years.
In the Asia/Pacific region an updated bilateral between the UAE and Japan will allow Etihad to launch a non–stop route between Abu Dhabi and Tokyo in March 2010, and Etihad may follow this up with routes to other destinations, such as Chubu and Kansai.
Etihad is not a member of a global alliance and — like Emirates — has no plans to join one in the medium–term, according to James Hogan, chief executive, instead preferring to rely on code–sharing. Etihad signed four such deals in 2008 (Jet Airways, Yemen Airways, Saudi Arabia Airlines and Sri Lankan Airlines) and in January Etihad started code–sharing with Bangkok Airways, thereby bringing its total code–share partners to 12 (which also include Malaysia Airlines, bmi, Brussels Airlines and Philippine Airlines).
Etihad has also been considering launching an LCC of its own, although nothing concrete appears to be developing yet and it may be that Etihad will wait to see how successful FlyDubai is before committing itself — as well as monitoring the growth of Sharjah–based LCC Air Arabia.
Perhaps more of a signal of strategic intent came in late 2008 when Etihad apparently took a serious look at investing in Air Berlin. Although the deal did not come off and Etihad refuses to "comment on speculation", Air Berlin didn't appear to be the most logical choice for Etihad in many respects, most particularly in connections. Etihad operates into Germany at Munich and Frankfurt, whereas Air Berlin's major bases are at Berlin and Düsseldorf, and thus feed into Etihad's longhaul flights would have been minimal initially. Etihad has never regarded Germany as a key market, but presumably that would have changed if the Air Berlin deal had come off.
It may have been that Etihad was momentarily attracted by the perception that Air Berlin may be undervalued; its shares had fallen from more than €20 in 2007 to under €4 last year, valuing it at less that €300m. Whether the fleeting interest in Air Berlin was opportunistic or whether Etihad is serious about making a European acquisition remains to be seen, but at the very least it indicates that the airline (or more accurately its wealthy emirate owners) is looking to be proactive in the current market conditions. The Greek government also said that Etihad was a bidder for troubled Olympic Airlines, although this was denied by the Middle Eastern carrier.
Different futures?
While the Abu Dhabi government is spending at least US$200bn over the next five years to develop the state, including US$6.8bn in developing the main airport (which Etihad believes will drive even more passenger flows to Abu Dhabi) at the same time there may be growing pressure on the airline to turn a profit as soon as possible. Etihad had been looking to record its first profit in 2010, but that is increasingly unlikely; no financial results are published and the air–line is reported to have lost at least US$1bn in 2007. At the end of last year speculation mounted that Emirates Airline and Etihad Airways might co–operate more closely or even merge, but this was denied by both airlines, with Sheikh Ahmad Bin Saeed Al–Maktoum, chairman and chief executive of both Emirates Airline and the Group, saying: "This issue has never been discussed. I am sure that having more than one national carrier creates a healthier and competitive market ... competition is better because it influences the turnover of passengers."
There seems little doubt that for the moment both Emirates and Etihad will forge ahead independently with their ambitious expansion plans. But while it's true that the early experience of Gulf Air — initially owned by four Gulf states — was not successful, and that there would be much resistance to any kind of merger unless it is absolutely necessary, it's not inconceivable that the two airlines might come together sometime in the future.
Naturally the deciding factor will be the financial strength of these airlines' respective emirate owners – and at the moment the biggest vulnerability lies with the owners of the Emirates Group. To fund its expansion the Dubai state has taken on large levels of debt (estimated to be at least US$80bn) and the contrast between Dubai and Abu Dhabi could not be greater. The latter state owns more than 90% of the UAE's oil reserves, and has been growing much more conservatively (i.e. with less debt) than its Dubai neighbour.
Some analysts believe that it's inevitable that Abu Dhabi will have to bail out Dubai financially in the not–too–distant future, and that the only question is whether national airlines will be part of that rescue plan. Indeed in February the Dubai government announced a plan to raise US$20bn of bonds to pay down debt due this year, of which half was subscribed to by the Abu Dhabi–based UAE Central Bank.
While it can't be said that Emirates (the airline) is vulnerable financially, cash did fall from US$3.4bn as at March 31st 2008 to US$2.3bn as at the end of September last year — thanks partly to the huge investment in aircraft — and a key test of its strength will be the cash level it declares at the end of March 2009.
While fuel prices have come down substantially over the last nine months, meaning that Emirates should have robust financial results for the year to March 2009, its group order book remains very large, with a staggering US$55bn of committed orders at list prices. Of course Etihad too has a huge order book, and while both airlines do directly benefit from falling oil prices, at the same time this has a negative effect for them, as much of their traffic is tied to the economic well–being of the Middle East, whose economy in general suffers as oil revenues reduce.
Indeed IATA forecasts losses among Middle Eastern airlines will double to $200m in 2009, saying that the "challenge for the region will be to match capacity to demand as fleets expand and traffic slows — particularly for long–haul connections". Unless the massive order books at Emirates and Etihad are reduced, speculation about a tie–up between the two airlines will always lurk in the background. It hasn't helped that Emirates had to cancel a planned IPO in early 2008, due to the general economic environment and, interestingly, late last year the Dubai government moved its stake in Emirates from Dnata to the Investment Corporation of Dubai (ICD). Although both entities are state–owned, this would make it easier for Emirates and Etihad to merge their equity, if they wanted to do so.
Of course an Emirates/Etihad tie–up — even if it happened by necessity — would pose an even greater threat to European and Asia airlines than the two airlines currently do on their own. For the moment though, that seems a distant prospect.
EMIRATES AND ETIHAD MAINLINE FLEETS
EMIRATES AND ETIHAD MAINLINE FLEETS

| | | | | |
| --- | --- | --- | --- | --- |
| | Emirates | Emirates | Etihad | Etihad |
| | fleet | orders (options) | fleet | orders (options) |
| 747-8F | | 15 | | |
| 777-200 | 3 | | | |
| 777-200ER | 6 | (5) | | |
| 777-200LR | 8 | 2 | | |
| 777-200LRF | | 8 | | |
| 777-300 | 12 | | | |
| 777-300ER | 38 | 33 (39) | 5 | 10 |
| 787-9 | | | | 35 |
| A310-300F | 1 | | | |
| A319 | | | 2 | |
| A320 | | | 7 | 24 |
| A330-200 | 29 | (3) | 14 | 2 (12) |
| A330-200F | | | | 3 |
| A330-300 | | | | 5 |
| A340-300 | 8 | | 1 | |
| A340-500 | 10 | (10) | 4 | |
| A340-600 | | | 4 | 4 |
| A350-900 | | 50 (50) | | |
| A350-1000 | | 20 | | 25 |
| A380-800 | 4 | 54 (10) | | 10 |
| Total | 119 | 182 (117) | 39 | 118 (12) |
BREAKDOWN OF OUTSTANDING ORDERS
BREAKDOWN OF OUTSTANDING ORDERS
Airbus
Boeing
Asia/Pacific
1,223
34.4%
1,109
33.1%
Europe
820
23.1%
688
20.5%
North America
624
17.6%
926
27.6%
Middle East
611
17.2%
389
11.6%
Latin America
207
5.8%
169
5.0%
Africa
69
1.9%
71
2.1%
Total
3,554
100.0%
3,352
100.0%