Brit Air: candidate for Euro-Comair role March 1998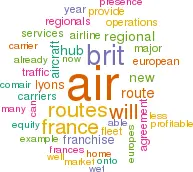 The candidates for the European version of Southwest are well known, but who will be the European equivalent of Comair, probably the most successful of the US regionals?
Comair's success is both as a feeder to Delta and as an independent operator from its base at Cincinnati. It now operates about 60 Canadair Regional Jets (CRJs) out of a total fleet of 120, with another 30 CRJs scheduled to be delivered. Capitalised at $1.1bn with a P/E of 14, Comair is the benchmark for Europe's ambitious regionals wishing to raise funds for expansion from the equity markets.
In Europe the scale of regional operations is obviously much smaller (Comair is larger than many European flag carriers) and as yet the regional jet revolution has not crossed the Atlantic. Nevertheless, the trend towards franchising is evident. In many cases it is the only way that a high cost carrier can afford to access routes that can only support low–capacity aircraft (less than 100 seats) or to provide frequency of operation filling in between the peak periods.
The franchise is a method to ensure that the major carrier's brand is enforced, while the regional carrier benefits from the superior marketing presence of the franchiser. In this way, the major maintains feed into its hub to maximise connection potentials, retains its presence in strategically important regional routes and avoids the leeching of traffic onto other carriers' systems.
Swissair has passed on to Crossair all its operations involving aircraft of less than 100 seats. BA has been the most aggressive in forming numerous alliances with regionals — CityFlyer, Gill, Manx, Loganair, etc. But now major new opportunities are appearing in Europe's largest domestic market, France — which has about 23m passengers a year — as Air France commercialises and prepares for part–privatisation.
A previously little–known airline (outside its home territory) has emerged as a trendsetter — Brittany–headquartered Brit Air, which last year signed an extensive franchise agreement with Air France and in February completed a successful IPO. Advised by Credit Agricole Indosuez, Brit Air raised FF100m ($17m) of new equity on the second market of the Paris Bourse in February in an offering which capitalised the airline at FF353m ($60m), reflecting a prospective P/E ratio of 11 for the year to March 1999. The shares are currently trading at FF263, 5% up on the issue price.
The funds will assist a fleet development programme designed to increase the carrier's CRJ fleet from nine today to 14 by the year 2000, in addition to an unchanged turboprop fleet comprising ten ATR 42s and two ATR 72s. Brit Air is Europe's third largest operator of 50–seat jets after Lufthansa Cityline (28 aircraft) and Lufthansa's French code–sharer, Air Littoral (15).
Brit Air was founded in 1973 by the current president, Xavier Leclercq, to provide air taxi operations for local businesses, and was backed by the local Chamber of Commerce (which still owns 40% of the equity). It built up scheduled operations at first on routes connecting Brittany and Normandy to London, and then between Rennes and Lyons. In 1997 it carried nearly 1m passengers, mostly business travellers.
The airline has a long–established relationship with both Air Inter and Air France providing, for example, aircraft on wet lease on the Brest to Orly route to provide in–fill services and code–sharing on Paris- Southampton route.
The new agreement covers an initial 11 extra services that Air France will transfer to Brit Air, alongside four routes currently operated by Brit Air as wet leases on Air France's behalf. The deal lasts for an initial but renewable five–year period. Brit Air will carry the Air France tail logo and name as well as its own, but the cabin crew will wear Brit Air uniforms. The fees Brit Air will pay Air France are revenue–related.
For the franchised routes, Brit Air retains all the risks and rewards of operation and remains autonomous, being responsible for timetables, frequencies, equipment type, pricing and capacity management. It gains access to Air France's marketing power including the Fréquence Plus FFP, and it will use the same yield management system as Air France. For all connecting flights it has a favourable pro–rate agreement with a guaranteed minimum.
However, Brit Air will be able to reduce its risks as it has opted to provide some of the new services on a wet lease rather than a full franchise basis. Notably, the company decided that it could not profitably compete against Lufthansa on Lyons–Munich and so decided to simply operate aircraft on behalf of Air France on this route.
Brit Air already operated some franchise routes for Air France, but on a route by route basis. But the addition of these 11 new routes means that it will be able to expand its route network substantially in one go onto routes which have already been developed and which should immediately be profitable. Since the franchise agreement started in November 1997, there have already been some strong visible benefits. As an example, traffic on the Brest to Lyons routes jumped by around 15% almost overnight as soon as Brit Air became a full member of Fréquence Plus.
Brit Air's route structure will revolve round three airports — Rennes and Nantes in its traditional home territory, and Lyons, which has the potential to become an important hub for secondary traffic flows. For example, Lyons is strategically positioned for northwest–southeast routes such as Rennes–Rome, or northeast–southwest such as Munich- Madrid. The opportunity at Lyons is to be able to offer a much wider range of connections — particularly interlining onto and from Air France flights. Once the third and fourth runways open at CDG, Brit Air will have the opportunity to develop many more routes into Air France's main hub.
Whereas Comair's success is well recognised in the US, Europe appears not yet to have appreciated the strong advantages presented by deregulation to the second–line regionals — especially those which align themselves with a major airline in their home markets, even if they have to forego their name.
As happened in the US, the trend is for European majors to focus on hub to hub competition, feeding traffic from (usually less profitable) short haul routes to (usually more profitable) long haul. At the same time, new opportunities are emerging for regional point to point services that bypass congested hub systems.
Small, agile, entrepreneurial companies such as Brit Air now can use the market presence of their flag carrier to reach the parts that it cannot, and do so profitably.
BRIT AIR FORECAST TRAFFIC AND FINANCIALS
BRIT AIR FORECAST TRAFFIC AND FINANCIALS

| | | | |
| --- | --- | --- | --- |
| | 1997* | 1998 | 1999 |
| Pax (000s) | | | |
| Brit Air operations | 395 | 431 | 438 |
| Ait France franchise | 148 | 387 | 458 |
| Air France wet-lease | 612 | 525 | 539 |
| Total | 1,155 | 1,343 | 1,435 |
| Financials (FFm) | | | |
| Total revenues | 912.8 | 886.7 | 1,124.6 |
| Operating profit | 37.1 | 41.8 | 66.6 |
| Pre-tax profit | 25.5 | 36.5 | 65.9 |
| Net profit | 17.3 | 22.6 | 33.8 |
| Total cash flow (FFm) | 79.4 | 88.8 | 117.3 |