Premium transatlantic airlines: how important are they? Jul/Aug 2007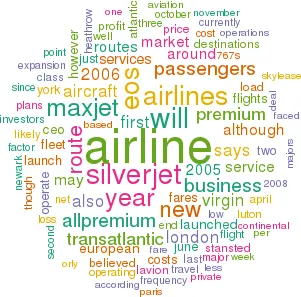 Despite scepticism from many in the industry, specialist all–premium airlines are carving out a niche in the lucrative transatlantic market. But can these airlines make a profit and, if they do, will their success be short–lived, given that some of Europe's majors look set to launch all–premium services of their own?
Eos Airlines
Though transatlantic business fares have slowly come down in the last decade, there's little doubt that business passengers underpin the economic return of transatlantic routes. As Andrew Lobbenberg, aviation analyst at ABN Amro points out, it's premium passengers that "really support the legacy airline profits, and that's why we are seeing all–business class start–up airlines". In this article Aviation Strategy takes a look at the key all–premium entrants: Eos, MAXjet and Silverjet on US–London routes and L'Avion, which has just launched on Newark–Paris; and also considers the response of some of the European majors. New York–based Eos Airlines arose from Atlantic Express, a proposed low cost point to- point transatlantic airline that David Spurlock, a former director of strategy at British Airways, planned to launch back in 2005. At that time the airline was funded with around $90m, with a majority of the carrier's equity held by three US west coast private equity firms — Golden Gate Capital, Maveron (co–founded by Howard Schultz, the chairman of Starbucks) and Sutter Hill Ventures — with the rest owned by the Spurlock family and other investors.
However, in 2005 the airline suffered a spate of managerial resignations and its launch date was postponed after a delay in receiving US FAA certification. But encouraged by the success of PrivatAir's all–premium transatlantic service run on behalf of Lufthansa, in 2005 Spurlock and the other investors decided to change strategy, and the rebranded Eos became the first all–premium transatlantic airline, launching its first service in October 2005, just two weeks before the inaugural service from rival MAXjet.
Today Eos employs around 230 staff and operates three 757–200ERs (on five–year leases from ILFC) between London Stansted and New York JFK, with a fourth aircraft being added in September that will increase frequency on the airline's sole route to 40 flights a week. Eos will receive another 757 in December and a sixth aircraft is currently being "negotiated"; these will be used not just to add frequency on Stansted–JFK but also for two new city pairs that Eos plans to launch before the end of the year.
The first new route will be between Stansted and either Chicago, Boston and Washington DC (with Chicago the most likely candidate), with a probable launch date of November. West coast US routes are not possible with 757s, so if the airline wants to extend its network westwards it will have to acquire 767s (which Eos says may be a possibility at some point).
The second route will be from JFK to a continental European destination, most likely to Italy or to Paris CDG, Frankfurt, Amsterdam or Zurich. Last year Eos said it wanted to commence flights to Paris CDG in March and Zurich in April 2007, but these ambitions have had to be postponed. Nevertheless, the longer–term plan is to add all of these US and European destinations into the Eos network, with a target of around three new destinations a year in 2008–2010. Most of this expansion will be between continental Europe and the US, rather than out of UK airports, and earlier this year Eos applied for the so–called "blanket" open skies certification, which would allow the airline to operate to each and any of the European countries that are in the new open skies deal with the US (without the need for any other application to the US DoT).
In contrast to the lower cost (though still premium) services from its start–up rivals, Eos — named after the Greek goddess of dawn — is firmly aimed at the top end of the premium segment, with an upmarket, luxury product that more closely resembles first–class than business class. Each 757 has 48 lie–flat seats, and among the frills offered are an FFP and personal escort through fast–track check–in. The airline also tries to differentiate itself via on–time service — according to analysis of CAA statistics, the airline was the most punctual of nine scheduled airlines serving New York and London in 2006, with an average delay per flight of 18 minutes (as opposed to the 39 minutes of MAXjet).
This upmarket offering enables Eos to have average fares that — while still cheaper than those offered by BA and Virgin — are higher than its all–premium rivals MAXjet and Silverjet, with some fares starting at around £1,046 ($2,000), but more typically from around £1,499. Interestingly, to encourage trade sales Eos pays UK travel agents a hefty 10% commission on all tickets they sell.
Yet despite this price point, and while Eos says it has a considerable cost advantage over MAXjet and Silverjet as it uses 757s rather than 767s, the airline posted heavy losses in its first year of operation. According to a US DoT filing, in the first six months of 2006 Eos recorded an operating loss of $36m on revenue of $10.5m, which comes on top of a $36.9m operating loss in the six months to the end of 2005.
In October 2006 Eos closed a second tranche of funding, this time raising $75m in a round arranged by Morgan Stanley, in order to fund route and fleet expansion in 2007. Worryingly, Eos continues to reshuffle its management: after CEO and founder David Spurlock moved to become chief strategic officer in June 2006, his replacement as CEO, David Pottruck — who was previously CEO of financial services giant Charles Schwab — lasted just eight months (although he stayed on as Eos chairman) before being replaced as CEO by Jack Williams (who has 23 years' experience with American Airlines and seven with Royal Caribbean Cruises) in February this year.
Williams wants to build up Eos into a "lifestyle brand" — i.e. position Eos even more as a first class rather than business class product. Although the airline is starting to gain a following among board–level executives at some City and Wall Street financial firms, in May this year Eos launched a new $6m marketing campaign in New York and London, partly targeted at premium class customers in the fashion and entertainment industries, as well as in the finance sector.
Williams says the premium market on US–UK routes is growing by 10–12% a year, but while Eos is trying to differentiate itself as being more upmarket than its rivals, there's little doubt that Eos is competing fiercely with MAXjet and Silverjet for largely the same target market. Although airlines try not criticise each other in public, in March this year a senior Eos executive memorably called airlines that claim to be carbon neutral (by offsetting carbon dioxide emission though adding an extra amount to fares) as "putting lipstick on a pig". This was a none too-subtle attack on Silverjet, which has declared itself carbon neutral (see below).
MAXjet Airways
The comment may betray the growing pressure on Eos's latest management to deliver a profitable exit opportunity to its private equity owners, who are no doubt looking for an IPO or trade sale in order to make a hefty profit on their initial investment. Williams claims that the airline is now breaking even on a per–flight basis (i.e. including flight operating costs only), and is aiming to make a net profit in 2008. But load factors are believed to be at around the 70% level, and whether Eos can raise these into the 80s in order to deliver a significant net profit and provide a basis for a successful investor exit remains to be seen. MAXjet Airways is based in Washington DC and launched operations on a New York JFK to London Stansted route in November 2005, just a few weeks after Eos.
Like Eos, MAXjet has also had its fair share of challenges. It was originally called SkyLink Airways and wanted to operate out of Baltimore/Washington airport both domestically and internationally as a low cost, low fare airline, and also as a charter operator. However, it changed its name in April 2005 after a legal challenge from SkyLink Aviation of Canada, and in the same month carried out a major management reshuffle when Kenneth Carlson — its co–founder and first CEO — resigned, and was replaced by Gary Rogliano.
Rising fuel costs, a delay in US FAA certification and difficulty in persuading the US DoT of its "financial fitness" forced the airline to postpone its launch date, and its proposed strategy evolved into an all–premium concept at the same time as it scaled back its initial fleet size (it had originally targeted a fleet of eight 767s by the end of 2005).
After the initial JFK–Stansted route, MAXjet added services from Stansted to Las Vegas and Washington Dulles in 2006. The non–stop Las Vegas route began in November, in direct competition with a Virgin Atlantic service from London Gatwick, but demand is strong enough (with load factors on the route around the 75% level) that MAXjet will increase frequency to four flights a week this September.
The Washington Dulles–Stansted route has been more problematical. After a series of delays it was launched in April 2006, but was unexpectedly suspended in January this year as part of a "seasonal revision", with capacity transferred to Stansted–Las Vegas until May, when the Dulles service was restarted on a four–times–a-week basis. The problem that MAXjet faces is that it is not a route with particularly high demand, with less than 1m passengers a year from London — and many of those are US federal employees, who are mandated to travel on US airlines that the government has block deals with.
MAXjet's three routes are served with a fleet of four 767–200ERs and a single 767- 200 (all of which are leased), with the last two 767–200ERs being added in June and July of this year.
MAXjet defines its market as price–sensitive business customers — often employees of small companies that cannot get corporate discounts (large corporates can get anything up to a 50% discount on fares); standard business travellers at corporates, and affluent leisure travellers who want to experience business class product.
They are served with a 102–seat configuration on the 767s, but crucially MAXjet decided not to equip its aircraft with lie–flat seats, and instead uses standard business seats that recline to "only" 160°. In relative terms (for an all–premium service provider) it is "low–cost" in other areas as well — for example, 85% of tickets are sold via the internet and call centres, with just 15% through travel agents.
MAXjet positions itself as offering the cheapest business class fares across the Atlantic, at a price point that is less than Silverjet and considerably less than Eos. In February it announced a major fare sale, with transatlantic fares as low as £299 one way, including taxes and fees, and MAXjet says that at these prices it attracts leisure passengers that are willing to try business class for the same cost as they would pay for a flexible economy fare on a major airline. Strategically, MAXjet is different from competitors in that it has decided to expand its network rather than primarily build up frequency on its core New York to London route. Now that the two latest aircraft have arrived, a four–times–a-week Stansted–Los Angeles route will be launched in August, which will compete against services out of Heathrow from BA, Virgin, American and United, while a fifth route may be launched either to Florida or the US west coast. MAXjet believes the longer range of the 767–200ER gives it a marked advantage over Eos, and other west coast destinations such as San Francisco are under consideration.
The airline aims to add a sixth 767 in the second half of this year and a seventh in early 2008, and it is likely that these aircraft will be used for expansion on routes to the Middle East, Africa and Asia, which is possible now that the open skies deal allows on–flight rights from the UK to non–EU countries, providing permission is given by that third country. In effect this will turn Stansted into a mini–hub operation for MAXjet, and to facilitate this the airline is reportedly considering moving its base over to Stansted from the US.
However, this expansion will be expensive, and Jarions Investors, its original 100% owner, has already seen mounting losses. Despite carrying more than 75,000 passengers in the period from November 2005 to December 2006, MAXjet made a net loss of $80m for 2006, which came on top of a net loss of $30m in 2005. Revenue grew from $2.3m in 2005 to $41m in 2006, its first full year of operation, but the operating loss increased from $28m in 2005 to $73m in 2006.
MAXjet too has been reshuffling its management, including the appointment of William Stockbridge — who has been at MAXjet since it was founded, and was previously CEO of a cargo company — as CEO in November 2006 (moving over from chairman, and replacing Gary Rogliano). In April this year Richard Sharp was replaced as chairman after five months by Kenneth Woolley (the majority investor in the airline; and who was also an early investor in JetBlue) while John Severson, previously with Spirit Airlines and Jet USA, was made CFO.
There has been unconfirmed speculation that Jarions is looking for an exit, though this is denied by the airline, and last summer there were reports that Indian airline Kingfisher wanted to buy MAXjet (in order to get past Indian government restrictions on international competition — see Aviation Strategy, June 2007), but again this was denied by the US airline. Yet in 2006 the airline also denied reports that MAXjet wanted to float on the Alternative Investment Market (AIM), the junior market of the London Stock Exchange — but that is exactly what it has just done this year.
In early June MAXjet raised £47.3m (net of £3m of fees and costs) from institutional investors through a placing of 36.6m shares at £1.38 arranged by Panmure Gordon. This represents 53.6% of the enlarged equity, and values the airline at £96m. AIM trading started on 14 June, but the share price fell immediately, and stood at £1.29 as at mid- July.
The money raised will be used to fund both fleet and route expansion, as well as for retiring debt, but it is too early to make a call on whether this fundraising will be enough to see the airline through into profit, given increasing competition. Load factor in May was 74.9%, which Stockbridge says is ahead of estimates, but the airline is still not believed to be breaking even.
Silverjet
Silverjet is based at London Luton airport and launched its first flight, on Luton- Newark, in January this year. The airline was founded by the entrepreneur and Silverjet's new CEO Lawrence Hunt, who spent two years researching what budget–conscious business passengers want from a transatlantic service before setting up the company last year. In a pre–launch IPO on AIM in London in May last year, Silverjet raised a total of £25.3m ($48.6m), net of costs and fees. The float valued the airline at £33.6m, with 81% of the airline held by institutional investors and 19% by the airline's directors (including Silverjet chairman Peter Owen, previously CEO of Aer Lingus).
In October last year, Silverjet made the tactical purchase of Gatwick–based charter carrier Flyjet and its associated lessor Skylease for a price of between £4m and £5.5m, depending on certain conditions and targets being reached (and payable in stages up to 2009). Launched in 2003, Flyjet operates charters out of Gatwick and Manchester to holiday destinations around the world, and although Flyjet did have plans to launch a low cost, low fare service on Newark–Luton, the acquisition was made primarily to give Silverjet an air operator's certificate (AOC), although it also benefited from charter flight revenue and the acquisition of some key staff. Skylease was a means to acquire Silverjet's initial aircraft, a 767–200ER that Skylease leases "at a rental which represents a significant discount to current market rates". Skylease also leases two 757s, though these are currently chartered to European tour operators until October of this year.
Prior to the Skylease deal, last year Silverjet signed a letter of intent to acquire two 767–200ERs from Thomsonfly, with the first aircraft delivered this April and the second due to be delivered in October. They are costing Silverjet $14.1m each, and are being financed via a sale and leaseback deal with Novus Capital. After refitting, the first aircraft began operations in July, being used for a second daily frequency on the Luton–Newark route, and when the next one arrives it will enable a third frequency or potentially a second US destination; in May Silverjet applied for permission from the US DoT to start a Luton–Chicago route in November.
This June Silverjet also signed an LoI to receive another pair of ex–Thomsonfly 767- 200ERs, in March of 2008, and in the medium- term the airline wants to launch at least three further routes by 2009, operated with a fleet of up to 10 aircraft. The airline currently employs just over 150, and this will double by the end of 2007.
However, Silverjet also has ambitions to expand considerably in the longer term, and Hunt says that the airline has identified more than 30 routes that it would like to serve out of Luton, with plans to grow the fleet to 40 aircraft inside a decade. Linked to these ambitions, Silverjet is reportedly considering a move to Heathrow when the new Open Skies deal kicks in, though it would be faced with the normal problem of finding slots there, and operations are likely to remain at Luton in the medium–term.
In the US, other potential destinations include Boston, Miami and San Francisco, but long–term Silverjet is looking to expand to non–US destinations, with South Africa a possibility as well as Asian destinations such as China (Beijing, Shanghai and Hong Kong) and India (Mumbai and Delhi). Although these cities are reachable with 767s, the airline is contemplating acquiring A350 or 787 equipment for the operation of these routes, and if the airline went down this strategic path it would switch all its fleet over to A350s or 787s, as it says that it will always operate a single model policy. However, these non–US routes are unlikely to be launched before 2012, although the airline is believed to be talking with prospective airline partners in these countries already, based on partnerships with local airlines that can link up their domestic networks with long–haul flights from Silverjet.
Silverjet's focus is very much on delivering a premium service at the lowest possible cost, making it "difficult for the legacy carriers to compete", according to Hunt. It offers 100 lie–flat seats on its aircraft (which costs £1.9m per 767 to equip), as well as women–only toilets and no overhead lights (which it says bother sleeping passengers). The airline says a major point of differentiation with its competitors at Stansted is that it has copied the separate check–in and security facilities enjoyed by private jet passengers. At Luton it has secured a dedicated terminal (through the 10,000 square feet of Luton's original terminal building) that can handle up to 200 passengers at the same time, while it has contracted with Newark airport for a similar "private area" there.
Similar to MAXjet, Silverjet is targeting corporate executives, upmarket leisure travellers and employees at small and medium–sized businesses. The vast majority of Silverjet's business is believed to be in the latter two categories, although the airline has initially been hampered by its lack of deals with travel management companies (TMC), with whom small and medium businesses traditionally arrange their corporate travel. Since the start of the year the airline has prioritised this area, and has now signed a series of deals with most of the leading TMCs. Silverjet had also been affected by not being live on the main global distribution systems (Amadeus, Galileo, Worldspan and Sabre) until this Spring, which is believed to have hit trade sales in the first few months of 2007 (as the lack of GDS access forces agents to use the airline's website, which they are traditionally reluctant to do).
Silverjet does not operate a FFP and says it has no plans to introduce one as it will merely increase costs. However, this does not preclude future partnerships with other airlines, and sources suggest that informal discussions have been held with easyJet, which has a large presence at Luton. Silverjet has also linked up with a company called CarbonNeutral for a carbon offsetting scheme (with a mandatory offset contribution included in on all fares) that Silverjet claims makes it the first airline to be carbon neutral on all flights.
Other cost–saving initiatives include an unusual "profit share" deal with Talk PR, its public relations agency, which is based on a low monthly retainer fee. However, Silverjet is believed to have a more conventional contract with its blue chip advertising agency, M&C Saatchi, which is running a campaign targeting the SME sector.
Like its rivals, Silverjet has faced losses in its initial operations. It recorded a pre–launch operating loss of £1.5m and net loss of £1.1m in the six–month period to the end of September 2006, and since the IPO says it has faced $11.6m of "unforeseen" expenditure, including the costs of fitting out the Luton terminal and its private lounge at Newark; the acquisition of Flyjet and Skylease; down payments on extra aircraft and an increase in its capital adequacy deposit with the UK CAA (which Silverjet says is due to higher–than–anticipated levels of business).
After originally saying that the £25m raised in 2006 would be enough to take the airline through to break–even, in April Silverjet unexpectedly went back to the market. A placement with institutional and existing investors arranged by Arden Partners and Kaupthing Capital of 14.4m shares (representing 32.5% of the enlarged equity) at a price of £1.80 raised a total of £25.9m, or £24.6m after financing costs and fees. This sum will pay the unexpected costs already incurred and enable other new expenditure (such as increasing the number of cabin crew per flight) and an acceleration of expansion plans.
The airline says it needs just 20,000 passengers each year (less than 0.5% of the total New York–London business market) to break even. According to its calculations, break–even load factor is 65%, with the fully loaded costs of a return Luton–New York flight being £65,000 (of which £24,000 is for fuel), all based on an average return fare of £999. At an 80% load factor, this would mean an annual profit of £5.2m per aircraft.
Silverjet says its average fare has actually crept up from £999 to £1,050, but load factor on Newark–Luton in May was only 62.6% — which is not quite the "resounding success" that the airline claims it to be, although figures just released reveal a load factor of 70% for June.
Despite two major rounds of financing, there is believed to be some unease among some of the original Silverjet investors. The airline floated in May 2006 at a price of £1.12 per share, but this fell to £1.01 in September (see chart) before a steady rise to £2.09 in March 2007, before falling back yet again. Some of the IPO investors, such as the GAM Star investment fund (which bought 6.6% of the company at the float) and the Rathbone Special Situations fund (which bought 5.3%), are believed to have taken profits as the price rose after the IPO, but with the share price currently at £1.56 as at mid–July — i.e. well below the offer price of the recent placement — concern may be growing. In late June a UK newspaper reported that Goldman Sachs had approached Silverjet about a possible investment, but the talks were apparently unsuccessful.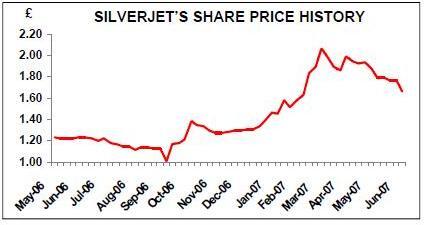 L'Avion
However, Hunt (who owns 8.99% of the airline after the April placement) is bullish about the prospects for Silverjet, and is aiming for turnover of around £38m-£40m in 2007/08, with a small profit. The latest addition to the all–premium transatlantic sector is L'Avion, which began as a concept back in 2002 but was formally launched as Elysair in July 2006 by Société de Participation Aérienne (SPA) with start–up capital of €25m ($32m). SPA is owned by a number of investment companies and individuals, one of which is CEO Marc Rochet (who owns 6.5%), with Christophe Bejach, Elysair chairman, controlling another 5%.
Rochet was previously CEO at AOM–Air Liberté, but became chief executive and president of Elysair in late 2006, where he was faced with a series of problems. Most seriously, Elysair faced a battle to secure sufficient slots at Orly to launch a transatlantic service, as its application to COHOR, the French slot co–ordinator, faced resistance from US airlines, in particular Continental. The US airline pointed out that it and other US carriers had been forced by the French government to move operations from Orly to CDG in the 1990s and that it had since been banned from restarting services out of Orly. Continental therefore objected formally to Elysair's proposed route to Newark (which is a hub for Continental), but COHOR eventually granted the airline more than 600 slots at Orly, which was enough for the French airline to launch its service.
In January this year the airline was rebranded as L'Avion (although Elysair has been retained as the name for the airline's holding company) and launched its inaugural route under the L'Avion brand between Paris Orly and Newark on a 12–flights–a week basis (compared with 98 flights a week on the sector from Air France). Based in Orly, L'Avion operates a single 757–200, a 15 year–old aircraft leased from GOAL (German Operating Aircraft Leasing) and fitted with 90 seats that have a 140° recline.
L'Avion has around 60 employees and offers return fares from €1,599 ($2,130), which the airline claims is 50% less than competitors' fares, and it is targeting 28,000 passengers in its first year of operation. It will add another leased 757–200 at the end of October, initially to be used on boosting frequency on the existing route. However, L'Avion wants to add a second US destination to its network, and the French airline has already formally applied to the US DoT for permission to fly a route to/from Boston. L'Avion says that a third, non–US route will be added in 2008, with destinations in east Europe and the Middle East under consideration.
MAIN PRODUCT DIFFERENCES
Privatair
Eos
Silverjet
MAXjet
Seat Design
Inclined Flat
Horizontal Flat
Inclined Flat
Traditional
(170°,55")
(Flat, 78")
(170°, 60")
(170°, 60")
Consumer Focus
Corporate
Subsidised
Value SME,
Value SME,
(LH, KL, LX)
Corporate, VIP
Leisure
Leisure
Network Design
Hub Bypass or
Scale
Scale
Scope
Complement
(Frequencies)
(Frequencies)
(Destinations)
Distribution
N/A
Multi-channel
Multi-channel
Multi-channel
(Corp. focused)
(Web focused)
(Web focused)
Price Point
N/A
High
Medium
Low

Scale (Frequency) Model
Scope (destinations) Model

Movable large corporate (subsidised) business
Strong local catchment areas
Affluent leisure and VIP traffic
Sub-nine hour stage length (one daily rotation per A/C)

Mix of affluent leisure and movable business
Broad regional catchment areas
Seasonal and economic balance
Availability of peak-time slots
Seven to twelve hour stage length
Source: MAXjet, IEA LCC Conference June 2007
The incumbents respond
L'Avion's tickets are distributed via the internet and French travel agents, and the airline plans to break–even by the middle of 2008, for which it says it needs a 70%-75% load factor. Yet if Virgin and/or BA start operating all–premium services out of Paris in 2008 (see below), the airline might struggle to achieve this, and according to unconfirmed reports some of its flights out of Paris have had only a handful of fare–paying passengers. L'Avion denies this, and says that in the first six months of operation it "exceeded projections", with a 78% load factor in June. Though there have been tentative attempts in the last couple of years to set up premium transatlantic airlines (for example Blue Fox Executive Airlines on Stansted–JFK and Fly First on Luton–Newark, neither of which made it past the planning stage), the challenge this time around to the European (and US) majors from the new breed of all–premium airlines is more serious.
Together, Eos, Silverjet and MAXjet offer 70 flights a week on London–New York, compared with the more than 400 flights a week that other airlines on the sector offer (see chart). These services compete for between 4m and 4.2m passengers a year that travel on New York–London routes, of which around 30% are business and first–class passengers. However, in the other 70% of economy passengers around 0.6m leisure passengers pay more than £500 per return flight, and these are also a target for the all–premium airlines, thus giving a total "premium market" of around 1.8m a year.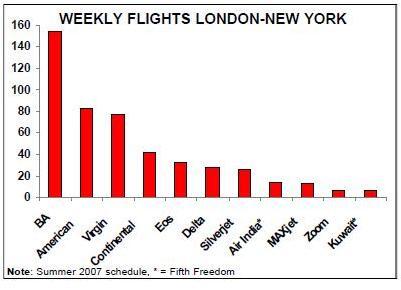 Chris Avery, aviation analyst at JP Morgan, estimates that the three all–premium airlines have already won a 17% share of the transatlantic premium market, and other analysts believe that the specialist premium airline could take as much as 20% to 25% of the transatlantic premium market.
Irrespective of whether the start–up airlines are making a profit, as long as they are carrying passengers that would otherwise travel on BA, Virgin and the other major airlines that operate out of London Heathrow and Gatwick, they are at the very least an irritation to these majors. The larger airlines point out that the starts–up have little or no back–up aircraft if there are technical problems, a restricted timetable and poor connections compared with Heathrow and Gatwick, but that hasn't stopped these new airlines gaining a small but growing following among some executives and leisure travellers. And while Luton and Stansted are not as central as Heathrow, they are not as busy either, thereby allowing quicker passenger processing times and enabling less chance of flight delays. Undoubtedly the new airlines are also benefiting from being at the top of the aviation cycle, as well as from softening fuel prices, but they simply could not establish themselves unless there was a latent customer demand that BA, Virgin and others are not meeting.
This leaves the majors in a dilemma. They are loathe to publicly acknowledge the effect that the start–ups have had on their transatlantic business, but passengers are leaking away, as most (though not all) of Eos, MAXjet and Silverjet's customers previously travelled with one of the four Bermuda II designated airlines allowed into Heathrow.
BA faces a serious challenge, as it is so dependent on premium traffic on New York- London for the majority of its profits. Executives at all three start–ups on London- New York routes barely contain their glee at the continuing bad publicity that BA and Heathrow somehow manage to generate, which provides a steady stream of disgruntled BA passengers prepared to try alternatives. BA, naturally, is very reluctant to drop transatlantic business fares, also it has been increasing the number of premium seats on its transatlantic services and is currently spending £100m in upgrading its premium classes with wider beds and sliding privacy screens.
In May, BA applied to US regulators for permission to offer all–premium services (with either one or two classes) next year between "key European business cities" and the US, which it said would allow it to grow "the most profitable part" of its business — i.e. its premium passengers. BA is believed to be looking at using 757s or 767s, potentially in a two–class configuration, although this service will not be extended into Heathrow flights in the short- and medium–term, as this would obviously cannibalise existing premium revenue.
Meanwhile Virgin Atlantic is spending $23.5m on refurbishing its premium economy product, and in June unveiled plans for an all–business airline that it wants to launch before the end of 2008 at the very latest, operating between London and major European cities to key US destinations. The airline will specifically target the market developed by Eos, MAXjet and Silverjet, and is likely to be launched out of continental Europe first before expansion into the London market, although Virgin has not yet revealed which London airport the airline will operate out of.
However, some analysts are sceptical as to whether an all–premium Virgin airline will ever operate out of London, as again it would cannibalise existing revenue. Richard Branson claims that the airline has had plans for such an airline for a decade, and that as it will be a "hybrid carrier" it will not compete with Virgin Atlantic. But unless Virgin Atlantic and the new airline operate on different route networks, that will be impossible to avoid.
The new airline will probably use some derivation of the Virgin Atlantic brand and be part of the existing FFP, according to Virgin sources, and will operate a fleet of up to 15 narrowbody aircraft. These are likely to be new additions to the Virgin Atlantic fleet, and Virgin is currently negotiating with Airbus and Boeing, although the all–premium airline may also use some of the 15 787s ordered by Virgin Atlantic in April.
Paris, Milan, Madrid, Frankfurt and Zurich are likely to be among the cities linked on the European side, with routes initially going into New York before other US cities are added. It's likely that Virgin's all–premium flights will connect with Virgin America's domestic network, which given the inability of the EU to win rights for European airlines to fly intra–US sectors, may prove very attractive to UK and European business travellers.
Other European majors are expected to follow BA and Virgin's example in setting up all–premium services, although some of them may prefer to go down the outsourcing route, as currently practised by Swiss, Lufthansa and KLM, all of which contract Swiss VIP charter airline PrivatAir to operate all–premium services on their behalf. PrivatAir was founded in 1977 and operates a fleet of A319s, 737s, 757s and 767s for private VIP operations as well as transatlantic all–premium services for third parties. These include Lufthansa (since 2003, using 44–seat or 48–seat A319LRs and BBJs on three routes — Dusseldorf to Newark and Chicago, and Munich–Newark, although the latter service will operate out of Frankfurt from October), Swiss (since 2005, between Zurich and Newark, using a BBJ), and KLM (since 2005, using a BBJ between Amsterdam and Houston).
Premium class transatlantic fleets
Premium class transatlantic fleets

| | | |
| --- | --- | --- |
| Eos Airlines | 757-200ER | 4 |
| MAXjet Airways | 767-200 | 1 |
| | 767-200ER | 4 |
| Silverjet | 767-200ER | 2 |
| L'Avion | 757-200 | 1 |