Skybus: Will the Ryanair model work in the US? Jul/Aug 2007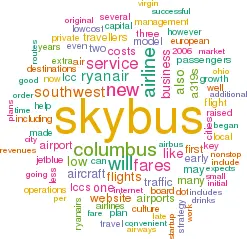 Despite the tougher environment for low cost carriers in the US, this summer is seeing the first significant additions to the LCC ranks since JetBlue in early 2000: Skybus Airlines, which began A319 operations out of Columbus, Ohio, on May 22; and Virgin America, which is gearing up for takeoff from its San Francisco base in August.
While Virgin America will undoubtedly have much greater initial industry impact (because it has a global brand and is heading straight for the key transcontinental markets), Skybus may contribute more to the LCC sector as a pioneer of innovative strategies. The Columbus–based new entrant is uniquely interesting for several reasons.
First, Skybus will be the first airline to test a Ryanair–style business model in the US. The model features ultra–low costs, web–only bookings, bare–bones service, $10 fares, a focus on ancillary revenues and use of secondary airports.
As an interesting twist, Skybus also wants to build a Southwest–style people–centric culture. In other words, it aims to combine the best practices of the world's most successful LCCs. It may succeed because its top management includes several former long–time Southwest and Ryanair executives.
Second, Skybus raised a record $160m in start–up capital, making it the best–financed new airline entrant in US history. Its backers include major financial institutions in New York and Boston, as well as prominent members of the Ohio financial and business community.
Third, Skybus has an unusually aggressive growth plan. The airline placed a $3bn firm order for 65 A319s in October 2006 — the largest order Airbus has received from a US start–up. Those deliveries commence in late 2008, and in the meantime Skybus is rapidly building a fleet of leased A319s.
Fourth, with all of those A319s to finance, Skybus will be an early candidate for an IPO. The current thinking at the airline is that it would go public within three years.
Skybus' background
Skybus has had a promising start, seeing a strong response to its low fares and nonstop flights. But its longer–term prospects will depend on essentially three things: proper execution of the plan, whether the Ryanair–style fare/service concept will work on a larger scale (rather than just as a niche) in the US, and whether the Columbus market can generate enough O&D traffic. Skybus originated as Heartland Airlines, formed in 2000 by John Weikle, a 29–year veteran of the FAA who also worked at UPS and Airborne Express. The plan had been to operate 717s out of a hub at Dayton, Ohio, but Heartland never got off the ground due to September 11 and other factors.
In 2003 Weikle resurrected the venture as Skybus Airlines and switched the base to Columbus, Ohio, to take advantage of America West's decision to close a hub there that year. In 2004 he was joined by Kenneth Gile, a 25- year veteran of Southwest (most recently, director of flight operations), who assumed the position of president/COO and interim CEO. The two men began raising start–up capital and putting together a management team. Skybus applied for DOT certification in January 2005, with the aim of starting operations in early 2006.
The DOT certification process was a breeze (at least compared to Virgin America's): there were no outside objections or major issues and approval was granted in March 2006. However, Skybus wanted to raise more funds, and in the end it needed a waiver from the DOT to prevent its certificate being revoked based on the one–year dormancy rule.
Like JetBlue in New York, Skybus has enjoyed strong local support as the "hometown airline" for Columbus. Its original $3.5m seed money came from three Columbus–based entities: Huntington Bancshares (a regional bank),Nationwide Mutual Capital (a private equity fund owned by an insurance company) and Wolfe Enterprises (a private company with interests in local media enterprises). In 2005 the three original investors contributed an additional $3.25m. Skybus also secured $57m worth of incentives from the city, state and Columbus Regional Airport Authority.
A private placement in February 2006, arranged by Morgan Stanley, raised more than $90m, giving the airline start–up funds that far exceeded the $60m required by the DOT and facilitated the Airbus order. However, to be extra safe, Skybus raised another $72.7m from institutional investors in a private placement in March 2007.
With a total of $160m in equity capital raised when it began operations, Skybus is in a strong position to grow the business and weather any setbacks. It is even better funded than JetBlue, the previous record holder, which raised $130m prior to its launch in February 2000 (or $159m adjusted for inflation).
Skybus has a nicely diffuse ownership structure: as of late March, there were 51 individuals and 32 institutions, and only one entity held more than 7% of the voting stock. The three largest shareholders were Fidelity Investments (12.6%), QVT Financial (a New York–based hedge fund, 6.7%) and Morgan Stanley (6.4%). US institutions and funds held 78.4%, non–US institutions 13.5% and individuals 8.1% of the voting shares.
The nine–member board looks exceptionally strong — a "who's who of heavy hitters", as one local business column described it. It is mostly made up of finance executives and includes several principals from the key investors. Chairman is C. Robert Kidder, principal of 3Stone Advisors (a Columbus–based private investment firm linked to Nationwide, one of the original backers) and also a board director of Morgan Stanley.
The management team is made up of individuals with the right credentials for starting an LCC — mostly seasoned airline managers, including several with long careers at Southwest or Ryanair — but who are unproven in top executive positions.
There are two ex–Southwest veterans, including president/COO Gile, to help instil a Southwest–style culture. Ex–Ryanair veteran Charles Gibson was brought in as consultant and board member to provide the "DNA of Ryanair". Gibson spent 16 years at Ryanair (1986–2002), most recently as director of ground operations, and in 2003–2004 was interim CEO of Tiger Airways, the Singaporebased LCC modelled after Ryanair.
Gibson has a small equity stake in Skybus, as does ex–Ryanair/Tiger Airways executive Declan Ryan. A couple of years ago Declan Ryan also invested in Allegiant Air, the Las Vegas–based niche LCC that has emulated Ryanair's ancillary revenue strategy (see Aviation Strategy briefing, Jan/Feb 2007).
Skybus picked Michael Hodge of New York–based hedge fund Tiger Management (an early investor) as its CFO — a sign that it anticipates significant future capital needs to fund growth. Among other things, Hodge previously oversaw Tiger Management's Ryanair investment.
Ultra-low operating costs
The choice of CEO is intriguing: William Diffenderffer, a former Eastern Airlines attorney (1981–1986), ex–CEO of SystemOne and other travel technology companies and author of leadership book "The Samurai Leader" (2005). He is reportedly highly entrepreneurial and keen to test new business concepts. Like many LCCs, Skybus plans to keep its costs low by operating an all–new single–type fleet, offering one–class no–frills service, using cheaper and less congested airports, maximising productivity and relying heavily on technology and the Internet. But Ryanair and Skybus take many of those strategies further than other LCCs in order to achieve the lowest unit costs in the industry. Skybus expects its CASM to be below Southwest's and AirTran's — currently the low–cost leaders in the US on a stage–length adjusted basis.
Skybus strives for "unprecedented efficiency and productivity". Its owned A319s will have 156 seats; this is the same as European LCC easyJet has on its A319s but 18% more than the 132 seats Frontier, the Denver–based LCC, has on its A319s in single–class operation (the typical two–class configuration on the A319 is 124 seats).
Skybus targets average daily aircraft utilisation of 15 hours, which would exceed the industry–leading 13–14 hours achieved by JetBlue and Gol. The airline believes that its business model and scheduling approach make that kind of utilisation possible. For example, turnaround times are shortened by boarding and disembarking passengers on the ramp, through two doors, rather than using a single airbridge. Of course, lesser airport infrastructure requirements also mean cost savings.
Skybus designs its flight schedules so that aircraft return to Columbus at night, thereby minimising maintenance and flight crew overnight costs and providing a "quality of life" benefit to employees. Allegiant Air introduced something similar a few years ago, calling it a "cost–driven schedule". The strategy is possible because leisure travellers tend to be less concerned about departure and arrival times.
The combination of being a new airline, employing young workers and Columbus being a relatively low–cost location means that Skybus' labour costs must be among the lowest in the industry. Its pilots start at $65,000 annually — less than half of the national average pilot salary. Like Southwest, Skybus is very incentive–oriented. Its flight attendants are on relatively low wages but get commissions on in–flight sales. All of its employees have stock options.
Skybus is the first US airline to function as an e–commerce company, resulting in significant cost savings. The airline sells tickets only through its own website; like Ryanair, it has no call centres.
A new value proposition
Skybus also benefits from extremely low airport costs, resulting from the use of small secondary airports. Skybus' product and fare strategies represent a new value proposition to US air travellers, who are used to a much more upscale product on LCCs than European travellers are seeing.
The airline does not offer connections, code–shares, FFPs, airport lounges, seat assignments or free catered items. Nor does it offer an in–flight entertainment system. US travellers have become accustomed to LiveTV or XM Satellite Radio on LCCs, but Skybus's website simply tells customers to "bring a book".
Also, Skybus' aircraft are more cramped than what US travellers are used to. The airline follows Ryanair's example and leaves out seat back magazine pouches, which apparently adds two inches of legroom. But even then it will only have a 30–31 inch seat pitch, compared to Frontier's 33 inches (or JetBlue's 34 inches on A320s).
The basic premise is, like the Europeans who fly Ryanair, US leisure travellers will not mind the bare–bones product and service, reduced legroom and less convenient airports because they are getting what they really want: extremely low–cost, hassle–free, reliable, nonstop service on clean new aircraft.
Skybus' one–way fares range from $10 (or about $20 including taxes and fees) to last minute fares on the longest sectors as high as $390. The airline has made a commitment to offer at least 10 seats on each flight at the $10 fare. Overall ticket prices are about half of the average cost of flying on competitors. The tickets are non–refundable; the change fee is $40.
The airline has inevitably faced criticism that the $10 fares are gimmicky, impossible to get and could be seen as a bait–and–switch. However, if the European experience is anything to go by, customers will quickly learn that to get the really low fares at peak or holiday periods or on popular routes, bookings must be made months in advance.
In early July, the website showed that the $10 fares were sold out to key long haul destinations in California and Florida through mid- December, though they could be obtained to other cities from September. (On July 11, Skybus began taking reservations for the December 16–March 6 period, thus releasing thousands more $10 fares.)
To earn customer loyalty, it is more critical for Skybus to ensure that fares in the $50-$80 range are available on a consistent basis. That appeared to be the case in early July. One–way fares on the Columbus–Los Angeles (Burbank) route in September–October were $50, $75 or $100 (depending on the date), which compared very favourably with the $99-$149 internet fares that Southwest was offering on one–stop flights via Las Vegas, Phoenix or Chicago Midway.
Skybus wants to emulate Ryanair's highly successful ancillary revenue strategy: maximising on board sales, charging extra for flight–related items that were traditionally often included in the air ticket price, and selling travel- related products through its website. The basic idea is to be able to market an attractive low fare and then sell those additional services that each passenger values.
The extra charges include checked bag fees of $5 each for the first two bags and $50 for each additional bag. Passengers can board early for a $10 fee per flight. Onboard everything from food and drinks to pillows and blankets costs extra. Skybus offers a variety of dishes for $8 or $10, promising "a tasty departure from traditional airlines".
Skybus actually prohibits passengers from bringing their own food or beverages. Ryanair appears to have given up on that policy — according to its website, "passengers are welcome to bring their own food on board" — but Ryanair only sells sandwiches and snacks.
Since some of this is totally new to US travellers, Skybus goes to extra lengths to explain it on its website. There is a section called "the Skybus rules of flying" which, fortunately, comes across as informative and entertaining, rather than cringe–inducing.
One of the most controversial aspects of Skybus is that its customer service is not reachable by phone. But that is one of the "rules" and clearly explained on the website: "Don't call us. We don't have a phone number. Seriously. We'd love to chat, but those phone banks are expensive. And a good website like www.skybus.com is even more convenient."
The in–flight menu section of the web site is full of reminders of the new value proposition: "Fares from $10. Now, there's a reason to celebrate. Pop the top on some Asti Spumante" (which also costs $10; other alcoholic drinks are $5 and soft drinks $2). Another reminder: "No, drinks aren't free. Give us a break — some of you paid just $10 for your seat."
The website is impressive: simple, informative and easy to navigate (Ryanair could learn from it). There are six prominent buttons: Book a flight, Avis/Budget, Hotels, Cruises, Attractions and Vacation packages; plus "Check–in now", "View/change reservations" and "Help" buttons. The "search flights" section includes a unique monthly fare calendar, allowing customers to see at one glance which dates in any particular month have the lowest fares.
Some of the early comments on internet discussion forums indicate, as might be expected, a mixed response to Skybus' policies. Some people feel that the airline is simply going too far, that it is taking humanity out of air travel, while others note that existing service levels are so bad anyway that doing away with them and charging less is a good idea.
Those are the seasoned travellers. But Skybus' low fares will make regular air travel possible for a whole new segment of the population. The internet forums included a posting from a single mother in Columbus who can now, for the first time, afford to fly herself and her five kids to visit grandparents in California.
This type of business model has to be feasible in the US, where so many people have relatives and friends scattered all over the vast country.
However, Skybus may have to modify aspects of the model down the road, such as the no–phone policy. In the wake of JetBlue's service meltdown in February and what one commentator referred to as a "trigger–happy Congress", it may not be possible to be a 100% e–commerce airline in the US.
Skybus has emulated Ryanair's "aircraft branding" strategy, namely selling advertising space inside and outside its aircraft. Fuselage advertising is not totally new in the US — Southwest has a marketing deal with Orlando's SeaWorld, under which one aircraft is painted like the killer whale Shamu — but Skybus is going further by actively promoting it as a revenue source. The going rate is reportedly $500,000 per year per co–branded aircraft.
The first such deal (at a special rate) was clinched with Nationwide Mutual Insurance, one of the original local backers. Under the one–year contract, Nationwide's logo and slogan will appear on the inside and outside of one aircraft. Inside, the ads will be on tray tables, overhead bins, restroom doors and refreshment carts. The rest of the fleet will be in Skybus' standard livery featuring an orange colour scheme similar to easyJet's with a butterfly logo.
People-centric culture
Ancillary revenues account for about 15% of Ryanair's total revenues but 25% of its profits. Allegiant's percentages are similar. Ancillary revenues are the highest–margin business; Merrill Lynch estimated in a late- 2006 report on Allegiant that such activities have pretax margins in excess of 75%. Skybus said in its DOT filings that it would try to create a Southwest–style culture, which it considered critical in making the difference between a successful carrier and one with employee relations challenges. The airline probably has a better chance than most to emulate Southwest, because two of its key executives lived in that culture for many years.
But, while LCCs around the world have copied many aspects of Southwest's business model, no–one has been able to emulate the special "Southwest spirit". It was built and maintained with the help of a personality cult around former–CEO Herb Kelleher. It has a lot to do with going to great lengths to attract the right–quality staff, training them well, treating them well, paying good salaries, creating a fun work environment and motivating workers to outperform their counterparts at other carriers. All of that has been done consistently for over 30 years, allowing trust to build.
Growth plans and prospects
Consequently, Skybus' management now puts more emphasis on developing a culture that is unique to Skybus. Among other things, it means hiring people who are competent, very enthusiastic and willing to take a chance with a new service concept. Skybus plans to link Port Columbus International Airport with key business and leisure destinations throughout the country that are under–served or have only turboprop or RJ service. The airline also expects to fly to selected destinations in Canada and the Caribbean (it has applied to serve Cancun in Mexico and Nassau in the Bahamas).
There are many good market opportunities because, even though Columbus gets plenty of air service, travel to numerous cities from there involves one–stop flights via hubs such as Atlanta, Chicago and Phoenix. Most of the 12 initial routes introduced by Skybus between May 22 and the end of July did not previously have non–stop service.
The initial growth spurt has taken Skybus all around the country. Its network already includes points in the East and West coasts, the Southeast, the Midwest and the Pacific Northwest.
The airline talked about the initial destinations as falling into three types. First, there are the "primary metropolitan areas" such as Kansas City, San Diego, Fort Lauderdale, Richmond (Virginia) and Greensboro/Winston–Salem (North Carolina). Of course, none of those are congested hubs.
Second, Skybus operates to what it calls "convenient, well–known airports that are alternatives to congested gateways". These include Burbank in the Los Angeles area and Oakland in the San Francisco Bay area.
Third, like Ryanair, Skybus is testing the alternate access point potential of various small, low–cost airports that are further away from key cities. These include Bellingham (Washington), which is located between Seattle and Vancouver; Portsmouth (New Hampshire), which is 55 miles from Boston and also convenient for Portland, Manchester and Concord; St. Augustine (Florida), which is a 30–minute drive from Jacksonville; and Chicopee (Massachusetts), which can serve the cities of Hartford and Springfield.
Southwest has shown that out–of–the–way airports can work well in the US when low fares are offered. For example, Southwest has successfully developed Manchester (New Hampshire) into a major gateway — an airport that, like Portsmouth, is 55 miles from Boston.
But Skybus is moving in unchartered territory with airports such as Chicopee and St. Augustine. Chicopee has not had regular passenger service since the 1980s, and before Skybus St. Augustine was not even certified as a commercial airport. Skybus is a dream–come–true for these airports, which have been scrambling to upgrade facilities with the help of state or local grants.
In addition to potential geographical challenges, traffic generation may be hampered by difficult schedules. The once–daily flights are scheduled for the convenience of Columbus–originating passengers (or crews); for example, the 19:18 hour departure time from Chicopee means that New Englandoriginating passengers cannot connect to Florida or the West coast — they have to stay overnight in Columbus.
Like the European LCCs, Skybus offers no connecting flights "at this time" — something that facilitates tighter scheduling and helps keep costs low but will hamper traffic generation, so the policy may well be reconsidered in the future.
In the meantime, many passengers will be creating their own multi–point trips through Columbus, paying separately for each sector and moving their baggage between flights. Skybus says on its website that it does not recommend it, but in reality connecting traffic will help make marginal routes profitable.
Of course, like LCCs typically, Skybus is nimble enough to pull out of a route after a couple of months if the route is doing very badly.
Connecting traffic will grow when frequencies are increased. Most of the routes introduced so far have a daily service, though three markets (Burbank, Ft. Lauderdale and Portsmouth) have two daily flights. However, Skybus expects to eventually operate high–frequency service in many markets, because it is counting on the "Southwest effect" (of traffic multiplying in response to low fares, benefiting all carriers).
The growth plan is ambitious. Having commenced service with two aircraft (both leased from Virgin America), Skybus expects to operate eight leased A319s by year–end and 12 or 13 by the fourth quarter of 2008, when deliveries commence from Airbus. The 65 A319s to be purchased from Airbus will be delivered between late 2008 and 2012, at a rate of 13 or 14 per year.
In a 2003 study commissioned by the Columbus Regional Airport Authority, BACK Aviation Solutions concluded that the Columbus market would respond well to additional low–fare service and that Skybus' plan presented an opportunity to leverage that potential. Skybus' forecasts are based primarily on BACK's estimates and use conservative assumptions (including the assumption that its low fares will be fully matched by competitors). BACK utilised a model that has successfully predicted passenger volumes for LCCs in European markets.
Columbus suffered a major blow when AWA (now US Airways) reduced its operation there from 49 daily flights (mainly RJs) to just four mainline flights in 2003. But that operation had existed only to enhance AWA's presence in the East, and direct flights to the East Coast from Phoenix and Las Vegas had made it redundant.
After AWA, Columbus had many of the pre–requisites for successful LCC entry: limited destinations, no hometown LCC, low–fare service accounting for only 20% of total traffic, a growing metropolitan area and a large potential catchment area. The airport may draw traffic from cities such as Akron, Cincinnati and Cleveland. Columbus is the 15th largest city in the US, with a population of 1.6m, and nearly 6m people live within 100 miles.
But Columbus is not New York, Atlanta or London — huge population and business centres that have facilitated the rapid growth of JetBlue, AirTran and Ryanair. Consequently, there has been some scepticism on Wall Street about Skybus' plans. Calyon Securities analyst Ray Neidl said recently that he found it "difficult to see how enough O&D traffic can be generated out of a city the size of Columbus". JP Morgan's Jamie Baker noted in April (in a research note on Southwest) that "Columbus has already been proven too small to support a low–cost carrier hub, at a time when demand trends were significantly higher".
Also, there is already a fair amount of competition at Columbus — something like 12 other airlines, including Southwest, JetBlue, Delta, US Airways and American. Southwest has a not–insignificant 23% traffic share and operates nonstop from there to nine cities.
Skybus has indicated that it intends to avoid a head–on confrontation with Southwest. Also, the airline sees the possibility of opening a couple of "focus cities", where it could base several aircraft — in other words, reduce dependence on Columbus. Those would probably be wise strategies.