Flybe ready to expand in continental Europe? April 2010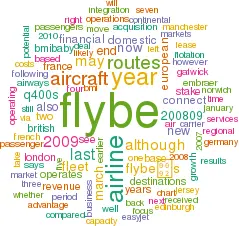 Following the integration of BA Connect and after extensive fleet rationalisation, Flybe believes it is well positioned to take advantage of traffic recovery as the economy improves. But will Flybe also expand into other European domestic markets?
The airline's origins date back to 1969 and it has undergone several name changes, being known as Jersey European Airways and British European Airways before becoming Flybe in July 2002, at which time the carrier became a low cost/low fare airline. However, unlike most LCCs Flybe specifically targets business passengers and offers frills such as flexible tickets, an FFP (called Rewards4All, with more than 1m members) and passenger lounges.
Based at Exeter airport, Flybe has 13 other UK bases (Aberdeen, Birmingham, Belfast City, Edinburgh, Glasgow, Guernsey, Inverness, Isle of Man, Jersey, London Gatwick, Manchester, Newcastle and Southampton) and operates more than 180 routes to 70 destinations, of which 38 are in the UK, 12 in France, five in Germany, three in Spain, two in each of Croatia, Italy and Switzerland, and one in each of Norway, Portugal, Austria, the Netherlands, Eire and Belgium. Three–quarters of Flybe's routes are within the UK, with 15% linking UKEurope business destinations and 10% connecting UK–Europe leisure destinations.
"Unprecedented losses"
Over the last five financial years (see charts, left) Flybe has seen steady growth in revenue, but operating profitability has been patchy and its record at the net level has been poor. Figures only released this January for the financial year ending March 31st 2009 reveal a 6.8% increase in revenue to £572m, based on a 4% rise in passengers carried in the 12 month period, to 7.3m. However, operating profit for April 2008- March 2009 fell a hefty 80% to £6.1m, and net profit plunged from £34.9m in 2007/08 to £4.1m in 2008/09 after "unprecedented" losses in the January–March 2009 period as well as £12.7m of restructuring costs related largely to the integration of BA Connect. Fuel costs rose by more than a third during the financial year to £115m, and the airline was also hit by the decline of sterling against the dollar (since a large part of Flybe's costs are denominated in dollars).
The airline employed 2,953 at the end of 2009, but although the airline implemented a cost reduction programme and productivity has increased recently (see chart, right), Flybe's productivity in terms of passengers per employee is a long way behind all of its European LCC rivals (see chart, right), as would be expected for an airline that, despite being a low cost operator, provides so many frills for its targeted business customer base and operates smaller aircraft.
Jim French — Flybe's chairman and chief executive — says that the airline "is having a good recession", with passenger and revenue improvements since the end of the 2008/09 reporting period. French joined the airline back in 1990, becoming chief executive in 2001 and chairman in 2005, and he insists that the airline is ready to take advantage of better market conditions, whenever they come. That may be happening already (see chart, page 10).
Ancillary revenue per passenger rose 30% in 2008/09 to £10.37, helped by the introduction of paid–for advance seat reservations, and the 2008/09 results have to be taken in the context of Flybe's key focus over the last few years — the integration of BA Connect following its acquisition from British Airways in March 2007 (a deal in which BA in effect paid Flybe approximately £130m to take on the loss–making airline, although the UK flag carrier received a 15% stake in the enlarged Flybe in return).
In the middle of last year Flybe completed a frantic two–year rationalisation programme that has reduced the fleet to two types – 78–seat Bombardier Dash 8 Q400s and 118–seat Embraer 195s, with an average age of less than four years. In that period more than 70 aircraft left or joined the fleet, with 39 BA Connect aircraft being retired (mostly ERJ–145s), and 26 Q400s and 11 Embraer 195s coming in. However, Flybe also reduced its capacity by wet leasing four Q400s to the privatised Olympic Air under a contract that expires in September 2010. After this date the aircraft will return to Flybe's operations.
In addition 11 new aircraft were received in 2009, and the Flybe fleet now stands at 68 aircraft, of which all but 11 are on operating lease, with the airline selling and leasing back four new Q400s with specialist turboprop lessor Nordic Aviation Capital in January this year. No deliveries are scheduled for this year and four Q400s are scheduled for delivery in 2011. There are no other aircraft on firm order however, although Flybe has options for 15 Q400s and 12 E–195s.
Medium-term focus
Once the building of a new training centre in Edinburgh is completed at the end of 2010, capex should drop significantly over the next few years. Financially, the airline is strong. Cash stood at £56.6m as at the end of March 2009, compared with £67.4m a year earlier, but it had long–term debt of just £89.7m at March 2009 (compared with £103.8m a year earlier), most of which is secured bank loans. The focus for the airline is now expansion, although whether this is via organic growth and/or via acquisitions is the key strategic decision for management.
Within the UK, following the absorption of BA Connect, the emphasis is on tactical readjustment of capacity, closing down unprofitable routes and expanding in markets where competitors withdraw. For example, Flybe closed its base at Norwich airport last year, moving its aircraft from there to Manchester and Edinburgh. The Norwich base opened in 2005 and had serviced seven routes, although following the base closure most routes from Norwich have continued, but with aircraft now based at airports at the other end of its routes. On the other hand, last summer Flybe opened a base at London Gatwick, where routes are now flown to nine domestic and three continental European destinations.
In the summer 2010 timetable Flybe has added 16 routes, including seven services from French destinations to Birmingham or Manchester, as well as new services out of Exeter, Southampton, Guernsey, Jersey and London Gatwick. Flybe's position in the UK has also been boosted by the appointment of Loganair as a franchise partner in October 2008. Using Flybe livery, the Glasgow–based airline operates a fleet of 21 aircraft to 20 destinations in Scotland, Northern Ireland and Eire.
Finally, Flybe is taking advantage of bmibaby's withdrawal from certain routes, given Lufthansa Group's restructuring plan for the East Midlands–based LCC unveiled in November last year, which entails "substantial capacity cuts in the winter months" and a reduction in its fleet from 17 to 12 aircraft. So after bmi stopped its four–times–a-day London Gatwick to Leeds Bradford service last year, citing a lack of passenger demand, Flybe stepped in with three flights a day from June using Q400s.
Flybe also increased frequency on the Birmingham–Glasgow route after bmibaby suspended its services in January this year, and in late March it did the same on Birmingham–Edinburgh after again bmibaby appeared to withdraw.
Continental move?
There is some history between the two rivals. There was plenty of speculation in 2008 that Flybe was interested in buying bmi Regional and bmibaby from bmi, but at the time Flybe refused to comment on reports that it had started due diligence on these potential deals. If there was any interest it came to nothing, and now Flybe appears content to compete with bmibaby. The latest CAA statistics for full 2009 show that Flybe is now a close second to easyJet in terms of passengers carried and ASKs (see table, left) — although its load factor last year was well below that of easyJet and British Airways. It is outside of the UK that Flybe may make a more substantial strategic move in the next year or two. Through much of the 2000s Flybe looked closely at replicating its business model in continental European markets, but this was put to one side once BA Connect was bought in 2007 and the airline doubled in size. Until then Flybe had been contemplating launching operations in either of France, Germany, Spain, Italy or Scandinavia, with tentative plans for placing 25 or so aircraft in one of those countries, operating to domestic routes only from a handful of bases.
In the late 2000s Flybe hinted that France was the most likely candidate for a new operation, thanks to the opportunity presented by Air France's loosening of its grip on the domestic market — but in the last few years both Ryanair and easyJet have been expanding domestic routes there. Flybe would also have to compete with the TGV high–speed rail network if it did venture into France. But Flybe currently operates 46 routes between the UK and France (into 12 French airports), so a move into the domestic market there may still be tempting.
Germany may be the other strong candidate. Flybe now operates 14 routes out of the UK to five destinations (Dusseldorf,Stuttgart, Frankfurt, Hanover and Hamburg) and further German routes are believed to be a priority. The downside for Flybe would be a potential counter–attack by the Lufthansa Group in the UK via bmibaby, although that would necessitate an abrupt and unlikely about–turn in the German flag carrier's new strategy for its UK LCC.
But Flybe has also been making noises about playing its role in industry consolidation, and the recent report for the 2008/09 financial year says that the airline "has been approached by various overseas companies to … support existing operations, manage the introduction of regional aircraft operations for others and participate in new joint ventures". The company specifically mentions two projects it worked on in Greece (which presumably is the wet lease deal with Olympic Airlines) and another "outside Europe", which it says was aborted … "since the financial risk profile was not acceptable".
In March this year news emerged of a deal with Gulf Air, whereby Flybe will provide up to 30 pilots and engineers to the Middle Eastern airline and its fleet of Embraer 170s in an initial three–month contract. Gulf Air has received two Embraer 170s on three–year leases, and the carrier may lease another seven aircraft as it tests a regional service.
At same time as 2008/09 results were announced earlier this year, Flybe said it was still looking for acquisition opportunities and — although organic expansion or a joint venture would be the lower risk route to overseas expansion — the danger for Flybe's management is that acquisition may be seen as the preferable option, particularly as the airline may want to create "excitement" before a potential flotation. Flybe has contemplated a float several times before (the last being in early 2009) but the issue may be coming to the fore again now that the fleet has been renewed and the airline is set for growth – and an acquisition may make the airline more appealing to investors.
Timing question
There are suggestions that Flybe (which is advised by Merrill Lynch) may even be considering an IPO later this year, with an announcement possible in the next few months once the UK general election is out of the way (and assuming one political party wins an overall majority). But it's debatable whether the timing is right at the moment because, although the London stock exchange has rebounded from 2009 lows, confidence in the aviation sector is still shaky — and whether Flybe could achieve a valuation much more than BA's implied valuation last year of £200m must be open to doubt.
In its 2008/09 financial results BA included a £13m write–down on its 15% stake in Flybe (on top of an earlier write–down of £6m), thus leaving its valuation of its stake at £30m (and hence valuing the whole of Flybe at just £200m, compared with £327m in 2007). BA said this was due to a "lower rate of forecast revenue and earnings growth than previously expected" at Flybe. Flybe responded with ill–disguised fury at the move, which it said was principally based on "BA's view of their own performance and prospects rather than an analytical view of Flybe's track record and future prospects".
BA's stake is likely to be disposed of when Flybe floats; the rest of the airline is owned by Rosedale (JW) Investments (69%) and by an employee share scheme (15%). The final decision on timing of a flotation rests with Rosendale, the family trust that looks after the majority stake acquired in 1983 by Jack Walker, the British industrialist who made most of his money in the British steel industry (and who died in 2000).
With Flybe known to have been profitable in the six months to the end of September 2009 (it says it made "good profits"), a flotation by the end of the year is possible – although more likely would be sometime in 2011.
UK DOMESTIC MARKET, 2009
UK DOMESTIC MARKET, 2009
Pax. carried
(000s)
ASK
(m)
RPK
(m)
Load
factor
bmi Group
3,248
2,373
1,450
61.1%
British Airways
4,005
2,566
1,846
71.9%
easyJet
5,150
3,178
2,405
75.7%
Flybe
4,941
3,073
1,894
61.6%
Others
2,200
1,357
731
53.6%
TOTAL
19,544
12,547
8,326
66.4%
Source: CAA domestic scheduled statistics.
FLYBE FLEET
FLYBE FLEET
Fleet
Orders
Options
Dash 8 Q400
54
4
15
E-195
14
4
12
TOTAL
68
27