Boeing and Airbus: Backlog quality? September 2002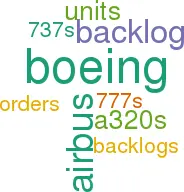 This year Airbus can claim that it has at least caught up with Boeing on all the main measures of civil airliner manufacturing — orders, deliveries and backlog (see Aviation Strategy, July/August, "Airshow jousting"). One lingering issue is the quality of the backlogs.
The tables on these pages come from ACAS data on firm, commercial backlogs for the two manufacturers as at the end of July.
Airbus out–backlogs Boeing by 264 units, which focuses even more attention on the upcoming 120–unit 737–700 versus A319 decision from easyJet.
Other potential upcoming orders include: bmi (737s or A320s); Virgin Blue (737s or A320s); China Eastern (A320s); Air France (777s); Emirates (777s); China Airlines (A330s or 777s); and Australian Airlines (767s).
Some observations on the backlogs:
Some 622 units or 41% of the Airbus backlog is committed to operating lessors, compared to 324 units or 26% for Boeing. This has implications for both delivery positions and the lease rates of Airbus equipment relative to Boeing.
Airbus's exposure to the more financially troubled of the US Majors (US Airways, United and America West) is considerable: it has 109 units on order from these carriers whereas Boeing has none. Boeing does, however, have a mysterious 70 "undisclosed" aircraft.
Boeing dominates the low–cost carrier market. It has 262 737s on order for Southwest, Ryanair, WestJet and easyJet, equivalent to 21% of its backlog. Airbus, so far, has only won orders from JetBlue — 57 A320s, or 4% of its backlog.
BOEING'S FIRM BACKLOG
BOEING'S FIRM BACKLOG

| | | | | | | | |
| --- | --- | --- | --- | --- | --- | --- | --- |
| | 717 | 737 | 747 | 757 | 767 | 777 | TOTAL |
| ILFC | | 136 | 5 | 0 | 0 | 43 | 184 |
| Southwest | | 113 | | | | | 113 |
| Ryanair | | 105 | | | | | 105 |
| GECAS | | 60 | 1 | 0 | 1 | 15 | 77 |
| Undisclosed | | 27 | 4 | | 27 | 12 | 70 |
| Continental | | 56 | 0 | 11 | 0 | 0 | 67 |
| Delta | | 61 | 0 | 0 | 0 | 5 | 66 |
| American | | 41 | 0 | 3 | 9 | 4 | 57 |
| CASC | | 37 | 1 | | | 0 | 38 |
| WestJet | | 28 | | | | | 28 |
| SIA | | | 6 | | | 21 | 27 |
| JAL | | | 3 | | | 23 | 26 |
| Midwest Express | 25 | | | | | | 25 |
| CIT Leasing | | 23 | | 1 | | | 24 |
| Garuda | | 18 | | | | 6 | 24 |
| Varig | | 14 | | | 6 | 4 | 24 |
| Airtran | 21 | | | | | | 21 |
| ANA | | | | | 6 | 14 | 20 |
| Northwest | | | | 17 | | | 17 |
| American Trans Air | | 12 | | 4 | | | 16 |
| easyJet | | 16 | | | | | 16 |
| Korean Air | | 12 | 2 | | | 2 | 16 |
| Boullioun | | 13 | | | | | 13 |
| Air France | | 0 | 2 | | | 10 | 12 |
| Pembroke Capital | 12 | 0 | | | | | 12 |
| Royal Air Maroc | | 11 | | | | | 11 |
| Alaska Airlines | | 10 | | | | | 10 |
| Others (40 operators) | 2 | 63 | 27 | 5 | 5 | 36 | 138 |
| TOTAL | 60 | 856 | 51 | 41 | 54 | 195 | 1257 |
AIRBUS'S FIRM BACKLOG
AIRBUS'S FIRM BACKLOG

| | | | | | | | | | | |
| --- | --- | --- | --- | --- | --- | --- | --- | --- | --- | --- |
| | A600F | A310 | A318 | A319 | A320 | A321 | A330 | A340 | A380 | Total |
| ILFC | | | 20 | 87 | 105 | 56 | 52 | 13 | 10 | 343 |
| GECAS | | | 30 | 15 | 39 | 16 | 18 | | | 118 |
| Northwest | | | | 34 | 9 | | 36 | | | 79 |
| UPS | 66 | | | | | | | | | 66 |
| CIT leasing | | | 4 | 9 | 28 | 6 | 15 | | | 62 |
| JetBlue | | | | | 57 | | | | | 57 |
| United | | | | 23 | 25 | | | | | 48 |
| Air France | | | 15 | 1 | 5 | 1 | 6 | | 10 | 38 |
| SAA | | | | 11 | 15 | | | 12 | | 38 |
| US Airways | | | | 3 | 21 | 13 | 1 | | | 38 |
| Emirates | | | | | | | 7 | 6 | 22 | 35 |
| British Airways | | | 6 | 6 | 16 | 4 | | | | 32 |
| debis | | | | 9 | 14 | 8 | | | | 31 |
| SALE | | | | 3 | 23 | 4 | | | | 30 |
| Lufthansa | | | | | | | | 14 | 15 | 29 |
| Iberia | | | | | 14 | 10 | | 4 | | 28 |
| Boullioun | | | | 10 | 12 | 4 | | | | 26 |
| China Eastern | | | | | 20 | | | 5 | | 25 |
| Qantas | | | | | | | 13 | | 12 | 25 |
| America West | | | 15 | 2 | 6 | | | | | 23 |
| TACA | | | | 5 | 17 | | | | | 22 |
| LanChile | | | | | 15 | | | 3 | | 18 |
| TAM | | | | 10 | 8 | | | | | 18 |
| SIA | | | | | | | | 7 | 10 | 17 |
| Virgin Atlantic | | | | | | | | 10 | 6 | 16 |
| Asiana | | | | | | 8 | 6 | | | 14 |
| SAS | | | | | | 9 | 4 | | | 13 |
| SWISS | | | | | | | | 13 | | 13 |
| Frontier | | | 5 | 7 | | | | | | 12 |
| GATX Capital | | | | | 12 | | | | | 12 |
| Qatar | | | | | 6 | | 5 | | | 11 |
| Alitalia | | | | 10 | | | | | | 10 |
| Federal Express | | | | | | | | | 10 | 10 |
| Others (40 operators) | 3 | 5 | 13 | 20 | 57 | 30 | 21 | 15 | 0 | 164 |
| TOTAL | 69 | 5 | 108 | 265 | 524 | 169 | 184 | 102 | 95 | 1521 |