Philippine Airlines is dead; long live PAL2? October 1998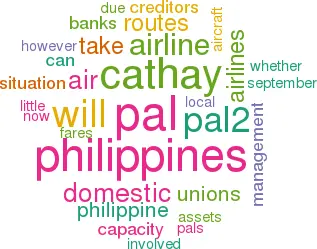 As the corpse of Philippine Airlines barely has time to grow cold, creditors and rivals are crowding round to salvage or exploit what they can from the situation.
Allotting blame for the demise of PAL will do little to help the situation of the 8,000 employees now out of a job, but a combination of the Asian crisis, stubborn unions and poor management (responsible for over–ambitious expansion plans and aircraft ordering) meant that the airline had little chance of survival.
It has to be remembered that corporate failure is an everyday fact of life in all industries, and aviation is no exception — even flag–carriers. But what happens next at the group of assets formerly known as PAL? Rough calculations show that PAL has assets of around $2.1bn, virtually the same amount that the carrier owes to its creditors. These include European banks, owed more than $1.2bn for loans to purchase Airbus equipment; the US Export–Import Bank, which loaned PAL $400m for Boeing aircraft; and local (Philippine) investors and banks, owed around $500m.
In a liquidation situation however, it is unlikely that every asset will be sold for its true market worth. The banks are not waiting to find out though. The US Export–Import Bank seized a 747–400 in Los Angeles the day before it was due to make its last homeward journey, leaving passengers to transfer onto other airlines. Many creditors are angry that they had not been able to repossess assets before PAL went under, as The Philippines' Securities and Exchange Commission had put the airline into receivership since June, pending a reorganisation plan (that was never completed). It is hard though to feel too sorry for the banks involved in this situation — they assessed the risk of lending to PAL, and thought the returns were worthwhile.
What will replace PAL?
Much more important, however, is the question of who will replace the capacity provided by PAL — assuming that no last–minute white knight comes to the rescue?
International airlines — such as Singapore — have been criticised locally for immediately putting up fares on routes to/from The Philippines where there is now no competition. Capacity from international airlines is also being increased to The Philippines, but domestically the void left by PAL (which operated 80% of domestic flights) will have to be filled somehow.
Short–term, Cathay is doing that by operating five A330–300s on certain domestic routes, following a request by Joseph Estrada, The Philippines' president, on September 26. Classified as "charters", Cathay's flights are meant to be temporary, but that will depend on whether Cathay is involved in any resurrection of PAL (so–called PAL2) or whether a domestic airline can take over.
At present Cathay has a 30–day wet–lease contract (which started September 28) that it says is being operated on a cost–only basis (i.e. the government is guaranteeing Cathay against any losses). This could be considered as defensive action by Cathay — precluding a competitor from muscling in on virtual home territory — or as a gesture of goodwill prior to Cathay involvement in a PAL2. Whatever the motive, Cathay's share price rose 10% on September 28 when the contract was announced.
In The Philippines many would prefer a Philippine airline to take over at least the domestic routes in any PAL2. Air Philippines is the most obvious candidate, although it only has 14 aircraft — eight 737–200s, two MD–82s and four YS–11s. However, Air Philippines can only operate the MD–82s at present, due to a suspension by the local civil aviation office following alleged safety violations. Another MD- 82 is due to be leased any time now (1st October), but the airline needs much more capacity than that.
Talks between Air Philippines and Lucio Tan (majority–owner of PAL) for the lease or purchase of 737s, A320s, and Fokker 50s are ongoing, it is claimed.
But in order to take over PAL's long–haul routes (subject to regulatory approval), widebodies will have to be acquired from somewhere. Leasing companies are believed to be negotiating with Air Philippines, and widebodies are cheap and plentiful at the moment. But whether Air Philippines can afford to buy or lease them is another matter.
Logic versus reality
In pure business terms it would be more sensible to have a (relatively) stable, existing operator such as Cathay take over PAL's routes than a troubled and tiny domestic airline, but very little is ever decided on business logic in The Philippines. If a PAL2 decided not to employ all or any of the former PAL staff and/or a foreign airline had a large stake (and a source at Cathay, for example, says that it would not be part of PAL2 if the unions were involved), then unions could try to stop the rebirth of PAL. The unions may see a comparison with what Lorenzo did at Continental, using Chapter 11 as a method to start the airline again from scratch.
The most politically soothing outcome would be for PAL2 to emerge with a variety of shareholders, with both Air Philippines and Cathay taking a piece of the action. Majority control could still rest with "local investors" — i.e Lucio Tan, Air Philippines and the government, but in practical terms day–to–day management would be left to Cathay.
And if Cathay management does end up in charge of PAL2, the first problem it will have to solve will be how to reduce losses domestically. Low domestic fares are the norm but offer no realistic path to making a profit. Lower capacity and higher fares would be logical on domestic routes, but it would take very brave management — Cathay or otherwise — to take such a step.
Whoever is part of PAL2, the entity will have to be shielded legally and financially from the debts of the original PAL. Any asset that Philippine Airlines transfers to PAL2 will have to be at full market value, otherwise PAL's creditors may be even more upset than the unions are.