An irrational fear of job losses? October 1998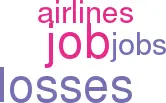 In Europe, union officials fear that airline alliances will accelerate the steady erosion in jobs over in the 1990s.
Whether global alliances will lead to serious job losses long–term remains to be seen, but in fact European job losses have not been as bad as some have imagined them to be — if you look back over a 10–year period (see chart, left, which is based on IATA figures), rather than just the last few years.
While total jobs at these 10 airlines fell by 9% over 1992–1996, if 1996 is compared with 1987, total jobs have actually increased by 3% (to a combined workforce of 239,000) over this period. And this includes the apparent decrease in personnel at Lufthansa, which is actually due to the airline not including maintenance staff in its IATA returns any more.
The unions point out that this analysis is misleading, since what matters to their members is the current trend for job losses. Certainly, in the 1990s virtually all of Europe's airlines have adopted cost–cutting and productivity improvement programmes, most of which include job losses. But the fact remains that there were still more people employed in Europe's major airlines in 1996 than in 1987.