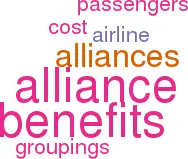 The airline industry used to suffer from merger mania; now it's alliance angst — the fear of being left out of an alliance or being outmanoeuvred by a rival alliance. Hence earlier this year UA/DL and AA/US swiftly followed the NW/CO link–up. And in September oneworld was announced, just two weeks after SIA/Ansett/Air New Zealand revealed the consolidation of their alliance.
BA, American, Cathay and Canadian haven't as yet revealed much hard information about oneworld; the joint statement referred to rather innocuous aims like effecting smoother transfers, offering a range of round–the–world products, and enhancing existing co–operation between FFPs. Unlike the SIA alliance, no commitment was made to code–sharing, and certainly not to equity stakes. David Turnbull, Cathay's CEO, commented that code–sharing was something for the next "two, three or four years"', which suggests that Cathay is still cautious about full commitment to a mega–alliance (though obviously not quite as sceptical as we described in last month's Aviation Strategy briefing on the airline).
The state of airline stocks probably also influenced the timing of the announcement (see page 4). Unfortunately, there was no significant positive impact on the participants' share prices. Investors are clearly waiting for more tangible evidence of oneworld's benefits.
This raises the key issue of how to measure the benefits (or disbenefits) of alliances. Various airlines' claims are shown in this table, but the benefits refer to revenue enhancement, leaving unanswered the question of bottom line benefits. One might assume that most of the additional revenues generated should fall through to the bottom line, given that the marginal cost of carrying extra passengers is normally very low. However, with load factors at record levels, accommodating extra passengers (perhaps at a lower average yield) may be at the cost of displacing existing clients or putting additional capacity on a route.
Airlines also have to play a political game in estimating alliance benefits. If regulators could be persuaded that the benefits were coming from cost savings there would be no problem, but none of the groupings are presently tightly knit enough to realise significant operating economies; regulators are more likely to believe that the benefits are being extracted from passengers. After all, the underlying rationale for alliances is to dominate traffic flows between the members' hubs and hence improve yield on these routes, a strategy which is only constrained if there is effective network competition from other alliances.
Given that alliances do not stimulate overall traffic growth, there must be losers as well as winners (though all three US groupings claim that the benefits from their prospective alliances will be $200m-$300m p.a.). And the losers are not necessarily those outside the mega–alliances — independent, point–to–point operations can be the most profitable of all — but may include those within groupings. As the market deteriorates, the smaller alliance members must be careful that they aren't exploited by the major partners, and turned into regional feeders.
ALLIANCE BENEFITS
ALLIANCE BENEFITS

| | | | | |
| --- | --- | --- | --- | --- |
| | | | Alliance | Enhancement |
| Airline | Region | Revenue | enhancement | as % of revenue |
| Delta | Atlantic | $2,223m | $138m | 6.2% |
| KLM | Atlantic | DFl2,011m | DFl400m | 19.9% |
| Lufthansa | Atlantic | DM3,000m | DM300m | 10.0% |
| Northwest | Atlantic | $644m | $65m | 10.1% |
| Qantas | Kangaroo | AS$723m | AS$35m | 4.8% |
| United | Atlantic | $1,745m | $120m | 6.9% |