Air Berlin: Expanding into a global hybrid? November 2007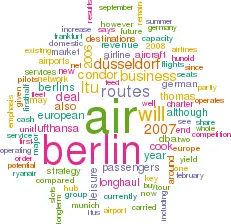 Although Air Berlin began back in 1978 as charter airline, it wasn't until it launched scheduled flights into major European cities in 2002 that expansion really began. In May 2006 Air Berlin underwent a troublesome IPO (see Aviation Strategy, May 2006), but the float provided the impetus for a series of major acquisitions that is turning the airline into a global hybrid rather than the third European LCC that it recently appeared to be.
The first move was for dba, which was bought in August 2006 for €120m to secure a domestic network and feed that complemented Air Berlin's existing network of international routes to medium-haul holiday destinations and European cities. The deal also secured crucial slots at Munich and Düsseldorf airports and enabled Air Berlin to use dba aircraft on Air Berlin's leisure routes in the summer, and larger Air Berlin aircraft on busier domestic dba routes. Although the dba name was phased out in April this year, synergies from integrating the dba fleet are expected to top €30m in 2007, according to Air Berlin.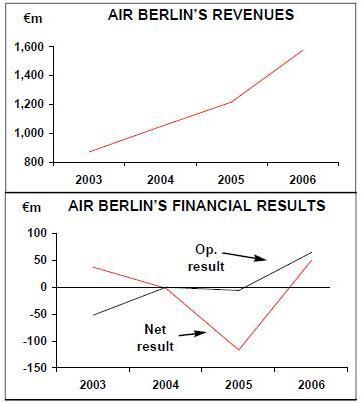 Boosted by the dba deal, 2006 was the most successful year ever for Air Berlin. After three years of losses (see chart), last year Air Berlin achieved an operating profit of €64.1m — its highest–ever, based on a 29.6% rise in turnover, to €1.6bn. Net profit reached €50m in 2006, compared with a €116m net loss in 2005. In 2006 passengers carried on Air Berlin rose 12.5% to 15.2m, which when added to the 4.5m carried by dba (up 12.8% compared with 2005) made a total of 19.7m passengers carried by the Air Berlin group last year (12.6% up on 2005), with a load factor of 75.3% — ( see chart, ,below.)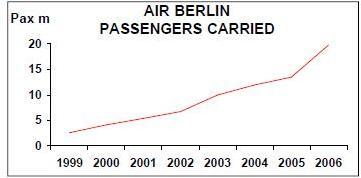 LTU integration
In March this year the airline's next move was to buy charter carrier LTU from its investment firm owners for €140m, including the assumption of up to €200m of debt. LTU had revenue of €1.1bn in 2006, employs 2,900 and operates a fleet of 14 A320s and A321s on medium–haul and 12 A330s on long–haul.
Crucially, the deal signified a major change in strategy. Joachim Hunold, CEO of Air Berlin, has described the airline as a "hybrid carrier", targeting business travellers and leisure passengers as well. However, since 2003 there has been a steady change in emphasis away from leisure to the business traveller, and as can be seen in the chart, the proportion of revenue that comes from bulk sales to tour operators (i.e. charter flights) has fallen from 56% in 2003 to 37% in the first–half of 2007. More than 500 German companies have corporate deals with Air Berlin, and currently around 60% of domestic passengers and 55% of (non-German) European passengers are business travellers. Air Berlin wants to increase this further, and the vulnerability that the airline has in still being exposed to a large amount of business from lower margin and more fluctuating demand from leisure passengers was shown when Air Berlin released its results for the first–half of 2007.
In the first half of the year Air Berlin saw a 7.1% rise in revenue to €921m (on a proforma basis compared with 1H 2006 — i.e. including dba results), with passengers carried rising 11.7% to 10.1m. Disappointingly however, on a per passenger basis ancillary revenue only rose in the first–half of 2007 thanks to so–called "technical assistance" to other airlines; so far Air Berlin has not emulated the aggressiveness of Ryanair in driving up ancillary revenues. ASKs grew by 8.9% in January–June 2007 but RPKs grew by 10%, leading to a 0.7 percentage point rise in load factor, to 74.2%. However, operating losses increased to €37.3m (-€32.8m in H1 2006) and the net loss rose to €29.3m, compared with a net loss of €16.7m in the first–half of 2006. Air Berlin blamed the figures on yield pressure and delayed permission (not given until August) by the Bundeskartellamt — the German competition regulator — for the LTU deal. The latter knocked operating profits by €30m according to Air Berlin, and during the half–year the airline suffered from expensive short–term contracts for wet–leased aircraft to make up for the unexpected shortage in capacity. Air Berlin also said that good German weather stopped leisure passengers from travelling and led to fierce competition from German and foreign airlines. Recently released third–quarter revenue figures came in at €858m, (although it is difficult to find a comparator due to Air Berlin's merger activity) and net profits jumped by 57% to €61m.
This exposure to the leisure sector was a key motivation for the LTU deal, because although LTU is primarily a leisure–focused airline (just under two–thirds of its revenue comes from tour operators), it has a significant number of long–haul routes, and it is these routes — and their slots at key airports — that are the core of the change in Air Berlin's strategy: to build up a network of long–haul business routes that can be fed by the existing European services.
As LTU is primarily a leisure airline, this means a complete overhaul of the carrier's network and product as its operations are merged into the Air Berlin group. In Europe, there will be rationalisation of overlapping services and a cull of unprofitable routes: LTU adds 15 new destinations to Air Berlin in the continent (most of which are in the eastern Mediterranean), but LTU and Air Berlin overlap on 42 European routes, many of which are from Germany down to Palma de Mallorca.
LTU's European operation makes a loss as a whole, with around 55% of routes making a marginal or negative contribution, and Air Berlin says the main areas of concern are routes down to Spain, Portugal and certain "city destinations". Already earmarked to be closed in the upcoming winter timetable are LTU's routes from Düsseldorf to Madrid, Lisbon, Athens and Thessalonica, as well as domestic LTU services. Revealingly, while Air Berlin's European network is profitable, Air Berlin also admits that 30% of its own routes have marginal or negative contribution, with the latter due to being either new routes or to strong competition. Air Berlin has decided to terminate its Stansted hub and beyond services to Birmingham, Glasgow, Belfast and Manchester from the winter 2007/08 timetable. Air Berlin launched its first domestic UK service in 2005 but says they became "commercially difficult" following the increase in UK air passenger duty earlier in 2007. Stansted will remain an important point–to point destination however, and a Stansted- Munich service launches this month.
On long–haul, LTU currently serves 16 destinations in the Americas, six in Africa and four in the Asia/Pacific region out of Düsseldorf, Berlin and Munich. All these routes are now undergoing a review by Air Berlin management, but Air Berlin is closing LTU routes to Las Vegas, Toronto and Colombo, while all LTU routes out of Frankfurt are being transferred to Düsseldorf and Munich. For the rest, while Air Berlin says these routes are "currently dominated" by tour operators, and it will seek to increase seat–only sales, it's clear that there is a major distinction between what Air Berlin considers "leisure" and "business" routes. The former includes existing LTU routes to central America and the Caribbean, Africa, Indian Ocean and Thailand, while the latter will include existing LTU routes to New York, Los Angeles, Miami and Fort Myers (although it must be said that the inclusion of Fort Myers and Miami as business routes is puzzling), while new "business routes" to Beijing and Shanghai will be launched using LTU's A330s from the summer of 2008.
Started this October, the key initiative taking place on this route classification (in what Air Berlin calls a "quick win") is an overhaul of LTU's business class product. On the leisure routes, business class will be replaced by a "Relax Class", with an improved seat pitch and 24 seats per cabin instead of the current 18, while on the business routes a "Premium Business Class" is being introduced, with fully–reclinable seats and an increase in capacity from 18 to 30 seats per aircraft.
While Air Berlin is unlikely to wind down its long–haul charter business in the short–term, given that — as Hunold says — there is to be a "greater focus placed on business travel", the future of the leisure routes in the long–term is clear, and looking forward to 2008 compared with 2007 (see chart), "charter passengers" is the only market segment that Air Berlin expects to decline.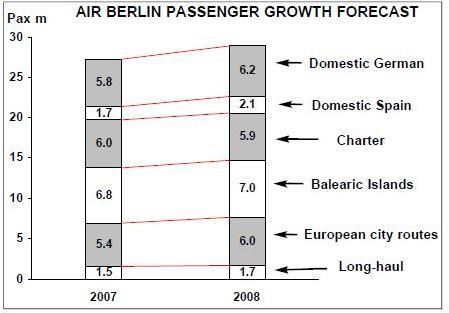 A further indication of the change in emphasis is Air Berlin's dropping of the LTU brand on everything other than the leisure route flights to the Caribbean, Africa and the Asia/Pacific region, as according to Hunold, "it makes sense" to operate all of the group's business services under the same brand. He admits that Air Berlin considered the total abolition of the LTU name, but this is likely to be no more than a temporary reprieve, lasting until the long–haul leisure routes have been wound down to a certain size — i.e. to those routes that can be supported by direct seat–only sales, rather than have to rely on declining charter business.
Air Berlin also owns 49% of Swiss–based Belair, a subsidiary of tour operator Hotelplan, which operates two 757s and a single 767 leased from ILFC on charter routes, mainly from Switzerland to the Mediterranean. Hotelplan bought the airline from Swissair (where — confusingly — it was called Balair) in 2001, but again, after Air Berlin announced the deal to buy Belair in March this year, it didn't get clearance from the regulatory authorities until August. Where Belair fits into the new strategy of a greater emphasis on business passengers is unclear.
The rationale for the long–term culling of the leisure network — and the underlying reason why LTU was bought — is slots, and in particular the slots that LTU has at Düsseldorf airport, its main operational base. Until recently, Air Berlin's strategy had been to have geographical coverage across the whole of Germany, with services from both primary and secondary airports, and today the airline operates out of 15 German airports to (pre–LTU) 87 business and leisure destinations in Europe and North Africa. But at the same time as Air Berlin has been slowly switching its emphasis from leisure to business travellers, it has also been building up hub operations at two airports — Berlin and Düsseldorf.
Air Berlin also operates two smaller "leisure hubs", one of which is at Palma de Mallorca, which was established back in 1997 and which offers connecting service from Air Berlin and Niki (which Air Berlin has owned24% of since January 2004) to Iberian destinations, and through which 6m Air Berlin passengers are expected to travel in 2007. Air Berlin has a 27% share of passengers carried at Palma, and this should increase now that Terminal C at Palma has increased its capacity to 54 gates through a €50m investment by the airport operator, almost all of which are dedicated to Air Berlin flights. With services to 18 Iberian destinations, Air Berlin has a 7% market share of the entire Spanish market — although that is sure to come under pressure over the next few years given the increasingly cut–throat competition between Vueling, Spanair, Iberia and the foreign LCCs. Since 2006 Air Berlin has also built up a small hub operation at Zurich airport, connecting services from German and Austrian airports to flights into the Canary Islands.
Düsseldorf - the key
GERMAN CATCHMENT AREAS

| | | |
| --- | --- | --- |
| | | Pax. carried at |
| | Population | main airport(s) |
| | within 100km | in 2006 |
| Düsseldorf | 18.0m | 16.6m |
| Frankfurt | 9.7m | 52.8m |
| Stuttgart | 9.5m | 10.1m |
| Berlin | 6.1m | 17.9m |
| Hamburg | 6.1m | 11.6m |
| Munich | 6.1m | 30.8m |
Düsseldorf is where the airline is "betting its future on", as one analyst puts it. Air Berlin believes the airport has tremendous potential for growth — Düsseldorf airport expects to handle 17m passengers in 2007 and is investing €150m in developing its infrastructure so that it becomes a major hub. As the table (right) shows, Düsseldorf is the most underdeveloped of the major German airports in terms of its traffic–to–catchment area ratio, but Hunold says that until now Air Berlin has not been able to grow at Düsseldorf "owing to the limitation of departure slots".
The LTU deal solves that problem. As of the summer 2007 schedule, Air Berlin fed around 400 flights a week into Düsseldorf, with capacity of around 54,000 seats. The LTU deal adds around 40,000 weekly seats at Düsseldorf, and combined (and even before Air Berlin's planned flight expansion out of Düsseldorf) this beats the 75,000 weekly seats at Düsseldorf offered by Lufthansa, as well as the 10,000 of BA.
Key to LTU's integration at Düsseldorf is ensuring good connections between Air Berlin's European feed and the LTU "business routes". The latter will be built up to a seven–day–a-week service by the summer of 2008 and will connect into a two–wave pattern that Air Berlin will operate at Düsseldorf. Eastbound, flights from Europe will arrive between 5pm and 6pm, connecting with services to Bangkok, Beijing and Shanghai that depart up to 7pm; while westbound, incoming European connections will cluster around 11am and feed into flights to Fort Myers, Los Angeles, New York, Miami and Vancouver that depart around 1pm.
Air Berlin is also bolstering partnerships at its long–haul destinations. In September, for example, the airline signed a partnership with Hainan Airlines, which will connect Air Berlin passengers arriving at Beijing from Düsseldorf next summer with around 50 domestic Chinese destinations. As part of the co–operation, Hainan will launch a service between Beijing and Berlin that will connect in with Air Berlin's domestic and European network.
The potential problem, however, with Air Berlin's Düsseldorf strategy is Lufthansa. It already has a major presence at Düsseldorf and has identified the airport as being the most likely point for a competitor to create a threat to its main hubs at Munich and Frankfurt (see Aviation Strategy, October 2007). There's little doubt that Lufthansa will try to build up a long–haul network out of Düsseldorf, but thanks to the LTU deal Air Berlin has — for now at least — a healthy lead over its rival.
Air Berlin needs to avoid a damaging longhaul fare war with Lufthansa out of Düsseldorf, although Air Berlin is re–launching the LTU business routes with some targeted fare cuts, such as a one–way flight from Düsseldorf to New York from €129 from November this year, with an extra €40 for any connecting flight originating within Germany.
Already the danger signs of yield erosion on Air Berlin's European routes are clear to see. The most worrying aspect about the January–June 2007 results was the yield and unit revenue trend. Unit revenue fell 5.4% year–on–year in the second quarter and 1.7% overall in the first–half of 2007, while yield fell by 4.9% in 1Q and 2.6% in 1H. The real fear is that cut–throat competition on European business routes is here to stay, and Lufthansa has also experienced sharply falling yields within Europe — as have virtually all other European airlines.
The Condor acquisition
Therefore if Air Berlin is betting its future on securing high margins on long–haul out of Düsseldorf (which will more than compensate for low margin — but vital — European business feed), then it needs to dominate Düsseldorf. That's partly why Air Berlin has moved for Condor, yet another charter carrier, but one that has offers 10,000 seats a week at Düsseldorf that will be added to the Air Berlin/LTU total when it becomes part of the group. The Condor deal was signalled back in March when Air Berlin said it was ending its code–share with Hapagfly (launched in November 2004 and part of the TUI group, and which has since become TUIfly after merging with low–fare carrier Hapag–Lloyd Express) at the end of the winter 2006/07 season, in favour of a partnership with Condor.
In September Air Berlin announced a deal to buy Condor from Thomas Cook, which is the travel division of German retailer Arcandor, previously known as KarstadtQuelle (Arcandor bought the 50% of Thomas Cook that it didn't own from Lufthansa in January this year). Air Berlin's shares plus cash deal for Condor will have to be ratified by the German regulator, and as Condor and LTU are the two largest charter airlines in Germany it's not inconceivable that the Bundeskartellamt may block the deal, or impose some kind of conditions.
However, barring any intervention by the regulator, Air Berlin plans to acquire the 75.1% of Condor that Thomas Cook currently owns in February 2009. At that date Thomas Cook will also acquire the remaining 24.9% of Condor that now belongs to Lufthansa, but for which Thomas Cook has a call option to purchase for €77m from February 2009.Thomas Cook will then sell that stake to Air Berlin in February 2010. In return, Thomas Cook will acquire at least €500m in cash and shares in Air Berlin, made up of shares worth between €380m-€475m (depending on the share price in February 2009) and representing between 20% and 29.99% of Air Berlin, plus cash of approximately €120m, which represents the cash assets of Condor.
Thomas Cook's rationale for the deal is that it doesn't need to own aircraft assets, particularly when 60% of Condor's revenues don't come from Thomas Cook (with 24% of overall revenue coming from third–party tour operators and 36% from direct seat–only sales). Thomas Cook will not be able to sell its stake in Air Berlin until February 2011, although both Air Berlin and Thomas Cook say they will remain long–term strategic partners following the deal, and Thomas Cook will appoint one executive and two non–executive directors onto the Air Berlin board. But Thomas Cook merged with UK tour operator MyTravel in June this year and is the second largest operator in Europe after TUI, and whether Air Berlin will want Thomas Cook to remain a shareholder in the long–term is open to some doubt, given that Air Berlin's current strategy is to give greater emphasis to the business market and less to leisure revenue.
The deal was also dependent on Lufthansa not exercising pre–emption rights to buy the whole of Condor once a formal offer came in from another party. While Lufthansa was tempted to stop the Air Berlin/Thomas Cook tie–up, the cost of acquiring the whole of Condor and the fact that it would not fit in with Lufthansa's strategy proved to be decisive, and Lufthansa says it will not exercise its preemption rights. On the other hand, if Lufthansa agrees, it could allow Thomas Cook to buy out its 24.9% stake in Condor earlier than February 2009, thus allowing the entire deal to go through quicker than the timetable suggested above. But Lufthansa is unlikely to agree to this, as it knows full well that Air Berlin will use Condor's assets to build up competition to the flag carrier's long–haul network.
Assuming the regulator does not object, Air Berlin will acquire Condor's fleet of 35 aircraft (as well as two other aircraft owned by Thomas Cook) that currently operate to 80 leisure destinations, split almost evenly between European (largely in the Mediterranean) and long–haul (mostly Caribbean North American and Indian Ocean) destinations. Condor has 2,300 employees and carried 7.8m passengers in 2006, with revenue of €1.2bn. Condor itself operates nine 767–300s and 13 757–300s, while subsidiary Condor Berlin has 13 A320s. While Condor operates from many German cities (including Düsseldorf), the carrier's main hub is Frankfurt, with Munich a secondary hub, and while there is no way that Air Berlin will be able to build up an operation comparable to that of Lufthansa at Munich and Frankfurt, (and indeed Air Berlin is transferring LTU routes away from Frankfurt in the short–term) the routes it will offer at these airports post completion of the Condor deal will be a key part of building up scale for Air Berlin and its business customers — even if Düsseldorf will remain the key long–haul hub for the Air Berlin group in the long–term.
Positive synergies
Air Berlin forecasts that the eventual merger of Condor into Air Berlin's operations will generate "positive synergies" of at least €70m a year by 2010, an estimate that will hopefully prove to be more accurate than the initial forecasts given for LTU. Air Berlin had expected significant benefits from integrating LTU this year, but in an update given to analysts in September Air Berlin said the delay in Bundeskartellamt approval meant that synergies will be "below original expectations" of €35m in 2007 and between €70m and €100m in 2008. Air Berlin now forecasts synergies of €20m in 2007 and up to €70m in 2008, although from this has to be subtracted integration costs of around €20m in 2007 (which means that there will be no overall effect on operating profit this year) and €15m in 2008.
The synergistic benefits from the acquisitions are important to Air Berlin as it needs to keep cutting costs on a unit basis in order to mitigate the fall in yields it is experiencing. While it is gaining some economies of scale as it grows (for example through the renegotiation of better terms with airports and other suppliers), unit costs are not coming down fast enough to negate the drop in unit revenue: unit costs came down 1.4% in the first–half of 2007, compared with the 1.7% fall in unit revenue.
Hence, once cartel office approval came through for the LTU deal, Air Berlin announced it was merging the engineering departments of dba, LTU and Air Berlin under the name "Air Berlin Technik", which will employ a total of 1,100 staff. That merger was done via agreement with unions, which is an interesting development since Air Berlin — like Ryanair — has traditionally had an adversarial attitude to collective representation and it had previously refused to negotiate with unions. This attitude has had to shift after the acquisition of dba and LTU, both of which have strong union representation. Indeed a first–ever collective agreement with 800 pilots (represented by Vereinigung Cockpit (VC), the German pilots' union) and 1,440 cabin crew (represented by the Ver.di union) at Air Berlin was agreed by management in August and September, including 2%-3% pay rises over the period to the end of 2008. Air Berlin also promised to open talks on setting up its first ever works council. This agreement excluded staff at LTU and dba, but after a "warning strike" by the former and the threat of more substantial industrial action, a deal was signed with LTU pilots represented by VCthe same month, and this was quickly followed by an agreement with 130 dba pilots (again represented by VC), bringing their pay and conditions in line with those elsewhere at Air Berlin.
Despite this softer line, Air Berlin may be heading into potential union problems once Condor is acquired, since Condor's pilots have mostly been seconded from Lufthansa, and have pay and conditions that are substantially better than those enjoyed by Air Berlin pilots. How many Condor pilots will transfer over to Air Berlin at the end of the decade is unknown at the moment, but those that do go will be fiercely resistant to any erosion in the terms of their existing collective agreements.
Speculative future
Air Berlin's future depends not on cost–cutting but in being successful in its strategy of serving business passengers on both short- and long–haul. None of the other European LCCs have expanded into longhaul and Air Berlin's managers will have to deal not only with the complexity of two types of operations, but also with the intricacies of integrating the new acquisitions as well as the challenge of managing down the tour operating/leisure business over the foreseeable future.
AIR BERLIN GROUP FLEET

| | | |
| --- | --- | --- |
| | | Orders |
| | Fleet | (options) |
| Air Berlin | | |
| F100 | 14 | |
| 737-300 | 1 | |
| 737-500 | 1 | |
| 737-700 | 7 | 25 |
| 737-800 | 40 | 61 |
| 787-8 | | 25 (10) |
| A319 | 8 | 11 |
| A320 | 18 | 27 (40) |
| LTU | | |
| A320 | 10 | |
| A321 | 4 | |
| A330 | 12 | |
| Total | 115 | 149 (50) |
Operationally, that is a lot to do. Air Berlin currently serves just under 90 destinations out of Germany, with routes to Gothenburg, Stockholm, Kavala, Zakynthos, St. Petersburg, Naples, Olbia and Palermo added in the first half of 2007, but even before the extra capacity from LTU and Condor comes on board, Air Berlin will have to find enough routes and markets for the substantial amount of aircraft it has on order. Air Berlin and LTU currently have a fleet of 115 aircraft (see table, right), and even without the extra aircraft from Condor that will join in 2009, Air Berlin has a substantial 149 aircraft on order. In November 2006 Air Berlin ordered 60 737–800s for delivery from the end of 2007 to 2014, and in the same month 25 737–700s were also ordered. Although they will partly replace the fleet of F100s acquired from dba, after Air Berlin announced the 737 order its shares plunged by more than 10% in two hours, reflecting unease in the market as to where the new aircraft would be placed profitably in a European market where Ryanair and easyJet are scouring Europe in search of new routes for their growing fleets. Just under 30 A320s are also on order, and Air Berlin is also reported to have ordered 10 Q400s for its affiliate airline Germania Express, although this is as yet unconfirmed.
For long–haul, in July this year Air Berlin ordered 25 787s for delivery in 2013–2017, and placed options for 10 aircraft and purchase right for another 15. The list price is $4bn, although a very substantial discount was obtained on this. Financially, Air Berlin is relatively strong. Long–term debt rose to €763m at the end of June 2007, compared with €518m at the end of 2006, but cash and cash equivalents stood at €364m at the end of the first–half of 2007 compared with €316m at the end of 2006, thanks to an issue of convertible bonds and new equity in March, and better cash flow from operations.
Some analysts believe that Air Berlin — which had 4,580 employees as at the end of June this year — has embarked on an aggressive acquisition strategy partly because there has been increasing speculation that Air Berlin itself might be the target of a bid by a larger airline. Takeover speculation was fuelled by Deutsche Bank's building of 16.4% stake in Air Berlin by September this year (from 10.1% in May), although the bank insists that this is a financial play, and not a strategic investment held on behalf of itself or a third–party.
Among potential bidders that have been mentioned is Air France/KLM (denied by the French/Dutch group), with one analyst saying that Air France/KLM would benefit not only by getting access to the German market in a direct attack on Lufthansa, but this move would also protect its home markets from Air Berlin's planned expansion at Düsseldorf, which would attract feed from the Dutch market. But there would be little overlap between the business models of Air France/KLM and Air Berlin, and — perhaps more importantly — a triple Paris, Amsterdam and Düsseldorf hub model may be too unwieldy and dispersed to work. Another candidate that has been mentioned in the press is Ryanair, a potential tie–up that looks a very long–shot, but one — if it ever happened — that would strike fear among the legacy carriers in Europe.
Away from the speculation however, there's little doubt that Air Berlin faces major challenges in managing its capacity growth and the planned mergers over the next few years. Air Berlin says that the LTU deal makes the Air Berlin group the fourth–largest in Europe in terms of ASKs, ahead of easyJet and BA and behind only Ryanair, Air France/KLM and Lufthansa, but although Air Berlin aims to carry 22m passengers in 2007 — and traditionally has much stronger results in the second half of the year rather than the first six months — the poor January–June 2007 results have forced the airline to withdraw its previous forecast of a 5% operating margin for full 2007.
Instead, Air Berlin "only" expects full 2007 operating profit to beat the €64m figure recorded in 2006, while 2007 net profit is also expected to be better than that of 2006. More worryingly, Air Berlin had previously forecast an improvement in overall yield during the whole of 2007 of up to 2%, but this will be very difficult to achieve now, given the fall in yield in the first–half of 2007 and the "tough winter" forecast by Ulf Huettmeyer, CFO of Air Berlin.
Unease about Air Berlin's future has been filtering into its share price. It has fallen from just above €20 in May this year down to €12 as at mid–October, due largely to worries about oil prices and the robustness of demand, although Hunold believes the company is undervalued at its current market capitalisation of around €800m. Currently 65% of Air Berlin's equity is on free float, with the rest held by a number of original founders, management and investors, including Hunold with 3.2% and Johannes Zurnieden (Air Berlin's chairman) with 1.5%.
With Air Berlin continuing to increase capacity substantially — partly to secure market share and partly to avoid losing slots at key capacity–constrained airports — yield will remain under pressure for some time, and so will the share price. Indeed the nightmare scenario for Air Berlin may be that, thanks to the acquisition of Condor and the threat this presents to Lufthansa at Frankfurt, as one analysts puts it, the "cosy duopolistic " relationship that Air Berlin and Lufthansa held in the German market may vanish, and that the flag carrier's "gloves may come off". So whether management likes it or not, until the new emphasis on short- and long–haul business passengers translates into more robust financials, the speculation about Air Berlin being a potential takeover target will only grow.