Airport privatisation - unstoppable process but becoming riskier November 2000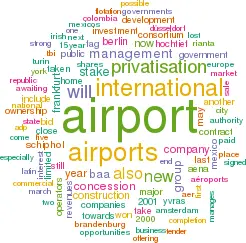 Over the next five years, another ten or so major airports will generate headline privatisation news, with many more small airports also expected to come onto the market at the same time. Amsterdam, Brussels, Frankfurt, Munich, Sydney and Mexico City are the leading candidates.
Few airports in Europe and Latin America will remain in public hands, while a slow acceleration in moves towards privatisation, or at least in the adoption of commercial management and operational practices, is forecast to take place in the Far East. In the US, airport owners are using privatisation on a more limited scale, transferring ownership of only selected assets, such as terminal buildings and cargo facilities, to private companies.
The FAA's Airport Pilot Privatisation Program (APPP), which was launched in 1996 with the aim of privatising five selected airports, has made slow progress, with no major hub airport taking this route. Unlike airports in other countries, US airports have been more fortunate in being able to access large funds through bond issues and federal grants, taking away the urgency felt elsewhere, but there too, the mood is changing.
European airports have taken the lead in the privatisation stakes, and continue to set the pace. This is partly because the public funds to finance large infrastructure developments, especially at congested hubs, are drying up fast. But with limited possibilities for expansion at home, the international market is also seen as the natural extension to grow the business and export expertise lacking in other parts of the world. Global airport groups are thus beginning to take shape, with bidding having taken on a strong competitive edge.
Yet, an element of caution is creeping into the hitherto unchallenged perception that airports represent a safe investment coupled with plentiful opportunities for sizeable year on- year profits. Poor stock performance and erratic share prices have pushed some airport companies into the red, making many industry observers believe that the exceptionally high trade sales, at ratios of up to 21 EBITA (earnings before interest, tax, depreciation and amortisation), may now be a thing of the past.
The reasons include: continued and threatened increase in regulatory intervention; ever more stringent environmental restrictions, especially on night flying; and in Europe, the fall–out from the abolition of duty–free, which has depressed non–aviation revenues.
At airports run by a public–private partnership, another restraining factor could be the possible conflict between the differing objectives of the participants and interference by the public body in commercial decisions. These are all factors which potential investors are now beginning to take into account much more carefully than before, with the result that the price paid for airports will be based more on the reality of profit projections, rather than exaggerated expectations. Airport operators will also need to come up with new revenue streams to enhance the bottom line.
AENA: Spanish conquest
One of Europe's largest airport operators, Spain's Aeropuertos Espanoles y Navegación Aérea (AENA), with annual revenues in excess of $1bn, and privatisation on the cards, is now moving into the international arena. With the country's strong historical connections with Latin America, few cultural and no language difficulties, the first strikes beyond its borders were not surprisingly directed towards that continent. A first tentative step was taken in March 1997, when it paid just $7.3m for a 40% stake in Aeropuertos del Caribe (ACSA), which won a 15–year concession to manage and operate Barranquilla's Ernesto Cortissoz International in Colombia. A similar 15–year concession and 40% participation in Aeroportuario de la Costa (SACSA) for Rafael Nunez International in Cartagena de Indias, followed in August 1998.
These were inexpensive ventures into small airports with annual revenues of under $5m, but a successful bid for Mexico's 12–airport Pacific Group in July 1999 moved AENA into the top league of international airport operators. The AENA–led consortium won a 15% stake and a 15–year concession in the airport group, which accounts for 30% of the Mexican market. But it is aiming higher still, having set its sights on the impending privatisation of the Mexico City airports. Mexico City is the biggest airport with more than 20 million passengers annually, and one of only two airports in Latin America — Sao Paulo Guarulhos International is the other — which makes it into the world's top 100 airports. All winners of the three previously privatised groups are allowed to bid for Mexico's big prize, and competition will be fierce.
There is no doubt that winning in Mexico has increased the momentum for AENA's international division, leading to further success in Colombia and Cuba. In May this year AENA won a third airport in Colombia, with a one–third stake in Aerocali, which began a 20- year concession at Cali's Alfonso Bonilla Aragón Airport in September. Also in May 2000, AENA signed a six–year contract for the new $40m Jardines del Rey Airport, presently under construction in Cuba. The contract will be taken up following completion of the airport scheduled for the second half of 2001.
Although AENA lost out to Vancouver Airport Services (YVRAS) in Montevideo, both companies, along with BAA, Aéroports de Montréal, Frankfurt Airport (FAG) and Vienna Airport, have also pre–qualified to bid for the concession at Peru's main gateway airport, Lima's Jorge C h a v e z International. The re–election of Alberto Fujimori as president last July had revived Peru's privatisation plans, but these were thrown into almost immediate doubt by his announcement to step down next year. If Lima's privatisation can be successfully implemented, other major airports, including Cuzco, Arequipa, Iquitos and Trujillo, could follow soon after, or may be added to the Lima package.
YVRAS: the quiet Canadian
YVRAS has stolen up almost unnoticed, building on previously unspectacular investments at home, by striking out overseas, with an emphasis on the Americas. Having itself gone through a process of privatisation in the early 1990s, it uses its successful management and construction experience to good effect, aggressively marketing its expertise in seamless transition management. As a result, it is now providing vigorous competition to the more established airport companies and is well on the way to fulfilling its ambition of becoming a top five player in the international marketplace. Vancouver's near neighbour, Aéroports de Montréal (ADM), has a similar goal, but has so far underachieved, losing out recently at both Mexico and Colombia.
Apart from its home airport at Vancouver, YVRAS manages another five smaller facilities in Canada, as well as 11 across the world. Starting in 1997 with the concession for the Arturo Merino Benitez International Airport at Santiago, Chile, it has since added four airports in the Dominican Republic — Santo Domingo's Las Americas, Gregorio Luperon in Puerto Plata, Arroyo Barril in Samana and Maria Montez in Barahona — which offer excellent opportunities on the back of the growing popularity of the republic by international tourists.
YVRAS also manages Kindley Field in Bermuda and the airport at Providenciales in the Turks and Caicos Islands, and has won the concession for Carrasco International at Montevideo in Uruguay. The last–named has not yet been signed because of unresolved contractual difficulties, encouraging AENA, the second–highest bidder to wait in the wings.
On the other side of the Pacific, YVRAS has added the Cook Islands to its interest in Wellington Airport. A 15–year management contract will include the development of Rarotonga and Aitutaki airports, and the implementation of a strategy to make the airports commercially self–sufficient. The major investment will be in a new terminal building at Rarotonga.
Hochtief: Berlin stalemate
As 2000 reaches its close, nothing has been resolved over the increasingly acrimonious privatisation of the Berlin airport system in Germany, which is casting a shadow over the planned construction schedule for the new Berlin Brandenburg International Airport (BBI) at Schönefeld. The battle between the Hochtief consortium, which also includes Frankfurt Airport, ABB and Bankgesellschaft Berlin, and the airport authority continues, while the IVG consortium is standing by, ready to invest close on DM5bn ($2.5bn) in the first stage of the new development.
Construction giant Hochtief, which was disqualified for procedural irregularities after winning the contract late last year, lost one appeal in August, when the Brandenburg authorities ruled against the company. The Essen–based concern, determined that it be re–instated, has since taken the matter to the highest Brandenburg regional court, after which it can go no higher.
Dismissing concerns over a possible delay in the schedule, the airport authority has stated that if there is no satisfactory conclusion to this long–running dispute, the present shareholders themselves — the Federal Government (26%), and the State governments of Berlin and Brandenburg (37% each) — will make a decision before the end of December on who should take over the 50–year concession. The winner will also inherit Berlin's major airport at Tegel, which will close in 2007 upon completion of Schönefeld, and historic Tempelhof, handling regional flights. Tempelhof is due to close in 2002, but the new owner will face strong local resistance to that move. In the meantime, overcrowded Tegel will require more investment to ensure that Berlin will cope with increasing traffic until the new airport is completed.
If Hochtief does lose out in Berlin, it would seriously affect its strategy of making airport management and construction a central pillar of its growing business empire. It has drawn flak at Düsseldorf for raising charges, but has received acclaim for completing the new Athens Eleftherios Venizelos International Airport on time and within budget. The airport systems are now under test until the opening of the airport in March next year. Hochtief, together with ABB and KrantzTKT, will manage and operate the airport on a 30–year concession.
Should Hochtief be re–instated at Berlin, it would also be welcome news for Frankfurt Airport (FAG), which has been limited to equity stakes in Hannover and Hahn airports, having lost out with international bids. Frankfurt is working towards generating half of its revenues from international business, and will be marketing itself much more aggressively in the future. FAG itself is on the Federal Government's high priority list for privatisation, which could take place with an International Public Offering (IPO) in May 2001.
An interesting development is the increasing co–operation between FAG and the Schiphol Group at Amsterdam. While its joint bid for a 51% stake in Aeroporti di Roma (ADR) failed, the Schiphol Group may invite FAG to participate in Brisbane Airport Corporation, and is also keen to jointly attack other new privatisation opportunities on the international stage. Other areas under consideration for co–operation include ground handling, passenger and cargo flights, retail, real estate development, facility management, consulting, and information and communications technology.
Meanwhile, discussions on the flotation of a significant proportion of the Dutch Government's shares in the Schiphol Group are nearing completion. The form and phasing of the flotation, essentially to protect the public interest in Amsterdam Schiphol Airport, will be detailed before the end of the year, with flotation also likely in spring 2001. Neighbour Brussels National is in a similar situation with the impending privatisation of the Brussels International Airport Company (BIAC). The Belgian Government is reducing its 63.6% shareholding to just 15%, through a listing on Euronext. BIAC is, however, only concerned with using the funds to develop its home airport and has no international ambitions. The listing is scheduled for 2001, but its exact timing will be influenced by what happens at Frankfurt and Amsterdam.
ADR: Roman holiday
The sale of a 51% stake in Aeroporti di Roma (ADR) in June represented the biggest pay day for any airport company, with the local Leonardo consortium paying at least 17 times EBIT and propelling ADR's worth to around Lit5 trillion ($2.750bn). The Italian Government has been accused of favouring home grown companies over foreign bidders, with the joint tender by Frankfurt and Amsterdam reportedly thrown out because of their state ownership. ADR has rejected any favouritism, saying that the tender regulations limited equity holdings of government–owned companies to just 2%.
The Leonardo consortium does not include an airport operator, which suggests that the present management will remain largely in place. Other members of the consortium are investment company Gemina, utilities company Falck, Italpetroli, and construction firm I m p r e g i l o . Ownership of the airport is presently limited to the concession granted by the Italian Ministry of Transport, which runs out in 2044.
ADR's interests in other airports include a 20% stake in Airports Company South Africa (ACSA), which manages the country's nine biggest airports, 15% of the shares in Genoa Airport, and 16.57% in Lamezia Terme Airport. Further north, a group headed by Edizione Holding (Benetton Group) paid Lit114 billion ($63m) for a 41.33% stake in SAGAT Turin Airport. The shares were acquired from the majority shareholders, the City of Turin, Province of Turin, Turin Chamber of Commerce, and Piedmont Region.
ADP: Mexican fiesta
Aéroports de Paris (ADP), in conjunction with Société Generale d'Enterprises and local concerns Holdingmex and construction company ICA, has secured Mexico's third airport group at a cost of $91m. The North Central Group comprises 13 airports, handling nearly 10 million passengers, or one–sixth of Mexico's air traffic. All three groups now privatised are expected to launch a public offering for the rest of the shares in 2001.
UBS Warburg, which advised the Mexican Government on the sale of its airports, has also been contracted by the Inchon International Airport Company (IIAC) in South Korea to advise on the privatisation of the new airport due to open next March. ADP, together with Suez Lyonnaise des Eaux, took a 10% stake in the Beijing Capital International Airport Company for €120m early in 2000, and also took a stake in Liège–Bierset Airport in Belgium. It had been awarded the management of Jakarta's Soekarno Hatta International Airport in Indonesia, but political changes prevented the contract from being signed, which is now believed to be put out to tender again. ADP will again be up against the Schiphol Group.
BAA: New York bound
New York mayor Giuliani has dangled an enormous carrot in front of BAA. Known for his hostile attitude towards the Port Authority of New York and New Jersey, the present operators of J F Kennedy, La Guardia and Newark airports, the mayor's office announced last May that sole negotiations have begun with BAA USA regarding the long–term management, operation and development of JFK and LaGuardia.
BAA beat Schiphol USA, Hochtief Airports and Zürich Airport to what could become the most lucrative airport contract ever. BAA would initially provide oversight and consulting services for the two airports, before assuming full control when the lease with the Port Authority runs out in 2015.
BAA is still awaiting some concrete results from its investment in Allied Airport Management (AAM), which won a licence for commercial management of Chinese airports with more than 2m passengers. BAA Pacific and the China Airport Construction Corporation, the members of AAM, had hoped to secure two airports by the end of 2000, with another four targeted to follow.
Little progress has been made on the privatisation of Portugal's Aeroportos e Navegacao Aérea (ANA EP), another target for BAA. The continued procrastination over Lisbon's second airport has delayed the project, although it now looks as if it might come off in the early part of 2001. As in Rome, BAA is likely to be up against the Schiphol Group and Frankfurt Airport, with Aéroports de Paris also likely to bid. BAA has changed its mind about bidding for the new Bangalore airport in India's Karnataka State.
Some re–positioning is taking place among the UK's other international airport operators. National Express has put up for sale its UK East Midlands and Bournemouth International airports, as a result of dipping profits at its airports division. But it is firmly holding on to Stewart International Airport in the State of New York, viewing its close proximity to Manhattan as offering excellent opportunities. National Express is also using its ownership of Stewart, which it took over last April on a 99–year lease from the US Department of Transportation, as a foothold in the US, awaiting possible future privatisation at other smaller airports.
TBI has sold a 29.1% stake in the airports of Darwin, Alice Springs and Tennant Creek in Australia's Northern Territory to National Australia Asset Management, but retains 19.9% of the original 49% holding purchased by AGI, which it acquired last year. The sale price of A$21.65m represents a 22% premium over the price paid by AGI in June 1998. TBI also still has a 16% interest in Perth and 30% in Hobart airports.
And TBI and Aer Rianta
In a push into southern Europe, TBI has taken a 20% stake in Ciudad Real Airport, the first major private airport to be built in Spain. The Pta30bn ($150m) project is still awaiting the green light. TBI's decision to invest in the tiny Skavsta Airport appears to have been vindicated, with the Swedish Government now in favour of developing the airport into Stockholm's second facility, rather than building a new airport.
Irish airport operator Aer Rianta is still awaiting the go–ahead for its partial privatisation, following the Irish Government's proposal to offer 30% on the international market. Aer Rianta, a specialist in retail activities, especially at airports in Western and Eastern Europe and the CIS, has been hit by the loss of intra–EU duty–free, and is looking towards the IPO to boost revenues and to help its investment plans both at home and abroad.
Aer Rianta has complete management and operational control of three airports in the Irish Republic, including Dublin, Shannon and Cork, while its international success also extends to part ownership of Birmingham International in the UK (40%), and Düsseldorf and Düsseldorf Express (Mönchengladbach) (50%) in Germany. It has also been nominated as partner for the 49% privatisation of Hamburg International Airport.
MAJOR INTERNATIONAL AIRPORT GROUPS
MAJOR INTERNATIONAL AIRPORT GROUPS
ADP
ADR
AENA
AerRianta BAA
CPH
Revenues ($m)
1,243
575
1,125
276
3,135
223
Net income ($m)
98
40
125
29
540
47
Number of airports
29
13
59
6
15
11
Passengers (m)
79
43
147
40
200
27
Freight ('000 tonnes)
1,360
480
600
290
3,000
400
Equity interests*
France
Italy
Spain
Eire
UK
Denmark
Belgium
S. Africa
Colombia
Germany
Australia
Mexico
China
Cuba
Italy
Mexico
Mauritius
US
Note: *Equity interests shown only include countries where management or operation
of airports and/or terminals is involved.
MAJOR INTERNATIONAL AIRPORT GROUPS
MAJOR INTERNATIONAL AIRPORT GROUPS
Revenues ($m)
FAG
HOC
Schiphol
SEA
TBI
YVRAS
1,310
2,990*
541
455
144
165
Net income ($m)
69
202*
120
41
-5
33
Number of airports
3
3
6
36
13
17
Passengers (m)
51
27
55
45
25
25
Freight (t x 1,000)
1,500
175
1,600
400
100
300
Equity interests**
Germany Germany Netherlands
Italy
UK
Canada
Greece
Australia Argentina
Bolivia
Bermuda
US
Spain
Chile
Sweden
Cook Islds
US
Dom. Rep.
N. Zealand.
Turks & Caic.
Uruguay
Note: *Hochtief financial figures are for the whole group, in which the airport business
is only a minor part. **Equity interests shown only include countries where manage-
ment or operation of airports and/or terminals is involved.