Asia's emerging low cost carriers May 2003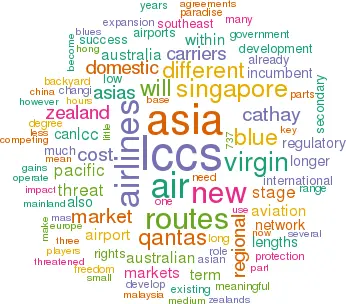 Three years ago, the suggestion that Low Cost Carriers (LCCs) would become a meaningful force in Asia's aviation market was given little credence. The perceived wisdom was that Asia was so different from Europe and the US that the LCC model would struggle.
Since then, LCCs have made surprisingly fast gains in several of Asia's domestic markets. Some of those LCCs are now looking to expand onto international routes within Asia.
This raises three broad questions:
If Asia is so different, how did LCCs succeed?
Can LCCs transform their domestic market success to become meaningful players on Asia's intra–regional routes?
If they can, what will it mean for incumbents such as Cathay Pacific, Qantas and Singapore Airlines?
How have LCCs succeeded if Asia is so different?
There were no notable LCCs in Asia until the entrance of Virgin Blue in late 2000. (Carriers such as Air New Zealand's low cost subsidiary, Freedom Air, existed three years ago, but were not meaningful players in the broader market; also Freedom Air's role was probably mostly about dissuading new entrants on the trans–Tasman routes.)
It was thought that LCCs would be greatly hindered in their development by factors such as longer stage lengths, the need for international aviation rights, flexibility of the incumbent airlines and the lack of secondary airports. These characteristics have certainly played a role in shaping the development of LCCs, but they have not stopped them.
By focusing primarily on domestic markets, LCCs have avoided the problems associated with longer stage lengths and avoided the need for international aviation rights.
Some LCCs are now looking to use their domestic market success as a foundation for regional expansion, while others have largely skipped the domestic market stage and launched directly onto regional routes.
LCCs - meaningful players on Asia's regional routes?
The leading LCCs in Asia are currently Virgin Blue, Air Asia and Australian Airlines. How these, and other LCCs develop, will be influenced by constraints that are peculiar to Asia, and which mean that the style and pace of development of LCCs will vary from one part of Asia to another.
In the short term, the main focus of the battle between LCCs and the incumbent carriers looks to be in Australasia region. Virgin Blue is already talking of expansion into the Pacific islands, trans- Tasman and New Zealand domestic markets.
Meanwhile, Qantas and Air New Zealand are seeking regulatory approval for their proposed strategic alliance.
In the medium term (3–5 years), Southeast Asia (Singapore Airlines' backyard) appears more exposed than Northeast Asia (Cathay Pacific's backyard). Virgin Blue is talking of Southeast Asian expansion possibly being 18 months away, Malaysia–based Air Asia is already considering some regional routes and several other small carriers (e.g. Bali–based Air Paradise) have emerged domestically and regionally.
In the longer term, mainland China could well emerge as the base for one or more low cost carriers, operating both domestically and regionally.
LCC development in Asia
For LCCs, the key differences we see between Asia's regional markets and Europe and the US, are the need for aviation rights; longer stage lengths; lack of secondary airports and the flexibility of existing major carriers.
The bulk of the traffic and revenues in Asia are international, therefore competing for these revenues requires international landing rights. Adding strength to this regulatory barrier is the fact that many Asian governments — in Malaysia, Singapore, Indonesia and mainland China, for example — are also shareholders in the incumbent airlines.
However, some governments are more willing than others to let LCCs develop.
For example, the Singaporean government holds stakes in Singapore Airlines and Changi airport, but the aviation agreements between Australia and Singapore still mean that Virgin Blue can access Changi airport and has beyond rights at Singapore.
In Malaysia, Air Asia has been able to develop its domestic business, despite competing with government- controlled MAS. As well as bringing affordable travel to Malaysia's population, Air Asia also plays a useful role by acting as a catalyst for the restructuring of MAS and a benchmark against which the success of the restructuring can be measured.
Air Asia will probably be allowed to fly some regional routes, so long as this does not cause too much financial harm to MAS.
Longer stage lengths dilute some of the cost advantages that an LCC can gain over incumbent operators: fuel becomes a larger part of the total cost base as stage lengths increase, and this is a cost that all airlines suffer equally.
Faster turn around times become less important and very long stage lengths require different aircraft types, thus negating the fleet homogeneity that LCCs typically seek.
Yet Virgin Blue (like Southwest and JetBlue) operates flights of 5.5 hours to 6.5 hours in length (in the process pushing up overall fleet utilisation).
Assuming the use of 737s or A320s for regional routes by Asia's LCCs, much of Southeast Asia is accessible from parts of Australia, while routes within Southeast Asia and many routes between Southeast and Northeast Asia and North Asia/China are also possible.
This suggests that much of Singapore Airlines's backyard is potentially threatened by LCCs, whereas Cathay Pacific retains some degree of protection due to geographic distance.
It is worth noting that Australian Airlines (100% owned by Qantas), with its fleet of 767s, already flies on some longer routes between Australia and North Asia. However, the threat posed by Australian Airlines is somewhat mitigated by its parentage. Qantas and/or its labour unions will be concerned to ensure that Australian Airlines does minimal harm to yields and labour rates for Qantas core operations.
Secondary airports are not a necessary ingredient for the success of an LCC. Virgin Blue, Air Asia and easyJet all operate using mainstream airports.
That said, the emergence of secondary airports could speed further gains by LCCs in Asia by helping to lower costs and offering better terminal access. In New Zealand, an existing airport investor, Infratil New Zealand, and a local government have signed a MoU regarding the potential redevelopment of an airport close to the city of Auckland.
In Malaysia, plans have been announced to significantly expand the cargo facilities at Senai Airport, which sits just on the Malaysian side of the border with Singapore, less than one hour's drive from Changi airport.
While cargo is of little interest to LCCs, the expansion of a secondary airport, close to Changi does raise some interesting possibilities.
The development of LCCs in Europe and US has been helped by the inability of incumbent airlines to adapt to new customer demands or to take advantage of new technologies. A key part of this inflexibility has been strong labour unions and previously government ownership also played a significant role.
In Asia things are a little different. Singapore Airlines and Cathay Pacific, have a far greater ability to adjust their business models than their European and US counterparts. This was highlighted post–September 11, with both Singapore Airlines and Cathay Pacific being able to use layoffs, long service leave and staff bonus schemes to adjust their cost bases.
Therefore, LCCs will find that competing head to head with some Asian carriers may be rather difficult. The LCCs will need to look at different market segments (for instance, Air Asia claims many of its passengers are first time flyers), new routes (Australian Airlines is focusing on routes that Qantas does not fly), or existing routes that make sense for an LCC on a stand alone basis, but that for the incumbent only make sense in terms of network integrity.
The impact on Asia's network carriers?
The impact of LCCs in Asia's regional markets, will not be as rapid or dramatic as Virgin Blue's success in Australia. Nor will a single LCC be the sole source of new competition.
Rather, multiple airlines, based in different countries, working under different sets of aviation agreements will nibble at different parts of the incumbents' networks.
If one assumes that LCCs will first target those routes which can be serviced using the 737 or A320 — then Singapore Airlines and Air New Zealand are the airlines most under threat, whereas Cathay retains some degree of protection.
In the near term, Air New Zealand is most at threat. Its key LCC threat is Virgin Blue.
Geographically, the bulk of Air New Zealand's main markets are within range of Virgin Blue and the LCC already has plans to attack these markets.
Regulatory barriers are not an issue for Virgin Blue because Australia and New Zealand are essentially a single aviation market. That said, for the proposed strategic alliance between Qantas and Air New Zealand, a cost of gaining regulatory approval might be the forced disposal of Air New Zealand's Freedom Air. The acquisition of Freedom Air could accelerate Virgin Blue's market share gains on trans–Tasman routes by up to 12 months.
In the medium term, Singapore Airlines is most at threat with multiple LCCs operating from different countries and nibbling away at different parts of its network. Air Asia, Virgin Blue and Air Paradise already operate within or plan to operate within Singapore Airlines' backyard.
Geographically, much of its regional network is within range of a 737 or A320, and many of the tourist destinations within that network are favoured by LCCs.
Regulatory barriers to the Singaporean market are also very low for Australian or New Zealand based airlines. For Qantas, LCC competition became a reality with the emergence of Virgin Blue in late 2000. This saw yields fall sharply in the Australian domestic market, helping bring about the collapse of Ansett Australia and forcing Qantas to review its cost base and product offering.
The competitive pressures on Qantas are ongoing. It has announced more flexible domestic fares; reducing restrictions such as minimum stay requirements and increasing the ability to make itinerary changes. Regionally, Qantas now faces the threat posed by Virgin Blue's plans for the Pacific Islands along with its ambitions for trans- Tasman and South East Asian routes. On a much smaller scale, Bali–based Air Paradise has commenced flights to/from Bali from Perth and Melbourne. The impact on Qantas from Air Paradise is small at this stage, but it does illustrate the potential for a range of small LCCs to attack different parts of an airline's network.
Cathay Pacific is less threatened in the medium term. Two factors give Cathay Pacific a degree of protection. Firstly, distance from Australia means that Hong Kong is out of range for a pure 737 operator.
Secondly, Cathay enjoys a higher degree of regulatory protection than Singapore, e.g. Cathay's highly profitable short haul routes — Hong Kong- Taiwan and Hong Kong–Japan — are not threatened by existing open skies agreements. In the long term, Cathay does face the threat that a new competitor could emerge, the most likely source being from mainland China. However, that threat will take several years at least to develop.
LCC COMPETITIVE THREAT
LCC COMPETITIVE THREAT

| | | | |
| --- | --- | --- | --- |
| Routes | Within 737 or | Airlines most exposed | LCCs operating |
| | A320 range? | | or planned * |
| Australian domestic | Yes | Qantas | Virgin Blue |
| Australia - New Zealand | Yes | Qantas, Air New Zealand | Virgin Blue |
| Australia - Pacific Islands | Mostly | Qantas, Air New Zealand | Virgin Blue |
| Australia - S.E. Asia | Mostly | Qantas, Singapore Airlines | Virgin Blue, Air Paradise |
| S.E. Asia regional and domestic | Mostly | Singapore Airlines | Air Asia, Air Paradise |
| Australia - North Asia/China | No | Cathay Pacific | - |