No sign yet of cycle peak in US industry May 1998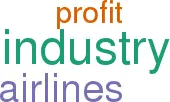 The profitability of the US industry shows no sign of weakening following another excellent quarter's results.
Combined operating profit for the nine largest airlines for January–March 1998 was $1,474m, compared with $1,242m in the first quarter of 1997. Combined net profit in 1Q98 was $835m, compared with $731m in January–March 1997.
Key trends were strong demand in the domestic and transatlantic markets — which more than offset weakness in Asia/Pacific routes — and low fuel prices. The major airlines also limited capacity growth, with industry ASK up 1.0% on 1Q97. With industry RPK up 1.2%, overall load factor rose 0.1 points in 1Q98 to 68.3%.
The gap between overall industry revenue and cost per ASK was maintained in the first quarter of the year (see chart, above), although not all the US airlines managed to do the same (see below). The gap narrowed most noticeably at Northwest, which was particularly affected by the Asian downturn — 30% of its revenue comes from routes to the region.
TWA is the only airline among the top nine not to report a profit, although it did manage to reduce the extent of its losses. Looking ahead to the rest of 1998, airlines expect the strong US economy and low fuel prices to continue.