Copa: Latin America's sole high-flyer March 2015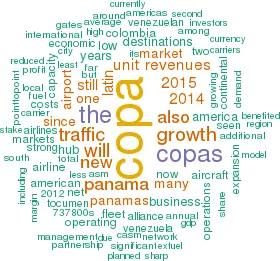 Latin America is currently a tough market for airlines because of the region's economic slowdown, currency woes, weakening demand and plummeting yields. But, once again, Panama's Copa stands out from the crowd for its resilience and continued lofty profit margins.
Copa has seen its share of the past year's challenges. Its heavy exposure to the Venezuelan market (about 9% of its revenues in 2014), has meant that it has been hit hard by Venezuelan currency remittance issues. It has had to reduce capacity by 40% in those markets and scramble to shift to US dollar sales, resulting in a sharp decline in yields and revenues. At year-end 2014 Copa still had $485m (42% of its total cash) trapped in Venezuela.
Because of concerns about Venezuela, Copa's share price plummeted by 40%, from around $150 to $87, between late July and mid-December 2014. Since then the price has recovered only modestly, to the low $100s.
The combined effect of the Venezuelan changes and demand weakness in many South American markets was to cause Copa's yield and unit revenues to fall by 11% and 13%, respectively, in the fourth quarter.
Copa's total revenues fell by 3.8% and operating income by 26% in Q4. Adjusted net profit declined by 12% to $125.3m. That was before sizable extraordinary losses: $89.1m associated with the mark-to-market of fuel hedge contracts (and $0.4m related to the devaluation of the Venezuelan bolivar).
Yet, Copa still achieved a 17.7% operating margin in the fourth quarter — down from 23% in the year-earlier period but among the highest for airlines in the Americas.
The reason, of course, was a sharp decline in unit costs, which partially offset the RASM shortfall. While total CASM fell by 6.9%, ex-fuel CASM saw a 4% reduction. Other than fuel, Copa benefited from lower sales-related costs, 10.4% growth in ASMs and a 7.2% increase in the average stage length.
For 2014, Copa reported an operating profit of $538.1m, which was similar to 2013's, and an underlying net profit of $494.6m, up by 6%. Revenues rose by 4.3% to $2.7bn. The operating margin was 19.8%.
Copa has been profitable at this level for more than a decade. Its annual operating margins have been in the 17-21% range since 2003, despite its brisk capacity growth in that period.
Copa has roughly doubled its capacity every 4-5 years, though it has always reduced growth in difficult economic periods, including the late 2000s. 2011 and 2012 saw brisk 23% annual ASM growth, but the rate moderated to 14.4% in 2013 and 9.5% last year.
Recent months have seen a further weakening of economic growth and air travel demand in Latin America, especially in key markets such as Brazil and Chile, as well as continued weakening of South American currencies against the US dollar. Although Copa's monthly traffic growth has slowed only slightly to 7-8% and load factors are holding up, it has been at the expense of yield (which is also affected by Copa's increased average length of haul).
In response, Copa has trimmed its planned 2015 ASM growth to around 7%. This is to try to mitigate a sharp decline in unit revenues, which the airline currently expects to be down 9.9% in 2015.
But Copa is benefiting from lower fuel prices and is anticipating a 16-18% operating margin in 2015. Furthermore, given its history of conservative forecasts and the fact that its 2015 guidance is still based on an assumption of crude oil averaging $75 per barrel this year, many analysts believe that higher profits will materialise.
Copa has one of the strongest balance sheets in the industry. At the end of 2014, it had only $1.1bn of aircraft/other equipment-related bank debt. Excluding the money trapped in Venezuela, adjusted net debt/EBITDAR ratio was only 1.6 times and cash amounted to $675.3m or 25% of last year's revenues.
Copa also treats its shareholders well. It pays 40% of its net income as dividends. In November the board approved the carrier's first-ever share repurchase program, totalling $250m.
Some investors have wondered why Copa still has relatively sizeable operations to Venezuela. The reason: Panama-Venezuela is still a viable market, with significant business traffic and regular ethnic traffic generated by the large Venezuelan community in Panama. The market is not as lucrative as it used to be, but it is still "very profitable".
Although there appear to be no solutions in sight for the repatriation of the Venezuela funds, Copa has taken successful action to mitigate further damage. It has managed to shift 90-95% of the sales in that market to points outside Venezuela (based mainly in US dollars). Copa is also burning its huge stockpiles of bolivars at a rate of $4-5m a month to pay down local expenses.
With some of that clarified by Copa's management in February and with the share price so low, more analysts have raised their recommendation on the stock to "buy". Copa, which made its debut on the NYSE in December 2005, looks set to recapture its former image among many investors as a safe and attractive way to participate in the Latin American airline industry.
Copa's unique strengths
Copa's continued success is due to a multitude of factors, including the following:
Business model/the Tocumen hub
Copa has a hugely successful "Hub of the Americas" strategy, which channels traffic between North, South and Central America via the Panama City hub. The airline operates a streamlined, modern fleet of 737NGs and E190s and focuses on underserved thin markets where in most cases point-to-point service is not an option.
The strategy works because the Panama hub is highly efficient and because Copa offers convenient schedules, high-quality service and excellent on-time performance. Copa strives to be the "best option for intra-Latin America travel".
The Panama hub is geographically well located, allowing 737NGs to fly nonstop to practically anywhere in the Americas. The airport benefits from a sea-level location and favourable weather.
Because of its manageable size and Panama's policies accommodating transfer passengers, the airport offers easy transfers and short connecting times.
Tocumen is the only airport in Central America with two operational runways. It is one of the few major airports in the region where infrastructure provision has kept pace with airlines' needs.
Two expansion phases since 2004 have increased Tocumen's total gates from 14 to 34 and have provided new taxiways and ramp and support areas. The current expansion phase, which is due to be completed by 2017, will add a new $680m south terminal, with 20 additional gates and new areas for customs, immigration, security and baggage handling.
But Copa executives noted recently that although the airport was building "the right capacity at the right moment", it was none too soon. At peak times the airline is already short of gates and has to use remote positions. The executives felt that by the time the 20 new gates are ready, the airport will have to embark on the next expansion phase of building 10 additional gates.
Another advantage is that Tocumen has competitive user fees. It is operated by a government-owned entity that is by law required to use a significant portion of its revenues for airport expansion and improvements. Since Copa accounts for some 80% of Tocumen's traffic, it wields much influence with the airport authority and can ensure that the new facilities are optimised for its hub operations and connectivity.
Panama's strong economy
Copa benefits from Panama's stable, dollar-based economy, free-trade zone and growing tourism. Panama has been one of the fastest growing Latin American economies over the past decade, recording 8.4% average annual real GDP growth in 2004-2013. Copa faces less of a currency risk than other major Latin American carriers (also because of its diversified network). And thanks to Panama's low tax environment, Copa's effective income tax rate in 2015 is only 10-12%.
Panama's GDP growth slowed to 6.4% in 2014 and is projected to be around 6% in 2015, but it will still far outperform the rest of the region. The IMF predicted in January that Latin America/Caribbean would see only 1.3% GDP growth in 2015 — a figure that many now believe is an overestimate.
The expansion of the Panama Canal has provided an enormous economic boost. The project, which began in 2007 and is due to be completed by 2016 (at least 16 months behind schedule), will double the Canal's capacity and allow the new generation of super-containerships to transit.
In 2010 the three main rating agencies all upgraded Panama's sovereign ratings to investment grade. As a result, Panama, which has long been home to many regional offices of multinational corporations, has attracted significant new foreign investment and strengthened its role as a major financial, trade, shipping and international business centre.
Panama is also a growing tourist destination, following in Costa Rica's footsteps. Recent years have seen a construction boom, fuelled by tourism and retirees from the US, Canada and Spain buying second and third homes in Panama.
These trends, combined with Panama's steady population growth and emerging middle classes, have meant rapid growth in local traffic. While Copa has historically depended on transit traffic (Panama's population is only 3.7m), by 2013 its traffic was equally split between Panama O&D and transit traffic. Point-to-point traffic tends to be higher-yield. A strong local traffic component will make Copa's business model more sustainable in the longer term.
Premium unit revenues, low unit costs
Copa enjoys the very unusual combination of premium unit revenues and low unit costs. Despite the high transit traffic volumes, Copa's RASM is strong because of its high business traffic content (about 50%) and the lack of competition. A world-class product offering and a strong brand also help.
A comparison by Morgan Stanley Research in 2012 showed that Copa had the highest length-of-haul adjusted PRASM among a group of leading carriers that included Delta, United and LAN. The analysis also found that Copa had LCC-level unit costs — amazing for a hub-and-spoke carrier.
Copa attributes its low unit costs to a modern fleet, efficient operations and Panama's low labour costs. Its aircraft utilisation is relatively high (11 hours daily in 2014), helped by an average stage length of 1,213 miles.
Copa reduced its ex-fuel CASM by 7% between 2007 and 2011 (to 6.73 cents), thanks to ASM growth, distribution cost savings and efficiency improvements through technology and automation. Since then ex-fuel CASM has fallen further still, to 6.6 cents in 2014, and is expected to remain flat in 2015.
Longtime alliance with Continental/United
Copa has benefited enormously from its unusually deep partnership with Continental, which transitioned seamlessly to United after the 2010 merger. The relationship dates back to 1998, when the two sides forged a comprehensive alliance and Continental acquired a 49% stake in Copa. Since Panama had signed an open skies ASA with the US in 1997, the alliance secured early antitrust immunity (ATI) in the US.
From the start, Copa's brand was closely associated with Continental's. Its logo, livery and aircraft interiors were similar. Copa also adopted Continental's OnePass FFP (now MileagePlus) and participates in the airport lounge programme. Copa noted in its 2013 annual report that the co-branding "helped leverage the brand recognition that Continental already enjoyed across Latin America" and had enabled Copa to compete more effectively against Avianca, American and others.
Copa has also benefited from its US partner's technology, know-how and economies of scale. Among other things, it shares its partner's Sceptre inventory management system, which allows it to pool spare parts with the larger carrier. The partnership has enabled Copa to secure more competitive rates for aircraft, insurance and fuel purchases and for third-party maintenance work.
Although Continental fully disposed of its stake in Copa in 2005-2008, the partnership was so strong that Copa left the SkyTeam alliance concurrently with Continental in October 2009 and followed it to Star in June 2012. A UAL executive still sits on Copa's board (currently UAL's SVP for Alliances).
Benign competitive conditions
At first glance Copa's business model might seem very vulnerable to other airlines, such as LCCs, launching point-to-point services that bypass Panama, but so far at least that threat has not materialised. The vast majority of Copa's O&D markets are so small (typically less than 50 passengers per day) that other airlines cannot serve those destinations profitably on a nonstop basis.
Competition for Copa is mainly from other hubs, but even on that front it seems far from fierce. Avianca, formerly one of Copa's main rivals, is now a Star partner; the two joined at the same time in 2012 and have codeshared since June 2013.
High-quality management
Copa's CEO Pedro Heilbron is one of the longest-serving and is regarded as one of the most capable CEOs in the global airline industry. He has been at the helm since three families (including his own) and other local investors bought 99% of Copa in the late 1980s. Heilbron instigated and guided Copa through key strategies such as the Tocumen hub operation (1992), international alliances (mid-1990s) and complete fleet renewal (1999-2005).
Copa has a highly regarded management team. One of its less obvious accomplishments has been to create a Southwest/JetBlue-style employee culture "based on teamwork and focused on continuous improvement". (Recent years have seen labour tensions, but evidently the culture and service standards have not suffered.)
Growth plans
Copa's network strategy is to continue to strengthen the intra-Latin America operations and the Tocumen hub with more destinations and frequencies, and to capitalise on opportunities at Copa Colombia.
The past two years have seen many new destinations. In 2014 Copa added Montreal (its second Canadian city), Ft. Lauderdale, Georgetown (Guyana), Campinas (8th point in Brazil) and Santa Clara (second point in Cuba). That brought the network to 59 destinations in 30 countries.
Of the "several new destinations" planned for 2015, so far only one has been named: New Orleans, which will become Copa's 11th US city in June. But most of 2015's 7% ASM growth will come from the full-year effect of the flights added in 2014.
In 2015 Copa originally planned to take eight 737-800s from Boeing, lease another three 737-800s and return five aircraft to lessors, resulting in a net addition of six aircraft. But Copa now wants to limit the net addition to two aircraft at most, and it has been evaluating options to reduce this year's deliveries.
At year-end 2014, Copa and its Colombian unit operated a 98-strong fleet, consisting of 54 737-800s, 18 737-700s and 26 E190s. There are firm purchase or lease commitments for at least 34 additional 737NGs plus 10 options. The plan is to add 737-800s and slightly reduce the 737-700 fleet over time.
Copa secured a foothold in Colombia in 2005, when it acquired an initial 85.6% stake (now 99.9%) in AeroRepublica, now Copa Colombia. Colombia is Latin America's third largest market in terms of population, shares a border with Panama and represents a significant market for many Panamanian businesses (for historic, cultural and business reasons). But Copa also faced the challenge of turning the smaller carrier around financially, while fending off growing domestic competition in Colombia.
Copa has replaced the unit's old fleet, significantly reduced its domestic operations and refocused it on the international market out of Colombia. The Bogota-based carrier has taken over most or all of Copa's Colombia-Panama operations and also expanded its network to 10-plus international destinations elsewhere in the Central America/Caribbean region and Mexico. The indications are that Copa Colombia has turned the corner financially.
While Copa has no plans to operate to other world regions, Panama is poised to attract many new 787 and A340 services from distant corners of the globe, especially when additional capacity becomes available at Tocumen. Much of it will mean increased feed to Copa's services.
Star alliance member Lufthansa recently announced plans to launch Frankfurt-Panama A340-300 flights from November 2015; the German carrier will be selling 50 beyond-Panama destinations as part of an expanded partnership with Copa.
Investing to improve the passenger experience is a top priority for Copa. Current initiatives include adding more Copa Clubs and launching its own loyalty programme in July 2015. The latter will be in addition to Copa's participation in MileagePlus, and there will be full reciprocity with Star programmes.
Copa has also invested in SabreSonic CRS — a move that should bring about attractive new ancillary revenue opportunities.
While Copa's business model is clearly very "defensible", the airline is wise to diversify with ventures such as Copa Colombia and to explore ancillary revenues, because in the future some of its larger (and most lucrative) markets are likely to attract point-to-point operators. The economic slowdown has slowed everyone in their tracks, but when demand recovers LCCs will become interested in some of those city pairs.
By Heini Nuutinen
hnuutinen@nyct.net