Airport Valuations Update March 2015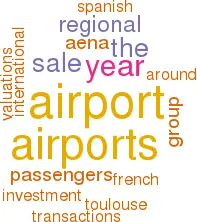 The chart below is our latest update from our database of airport transactions and valuations, and includes Ljubljana, Toulouse, the former BAA airports now known as AGS (Aberdeen, Glasgow and Southampton) and AENA Spanish Airports. Infrastructure funds remain keen on airport investments, viewing them as relatively low risk, medium return assets; airport owners may have become more wary of the funds and the debt that accompanies transactions.
Recent transactions have produced valuations (Enterprise Value/Operating Cashflow) averaging around 15, generally well below the ratings achieved in the speculative boom pre-Lehmans and in the recent round of Latin American airport sales. However, it is probably not wise to read too much into the prices reported for the recent transactions, as they ranged from Fraport's minor investment in Ljubljana to the most important IPO in Spain since the mid 2000s.
The long awaited IPO of Spanish airport monopoly AENA took place in January this year, the government selling 49% on the Madrid stock exchange. Priced at €58 a share and marketed as a "turn-around" investment, hopefully indicative of a recovery in the whole Spanish economy, AENA is currently has a market capitalisation of about €8.7bn. AENA boasts that it is the largest airport group in the world — with 46 airports and two heliports in Spain, majority 51% ownership of London Luton, two airports in Colombia and a 6% stake in Grupo Aeroportuario del Pacifico in Mexico. Overall in 2014 it claims responsibility for 196m passengers throughout its airports, and recently announced full year results showing EBITDA of €1.9bn up by 16% on the previous year on turnover of €3.2bn up by 8%.
The sale of French regional airports has been under discussion for the past twenty years. Finally in 2014 the first — that of Toulouse — was achieved. Surprisingly the buyer was not French, but a Chinese consortium of state-owned Shandong Hi-Speed Group and Hong Kong-based investment firm Friedmann Pacific Asset Management who acquired a 49.99% stake for €308m. The airport handles around 7.5m passengers per year, and has an annual turnover of €117m. With the success of the Toulouse sale it is expected that more French regional airports will be put up for sale — including Lyon St-Exupéry and Nice Côte d'Azur.
Heathrow Airport Ltd (the airport group formerly known as BAA) announced the sale of the three remaining non-Heathrow airports to a consortium of Ferrovial and Macquarie in a deal worth £1.05bn. Ferrovial remains the largest shareholder in Heathrow with a 25% stake.
However, the finalisation of the sale of Greek regional airports has become mired in politics. Fraport won a bid for the 40-year concession, in partnership with Greek energy group Copelouzos, to run 14 regional airports for €1.2bn, which was at the top end of expectations. The new government then absurdly froze the sale, but seems since to have relented as its struggles to find money to meet its debt repayments. The question now is whether Fraport shareholders are still happy for the deal to be completed.
The Japanese regional airport sales process, part of the Abenomics economy recovery package, appears to be moving ahead slowly, directed by the Ministry of Transportation (MLIT). At present negotiations are taking place for the granting of a 45 year concession for operating Osaka Airports which consist of Kansai International (domestic and international services, with a new LCC base, handling 19m passengers a year) and Itami (a downtown airport, domestic only, 15m passengers a year). The successful bidder is likely to be an international infrastructure fund allied to local Japanese interests. The asking price is an upfront payment of up to ¥500bn ($4.2bn) and an annual fee of around ¥50bn.