Germany: Restructuring or just juggling? January 2007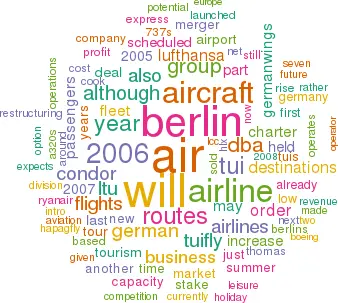 With demand for traditional package tours falling fast, German airlines that still have large amounts of charter business are frantically trying to convert themselves into fully–fledged scheduled operators, usually with a city–to–city LCC business model. But even this may not be sustainable, as Air Berlin's acquisition of dba in 2006 has put further pressure on the other players in Germany to either merge or to find a secure parent with very deep pockets. Talks — formal and informal — have been and are being held between virtually everyone in the German aviation industry.
Air Berlin and dba
Air Berlin is the third–largest LCC after easyJet and Ryanair, and the second largest airline in Germany, but after a troubled IPO in May 2006 (see Aviation Strategy, May 2006) the carrier cemented its position through buying rival dba in August for a price that was in the "mid–two figure millions" [€250m], according to Joachim Hunold, CEO of Air Berlin. dba was acquired from various shareholders including Intro Verwaltungsgesellschaft (59.9%) — a holding company for businessman Hans Rudolf Wohrl that bought Deutsche BA from British Airways back in 2003 — and from Aton (25.1%), a company controlled by businessman Lutz Helmig.
The acquisition was approved by Bundeskartellamt — the German competition regular — in September last year on the grounds that there was little overlap between the domestic network of dba (although it also operates some international routes and charter flights) and the scheduled European network of Air Berlin (it started low–fare city services back in 2002), and that the deal would provide better competition to the domination of Lufthansa
From Air Berlin's point of view, the deal is a good match, giving Air Berlin access to valuable dba slots at Dusseldorf and Munich. The first joint schedule will operate from this summer's timetable (starting in April), with dba aircraft being used on Air Berlin routes to leisure destinations during the summer dip in domestic business travel, with larger Air Berlin aircraft already being used on the busier domestic dba routes over the winter season.
Following the acquisition, Munich–based dba is continuing to operate as an independent company according to Air Berlin, although it is now being marketed as Air Berlin "powered by dba". dba has a fleet of 30 737 and F100 aircraft, the latter arriving after dba bought and incorporated LCC Germania Express into its operations in early 2005 (although the Germania Express brand still exists).
The deal also gives Air Berlin access to more than 70 corporate clients of dba, whom are valuable given Air Berlin's focus on the business travel market and its desire for passenger growth of 10%-15% per annum for the next few years. That planned growth will be fuelled by a huge increase in the Air Berlin fleet — it currently comprises 58 A320 family, 737 and F100 aircraft, but there are 50 aircraft on firm order and another 42 on option, while an order for another 60 aircraft is imminent.
After previously being a loyal Boeing customer, in 2004 Air Berlin decided to lessen its dependence on one manufacturer by placing an order for 70 aircraft in partnership with Niki (in which it owns 24%), of which 15 A319s and 35 A320s are outstanding. Air Berlin also has options for another 40 A320s, and a decision is expected to be made on these sometime this year. This order came about partly because Airbus was very aggressive with its pricing, but in late November 2006 Boeing appears to have struck back after Air Berlin announced an intended order for 60 737- 800s for delivery over 2007–2014, which at list prices are worth $5.7bn — although, inevitably, the German LCC will receive a substantial discount (40–50%?) on that when the firm order is agreed.
Although the Boeing aircraft will partly replace the current 42–strong 737 fleet (many of which are leased), some will be used for growth — yet the news of the impending order was received poorly by the German stock market, with the airline's shares dropping by 13% on the day the news was announced (from €16.24 to just above €14.00; the share price as at the end of January was around the €16.00 level), even though at the same time the airline released encouraging third quarter 2006 results. In the July–September 2006 period (in which dba results were included for September only) Air Berlin reported a 26.5% rise in net profit to €38.7m, based on a 28% rise in turnover, to €510m, with a 1Q–3Q net profit of €37.7m, compared with a €12.5m net loss in January–September 2005.
However, at the same time as these results were issued Air Berlin's earnings forecast for the full year was reduced slightly (to €40m), due to higher than expected costs for the IPO and to the effect of the terrorist attacks in London and Turkey during the year. As Air Berlin only turned ongoing operating losses into profits through the second and third quarters of 2006 (after the introduction of a series of efficiency measures in 2005 and 2006), analysts remain cautious about the future, particularly given the substantial planned increase in capacity. In addition, Air Berlin will also have the use of 25 737–700s that are on firm order for dba, which brings to 85 the total of 737s that Air Berlin will receive over the period to 2014, once the November 2006 "order" is formally placed.
Part of the reason for Air Berlin's aggressive ordering is the difficulty it has had in leasing aircraft at anything other than very high rates, and so it has made a strategic decision to own its fleet going forward, rather than being at the mercy of market lease rates. But though this may be logical, the size of the orders also means that Air Berlin will be placing a large amount of new capacity (around an extra 10% a year over the next eight years) into a market where competition is fierce.
The combined Air Berlin/dba already carried 19.7m passengers in 2006, 12.6% up on 2005, with Air Berlin carrying 15.2m and dba 4.5m (compared with Air Berlin's 13.5m and dba's 4.0m in 2005). Load factor for the year was 75.3%, up slightly on the 75.2% of the combined airlines' totals for 2005.
The acceleration in Air Berlin capacity increases is already starting to appear, and this summer there will be a rise in capacity to Majorca of around 20%. Flights to Palma already account for 5m passengers — almost one–third of the total passengers that Air Berlin carried in 2006 — with a hub in Palma connecting flights from Germany through to destinations in the rest of Spain and Portugal. In November Air Berlin also launched a hub operation at Zurich, with feeder flights from Germany and Austria connecting onto routes to leisure destinations in the Canary Islands.
Eastern Europe is another target for Air Berlin. The airline entered the Russian market for the first time in December last year with routes from Nuremberg to Moscow and St. Petersburg, both of which are up against competition out of Germany from germanwings. Yet the biggest challenge to Air Berlin continues to come from Ryanair and easyJet.
Last year Air Berlin and the Federation of German Airlines (BDF) took Ryanair to court over subsidies paid by Lubeck airport to Ryanair, which Air Berlin claimed allowed Ryanair to offer passengers "dumping fares", thereby forcing it to close a route to London out of nearby Hamburg airport. As a result, a court in Kiel ruled that the subsidies were "unreasonable", and that the airport had to disclose the terms of its deal with Ryanair. But this is more of a moral victory than anything else since Lubeck is now in private hands, and Air Berlin's real defence against the bigger LCCs is to develop scale in its own markets and routes.
As expansion continues Air Berlin may start running into union troubles. Air Berlin is increasing salaries by just 3% this year, although it expects operating profit to increase by at least 30% in 2007, ahead of a 15% forecast rise in turnover. That is believed to be causing unease among some of its staff, particularly as the carrier does not recognise unions — although Vereinigung Cockpit and others are attempting to change the situation.
These worries aside, Air Berlin is undoubtedly the strongest of any German airline after Lufthansa, and it looks certain to play an acquisitive role in the German aviation industry over the next few years — as long as the German regulator will allow it.
Following the co–ordination of flight schedules between Air Berlin and Hapagfly for the last two years, speculation persists about a possible Air Berlin/TUI alliance — although this has been denied by Hunold, who insists that no merger talks have been held recently. That may be so, but informal negotiations were held in late 2006 between Air Berlin and the TUI group about potential co–operation between dba and Hapag–Lloyd Express (TUI's budget airline, which is now being integrated into TUIfly — see below). While Air Berlin and Hapagfly already code–share on selected holiday routes, an extension into partnering on low–fare city routes operated by dba and Hapag–Lloyd Express may make strategic sense, although it's unlikely to evolve into anything more permanent in the short- and medium–term.
With 61.5% of Air Berlin now on free float — with the remainder being held by individual investors including Hans Joachim Knieps (9.1%), Joachim Hunold (3.5%), Johannes Zurnieden (1.7%), Rudolf Schulte (4.5%), Severin Schulte (4.6%) and Werner Huehn (5.5%) — pressure from shareholders for Air Berlin to be constantly dynamic may encourage the airline to be aggressive in terms of acquisitions over the next few years. If that's the case, Air Berlin will have plenty of targets to choose from if it wants to buy German.
HLX and Hapagfly
Hapag–Lloyd Express (HLX) is based at Hannover–Langenhagen airport and operates 16 737s aircraft on scheduled routes to 30 European destinations, while Hapagfly, also based in Hannover, uses 34 (mostly Boeing) aircraft for primarily charter flights on a network of around 40 leisure destinations (with some scheduled routes).
Both airlines are subsidiaries of giant German tour operator TUI, but although HLX was launched in 2002 as a standalone low fare, low cost carrier that would help compensate for the trend away from package holidays, the airline has proved to be insufficient in stemming the continuing troubles at TUI's tourism operations.
Over the past decade TUI has refocused from being an industrial conglomerate into becoming a specialist tourism and air transport company, but in 2005 the group expanded its small shipping business into a second business division. However, TUI's core is still what it calls its tourism business (which includes everything from its multitude of tour operators to no less than seven airline operations), and it's this business that has faced increasing problems. The tourism division has undergone deep cost–cutting and more than 6,000 job losses in the last few years, with the group trying to reduce volumes and increase margins — a policy that most major tour operators are already following across Europe
However, it wasn't until after a strategic review carried in early 2006 that TUI group came to the conclusion that the traditional charter market is falling away in favour of self–assembled holidays, with LCCs picking up an ever increasing share of the flight part of these self–assembled trips.
In August last year, alongside several changes in senior management, TUI took the decision to dispense with its confusing portfolio of airlines and brands, merging them all into one airline that would gain most of its revenue from seat–only, scheduled flights. The first stage of this process is the merger of Hapagfly and Hapag–Lloyd Express this year into a new airline, to be called TUIfly, and to be run as a low cost operation with an emphasis on low fares in its marketing.
In 2008 the five other airlines that TUI owns — Thomsonfly in the UK (with a fleet of 47 737s, 757s and 767), Corsair in France (10 A330s and 747s), ArkeFly in the Netherlands (five 737s and 767s), Jetairfly in Belgium (eight 737s, 767s and F100s) and TUIfly Nordic (five 737s and 757s) — will be rolled into TUIfly, with the cost standards adopted at HLX being the model for all airline operations in the new TUIfly. In the summer of 2006 pilot union Vereinigung Cockpit agreed a unified pay scale for its members at Hapagfly and HLX, under a deal that lasts until 2008, and this agreement is to be pushed by management as the basis for all future TUIfly pilot contracts.
Once the seven airlines are merged and re–branded, TUI expects the move to boost net profits by at least €60m in 2008, with the combined fleet operating at least 120 aircraft and carrying around 25m passengers a year. But as the combined totals of the seven airlines that will make up TUIfly now amounts to 159 aircraft, this means that up to 39 aircraft will be disposed off, and these are most likely to be the larger aircraft currently used for short- and long–haul tour operator flights, which are not seen as being appropriate for the refocus on a city–to–city network. Between them, the seven constituent airlines of TUIfly own or lease 75 737s (of which 53 are -700 and -800 models), and these will be the core of the fleet going forwards.
In addition, in December 2006 the TUI group ordered 41 Boeing aircraft for delivery over 2010- 2013 (with models yet to be specified, but likely to be 737s, with potentially a handful of 787s), which with 24 aircraft already on order bring total outstanding orders to 65. All of these aircraft will replace aircraft currently on leases, although TUI is considering establishing a joint venture with an established leasing company in order to manage and finance the aircraft.
While a TUIfly.com internet site was launched this January, the first part of the process, the merger of charter carrier Hapagfly and low fare airline Hapag–Lloyd Express, will occur with the summer 2007 schedule, and this will create an airline with a fleet of 56 aircraft that will carry an estimated 13.5m passengers in 2007 (up from 11.5m in 2006). This summer TUIfly — which will be based at Hannover airport — will operate to 75 destinations in 17 countries, and TUI group says that the "marketing strength" of HLX will be the key to its success.
However, this initial merger will also include the cutting of 200 jobs (that will all be "administrative", according to TUI), which with other savings will reduce costs by €40m a year. The staff reduction will be part of an overall cut of another 3,500 to 4,000 positions at the tourism division of TUI, most of which are coming from TUI's tourism concerns outside of Germany.
The reaction to the airline merger from analysts is mixed — many welcome the move but some are critical, with Merrill Lynch telling clients that although the merger may bring some reduction in costs, there was no sign that the airlines were going to undertake "significant capacity cuts", which the bank said was necessary for improvement at TUI's airlines.
Indeed it's difficult to see how the new TUIfly will seriously affect the troubles at the tourism division as a whole, given the trend away from the traditional package holiday not just in Germany but in the whole of western Europe. While HLX is believed to have made a profit in 2005 and 2006, TUI's tourism division saw operating losses increase through the first half of 2006, which led to a profit warning being issued by the group in August 2006. (TUI's 2006 results will not be available until the end of March).
And while the new TUIfly will be run on a "low cost" business model, it will still have to serve both the leisure and scheduled markets, as most of Hapagfly's charter seats are sold to TUI's various tour operator brands and that need for charter capacity at TUI will still exist for some considerable time, even if the market is declining.
TUI Group says that the merged Hapagfly/Hapag–Lloyd Express operation expects to get 60% of its revenue from low fare, point–to–point traffic and 40% from the tour operator business, and to achieve this there will be a substantial rise in the amount of scheduled business; the summer 2007 schedule, for example, is 25% up on the combined capacity of the two airlines as of last summer.
But while the merged operation will allow aircraft to increased daily utilisation rates to above 12 hours per day, many aircraft will operate both city–pair flights and charter flights on the same day, and this may present problems in terms of continual changes to the product needed for different flights. TUI admits that its charter passengers will not accept a "no–frills" on board service, and hence the on board product will have to change flight by flight.
This mixed functionality makes the future for the TUIfly even more uncertain. At the same time as the merger announcement, TUI group appointed board member Peter Rothwell to head up all tourism operations, including the aviation units that are being merged into TUIfly, and TUI group now says that it is examining "strategic options" for its airlines.
Once TUI's airlines are merged, many analysts believe a sale of TUIfly is inevitable, and some believe it will come sooner rather than later in order to get rid of fixed costs that the group would rather not have (particularly given that the TUI group is keen to reduce its debts of around €3bn). And while the tourism division will still need access to cheap seats for its package holiday products, this could easily be achieved via a long–term contract with whomever TUIfly is sold to. Of course this would not be a problem if TUI ever decides that the pressure on the tour operating market will just get worse, and that "tourism" is a business it no longer wants to be part of. Although there is no firm evidence that TUI may go down this path at the moment, at the same time as TUI considered extending its existing code–sharing with Air Berlin from charters to city–to–city flights late last year, unconfirmed reports suggested informal "side talks" held at the time also explored the possibility of TUI withdrawing from air transport altogether (reports that TUI firmly denies).
LTU International Airways
So if — or when — TUIfly is sold, who are its potential acquirer/partners? A TUI/Condor alliance is often talked about in the German press, and indeed a merger with Condor was one of the options recommended to TUI by Roland Berger, the consulting firm the group hired in 2006 to explore its options, according to reports in the German press. But there may also be potential buyers outside of Germany, although until TUIfly completes the integration of seven diverse airline operations and clears away the mish–mash of aircraft models, its unlikely that any serious moves will be made to sell TUIfly until 2008 at the earliest.LTU International Airways is based at Dusseldorf airport and operates to more than 80 destinations around the world, both on short- and long–haul. Previously a charter specialist, LTU became part of the Swissair empire when a 49% stake was bought. It in effect went bankrupt when Swissair collapsed and was rescued through a 'state aid' loan provided by the state of NordRein- Westphalia. After a restructuring programme, in 2005 LTU began low fare services on selected city routes after its short–haul charter routes came under intense pressure from LCCs. LTU also began to build up long–haul routes, and in several markets (e.g. to Thailand) it started flying all year–round, rather than in just the peak holiday season.
Today the airline considers itself to be a low fare (but not low–frills) airline, with all but a handful of LTU's flights being operated as scheduled services — although much of its capacity is still sold to German tour operators that include TUI, ITS, Tjaereborg and Jahn Reisen.
Following a €200m recapitalisation structured by Deutsche Bank (which cleared the state aid loan), Intro Verwaltungsgesellschaft bought a 60% stake in LTU in early 2006 (buying the 49.9% stake previously held by Swissair (and since 2001 held in a special fund) and 10.1% owned by CKA, a German finance company that is owned by banking group Sal. Oppenheim). Later that year, Intro sold 24% of its shares to Marbach Beteiligung und Consulting, a holding company for Jurgen Marbach, the LTU CEO, and then bought the 40% stake held by Rewe. This increased Intro's share to 76%, before it sold another 21% to Marbach, thus bringing the shareholding as it currently stands to 55% for Intro and 45% to Marbach.
Intro's intention for LTU is to repeat the success it had with its investment in dba, which after a restructuring was subsequently sold. LTU therefore began a year–long restructuring programme in August 2006 aimed at returning the airline to profitability in 2007. Key to the restructuring is the belief of Hans Rudolf Wohrl, the owner of Intro (and chairman of LTU), that LTU was slow in spotting the trend to seat–only sales booked via the internet, and that the focus has to switch more quickly from tour operators to seat–only direct bookings (as practised by Air Berlin and Condor). Last summer LTU revamped its internet site in order to allow more flexibility in booking flights, and this May the airline is launching routes from Dusseldorf to Los Angeles and Las Vegas, to add to existing routes to New York, Miami and Fort Myers.
After losses in both 2004 and 2005, LTU is believed to have made a loss in the region of €15m-€20m in 2006, but following restructuring Wohrl expects the airline to get back into profitability during 2007, with LTU fully repositioning itself as a scheduled airline.
After that, the future of LTU will depend on who is interested in acquiring it. Former owner Rewe had been looking to offload its stake for some time, but found few interested buyers at the time — though post–restructuring, LTU should be more attractive. Prior to Air Berlin's acquisition of dba, LTU had particularly close links with dba, but Marbach has stated that Condor would be the best merger partner for LTU, as "our business model is almost identical", with many potential synergies. Intro too is thought to consider Condor as the best bet for LTU in the long–term, but an LTU/Condor merger would be problematical for the German regulatory authorities as this would mean there would be just one airline left that catered for the inclusive tour market.
germanwings
Intriguingly, LTU briefly contemplated buying collapsed Spanish airline Air Madrid in January, although it quickly because apparent that this was not a viable option. However, LTU's interest attracted approaches form several parties (including San Jose, a Spanish construction group) over the possibility of launching a new long–haul airline out of Madrid that would operate of some of the routes that Air Madrid did. Potentially this could have reemployed up to half of the former Air Madrid' staff as well as taking over some of the aircraft lease contracts held by Air Madrid, but as at end of January nothing definite had developed, and the idea looks to have died.Essentially a business–oriented airline with a lower cost base rather than a genuine LCC, germanwings operates a fleet of 24 A319s and A320s to more than 50 destinations out of its home base of Cologne/Bonn airport, as well as from Stuttgart, Berlin and Hamburg. The airline is a subsidiary of Eurowings, which is owned 49% by Lufthansa and 50.02% by businessman Dr Albrecht Knauf, who is also chairman of Eurowings. Lufthansa has operational control of germanwings, which (in contrast to the importance of Condor) is a key part of Lufthansa group strategy to fight the challenge of Air Berlin, Ryanair and easyJet (see Aviation Strategy, July/August 2006).
germanwings plans to expand operations considerably over the next few years, as the first of 18 A319s on order arrived in 2006 and the fleet is scheduled to rise to 40 aircraft by the end of 2009, with five A319s arriving in 2007, seven in 2008 and four in 2009. Another 12 aircraft are on option.
That expansion has already begun, and last year germanwings added six destinations out of Cologne/Bonn — to Alicante, Jerez, Anatalya, Heraklion, Göteborg and Danzig — while Stuttgart–Anatalya and Berlin- Ibiza were also launched during the year. Further routes were added in the winter 2006/07 timetable, but another major expansion will come in the summer 2007 season, with two extra aircraft stationed at Cologne/Bonn providing capacity for eight new destinations out of the airport — Burgas (Bulgaria), Sarajevo, Sofia, Zadar (Croatia), Varna (Bulgaria), Alghero (Sardinia); Kavala (Greece), and Bucharest. There will also be an extra aircraft at Stuttgart, with a new route to Corsica, while a Hamburg–Mallorca service is starting and another A319 at Berlin- Schonefeld will be used to increase flights by 30% over the summer, with new routes to Mykonos, Burgas, Varna and Balaton (Hungary).
Berlin–Schonefeld is regarded by germanwings as having substantial potential for growth, with the airport being promoted as an alternative to Tegel for both business and leisure passengers. germanwings will station three aircraft at Schonefeld this year, serving 16 destinations, and the airline is targeting 1.8m passengers out of the airport in 2007 (compared with 0.3m in its first year of operation — 2002). Management expects its share of passengers there to keep rising from the current 20%, despite competition from Air Berlin, easyJet, Condor Berlin and Norwegian Air Shuttle.
More than half of the routes being added over the summer are to eastern European destinations, including Bulgaria, Macedonia, Romania and Croatia, and germanwings believes there is still much potential for growth into these countries, particularly on routes not currently served by flag carriers or LCCs. Apparently the majority of profits made by germanwings in 2006 was generated by the longer routes to Moscow (a Hamburg–Moscow service was launched in October, bringing routes to the Russian capital up to four) and to St Petersburg, and the airline wants to add more higher margin routes to eastern Europe rather than lower margin routes down to the Mediterranean, whether there is more direct competition,
In 2006 germanwings reported a 39% rise in revenue to €560m, based on a 31% rise in passengers carried, to 7.1m. This is slightly less than originally targeted (€570m revenue and 7.5m passengers), although the airline believes this is good result given the increasing competition in the German aviation market. Although a net profit figure was not released, company sources indicate the profit levels were the highest ever since the airline was launched in 2002.
germanwings is looking to increase revenue by 15% in 2007, based on an increase in passengers flown to 8m, but with 16 more aircraft arriving over the next few years the airline is looking to expand not just its routes but also its number of bases. Currently 12 aircraft are stationed at Cologne/Bonn, with six at Stuttgart, two each at Berlin and Hamburg, and the other two being "spares". By 2009, 18 aircraft will be based at Cologne/Bonn, but expansion potential out of there and at the other bases (other than Schonefeld) is thought to be limited in the long–term. Therefore a fifth base is likely to be open sometime this year, and potentially this could be outside of Germany, with germanwings' analysts looking at a number of options in east Europe and the Mediterranean region.
Condor
germanwings' expansion over the next few years is being driven by Thomas Winkelman, managing director of the airline since his predecessor, Andreas Bierwirth, became marketing director at Lufthansa in September 2006. He will also increase germanwings' drive into the business market, Last year the airline launched an FFP called the "Boomerang Club", — claimed to be first FFP for an LCC in Europe — and it already has more than 50,000 members, with participants acquiring rewards not just for germanwings flights but also for bookings with car rental and hotel partners. germanwings looks set to be part of Lufthansa's empire for the foreseeable future, and that position will only change if Lufthansa group manages to impose an LCC–type cost basis onto its Economy Budget operations in the mainline Lufthansa — a scenario that appears highly unlikely.Frankfurt–based Condor is undergoing another change of ownership as by the end of the first quarter of 2007 KarstadtQuelle, the German retail and mail order group, will complete a previously–announced deal to increase its stake in tour operator group Thomas Cook to 100%, by paying €800m for the 50% stake held by Lufthansa.
Condor operates to more than 60 leisure and city destinations across the globe with a fleet of 22 757s and 767s, while subsidiary Condor Berlin operates charter flights out of Schonefeld airport with 14 A320s.
In an attempt to diversify away from reliance on the traditional holiday markets to the Mediterranean and northern Africa, as well on long–haul holiday flights to Asia, Africa and the Americas, in 2004 Condor introduced seat–only sales (using Air Berlin as a "benchmark"). These grew rapidly to account for a third of all revenue within just 12 months, and in 2005 diversification continued with the launch of city–to–city services out of Munich to 10 foreign destinations, six of which were in Italy. In addition, Condor underwent restructuring in 2005 and 2006 that knocked €160m off the annual cost base, half of which came from fewer staff and better productivity. Condor expects 2006 net profits to fall compared with the €20m net profit of 2005, thanks mainly to higher fuel costs, although it is aiming to increase profits to at least €80m by 2008.
The aforementioned KarstadtQuelle deal has yet to be approved by the relevant regulatory authorities, but the flag carrier is desperate to sell its Thomas Cook stake (after a tentative plan to carry out an IPO proved impossible) as part of its refocus on core business — and because Thomas Cook has been dragging down Lufthansa group results. As part of the deal, Lufthansa will acquire the 50% held by Condor in SunExpress, a Turkish scheduled and charter airline that operates a fleet of 12 737–800s and 757- 200s out of Anatalya (Turkish Airlines owns the other 50%). But crucially, while Thomas Cook Airlines UK (which has a fleet of 23 A320s, A330s and 757s) and Thomas Cook Airlines Belgium (six A320s) will remain part of Thomas Cook, and hence be transferred to KarstadtQuelle's ownership, the Condor situation is more complicated.
Again as part of the overall deal, Lufthansa is to increase its stake in Condor from 10% to 24.9% by acquiring 14.9% of KarstadtQuelle's current 90% stake for €20m — but the deal reportedly will include a call option for KarstadtQuelle to repurchase the shares after a two year period, as well as a put option in which Lufthansa can require KarstadtQuelle to buy its shares at the same date. If neither option is exercised, Lufthansa then has the option to acquire the 75.1% held by the German retailer.
For the staff at Condor, this uncertainty over who will own the airline in a couple of years is "bewildering", according to one pilot. In December last year industrial action was carried out briefly at Condor Berlin before a collective pay deal was agreed between management and 240 flight attendants represented by the Verdi union, and sources suggest that the workforce is uneasy over the airline's medium–term future.
Although both a Condor/TUI and Condor/LTU link has been rumoured, much will depend on how KarstadtQuelle evolves Thomas Cook, and whether it needs its own in–house airline or prefers to buy in seat capacity from others. The likelihood is that Lufthansa will not want to keep Condor in the long–term, given that it is not considered part of its core assets.
AIR BERLIN/DBA FLEETS
AIR BERLIN/DBA FLEETS
Orders
Fleet
(options)
Air Berlin
A319
4
15
A320
10
35 (40)
737-400
1
737-700
5
737-800
35
(2)
F100
3
Total
58
50 (42)
dba
14
737-300
737-500
1
737-700
25
F100
15
Total
30
25
Air Berlin/dba total
88
75 (42)
TUIFLY'S FLEET
TUIFLY'S FLEET
Orders
Fleet
(options)
Hapagfly
A300
1
A310
1
737-700
1
737-800
32
3(2)
Total
34
4(2)
Hapag-Lloyd Express
737-500
3
737-700
8
737-300
737-800
3
Total
16
TUIfly total
50
4(2)
LTU'S FLEET
LTU'S FLEET

| | | |
| --- | --- | --- |
| | | Orders |
| | Fleet | (options) |
| A320 | 10 | |
| A321 | 4 | |
| A330-200 | 8 | 1 |
| A330-300 | 3 | |
| BAe 146 | 1 | |
| Total | 26 | 1 |
GERMANWINGS' FLEET
GERMANWINGS' FLEET

| | | |
| --- | --- | --- |
| | | Orders |
| | Fleet | (options) |
| A319 | 21 | 16(12) |
| A320 | 3 | |
| Total | 24 | 16(12) |
CONDOR'S FLEET
CONDOR'S FLEET

| | | |
| --- | --- | --- |
| | | Orders |
| | Fleet | (options) |
| 757-300 | 13 | |
| 767-300ER | 9 | |
| Total | 22 | |
| Condor Berlin | | |
| A320 | 14 | |
| Condor/Condor Berlin total | 37 | 0 |