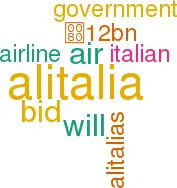 The Italian government probably feels more than a little relieved that it received 11 expressions of interest in buying at least 30% of Alitalia, including such illustrious private equity names as Texas Pacific Group and Cerberus Capital Management. There were also interesting bids among the 11 — from Porcellano Castello, a consortium of 70 families from the Bologna region whose idea is to turn Alitalia into a 5–star luxury airline, and from a Roman schoolteacher who is apparently a disgruntled Alitalia customer.
There was, as expected, no bid from SkyTeam partner Air France/KLM. The resignation of Jean–Cyril Spinetta, the Air France CEO, from the Alitalia Board has left it inquorate, and the Alitalia CEO Giancarlo Cimoli is reported to be leaving as well. The second Italian carrier, Air One, did however put in a bid, through a vehicle called AP Holding.
The valuation of Alitalia has been widely reported as being around the €2bn mark. But could the airline possibly be worth almost as much as, say, 25% of Ryanair? Its stock–market share price, buoyed by bid speculation, indicates a value of €1.2bn. Moreover, the airline's recent financial performance has deteriorated again — losses for 2006 are likely to be around €400m, double those of 2005. This brings Alitalia's accumulated losses since 2000 to €3bn, about 9% of turnover. The airline's net debt is about €1.2bn, plus another €1.2bn in capitalised lease commitments.
The situation poses some tricky questions for private equity investors:
Banks considering leveraging a deal will have to take into account the existing level of debt as well as the capex that will be required to replace the ageing MD80 fleet, some €3bn; presumably state guarantees for loans are out of the question
Selling off assets or downsizing will likely be fiercely resisted by the unions, management and politicians; adding to Alitalia's regular strike–days will allow competitors, especially the LCCs, to further increase their growing share of the Italian market
Designing a new turn–around strategy is perfectly feasible but implementing it is another matter; it appears that there are too many vested interests determined to preserve the $1 at the flag–carrier and procrastinate until the government or the relevant government minister changes
Bringing in an airline partner would be the most politically acceptable way to provide a catalyst for turn–around; this idea dates back to Alitalia's wooing of SAS in the late 80s, was almost consummated with KLM in the late 90s but ended acrimoniously, and has now been rejected by Air France
Perhaps we are being too cynical and there actually is an effective refinancing and restructuring strategy for Alitalia — the binding bid stage of the process may unveil an unexpected solution.