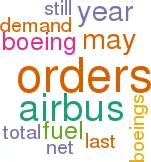 For the two manufacturers 2005 was a spectacular year — with a record for net orders, 2,057 aircraft in total. Deliveries were at the highest point for three years, with 378 for Airbus and 290 for Boeing.
These results may be a mixed blessing — the last time that Boeing's demand more than doubled, in 1996, supply disruptions handed the company a loss of $178m for the following year. Both Airbus and Boeing's future profits are resting on unproven production lines, fewer suppliers in more countries and building new types of jet.
Airbus just surpassed Boeing (for the fifth year running) with net orders of 1,055 and 1,002 respectively, yet still had to explain to analysts and investors why with more than half the orders it had less than half the value. Simply put, bigger was more beautiful last year for the American manufacturer. Boeing captured 71% of the lucrative widebody market, receiving 251 orders compared to Airbus' 108. Demand for the 787 range with its 50% composite airframe and fuel–efficient engines ran to 235 orders, more than double the 87 orders that Airbus had for the A350, which will use the same engines and less aluminium than in previous models.
Airbus made up the numbers with narrowbodies, which made up more than 80% of its total orders.
The Asian region, and specifically China, accounted for over 450 orders for the A320 family. China, India and the UAE are still driving sales for both companies, at least 40% of Boeing's orders came from Asia and the Middle East.(cont. from p.1) at BA and negative €246m at Lufthansa. So the deterioration in 2006/07 net fuel cost (fuels costs minus surcharges) will total €1.3bn or 2.3% of 2006 forecast revenues.
Things may not turn out that miserably — there may be more room for surcharging and fuel prices could moderate — but the underlying logic of the forecast is convincing, though not, it should be noted, to the stock–markets where the Big Three's share prices have all continued to move steadily upwards over the past 12 months.
Not content with confronting investors with the fuel price nasty, Lobbenberg also emphasises two other related and also negative points. First, demand for premium travel turned strongly up last year as investment bankers in particular chased global deals, and all three airlines benefited from an improvement in yield mix (and indifference to fuel surcharges). The financial markets are still very active but again there is a suspicion that this activity may be peaking.
Second, various difficult labour negotiations loom — BA's £1.3bn pension deficit and outsourcing flying from Lufthansa mainline to Germanwings, for example. Producing good 2005/06 results in what was featured as a very challenging cost circumstances may not be a productive basis from which to negotiate necessary concessions from the unions.
AIRBUS ORDERS 2005
AIRBUS ORDERS 2005

| | | | | | | | | | | |
| --- | --- | --- | --- | --- | --- | --- | --- | --- | --- | --- |
| | A318 | A319 | A320 | A321 | A300 | A330 | A340 | A350 | A380 | Total |
| Aegean Airlines | | | 8 | | | | | | | 8 |
| Aeroflot | | | | 7 | | | | | | 7 |
| Aercap | | 25 | 45 | | | | | | | 70 |
| Air France | 3 | | | | | | | | | 3 |
| Air One | | | 30 | | | | | | | 30 |
| BMed | | | | 7 | | | | | | 7 |
| Czech Airlines | | 6 | 6 | | | | | | | 12 |
| easyJet | | 20 | | | | | | | | 20 |
| Eurofly | | | | | | | | 3 | | 3 |
| GB Airways | | | 1 | 4 | | | | | | 5 |
| Germanwings | | 18 | | | | | | | | 18 |
| Iberia | 10 | 7 | 10 | 3 | | | | | | 30 |
| RBS Aviation Capital | | 5 | 15 | | | | | | | 20 |
| TAP Air Portugal | | | | | | 7 | | 10 | | 17 |
| Virgin Atlantic | | | | | | | 10 | | | 10 |
| Wizz Air | | 6 | 6 | | | | | | | 12 |
| European Total | 13 | 87 | 121 | 21 | 0 | 7 | 10 | 13 | 0 | 272 |
| CIT | | 12 | 16 | | | | | 5 | | 33 |
| Fedex | | | | | 6 | | | | | 6 |
| GATX | | | 2 | | | | | | | 2 |
| GECAS | | 22 | 18 | | | 2 | | | | 42 |
| ILFC | | | | | | | | 12 | | 12 |
| Northwest Airlines | | | | | | 8 | | | | 8 |
| JetBlue | | | | | | | | | | 0 |
| Spirit Airlines | | | | 3 | | | | | | 3 |
| UPS | | | | | | | | | 10 | 10 |
| US Airways | | | | | | | | 20 | | 20 |
| Virgin America | | 8 | 11 | | | | | | | 19 |
| N.American Total | 0 | 42 | 47 | 3 | 6 | 10 | 0 | 37 | 10 | 155 |
| InterJet | | | 10 | | | | | | | 10 |
| LAN Airlines | 20 | 1 | 4 | | | | | | | 25 |
| TAM Linhas Aereas | | 5 | 11 | 4 | | | | 10 | | 30 |
| Vuela | | 16 | | | | | | | | 16 |
| Latin American Total | 20 | 22 | 25 | 4 | 0 | 0 | 0 | 10 | 0 | 81 |
| Air Asia | | | 60 | | | | | | | 60 |
| Air China | | | | | | 20 | | | | 20 |
| Air Deccan | | | 60 | | | | | | | 60 |
| CASC | | 20 | 100 | 30 | | | | | | 150 |
| Chinese Eastern Airlines | | 5 | 4 | 11 | | | | | | 20 |
| China Southern Airlines | | | | | | 10 | | | 5 | 15 |
| Galaxy Airlines Co. Ltd. | | | | | 1 | | | | | 1 |
| IndiGo | | | 70 | 30 | | | | | | 100 |
| Jet Airways | | | | | | 10 | | | | 10 |
| Kingfisher Airlines | | 4 | 40 | | | 5 | | 5 | 5 | 59 |
| Sichuan Airlines | | 2 | 6 | | | | | | | 8 |
| Shenzhen Airlines | | 3 | 3 | | | | | | | 6 |
| Tiger Airways | | | 8 | | | | | | | 8 |
| Philippine Airlines | | | 9 | | | | | | | 9 |
| Asian Total | 0 | 34 | 360 | 71 | 1 | 45 | 0 | 5 | 10 | 526 |
| Air Cairo | | | 4 | | | | | | | 4 |
| Air Mauritius | | | | | | | 3 | | | 3 |
| Alafco | | | | | | | | 12 | | 12 |
| Jazeera Airways | | | 6 | | | | | | | 6 |
| Qatar Airways | | | | | | 2 | | | | 2 |
| Africa/M.East Total | 0 | 0 | 10 | 0 | 0 | 2 | 3 | 12 | 0 | 27 |
| Unidentified Total | 8 | 21 | 5 | 4 | | | 2 | 10 | | 50 |
| Gross Total | 41 | 206 | 568 | 103 | 7 | 64 | 15 | 87 | 20 | 1111 |
| Cancellations | | | | | | | | | | 56 |
| Net Total | | | | | | | | | | 1055 |
BOEING ORDERS 2005
BOEING ORDERS 2005

| | | | | | | |
| --- | --- | --- | --- | --- | --- | --- |
| | 737 | 747 | 767 | 777 | 787 | Total |
| Air Europa | 18 | | | | | 18 |
| Air France | | | | 9 | | 9 |
| Austrian Airlines | | | | 1 | | 1 |
| Avion Group | | | | 8 | | 8 |
| Cargolux Airlines | | 10 | | | | 10 |
| dba | 10 | | | | | 10 |
| First Choice Airways | | | | | 6 | 6 |
| Icelandair | 15 | | | | 2 | 17 |
| KLM | 1 | | | 3 | | 4 |
| LOT Polish Airlines | | | | | 7 | 7 |
| Ryanair | 79 | | | | | 79 |
| RBS Aviation Capital | 20 | | | | | 20 |
| SkyEurope | 4 | | | | | 4 |
| Transavia | 1 | | | | | 1 |
| Turkish Airlines | 8 | | | | | 8 |
| Volga-Dnepr Airlines | | 2 | | | | 2 |
| European Total | 156 | 12 | 0 | 21 | 15 | 204 |
| Air Canada | | | | 18 | 14 | 32 |
| AirTran | 23 | | | | | 23 |
| Alaska Airlines | 35 | | | | | 35 |
| Aeromexico | | | | | | 0 |
| Boeing Business Jet | 11 | | | | | 11 |
| Continental Airlines | | | | 2 | 7 | 9 |
| GAP | | 6 | | | | 6 |
| GECAS | 26 | | | | | 26 |
| ILFC | 20 | | | 8 | 20 | 48 |
| Northwest | | | | | 18 | 18 |
| Pegasus | 6 | | | | | 6 |
| Southwest | 8 | | | | | 8 |
| UPS | | 8 | | | | 8 |
| US Air Force | 3 | | | | | 3 |
| WestJet | 10 | | | | | 10 |
| N.American Total | 142 | 14 | 0 | 28 | 59 | 243 |
| Aeromexico | 8 | | | | | 8 |
| Copa Airlines | 5 | | | | | 5 |
| Gol Airlines | 53 | | | | | 53 |
| LAN Airlines | | | 6 | | | 6 |
| L. American Total | 66 | 0 | 6 | 0 | 0 | 72 |