Airbus and Boeing: Orders 2010 Jan/Feb 2011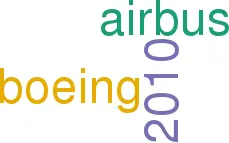 Both Airbus and Boeing saw their net order totals at least double last year as airlines showed increasing confidence that the recession was behind them. Speaking recently at an industry conference, Richard Aboulafia of the Teal Group said that he could see as many as 1,500 orders this year (the 2010 gross order total was 1,269).
Delivery output in 2010 was almost identical to 2009 with just seven aircraft less at 972 delivered (the second–highest total of the decade), Airbus outperformed Boeing with 509 deliveries.
AIRBUS ORDERS 2010
AIRBUS ORDERS 2010
A319
A320
A321
A330
A340
A350
A380
Total
AerCap
5
5
Aeroflot
11
11
Aircraft Purchase Fleet
1
1
Avolon
8
8
easyJet
15
15
Finnair
5
5
Germania
5
5
Germanwings
8
8
Iberia
10
10
Lufthansa
19
1
3
23
Swiss Int'l Air Lines
2
2
5
9
Turkish Airlines
1
1
EUROPE TOTAL
13
60
8
20
0
0
0
101
Air Lease Corporation
31
20
51
CIT Leasing
8
8
GECAS
60
60
Hawaiian Airlines
7
7
United Airlines
25
25
Virgin America
60
60
NORTH AMERICA TOTAL
0
151
20
15
0
25
0
211
LAN Airlines
6
34
10
50
TAM Linhas Aereas
6
7
7
5
25
LATIN AMERICA TOTAL
12
41
17
0
0
5
0
75
Air China
10
10
nbsp;
BOC Aviation
30
30
Cathay Pacific Airways
30
30
Cebu Pacific
7
7
China Aviation Supplies
50
6
56
Garuda Indonesia
3
3
Hong Kong Airlines
16
16
Malaysia Airlines
19
19
Thai Airways
7
7
Tibet Airlines
3
3
TransAsia Airways
6
2
8
ASIA / PACIFIC TOTAL
3
87
6
53
0
40
0
189
Emirates
32
32
Qatar Airways
2
2
South African Airways
5
5
Yemenia Airlines
10
10
AFRICA / M. EAST TOTAL
0
17
0
0
0
0
32
49
Unidentified customers
16
1
2
19
Total gross orders
44
357
51
88
2
70
32
644
Changes / cancellations
-10
-26
-26
-1
-7
-70
TOTAL NET ORDERS 2010
34
331
51
62
1
63
32
574
BOEING ORDERS 2010
BOEING ORDERS 2010
737
747
767
777
787
Total
AerCap
10
10
Luxair
2
2
Norwegian Air Shuttle ASA
15
15
Turkish Airlines
20
20
EUROPE TOTAL
47
0
0
0
0
47
Alaska Airlines
2
2
Air Lease Corporation
54
54
American Airlines
35
35
CIT Leasing Corporation
38
38
Continental Airlines
7
7
FedEx
8
8
GECAS
40
40
Midwest Airlines
1
1
Southwest Airlines
25
25
United Airlines
25
25
NORTH AMERICA TOTAL
202
0
0
8
25
235
COPA Airlines
22
22
GOL Airlines
20
20
LAN Airlines
1
1
LATIN AMERICA TOTAL
42
0
0
1
0
43
Air China
20
4
24
Azerbaijan Airlines
3
3
BOC Aviation
8
8
Cathay Pacific Airways
6
6
Okay Airways Company Ltd
10
10
Russian Technologies
50
50
Somon Air
2
2
SpiceJet
30
30
Virgin Blue Airlines
41
41
Xiamen Airlines
10
10
ASIA / PACIFIC TOTAL
163
0
3
18
0
184
Air Austral
2
2
Emirates
30
30
Ethiopian Airlines
10
10
Qatar Airways
2
2
Royal Jordanian
3
3
Saudi Arabian Airlines
12
8
20
AFRICA / MIDDLE EAST TOTAL
10
0
0
46
11
67
Unidentified customers
41
3
1
45
Business Jet / VIP customers
3
1
4
Total gross orders
508
1
3
76
37
625
Changes / cancellations
-22
-2
-30
-41
-95
TOTAL NET ORDERS 2010
486
-1
3
46
-4
530