Boeing and Airbus - 2004 performance Jan/Feb 2005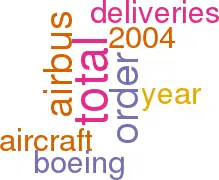 Airbus maintained its lead position in terms of orders and deliveries ahead of Boeing in 2004. Its gross order total for the year was 370. With 12 recorded cancellations, the net order total for Airbus was 358.
The largest single order of the year was for 60 of the A320 family (plus 40 options) from Air Berlin. 279 narrowbodies were ordered, representing 64% of the total market. Airbus delivered 320 aircraft, including 233 for the A320 family, which make up around 53% of deliveries of aircraft above 100 seats. The total firm orderbook for the A380 at year–end was 139 aircraft from 13 customers.
Boeing's net order total increased nearly 14% to 272 in 2004 from 239 in 2003, there were 285 deliveries in the year.
At year–end Boeing had logged 56 787s (formerly 7E7) as firm orders for three customers.
BOEING FIRM ORDERS 2004
BOEING FIRM ORDERS 2004

| | | | | | | | |
| --- | --- | --- | --- | --- | --- | --- | --- |
| | 717 | 737 | 747 | 767 | 777 | 787 | Total |
| Air Europa | | 5 | | | | | 5 |
| Austrian Airlines | | 1 | | | | | 1 |
| Blue Panorama | | | | | | 4 | 4 |
| Cargolux Airlines | | | 1 | | | | 1 |
| Hapag-Lloyd Flug | | 10 | | | | | 10 |
| KLM | | | | | 2 | | 2 |
| Turkish Airlines | | 15 | | | | | 15 |
| European Total | 0 | 31 | 1 | 0 | 2 | 4 | 38 |
| AirTran | 6 | 2 | | | | | 8 |
| Aeromexico | | 8 | | | | | 8 |
| Boeing Business Jet | | 4 | | | | | 4 |
| Southwest | | 5 | | | | | 5 |
| US Navy | | 5 | | | | | 5 |
| WestJet | | 10 | | | | | 10 |
| N.American Total | 6 | 34 | 0 | 0 | 0 | 0 | 40 |
| Copa Airlines | | 2 | | | | | 2 |
| Gol Airlines | | 17 | | | | | 17 |
| L. American Total | 0 | 19 | 0 | 0 | 0 | 0 | 19 |
| Air China | | 7 | | | | | 7 |
| Air China Cargo | | | 2 | | | | 2 |
| Air New Zealand | | | | | 4 | 2 | 6 |
| All Nippon Airways | | | | | | 50 | 50 |
| Cathay Pacific | | | | | 2 | | 2 |
| China Airlines | | | 2 | | | | 2 |
| China Eastern Airlines | | 6 | | | | | 6 |
| Korean Air | | | 2 | | | | 2 |
| Nippon Cargo Airlines | | | 3 | | | | 3 |
| Qantas | | 5 | | | | | 5 |
| Singapore Airlines | | | | | 18 | | 18 |
| Turkmenistan Airlines | 2 | | | | | | 2 |
| Virgin Blue | | 2 | | | | | 2 |
| Asian Total | 2 | 20 | 9 | 0 | 24 | 52 | 107 |
| Air Senegal Int'l | | 1 | | | | | 1 |
| Emirates | | | | | 4 | | 4 |
| Etihad Airways | | | | | 5 | | 5 |
| Oman Air | | 1 | | | | | 1 |
| Africa/M.East Total | 0 | 2 | 0 | 0 | 9 | 0 | 11 |
| Unidentified Total | 0 | 46 | 0 | 9 | 7 | 0 | 62 |
| Changes/cancellations | | | | | | | -5 |
| Net Total | 8 | 147 | 10 | 9 | 42 | 56 | 272 |
AIRBUS FIRM ORDERS 2004
AIRBUS FIRM ORDERS 2004

| | | | | | | | | | | |
| --- | --- | --- | --- | --- | --- | --- | --- | --- | --- | --- |
| | | A318 | A319 | A320 | A321 | A300 | A330 | A340 | A380 | Total |
| | Air Berlin | | | 60 | | | | | | 60 |
| | Eurofly | | 1 | | | | | | | 1 |
| | Iberia | | | | | | | 3 | | 3 |
| | Lufthansa | | | | | | | 7 | | 7 |
| | Niki | | | 10 | | | | | | 10 |
| | Tarom | 4 | | | | | | | | 4 |
| | Turkish Airlines | | | 19 | 12 | | 5 | | | 36 |
| | European Total | 4 | 1 | 89 | 12 | 0 | 5 | 10 | 0 | 121 |
| | America West Airlines | | 8 | 10 | | | | | | 18 |
| | ILFC | | | | | | | 3 | | 3 |
| | Independence Air | | 11 | 5 | | | | | | 16 |
| | JetBlue | | | 30 | | | | | | 30 |
| | Spirit Airlines | | 11 | | 4 | | | | | 15 |
| | N.American Total | 0 | 30 | 45 | 4 | 0 | 0 | 3 | 0 | 82 |
| | EVA Air | | | | | | 1 | | | 1 |
| | Govt. of Brazil | | 1 | | | | | | | 1 |
| | TACA | | 1 | 12 | 1 | | | | | 14 |
| | L. American Total | 0 | 2 | 12 | 1 | 0 | 1 | 0 | 0 | 16 |
| | Air Deccan | | | 2 | | | | | | 2 |
| | Air China | | 6 | | | | | | | 6 |
| | Air Hong Kong | | | | | 2 | | | | 2 |
| | Air Tahiti Nui | | | | | | | 1 | | 1 |
| | Aust. Defence Force | | | | | | 5 | | | 5 |
| | Cathay Pacific | | | | | | 3 | | | 3 |
| | Chinese Eastern A/L | | | | | | 20 | | | 20 |
| | China Southern A/L | | 6 | 15 | | | | | | 21 |
| | Cebu Pacific | | 12 | | | | | | | 12 |
| | Thai Airways | | | | | | | 2 | 6 | 8 |
| | Vietnam Airlines | | | | 10 | | | | | 10 |
| | Qantas | | | 11 | | | 1 | | | 12 |
| | Asian Total | 0 | 24 | 28 | 10 | 2 | 29 | 3 | 6 | 102 |
| | Azerbajan Airlines | | 4 | | | | | | | 4 |
| | Emirates | | | | | | | 2 | | 2 |
| | Etihad Airways | | | | | | 12 | 8 | 4 | 24 |
| | Jazeera Airways | | | 4 | | | | | | 4 |
| | Qatar | | 1 | | | | 4 | 2 | | 7 |
| | Africa/M.East Total | 0 | 5 | 4 | 0 | 0 | 16 | 12 | 4 | 41 |
| | Unidentified Total | | 5 | 2 | 1 | | | | | 8 |
| | Gross Total | 4 | 67 | 180 | 28 | 2 | 51 | 28 | 10 | 370 |
| | Changes/cancellations | | | | | | | | | -12 |
| | Net Total | | | | | | | | | 358 |
| | | | | | | | | | | |