Boeing and Airbus: 2001 orders February 2002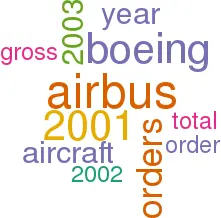 Net order intake almost recorded a dead heat for Boeing and Airbus in 2001. Boeing's firm orders stood at 272 for the year and Airbus's at 274. These figures are well down on 2000 (Airbus's net firm orders were 520, Boeing's 611), hardly a surprise.
Boeing suffered 63 cancellations from gross orders of 335 and delivered 527 aircraft in 2001 (62% of the commercial aviation industry deliveries for the year according to Boeing), it expects a sharp delivery decline to around 380 aircraft for 2002 and worse (between 275 and 300) in 2003. Approximately 80% of the 335 aircraft in its 2001 gross order total are due for delivery in less than three years — "favourable order–to–delivery timing" as Boeing puts it. There are plans to reduce employment from September 2001 until mid–2002 by up to 30,000. As of early January, job losses ran to about 12,000.
In 2001, Airbus delivered 325 aircraft with101 cancellations, from a gross order total of 375. 90% of the cancelled were due to companies facing bankruptcy: Sabena, Swissair and TWA.
Airbus has warned that new orders would fall sharply this year, but Airbus president and chief executive Noel Forgeard repeated the previous forecast that Airbus deliveries could still total about 300 in 2002; there is no official forecast for 2003. There were the equivalent of 6,000 full–time job cuts. This is part of measures to cut costs by up to €750m, in 2002 there will be reductions of €200m each in production, overheads and research and development.
Boeing chairman and CEO Phil Condit expects 2003 to be the "down year". Airbus thinks that "the logic of the downturn suggests that 2003 might be the lowest point of the cycle."
BOEING FIRM ORDERS 2001
BOEING FIRM ORDERS 2001

| | | | | | | | |
| --- | --- | --- | --- | --- | --- | --- | --- |
| | 717 | 737 | 747 | 757 | 767 | 777 | Total |
| Air 2000 | | | | 4 | | | 4 |
| Air Berlin | | 4 | | | | | 4 |
| Air France | | | 2 | | | | 2 |
| European total | 0 | 4 | 2 | 4 | 0 | 0 | 10 |
| AirTran | 3 | | | | | | 3 |
| American Airlines | | 4 | | 1 | 15 | | 20 |
| Boeing Business Jet | | 18 | | | | | 18 |
| Continental Airlines | | | | 15 | | | 15 |
| Northwest Airlines | | | 2 | 19 | | | 21 |
| US Navy | | 1 | | | | | 1 |
| N. American total | 3 | 23 | 2 | 35 | 15 | 0 | 78 |
| Azteca Lineas Aereas | | 2 | | | | | 2 |
| Lat. American total | 0 | 2 | 0 | 0 | 0 | 0 | 2 |
| Air China | | 6 | | | | | 6 |
| All Nippon Airways | | | | | 9 | | 9 |
| China Eastern Airlines | | 4 | | | | | 4 |
| China Southern Airlines | | 20 | 2 | | | | 22 |
| Hainan Airlines | | 3 | | | | | 3 |
| JAL | | | | | | 3 | 3 |
| Qantas | | 15 | | | | | 15 |
| Shanghai Airlines | | 3 | | | | | 3 |
| Singapore Airlines | | | | | | 13 | 13 |
| Thai Airways | | | 2 | | | | 2 |
| Xiamen | | | | 2 | | | 2 |
| Asian total | 0 | 51 | 4 | 2 | 9 | 16 | 82 |
| Emirates | | | | | 25 | | 25 |
| Oman Air | | 2 | | | | | 2 |
| Royal Air Maroc | | 10 | | | | | 10 |
| Afr./M.East total | 0 | 12 | 0 | 0 | 25 | 0 | 37 |
| CIT Aerospace | | 20 | | 1 | | | 21 |
| ILFC | | 6 | 5 | | | | 11 |
| Pembroke Capital | 2 | | | | | | 2 |
| Lessor total | 2 | 26 | 5 | 1 | 0 | 0 | 34 |
| Unidentified | 1 | 70 | 3 | 2 | 2 | 14 | 91 |
| Gross Total | 6 | 188 | 16 | 44 | 51 | 30 | 335 |
| NET TOTAL after changes | | | | | | | 272 |
AIRBUS FIRM ORDERS 2001
AIRBUS FIRM ORDERS 2001
A300-
A319
A320
A321
600R
A330
A340
A380
Total
Air France
1
3
10
14
Airtours
4
4
Cyprus Airways
2
2
Finnair
1
1
GB Airways
4
1
5
LTU International
2
2
Lufthansa
15
15
SAS
1
1
Virgin Atlantic
6
6
European Total
3
5
10
0
1
0
31
50
Frontier Airlines
2
2
United Airlines
9
9
18
UPS
58
58
JetBlue
32
32
N.American Total
11
41
0
58
0
0
0
110
Air Caledonie Int'l
2
2
All Nippon Airways
3
3
Air Tahiti Nui
1
1
Dragonair
1
1
EVA Air
2
2
Japan Air System
3
3
Qantas
13
12
25
Silkair
1
1
Singapore Airlines
10
10
Asian Total
0
4
0
3
18
1
22
48
TACA
1
1
TAM Brasil
3
2
5
Govt. of Venezuela
1
1
S.American Total
4
3
0
0
0
0
0
7
Emirates
5
22
27
Kuwait Fin. House
4
4
Royal Air Maroc
4
4
Qatar Airways
1
5
6
Afr./M.East Total
0
5
4
0
10
0
22
41
GECAS
2
2
2
6
ILFC
25
38
17
21
1
10
112
Lessor Total
27
40
17
0
23
1
10
118
Unannounced
1
1
Unannounced Total
1
0
0
0
0
0
0
1
GROSS TOTAL
46
98
31
61
52
2
85
375
NET TOTAL after changes
274