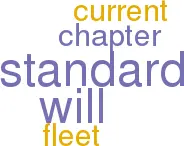 ICAO's Committee on Aviation Environmental Protection (CAEP) has come up with a Chapter 4 noise standard which is 10 decibels lower, on a cumulative basis, than the current Chapter 3 standards. Although this standard will apply to all new aircraft from 2006, its practical impact on manufacturers will be negligible as current production models meet this standard (the A380 will meet -14dB). Unsurprisingly they have welcomed the decision, while airports wanted a greater noise reduction.
What airlines have to worry about is the implementation of operational phase–out rules, an issue that the EC and the US DoT are now addressing. A substantial proportion of the world fleet is affected by the -10dB standard, according to an analysis by Campbell Hill who have been consulting to CAEP — over half the existing jet fleet, with an estimated current market value of $106bn.
Residual values for aircraft like the DC–9 and MD–80 are already dropping fast. Perhaps more surprisingly, two thirds of the 737 Classics and 40% of the A320s will be impacted. Over half the 747 fleet will fail at the new standard.
IMPACT OF CHAPTER 4
IMPACT OF CHAPTER 4

| | | | | | | | |
| --- | --- | --- | --- | --- | --- | --- | --- |
| | End-99 fleet | Ch. 3 | -5dB | -8dB | -11dB | -14dB | % of flt.at -11dB |
| A300 | 169 | 0 | 68 | 147 | 153 | 169 | 91% |
| A600 | 199 | 0 | 0 | 82 | 195 | 195 | 98% |
| A310 | 212 | 0 | 0 | 0 | 122 | 211 | 58% |
| A319 | 204 | 0 | 0 | 0 | 0 | 19 | 0% |
| A320 | 779 | 0 | 0 | 17 | 319 | 658 | 41% |
| A321 | 144 | 0 | 0 | 27 | 42 | 101 | 29% |
| A330 | 129 | 0 | 0 | 0 | 0 | 67 | 0% |
| A340 | 161 | 0 | 0 | 0 | 0 | 0 | 0% |
| BAe 146 | 197 | 0 | 0 | 0 | 0 | 0 | 0% |
| Avro RJ | 133 | 0 | 0 | 0 | 0 | 0 | 0% |
| BAC-11 | 57 | 57 | 57 | 57 | 57 | 57 | 100% |
| 707 | 79 | 79 | 79 | 79 | 79 | 79 | 100% |
| 717 | 10 | 0 | 0 | 0 | 0 | 0 | 0% |
| 727 | 1,121 | 298 | 1,070 | 1,070 | 1,070 | 1,121 | 95% |
| 737-200 | 788 | 441 | 788 | 788 | 788 | 788 | 100% |
| 737-3/4/500 | 1,923 | 0 | 0 | 853 | 1,305 | 1,833 | 68% |
| 737NG | 410 | 0 | 0 | 0 | 0 | 368 | 0% |
| 757 | 878 | 0 | 0 | 0 | 0 | 354 | 0% |
| 767 | 744 | 0 | 29 | 87 | 254 | 331 | 34% |
| 777 | 258 | 0 | 0 | 0 | 0 | 0 | 0% |
| 747 | 981 | 53 | 436 | 478 | 546 | 886 | 56% |
| CRJ | 343 | 0 | 0 | 0 | 0 | 0 | 0% |
| Do328 JET | 11 | 0 | 0 | 0 | 0 | 0 | 0% |
| Emb 145 | 190 | 0 | 0 | 0 | 0 | 0 | 0% |
| DC-8 | 235 | 45 | 134 | 134 | 134 | 134 | 57% |
| DC-9 | 626 | 175 | 626 | 626 | 626 | 626 | 100% |
| MD-80 | 1,153 | 0 | 0 | 552 | 1,153 | 1,153 | 100% |
| MD-90 | 107 | 0 | 0 | 0 | 0 | 0 | 0% |
| DC-10 | 220 | 0 | 81 | 214 | 214 | 220 | 97% |
| MD-11 | 185 | 0 | 0 | 0 | 0 | 172 | 0% |
| F28 | 142 | 142 | 142 | 142 | 142 | 142 | 100% |
| F70 | 43 | 0 | 0 | 0 | 0 | 0 | 0% |
| F100 | 266 | 0 | 0 | 0 | 0 | 0 | 0% |
| L1011 | 88 | 0 | 0 | 18 | 88 | 88 | 100% |
| TOTAL | 13,185 | 1,290 | 3,510 | 5,371 | 7,287 | 9,772 | 55% |