Lessors boost Boeing and Airbus February 2000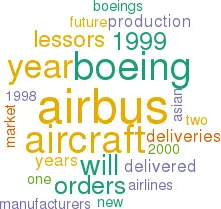 New orders in 1999 fell by some 16% over 1998 levels, Airbus outsold Boeing, and the lessors nearly overtook the airlines.
Despite the fact that the number of aircraft delivered by Boeing and Airbus outstripped orders received, backlogs remain healthy. Boeing has some 1,530 aircraft in its backlog (about 3.2 years at this year's expected rate of production), and Airbus roughly 1, 450 (4.5 years equivalent of estimated year 2000 output).
Boeing delivered some 620 aircraft in 1999, but expects a reduction to 490 aircraft in 2000. Airbus delivered 294 aircraft last year and has announced increased production rates for this year to 307 aircraft, which should rise to about 330 in 2001. So the overall number of aircraft delivered by the "big two" will fall this year as Boeing's cutback in deliveries far outweighs Airbus's increase in production. 1999, with some 915 aircraft deliveries between Airbus and Boeing (an increase of 16% on 1998), will certainly represent the peak delivery year of the current cycle.
Although Airbus won the order battle in 1999, Boeing argues that the only way to measure market leadership is by aircraft deliveries. With the two manufacturers enjoying nearly matching orderbooks, and with Airbus increasing production as Boeing slows down, a couple of years more of success on the order front may undermine Boeing's market leadership even on this measure.
As one would expect, Airbus continues to outperform Boeing in its home patch Europe, and Boeing continues to outperform Airbus in North America. Although the Asian carriers provided understandably slim pickings for the manufacturers in 1999, Boeing fared better than Airbus largely thanks to 747 freighter sales, the famous SIA 777 deals involving the trade–in of A340s, and from Jet Airways for 10 737–800s.
Orders placed by the lessors increased dramatically in 1999. In 1997 lessors accounted for some 15.6% of new orders placed with Airbus and Boeing; in 1998 this figure fell to 13.2%; in 1999 it soared to 43.5%.
There are two diametrically opposed views on the operating lease market at present. One view is that a there has been a fundamental shift in the way airlines will choose to acquire aircraft in the future, that they are increasingly preferring the flexibility that operating leases provide and the off–balance sheet form of funding. The other is that the lessors have been opportunistic in taking advantage in a slowdown in demand from the Asian carriers in securing delivery positions at presumably attractive prices from the manufacturers. The lessors will be relying on a continuation of the Asian recovery plus no industry downturn in the near future if their investments are to prove worthwhile.
Boeing's goals for 2000 will be to receive launch orders for the long range/high capacity 777–200X and 777–300X aircraft. Certification of the 737–900 in 2001 and 767–400 ER this year will also be a priority.
The manufacturer faces a difficult year. The dearth of orders for both the 757 and 767 models has put into question the likelihood of the manufacturer building new longer–range derivatives of both models, and the 717 has a questionable future unless orders are taken this year.
For Airbus, this year will again be dominated by the A3XX. For deliveries to begin in 2005, Airbus salesmen will be seeking firm commitments for the aircraft this year. But the candidate airlines still seem reluctant to commit, wrangles over the Airbus company structure continue, and financiers are balking at the prospect of betting the company on this one project.
BOEING FIRM ORDERS 1999
BOEING FIRM ORDERS 1999
717- 737- 737-
737-
737-
747-
747-
757-
767
777
777
200
3/4/500
600
700
800
400
400F
200 300ER/F-200ER-300
Total
European airlines
Air Berlin
6
6
Hapag-Lloyd
3
3
KLM
5
1
6
Lauda
2
4
2
8
TAROM
4
4
8
Transavia
4
4
European total
0
0
2
8
22
1
0
0
2
0
0
35
North American airlines
Alaska
13
13
American Airlines
3
3
American Trans Air
1
1
Atlas Air
2
2
Delta
43
9
2
2
56
Midway
15
15
Southwest
12
12
North American total
0
0
0
40
46
0
2
10
2
2
0
102
Asian airlines
Air New Zealand
1
1
Cathay Pacific
2
2
China Airlines
13
13
EVA Airways
3
3
Jet Airways
10
10
Korean Air
2
2
Singapore Airlines
10
10
Asian total
0
1
0
0
10
0
20
0
0
10
0
41
Latin American airlines
COPA
8
8
LAN Chile
1
1
Latin American total
0
0
0
8
0
0
0
0
1
0
0
9
African and Middle East airlines
El Al
3
3
African and Middle East total 0
0
0
0
0
0
0
0
0
3
0
3
Lessors
CIT Group
10
10
GATX
4
5
5
2
17
33
GECAS
5
15
20
ILFC
50
1
51
Pembroke
15
15
Lessors total
15
0
0
64
6
0
10
2
32
0
0
129
All undisclosed orders
0
0
3
36
16
1
1
8
10
3
2
80
TOTAL ORDERS
15
1
5
148
100
2
33
20
47
18
2
391
AIRBUS FIRM ORDERS 1999
AIRBUS FIRM ORDERS 1999
A318
A319
A320
A321
A330
A330
A330
A340
A340
A340
A340
Total
TBA
-200
-300
TBA
-300
-500
-600
European airlines
Aero Lloyd
1
2
3
Air 2000
2
2
4
Air France
15
1
16
Airtours
3
3
British Airways
12
12
Eurowings
1
1
GB Airways
2
2
Iberworld
2
2
Lufthansa
3
8
11
Spanair
10
4
14
Swissair/Flightlease
7
3
10
European total
27
1
27
8
3
3
0
1
8
0
0
78
North American airlines
America West
15
12
27
Jet Blue
25
25
Northwest
18
12
30
TWA
25
25
US Airways
26
3
29
North American total
40
18
75
0
3
0
0
0
0
0
0
136
Asian airlines
Air China
8
8
Air Lanka
3
3
Cathay Pacific
3
3
China Airlines
7
7
Singapore Airlines
5
5
Asian total
8
0
0
0
0
3
3
0
7
5
0
26
Latin American airlines
Aerolineas Argentinas
6
6
LAN Chile
2
7
9
Latin American total
0
0
2
0
0
0
0
0
7
0
6
15
African and Middle East airlines
Egyptair
3
3
Emirates
1
1
Africa/Middle East total
3
0
0
0
1
0
0
0
0
0
0
4
Lessors
CIT Group
7
18
5
30
debis AirFinance
11
15
5
31
Flightlease
2
2
GATX Flightlease
12
10
10
6
38
GECAS
11
12
4
27
ILFC
30
16
4
10
60
SALE
20
3
23
Lessors total
42
45
79
32
6
5
0
2
0
0
0
211
All undisclosed orders
0
1
0
0
5
0
0
0
0
0
0
6
TOTAL ORDERS
120
65
183
40
18
11
3
3
22
5
6
476
OTHER MANUFACTURERS FIRM ORDERS 1999
OTHER MANUFACTURERS FIRM ORDERS 1999
ERJ
ERJ
ERJ
ERJ
CRJ
CRJ
CRJ
CRJ
RJ
Do- Do- Do-
Total
-135 -145 -170 -190-200 -100
-200
-200LR
-700
-100
28Jet 428Jet 728Jet
European airlines
Adria Airways
1
1
Aegean Aviation
4
4
Air Vallee/Locat
1
1
Alitalia Express
6
6
Cimber Air
2
2
City Airlines
1
1
CityFlyer Express
3
3
Crossair
15
30
30
75
Jersey European
4
4
KLM excel
3
3
LOT
6
6
Lufthansa
60
60
Maersk Air
4
1
3
8
Proteus
5
8
13
Regional
10
10
Rheintalflug
2
2
Skyways
2
2
Tyrolean
2
2
European total
6
42
40
30
0
13
1
3
7
1
0
60
203
North American airlines
Air Wisconsin
5
5
Atlantic Coast Airlines
23
50
30
103
Inter Canadian
6
6
Midway
3
3
Northwest Airlines
54
54
Ozark
2
2
SkyWest Airlines
30
25
55
North American total
0
6
0
0
3
53
84
0
0
52
30
0
228
Asian airlines
Hainan Airlines
19
19
Shandong
5
5
Sichuan Airlines
5
5
Asian total
0
5
0
0
0
5
0
0
0
19
0
0
29
Latin American airlines
Latin American total
0
0
0
0
0
0
0
0
0
0
0
0
0
African and Middle East airlines
Palestinian Airlines
2
2
African & M. East total
0
0
0
0
0
2
0
0
0
0
0
0
2
Lessors
Lessors total
0
0
0
0
0
0
0
0
0
0
0
0
0
All undisclosed orders
0
0
0
0
0
0
0
0
0
0
0
0
0
TOTAL ORDERS
6
53
40
30
3
73
85
3
7
72
30
60
462