The wonderful world of RJs February 2000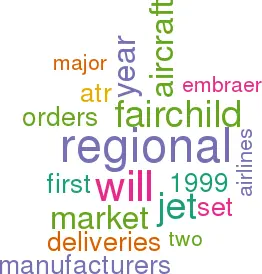 1999 was another hugely successful year for the regional jet manufacturers, well at least for three of them. British Aerospace, now re–named BAE Systems, managed to record just seven new orders in the year, and looks set to fall by the wayside in the same way that Saab has already done. BAE has plans for a mid–life update of the RJ100 but whether this will prove fruitful remains in much doubt.
The success of regional jets has obviously had an adverse impact on the manufacturers of turboprops. ATR looks set to continue production of the ATR 42 and ATR 72 aircraft but only at the modest rate of some 30 aircraft in total for this year. In 1999 regional jet deliveries outnumbered turboprop deliveries for the first time; this year will see more than twice as many regional jet deliveries as turboprop deliveries.
In the world of regional jet manufacturers the big two, Embraer and Bombardier, have now been joined by a third major player, Fairchild. Withlong waiting lists at the other two manufacturers, Fairchild was able to take a very healthy share of new orders in 1999.
Its customer base is very narrow, however, dominated by two major orders: from Lufthansa order for 60 Do–728s and from Atlantic Coast Airlines (a Delta Commuter) for 80 Do–328 and Do–428 aircraft. Such large orders, with presumably identical specifications, will bring economies of scale to the Fairchild production line.
The immediate future of Fairchild was secured through the $1.2bn investment by the private equity group Clayton, Dubilier and Rice and Allianz Capital that was made in December 1999. This gives Fairchild $400m of growth capital and has secured a further $800m in debt financing that ensures Fairchild can continue its investments in the regional jet market. Further mergers and acquisitions in this sector should also not be ruled out, and a tie–up between Embraer and ATR is rumoured.
The regional jet market is as yet untouched by the operating lessors. One reason is that they are not able to negotiate any discounts in today's market.
Also, mainstream financiers are taking a greater interest in this sector. The list of airlines below includes some with strong credit ratings. The trend for major airlines to take stakes in the commuter affiliates will further encourage the banks.
Regional jets will increasingly pose a threat to Boeing's 717 and the Airbus's A318. For Bombardier, this year will see the bulk of flight testing completed on its 70–seat CRJ–700, with first delivery set for first quarter 2001. Then it will focus on the larger CRJ–900 aircraft.
Embraer has aircraft both in at the smaller end of the market, the 40 seat ERJ–140 (set to receive its type certification in first quarter 2001), and at the top end of the market, the ERJ–170/190.