A delay to Qatar Airways' expansion plans? December 2011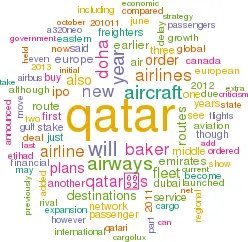 Now that Qatar Airways has postponed its IPO due to the global economic crisis, will its aggressive plans for fleet and route growth through to the 2020s still go ahead — or will the delay force Qatar's flag carrier to scale back its ambitions?
Founded only in 1994, Qatar Airways was effectively relaunched in 1997 under a new chief executive, Akbar Al Baker — who previously worked at the Civil Aviation Directorate of Qatar — and today the Doha–based airline operates more than 100 aircraft to over 100 destinations in the Middle East, Europe, Africa, North America and the Asia/Pacific.
Qatar releases very few details about its financial results (a reluctance that will have to change when the IPO process is started); operating results are not released, for example. However, Qatar says it has been profitable for the last few years, and in the 12 months ending March 31st 2011 net profits of around US$220m are believed to have been made — similar to the net profit figures claimed in the previous two financial years – and based on revenue in 2010/11 of around US$5.4bn, 37% up on the previous financial year. The only other information known is that in the 2010/11 financial year Qatar carried 16m passengers, compared with 14m in 2009/10, and with traffic up 27.4% compared with a 26.2% rise in a capacity, passenger load factor increased by 0.7 percentage points in 2010/11, to 73.5%.
However, this April Al Baker did say that first quarter 2011 revenues had fallen by 6% compared to the planned target thanks to the so–called Arab Spring sweeping through the Middle East. Passengers carried fell 3% in the January–March period compared with the airlines' target, although both revenue and passenger numbers were higher than January–March figures in absolute terms.
Nevertheless, the substantial net profit for 2010/11 makes the delay in the IPO — announced in September — frustrating from Qatar Airways' point of view, as a base of three years' profitability would have been ideal for a float. The IPO had had been provisionally pencilled in for the end of 2011 or early 2012, with a dual listing anticipated in Doha and London. Advisory banks had already been hired, according to Al Baker, and it had been thought that strong interest from Middle Eastern and other investors would have made the IPO a success — but clearly Qatar's advisors believe differently in the current economic environment.
How much the postponement will delay Qatar's plans for fleet and route growth remain to be seen, but if a new IPO timetable isn't announced fairly soon then questions may start to be raised about the pace and scale of Qatar's expansion.
The growth path to 2022
The state of Qatar gained huge exposure by unexpectedly winning the rights to host the 2022 FIFA World Cup, and Qatar Airways has used that event as an impetus for its expansion plans, although these were largely in place well before the World Cup was awarded to Qatar in December 2010.
Qatar currently operates a fleet of 103 aircraft (with an average aircraft age of under four years), including 74 Airbus models and 28 777s (see table, below), but the scale of the airline's ambitions are shown by the 193 aircraft it has on firm order (plus options for another 25), including nine A320s, 50 A320neos, 80 A350s, 10 A380s, 14 777s and 30 787s.
The expansion plans envisage a fleet of 140 aircraft by 2022 (see graph, below) serving a global network of 134 destinations, while the shorter–term goal is to have a fleet of 120–plus serving more than 120 destinations by 2013. The fleet growth will be accompanied by a huge workforce increase. The Qatar Airways group currently employs more than 19,000, but earlier this year it announced plans to add another 3,500 staff each and every year for the next three years. Within the airline Qatar employs 13,000 people (see graph, below), with productivity as measured by ASKs per employee rising steadily over the last few years.
The airline received its 100th aircraft (a 777–200LR) in the middle of October, and it is now receiving new aircraft at the rate of at least one per month. The majority of these new aircraft will be based at Doha and — as with rivals Emirates and Etihad — Qatar Airways is investing heavily in establishing its hub as a central point linking Europe and North America in the west to Asian destinations in the east.
For long–haul, Qatar prefers smaller aircraft, and earlier this year Qatar ordered two 777–300ERs and three 777 freighters, while at the Paris Air Show in June it ordered another six 777–300ERs, and another two 777 freighters were ordered recently at the Dubai air show. It also has 30 787s on order, with new 747s not on the agenda and with just 10 A380s on order (five of which were added at the Dubai air show) — in contrast to the 72 A380s on outstanding order by Emirates. The first of those aircraft is due to arrive in 2013. Meanwhile the first of 80 A350 XWBs was due to be delivered at the end of 2013 – though Airbus's recent announcement of a delay in production means that the initial aircraft will not reach Qatar's fleet until 2014 at the very earliest.
Qatar also ordered 50 A320neos at Dubai, comprising six A319s, 30 A320s and 14 A321s. Qatar had an internal deadline of this summer to make a final decision on either A320neo aircraft or Bombardier CSeries models, and despite missing this deadline it finally went for the neo, even though following the order Al Baker said that he was "still interested" in the C–Series. The C–Series has the advantage that it can enter service in 2013, whereas the A320neo will probably be available from around 2016, and Qatar also apparently had concerns that the A320neo may just be a re–engined version of the current A320 family, which it believed would repeat the mistakes of the original version of the A350 – an aircraft that Al Baker dismissed contemptuously as "an old lady dressed up in new clothes".
Despite those concerns, the A320neo won the initial order race, which signals a significant push by Qatar Airways into the regional market, in order to deliver feed into its long–haul network out of Doha. There is certainly a whole series of under–served regional airports in the Middle East that have no direct connection to Doha, and — for example – in October Qatar announced it would add 31 weekly flights between Doha and Iranian cities from December onwards, including the new destination of Isfahan. Qatar also has plans to launch a LCC that would use existing A320s in the Qatar fleet, though this very much remains a strategic option that would only be initiated if rival LCCs started to affect Qatar routes and profits significantly – which is not the case at the moment, the airline claims.
The Dubai Air Show was supposed to see an order for A330 freighters, as another of Qatar's goals is to become one of the world's leading freight airlines. It currently operates three A300–600Fs and two 777–200Fs to 30 destinations globally, and has six 777–200Fs on firm order.
In June Qatar agreed a deal to buy 35% of the Luxembourg–based cargo airline Cargolux for an undisclosed sum believed to be in the region of US$225m to US$300m, with Qatar acquiring the stake held by the Luxembourg state, which had stepped in to buy the stake previously held by SAirLines until 2009.
The state's deal was always meant to be a temporary measure; hence the sale to Qatar Airways. An accompanying commercial partnership will see connections built up between the hubs of the respective cargo operations – Doha and Luxembourg. Cargolux (in which Luxair, the Luxembourg flag carrier, remains the largest shareholder, with a 43.4% stake) is the largest all–cargo airline in Europe, employing 1,400 to operate a fleet of 16 747 freighters to more than 90 destinations across the globe. It has faced difficult times recently, being fined for price fixing in Europe (against which it is appealing), and is having to defend criminal charges in the US under an antitrust investigation. It was also the launch customer for the 747–8 freighter, with 13 of the type on order, the first two of which arrived this autumn joining the existing fleet of 747–200s and 747–400s.
The move is part of Qatar Airways' plans to become one of the world's major cargo airlines over the next few years, and Qatar also had plans to convert between 15 and 20 of its A330 passenger models into freighters, commencing in 2012 with planned completion by 2016, and part of the strategic goal to make Doha a leading global freight hub by 2015. The passenger A330s are due to be replaced by new 787s from the first quarter of 2012 and as they are taken out of the fleet and (potentially) converted they will then either go to Qatar's own cargo operation — and now Cargolux — or be leased/sold to third parties.
However, there is an ongoing dispute between Qatar and Airbus over the conversion of these aircraft to freighters. Qatar has consistently urged the European manufacturer to launch a programme to convert the — 200 model. Airbus is reluctant to start such a programme, citing a lack of demand –although some analysts suspect this is more to do with fears that A330–200F sales will be cannibalised. In December Al Baker said that if Airbus didn't change its mind then he will go elsewhere, and he added that the airline would talk to Boeing about 767 freighters.
With substantial amounts of new aircraft arriving in the next few years, Qatar is closely analysing those markets that it believes are under–served in terms of routes to/from the Gulf region – and which of course are also capable of being profitable.
Already this year routes have been launched to 12 destinations, including Brussels, Stuttgart, Aleppo, Shiraz, Venice, Medina and Kolkata. And once the Libyan civil war ended, Qatar moved quickly to add Benghazi to its route network, launching a four–times–a-week service from Doha from the 1st of November. Qatar previously flew to Tripoli, and that route is expected to be relaunched shortly.
A service to Entebbe also launched in November, as well as a route from Doha to Chongqing in western China, and the three–times- a–week service using A330s became Qatar's fifth destination in that country (alongside Beijing, Hong Kong, Shanghai and Guangzhou), with 28 flight a week in total.
More routes into central and Eastern Europe are seen as a priority for Qatar, and a Sofia service – launched in September — complements routes to nearby Budapest and Bucharest that were launched earlier in 2011. A quarter of Qatar's total network destinations is in Europe but most of them are to western Europe; though of the European routes started this year, half have been to central and eastern Europe. However, new routes to Baku and Tbilisi that were originally planned for November have been postponed until February of 2012 due to "constraints on aircraft availability", according to Al Baker.
In June Qatar also launched its first route to Canada, with a three–times–a-week service between Doha and Montreal using 777- 200LRs, and it would like to build up further Canadian routes in the future, to Toronto, Vancouver and Calgary. Qatar is keen to take advantage of the row that has developed between Emirates and the Canadians, in which the rival airline has been prevented from launching new routes into Canada under a long–running row between the UAE and Canada, with the latter refusing to alter the existing bilateral and with Air Canada lobbying vociferously to maintain the current deal. The Qatar–Canada bilateral agreed late last year allows four Canadian cities to be served, although only with three flights a week on each route, which is a restriction that Qatar Airways would like to alter so as to allow daily flights — although it will endeavour to be more subtle in its lobbying than Emirates has been.
Elsewhere, South America is another market that Qatar has been analysing, and most particularly Brazil and Argentina.
Almost all of Qatar's routes originate or terminate at Doha, and earlier this year a new 2,000 square metre passenger terminal B costing $85m was unveiled at Doha International airport, which is dedicated to the more than 30 foreign airlines operating out of Doha and enables the other terminal to become an exclusive facility for Qatar Airways. However, this development, which has increased passenger capacity at the airport to 17 million a year, has an effective shelf life of just a year before the New Doha International airport (DIA) will open in 2012 with an initial capacity of 24m passengers a year. DIA is costing the Qatari state $14.5bn but will handle up to 50m passengers a year by 2015. Unsurprisingly, its busiest route is between Doha and Dubai, the hub of rival Emirates (see Aviation Strategy, July/August 2011). An extra three Dubai flights a day were added from August, bringing the daily frequency to 11 flights.
Critical response
With so many aircraft on order it's unsurprising that Qatar Airways reacted strongly to criticism earlier this year by Ulrich Schulte- Strathaus, secretary general Association of European Airlines, aimed at the Gulf's three main airlines – Qatar Airways, Emirates and Etihad Airways. In a speech to the International Aviation Club luncheon in Washington DC, Schulte–Strathaus said that those airlines "are owned by their respective governments, and operated as an instrument of national strategy, and they are integrated vertically across commerce, tourism and foreign policy. For them, the airlines are just a part – a tool – of this vertically integrated economic chain".
Qatar's Al Baker retorted that Schulte- Strathaus's comments were "factually incorrect and unfounded", and questioned whether he can "tell me of any country which does not consider its air transport industry, be that an individual airline or a multitude of them, as part of national interests?" Al Baker went on to question whether Schulte–Strathaus was "advocating that this policy of liberalisation should only apply when his member airlines are the beneficiaries and not vice–versa?"
But Al Baker didn't let the issue drop there. In June he interrupted the normally uncontroversial AGM of IATA in Singapore with an unprecedented and scathing attack on the way the body is run. Al Baker criticised the auditing process for airlines' accounts and said some of IATA's annual expenditure for 2010 – which included $18m for travel, $58m for data processing and IT, and $29m for consulting – needed to be justified. He also criticised fiercely the nomination of James Hogan, chief executive of rival Etihad, to the IATA board. Hogan was nominated to fill an extra seated created on the board in order to increase the representation of Middle Eastern airlines, but Al Baker said that the move was a surprise, and that "such decisions should be transparent and — if geographical representation is the basis of the composition of the board — the regional airlines involved should be informed in advance of their regional allotments so that they can coordinate who should represent them". Al Baker was backed by Tim Clark, president of Emirates Airline, who said that IATA was an entity run by the very few.
The growing war of words between the "Big Three" Gulf airlines and selected major European and US rivals, plus associated trade bodies, parallels the battle being fought between Qatar and other Middle Eastern carriers in gaining extra landing rights to long–haul destinations, from Germany to Canada. Qatar and the other Gulf airlines are justifiably concerned that criticism aimed their way over ownership and other issues will affect their expansion plans, with difficulties in winning new landing rights just one manifestation of that criticism.
At present 50% of Qatar Airways is held by the Qatar state (via the Qatar Investment Authority, which is the state's sovereign wealth fund) and the other 50% is owned by private Qatari investors, which Qatar argues makes it different to Emirates and Etihad in that it is not 100% owned by its government, and rather is a "public–private partnership". Qatar Airways also says that foreign airlines are afraid of Qatar's growth and are not willing to take financial risks to bring their standard up to those of their (Gulf) competitors.
But Qatar's fundamental argument is that it is supported, though not subsidised, by the Qatari government, and that airlines criticising have very short memories, because before they were privatised they were very heavily "supported" by their respective national governments. As a start–up, Qatar Airways argues it is just at an earlier stage of development, and in any case it will be privatised relatively soon – even if that now won't be in 2011 or the first half of 2012.
To buy or not to buy
But that delayed IPO may have one other consequence – that of derailing Qatar's plans for an acquisition. Qatar is known to be on the look–out for suitable candidates to buy, and earlier this year Al Baker talked about buying up to a 49.9% stake in a European carrier "with a strong network that would help us become an even more global player". He added that a deal "may be as early as this year". The airline insists it has enough cash and finance for such as move, though such a move is highly unlikely prior to an IPO.
Qatar Airways was one of the airlines reported to be interested in making a bid for TAP Portugal once the Portuguese government officially puts its stake up for sale (see Aviation Strategy, June 2010). That speculation grew following a visit by the Portuguese prime minister and other ministers to Qatar earlier in the year, in which the privatisation outline for TAP Portugal was presented to the Qatari authorities. Unsurprisingly the airline won't comment officially on this, and neither would it on speculation linking it with bmi and Virgin Atlantic. What Al Baker will say on the record is that he would be happy for one of the larger international aviation companies to take a stake in Qatar when it floats, although he has ruled out any kind of minority sale ahead of an IPO – whenever that will now be.
However, in late October reports indicated that Qatar may be negotiating to buy a 49% stake in Barcelona–based Spanair – a prospective deal that might stretch Al Baker's definition of acquiring an airline "with a strong network that would help us become an even more global player".
QATAR AIRWAYS' FLEET
| Aircraft | In service | On order | Options |
| --- | --- | --- | --- |
| A300B4-600 | 3 | | |
| A319-100 | 2 | | |
| A320-200 | 24 | 9 | 6 |
| A321-200 | 12 | | |
| A320neo | | 50 | |
| A330-200 | 16 | | 9 |
| A330-300 | 13 | | |
| A340-600 | 4 | | 8 |
| A350-800 | | 20 | |
| A350-900 | | 40 | |
| A350-1000 | | 20 | |
| A380-800 | | 10 | |
| 777-200/300 | 28 | 14 | |
| 787-8 | | 30 | |
| CL605 | 1 | | |
| BD-700 | | | 2 |
| Total | 103 | 193 | 25 |