WIZZ targets IPO and becoming Europe's third largest LCC December 2010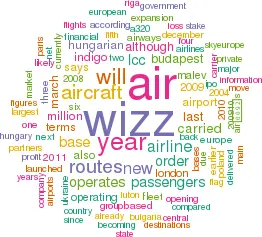 Hungarian LCC WIZZ Air continues to expand and is close to becoming the third–largest LCC in Europe in terms of passengers carried. With more than 100 new aircraft joining the fleet in the next six years, WIZZ Air is also positioning itself for an IPO within that same time period.
WIZZ Air was launched in 2004 by Jozsef Varadi, the former CEO of Malev, with USbased private equity house Indigo Partners investing into the airline in September 2004 and becoming a majority shareholder by December of that year. Expansion soon followed, with Budapest opening as its second base in the summer of 2005, followed by Warsaw and Gdansk in the same year.
With its main operating base in Budapest, today WIZZ Air operates just under 200 routes to 62 destinations in 21 European countries, with 12 operating bases in Hungary, Poland, Bulgaria, the Ukraine, Romania and the Czech Republic. It follows a classic LCC business model, with one–class 180–seat configurations in its single type fleet, an absence of frills and an increasing focus on ancillary revenues (such as from advertising on the backs of seats) — although, curiously, it only introduced internet check–ins from 2009.
WIZZ Air employs 1,200 and carried 7.8 million passengers in 2009, 33% more than in 2008. Last year it launched 40 routes, opened a base in Prague and received seven new aircraft. WIZZ Air aims to break the 10 million passengers carried barrier in 2010 and according to the latest figures from the European Low Fares Association, WIZZ Air is already the fifth largest LCC in terms of passengers carried and is closing in on the airlines in third and fourth place (Norwegian and Vueling respectively).
The WIZZ Air group has a fleet of 34 A320- 200s but with 107 of the model on firm order, the fleet will grow to 132 by March 2017. Its first major order, for 50 aircraft, came in 2007, and the group added an order for 50 further aircraft last year, during the Paris air show. The fleet rose by four aircraft earlier this year but despite the large order book no new aircraft will arrive until next March — which perhaps gives the airline some breathing space while the global economy improves a little.
With 100–plus aircraft arriving in the six–year period after March, WIZZ Air is set for major expansion and Varadi and COO Chris Collins (previously at Frontier Airlines and JetBlue Airways) are scouring Europe for routes to put the new capacity onto. WIZZ Air says that it has a target list of 30 airports in central and eastern Europe. The plan is to enter into all of these over the next few years in the pursuit of annual double–digit passenger growth, with new bases opening at a rate of two or three each year.
WIZZ Air's two most important markets are Poland and Hungary. WIZZ Air currently operates 86 routes to six Polish airports, and last year the airline flew 3.3 million passengers to/from Poland. This will increase by 30% in 2010 as it aims to overtake flag carrier LOT as the largest airline in Poland in terms of passenger carried. WIZZ Air uses four bases in the country (at which 14 aircraft are based this year, up by three compared with 2009) and a fifth base will probably be opened at Lodz.
In Hungary, WIZZ Air carried 1 million passengers on flights to/from Budapest last year, and this is expected to rise to 1.25 million this year. It currently operates 22 routes out of Budapest, with a service to Istanbul starting in December and one to Antalya in June 2011. As new aircraft arrive WIZZ Air will increase frequency on routes from Budapest into western Europe; already WIZZ Air carries more passengers between Budapest and London than either British Airways or Malev, and it wants to similarly dominate other routes from the Hungarian capital.
Nevertheless, WIZZ Air protested vehemently against the re–nationalisation of Malev earlier this year, which it says "would likely be an unlawful state aid as it clearly violates the state aid rules, is discriminatory, and distorts competition". In February the Hungarian state agreed to acquire a 95% stake in Malev for HUF 25.2bn (€94m), but WIZZ Air says that the government will need to pump in further money into the flag carrier in order to keep it afloat. Malev was only privatised two years ago, when AirBridge (owned by Hungarian and Russian investors) bought a 99.9% stake, but the government has bought 95% of the airline back, leaving AirBridge with 5%.
The fastest growing market for WIZZ Air is actually Romania, where it carried 1.7 million passengers last year, 87% up on 2008. Though it operates to four airports in the country more than half its Romanian traffic goes through Bucharest. A fifth aircraft has recently been stationed in Bucharest, and new routes to Malaga will launch in December and to Larnaca in the summer of 2011.
The WIZZ Air group has also expanded into other countries, WIZZ Air Bulgaria launched in 2006 and WIZZ Air Ukraine in 2008. Based in Sofia's Bourgas airport, WIZZ Air Bulgaria has three aircraft and operates to destinations in the UK, Ireland, Germany, France, Scandinavia and the Mediterranean. WIZZ Air Ukraine is based in Kiev and operates two aircraft domestically and internationally to 10 destinations, from London Luton to Antalya. The Ukrainian subsidiary carried 0.5 million passengers in 2009, its first full year of operation, and had a load factor of more than 80% on its nine routes. Currently WIZZ Air Ukraine operates out of Boryspil airport, but it is likely to move into Kiev airport once a major upgrade, including runway repairs has been completed.
Serbia is also another country earmarked for expansion. WIZZ Air's thirteenth operating base will open in April 2011 at Belgrade, where initially WIZZ Air will station a single A320. WIZZ Air already operates routes to Belgrade from London and Dortmund, but the opening of the base will be accompanied by five new routes, to Rome Fiumicino, Malmo, Stockholm Skavsta, Eindhoven and Allgau–Memmingen (in the south of Germany). WIZZ Air's presence at Belgrade will undoubtedly heap more pressure on the Serbian flag carrier Jat Airways, in which the government is trying to engineer a merger with THY Turkish Airlines (see Aviation Strategy, November 2010).
A fourteenth base will open in Vilnius, Lithuania, in April 2011, initially with one A320 based there operating on new eight routes, including to Rome Fiumicino, Barcelona and London Luton. Riga in Latvia is another potential base. WIZZ Air started flights from there in March and the airline says Riga has the potential to home up to six aircraft as the airport is the largest in the Baltic region in terms of passengers carried. Ryanair has also long wanted to open a base at Riga, although nothing yet has been agreed, so WIZZ Air might face fierce competition at the airport in the future (which also is a base for Latvian airline Airbaltic, which stations 30 aircraft there). Elsewhere WIZZ Air will probably operate from Copenhagen, which is opening a low–cost terminal extension this winter (currently WIZZ Air operates into Malmo, which it markets as a Copenhagen service).
Time for an IPO?
Within all the countries it operates in, WIZZ Air has been stepping into the holes left by several of its rivals that have either folded or withdrawn from routes. For example, in 2008 WIZZ Air capitalised on the withdrawal of LOT's Centralwings from the low–fare market by launching new routes in the relevant sectors. After central European LCC rival SkyEurope collapsed last year WIZZ Air stationed extra aircraft at Prague, one of the main bases for SkyEurope, although on the other hand WIZZ Air declined to move into Bratislava after SkyEurope withdrew, due to an inability to get low enough fees at the airport. WIZZ Air also reacted to Czech Airline's recent decision to close its routes to the UK by increasing frequency on Prague–London to nine flights a week from October and launching a route between London Luton and Brno in December. WIZZ Air says that in 2009 it has a 36% share of the LCC market in central and eastern Europe, and a 48% share of the Hungarian LCC market, and those percentages will only rise as the new aircraft come on stream. But does that necessarily translate into profitability?
As a private company controlled by Indigo Partners, little information on its financial performance is released, but figures obtained from the UK's Companies House (the Wizz Air holding company re–registered itself in Jersey in the Channel Islands in 2009) reveal that revenue rose by 12% in the 2009/10 financial year (ending March 31st) to £407m (€528m). According to this data the airline posted a £0.6m operating profit in 2009/10, compared with a £3m operating loss in 2008/09, while it made a £4m net loss in 2009/10, compared with a £9m net loss in the previous financial year.
The results reported in the UK shown that the airline has not once recorded a net profit since it was launched back in 2004, and furthermore the airline's accumulated losses since 2004 total more than €55m. Last year WIZZ Air said that while its Ukrainian and Bulgarian companies had yet to make a profit, its Hungarian airline was profitable, but it's impossible to verify this due to the lack of detailed information.
For a new airline losses of this magnitude are not at all unusual, although speculation inevitably arises when in–depth financial information is not released. The company says it has been financed by the initial investment by Indigo and cashflow ever since then, and needs no external financing at present, although pre–delivery payments for three A320s delivered this year and two A320 that are being delivered in March 2011 are known to have been arranged by Frankfurt–based DVB Bank. Also this October WIZZ Air sold and leased back (on 11–year terms) three A320s due to be delivered next year with San Francisco–based Jackson Square Aviation.
According to the figures reported in the UK, as at March 31st 2010 the group had long–term debt of £93.7m – substantially higher than the £57.8m debt of a year earlier – although it did have £75m in cash and cash equivalents.
Although WIZZ Air says it is not interested in any mergers or acquisitions, with Indigo Partners as its backers there's no doubt that WIZZ Air will undergo an IPO at some point in order to provide a profitable exit for Indigo. Based in Phoenix, Arizona, Indigo Partners was founded in 2002 by William Franke, former CEO of America West and US Airways, and owns a stake in US LCC Spirit Airlines as well as 15% of Asian LCC Tiger Airways.
Under the guidance of Indigo, earlier this year WIZZ Air relocated its headquarters and executive team to Geneva in order to save paying Hungarian rates of taxation (the Geneva corporate rate is just 7%), and it has been similarly ruthless in other business decisions, such as by switching its Bologna operation last year from the main airport to its secondary one, Forli, in order to "achieve better cost and operational efficiency", or through axing a Budapest to Paris Beauvais route in January after faring poorly against a Malev service from Budapest to Paris CDG.
According to senior WIZZ Air executives, a listing on the London stock exchange is the most likely option being considered, although the move will be framed in terms of giving the airline access to more capital in order to fund its expansion. In terms of timing all WIZZ Air will say is that a float will occur sometime "over the next six years", though it's much more likely to be earlier than later – i.e. as soon as improving economic conditions allow — in order to get returns for the private equity backers.
WIZZ AIR GROUP FLEET
WIZZ AIR GROUP FLEET

| | | | |
| --- | --- | --- | --- |
| | Fleet | Orders | Options |
| WIZZ Air (Hungary) | | | |
| A320-200 | 29 | 107 | 12 |
| WIZZ Air Bulgaria | | | |
| A320-200 | 3 | 0 | 0 |
| WIZZ Air Ukraine | | | |
| A320-200 | 2 | 0 | 0 |
| Total | 34 | 107 | 12 |
| | | | |