Euro charters: TUI become one Jul/Aug 2014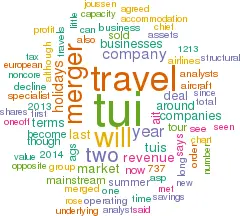 Plans by TUI AG and TUI Travel to merge and become the world's largest integrated tour operator/tourism business have been met with a mixed response from the analyst community. Is scepticism justified, or would a successful merger help to slow down the underlying structural decline of the all-inclusive tour (AIT) market?
Aviation Strategy has been analysing the slow but steady decline of the AIT market since 2002 (see the March/April 2013 issue for our last article), and the underlying pattern remains absolutely clear. As can be seen in the chart below, UK charter passengers fell again in 2013 (for the 12th year in a row), by another 1m passengers, and the trend shows no sign of stopping. In terms of the split of scheduled versus non-scheduled capacity offered by UK airlines (see chart opposite), non-scheduled ASKs also dropped again last year — to 16%, its lowest ever proportion.
Structural woes
While economies in the main European outbound markets are improving (the UK's faster than others), the decline in the AIT market is structural, with the internet allowing travellers to put together their own "packages" of flights and hotels from LCCs and other providers. This process is now so easy that the concept of the high street travel agent seems an anachronism. While those travel agents still exist, the number of them in the UK and across Europe has declined relentlessly year after year.
That structural change was refuted or ignored for years by the remaining giants of the European AIT industry – TUI Travel and the Thomas Cook Group – until at long last both embarked on an urgent overhaul of their businesses, mainly by ditching lower margin packages in favour of more profitable specialist holidays and differentiated services.
Of those Big Two tour operators, the UK-based TUI Travel had been the faster to react to the changing AIT market, and in its last full financial year – the 12 month period ending 30th September 2013 – TUI Travel reported revenue of £15.1bn (4.1% up year-on-year), operating profit of £297m (1.7% down) and a profit before tax of £181m (compared with a £201m profit before tax in FY 11/12). In its "underlying" results (which exclude one-off and other items, and adjust for timings of key travel dates such as Easter) for the first three-quarters of FY 13/14 (covering the period October 2013 to June 2014), TUI Travel reported a drop in revenue of 2.9%, to £9.0bn, although the operating loss improved from £213m in Q1-3 12/13 to a £186m loss in Q1-3 13/14.
Analysing the key summer 2014 holiday season (as can be seen in the table opposite), as of early August TUI Travel had achieved a 2% increase in the average selling price (ASP) of its mainstream holidays booked out of the UK, and though the number of holidays sold decreased, overall revenue rose by 1%. TUI Travel says that "there has been an increased level of capacity in the wider UK market this year, particularly around sales of commodity product". However TUI's efforts to offer more "unique" holidays within its UK mainstream offer (ie distinct products such as Splashworld and Sensatori) "puts us in a strong position relative to our competitors", the company says. In addition more and more UK mainstream holidays are being sold online, now accounting for 51% of all summer holidays sold.
However, in France a 3% increase in ASP was met with a 13% reduction of holidays sold, leading to a 10% fall in revenue out of France – although it must be pointed out that TUI Travel significantly cut capacity offered out of the country in the 2014 summer season.
But the mainstream UK markets' importance overall to TUI Travel meant that total European mainstream ASP rose 1% in summer 2014, with holidays sold down 2% and revenue down by 1%. TUI's accommodation wholesale business had an impressive summer; while ASP remained flat the number of customers rose 15% and revenue was up by 16%, driven by increasing demand for accommodation in Latin America and Asia.
The merger plan
In June this year came the news that TUI Travel and TUI AG (the Hanover-based travel and shipping conglomerate) had agreed a merger in principle. The merger terms involve existing TUI Travel shareholders (other than TUI AG, which already owns 54.5% of TUI Travel) receiving 0.399 new TUI AG shares for each TUI Travel share that they own.
The merged company will be a "German domiciled group", though with a dual listing on the London and Frankfurt stock exchanges and with an anticipated market cap of around €7bn (which would make it a member of the FTSE100).
When the initial end of July deadline from the UK Takeover Panel to firm up the terms of a binding merger was not met, an extension to the 19th of September was agreed – though even after terms are finalised there will be several more hoops to go through before the deal is completed. Most analysts anticipate this to happen sometime in the spring of 2015 – although the "two TUIs" are hoping that it will close earlier, ideally sometime nearer the start of next year. Russian billionaire Alexei Mordashov is TUI AG's largest shareholder, with a 25% stake, and he supports the deal, and it's highly likely that enough shareholders of both companies will nod through a merger agreed by both boards in advance.
Once the deal closes, it will bring to an end an almost constant saga of "will they, won't they?" between the two companies, ever since TUI Travel came into existence in 2007 following the merger of TUI AG's travel assets with UK-based tour operator First Choice. TUI Travel and TUI AG first attempted a merger in 2008 and then again 18 months ago, but failed to agree terms the last time around due to their relative share prices at the time, with TUI AG's shares trading at approximately a 30% discount to net asset value.
At that time Peter Long, TUI Travel's chief executive, declared a merger would "never happen" – a position he restated publicly as late as this March. Since then, however, both companies' shares have risen significantly (see chart opposite), and evidently Long has changed his opinion. He's now slated to become joint chief executive of the merged company with Friedrich Joussen, who is currently CEO of TUI AG, until 2016. At that point Long would become chairman, with Joussen taking over as sole chief executive.
But while the merger will almost certainly now occur, there are mixed opinions from analysts as to whether the deal makes sense. Some analysts are sceptical of the actual synergistic benefits of a merger, while Morgan Stanley analyst Jamie Rollo says the merger is "strategically questionable" for TUI Travel as it will be merging with a weaker business. The absence of a "take-out" premium also makes the deal appear unappetising to some.
The initial figures from the two TUIs are that the move will enable at least €45m of cost savings at the merged entity each year, which would be fully realised the third year after merger. Most of those savings will come from eliminating double functions in the current head offices. The two companies actually have four headquarters; two in Germany and two in UK, as one location in each country is a corporate headquarters and one is the head office of the local operating company. The merger will also release a one-off cash tax benefit, which would have amounted to around €35m if the two companies had been combined in FY 12/13, it is claimed.
However, there are likely to be one-off exceptional costs of approximately €45m to realise those synergies, TUI says, and the criticism from some analysts is that this level of cost savings is not significant.
As for the strategic rationale for the merger, from TUI Travel's point of view the main strategic benefit is access to TUI AG's hotel and cruise ship assets – the German company owns more than 230 hotels around the world, offering around 155,000 beds, as well as seven cruise ships. When announcing the proposed deal Joussen said that: "The fundamental belief we both have is that vertical integration drives value. It increases the potential for differentiated products on the tour operator side, and at the same time it decreases the risk of building new properties, of actually owning, or not always owning but operating new hotel and ship properties on the AG side, because we can manage occupancy through direct market access."
The two TUIs also emphasised that the combined group will become "a pure play leisure tourism business", so non-core businesses will be "run separately and maximised for value" – and they include:
TUI Travel's accommodation wholesale and B2C businesses, which in FY 12/13 had a total transaction value of £2.1bn and brought in EBITDA of £40m;
TUI Travel's "Specialist & Activity" travel businesses, which had revenue of £1.4bn and EBITDA of £41m in 12/13;
TUI AG's 22% stake in the Hapag-Lloyd Container Shipping company (which will definitely be sold, the two TUIs claim).
As Jeffrey Harwood from Oriel Securities points out, there's a significant question as why the online and specialist businesses are being designated non-core because, "not so many years ago, the specialist businesses were seen as the big growth engine in the company". All TUI says on this that is "we are defining non-core as non-synergistic – we haven't said we're going to sell them".
Aviation assets
In all the press and analyst briefings that the two TUIs gave on the proposed merger, little was said about the implications for the aviation assets of the merged TUI empire.
In terms of its fleet, the TUI Travel group contains a total of 137 aircraft, with 72 aircraft on order (see table above). With six separate airlines and brands, the fleet still contains eight different models, with the dominant model being the 737-800, which accounts for more than 60% of the total fleet.
Eight 787s have now been delivered to TUI Travel, six of which are operated by Thomson Airways and with one each at Jetairfly and ArkeFly, and seven more are on order, although only two of these have been formally assigned to an airlines in the TUI Travel group.
Also on order (but again, as yet not yet allocated to any individual airline) are 65 737s. These include five 737-800s and 60 737 MAXs, with an order for the latter being placed by TUI Travel in July last year (and with an option to buy another 60 of the type). Delivery of the 60 firm 737 MAX orders will start in January of 2018 and the last aircraft will be delivered in March 2023. 40 of the aircraft will be 737 MAX-8 variants and 20 will be 737 MAX-9 models.
The merger of the two companies will have little direct impact on these airlines, though of course if the newly-formed company is more robust and performs better as a result, a stronger company is naturally a more stable home for those aviation assets. Set against that though is the fundamental and continuing decline of the AIT market – a trend that the merger of TUI Travel and TUI AG will do little if anything to stop.
TUI Travel Fleet
| | | | | | | | | |
| --- | --- | --- | --- | --- | --- | --- | --- | --- |
| | Thomson Airways | TUIfly | Jetairfly | ArkeFly | TUIfly Nordic | Corsair International | "Unassigned" | Total |
| A330 | | | | | | 4 | | 4 |
| 737-700 | | 5 | 5 | | | | | 10 |
| 737-800 | 33 | 25 | 14 | 5 | 6 | | (5) | 83 (5) |
| 737 MAX | | | | | | | (60) | (60) |
| 747-400 | | | | | | 3 | | 3 |
| 757-200 | 15 | | | | | | | 15 |
| 767-300 | 5 | | 1 | 4 | 2 | | | 12 |
| 787-8 | 6 (1) | | 1 | 1 (1) | | | (5) | 8 (7) |
| ERJ-190 | | | 2 | | | | | 2 |
| Total | 59 (1) | 30 | 23 | 10 (1) | 8 | 7 | (70) | 137 (72) |
Note: orders in brackets
TUI Travel Summer 2014 Bookings
| | | | |
| --- | --- | --- | --- |
| | Average selling price | Customers | Revenue |
| | | | |
| Mainstream holidays | | | |
| UK | 2% | -1% | 1% |
| Nordics | -1% | -4% | -4% |
| Germany | 0% | -1% | -1% |
| France | 3% | -13% | -10% |
| Other | 1% | 0% | 0% |
| Total mainstream | 1% | -2% | -1% |
| | | | |
| Accommodation wholesale | 0% | 15% | 16% |
Note: As at early August, compared with figures at the same date a year earlier.