The role of lessors in a recession Jul/Aug 2001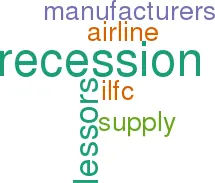 Airbus was able to announce orders for 150- plus aircraft at the Paris Air Show compared to three 777s from Boeing. But most of Airbus's orders came from ILFC, which highlights the importance of the operating lessors as the recession deepens.
Unfortunately, there seems to be a stream of bad news about the state of the main economies and the airline sector. In the US both load factors and yields continue to deteriorate badly while in Europe scheduled traffic growth turned slightly negative in April. Asia, having struggled out of its regional crisis, now looks as if it will implode again. And pilots unions at a range of carriers have chosen this time to become militant.
The industry's leading guru on jet supply and demand, Ed Greenslet of ESG, has just produced his annual outlook. It is reassuringly depressing.
ESG now sees the global surplus rising from 600 jet units in 2000 to just under 1,500 in 2003. This overcapacity is the equivalent of almost 9% of supply, which is not too far away from the surplus figure calculated in the depths of the early 90s recession — 10%. In short there are too many aircraft scheduled for delivery over the next few years, about 1,200–1,400 a year during 2001–03 or 800–1,000 if one excludes the regional jets.
But among these deliveries are about 200 jets a year designated for the operating leasing companies, and which one might think are likely candidates for deferral. This happened on a substantial scale in the last recession mainly because GPA, over–exposed and under–financed, collapsed. The two mega–lessors, ILFC and Gecas, are today totally financially sound, indeed have much better credit ratings than the manufacturers and their airline customers. The smaller lessors might be feeling less comfortable though — hence the recent M&A activity in this sector.
It would appear that the mega–lessors have the strength to pass off the pain of this recession on to the manufacturers. ILFC and Gecas together account for 22% of Boeing's backlog and 38% of Airbus's backlog, which puts them in a very strong negotiating position, especially with Airbus. They are also supposed to have made very good deals with the manufacturers on progress payments, more like 5% than 25% for the interim payments up to delivery.
If there is a substantial level of deferral activity on the part of the lessors, this should mitigate the impact of the recession on the airline industry. They will in effect be acting as a shock–absorber, preventing supply and demand diverging as much as they otherwise would have done.
LESSOR DELIVERIES BY TYPE
LESSOR DELIVERIES BY TYPE
Sch.
delivery
Type
Orders
2001
2002
2003
717
21
7
8
6
737
313
47
56
61
747
7
1
2
4
757
4
1
1
2
767
17
13
4
0
777
69
7
13
12
Boeing
A318
431
76
84
85
64
0
2
5
A319
158
15
28
28
A320
317
7
30
46
A321
97
1
10
15
A330
122
3
20
20
A340
13
0
2
4
A380
20
0
0
0
Airbus
791
26
92
118
Bombardier
CRJ
50
0
10
10
Embraer
170
50
0
0
10
Dornier
728JET
50
0
0
10
TOTAL
1372
102
186
233
Source: ACAS Note: 2001= second half of year
LESSORS' ORDER POSITIONS
Total
Sch. delivery
Orders
2001
2002
2003
AWAS
3
3
0
0
Boullioun
56
6
8
12
CIT
99
5
14
21
Debis
32
0
0
6
GATX
5
2
2
1
Gecas
403
33
66
72
ILFC
721
45
85
105
Pembroke
21
7
8
6
SALE
32
1
3
10
TOTAL
1372
102
186
233
Source: ACAS