The Americanization of Latin America April 1998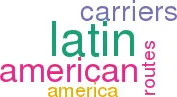 The order for 90 A320s/A319s and 89 options placed in March by a consortium of three Latin American carriers (LanChile, the TACA Group and TAM) is significant for a number of reasons.
First, it is the largest order ever placed by a Latin American entity. Second, it illustrates the new and innovative commercial approaches of Latin American airlines. Third, the exclusive choice of narrowbodies clearly shows where the priorities are — serving regional routes and by implication increasingly leaving the long–hauls to US Majors.
According to an analysis by AvMan the US–flag share of US–Latin America routes rose to 53.1% in 1997, up from 43% in 1990 while over the same period US citizen shares fell to 38% from 41.8%. There seems little reason for this trend to alter as US carriers have an in–built competitive advantage on this route:
They are able to route traffic over their hubs, particularly Miami, to Latin America while the same opportunity does not arise on the southern continent;
Quality of service and reliability of US carriers is generally perceived as superior;
Some Latin carriers are precluded from increasing frequencies to the US because of FAA safety rulings;
Economies of scale (and sometimes Latin American imports tariffs) mean that US unit costs tend to be lower;
US FFPs are all–powerful;
Extensive alliances have been signed between the US Majors and Latin American counterparts which mainly leave the latter with a regional feed role;
The most effective way for Latin American carriers to maintain presence on US routes is through code–share alliances that are linked to Open Skies agreements, which eventually will lead to US dominance.
THE LARGEST MARKETS TO/FROM US
THE LARGEST MARKETS TO/FROM US

| | | | | |
| --- | --- | --- | --- | --- |
| (000s pax) | 1990 | 1996 | 2001 | Av. ann. |
| | | | forecast | growth 96-01 |
| Mexico | 8,449 | 10.688 | 16,445 | 9% |
| Bahamas | 2,958 | 2,411 | 2,796 | 3% |
| Brazil | 1,145 | 2,307 | 4,066 | 12% |
| Dom. Rep. | 1,844 | 2,224 | 3,119 | 7% |
| Jamaica | 1,862 | 2,122 | 2,839 | 6% |
| Venezuela | 902 | 1,301 | 1,825 | 7% |
| Colombia | 563 | 966 | 1,486 | 6% |
| Argentina | 346 | 962 | 1,696 | 12% |
| Costa Rica | 468 | 763 | 1,121 | 8% |
| Aruba | 524 | 748 | 1,205 | 10% |
| Guatamala | 411 | 707 | 1,088 | 9% |
| Peru | 401 | 677 | 1,193 | 12% |
| Neth. Ant. | 765 | 592 | 687 | 3% |
| El Salvador | 318 | 581 | 936 | 10% |
| Chile | 223 | 486 | 857 | 12% |
| Ecuador | 334 | 485 | 681 | 7% |
| Panama | 337 | 447 | 626 | 7% |
| Bolivia | 87 | 164 | 264 | 10% |
| TOTAL | 21,937 | 33,280 | 48,683 | 8% |