Operating leasing:
Still healthy, mostly September 2017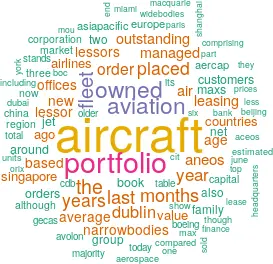 The operating leasing industry still seems on target to reach 50% control of the global jet fleet by the early 2020s. Operating lessors generally appear to financially healthy. What could go wrong?
Interest rates will almost certainly rise in the near future but probably not by enough to significantly close the gap between finance costs and leases rates.
Various major airlines are under pressure — Air Berlin, Etihad, Alitalia, Qatar, Air India are covered in this issue of Aviation Strategy — and surplus aircraft will have to be re-cycled, probably depressing second-hand prices for some types. Airlines like Norwegian which placed mega-orders in part for leasing purposes are having to reconsider their strategy.
Global GDP growth looks fine, and IATA's mid-year estimate of industry ROIC in 2017 shows it to be close to its historic high, around 9%, but aircraft deliveries are also at a 10-year high, around 1,850. Net profit forecasts indicate some softening in markets: North American airlines net profit for 2017 is expected to be $15.4bn, down 7% on 2016; Europe, $7.4bn, down 14%,; Asia/Pacific, $7.4bn, down 9%; Middle East, $0.4m, down 63%. Any forecast is clouded by increasing political uncertainty — particularly in the UK, the US, Russia, the Middle East and Northeast Asia.
Fuel prices are up 30% on a year ago, but this is good for those lessors that have paid premium prices for new fuel-efficient types.
So the market outlook is reasonable. But the lessors are exposed — as the chart above shows, peak deliveries to the lessors are scheduled over the next 4-5 years.
Annual Survey
Aviation Strategy's annual survey of lessors with a portfolio of more than 100 owned or managed jet aircraft (see table) show a total fleet of 6,569 aircraft — some 72 aircraft higher than last year (see Aviation Strategy, October 2016).
The Big Two (GECAS and AerCap) continue to trim their portfolios, and as a result their share of the 100+ lessor fleet has fallen again, to 37.3% (compared with 45.6% as of three years ago). That's also partly due to continued strong growth from other lessors, with Avolon sweeping into third place in the lessor table through adding 330 aircraft after acquiring CIT Aerospace.
The other notable move is Dubai Aerospace Enterprise's purchase of AWAS, which boosted its jet portfolio by 240 aircraft and propelled it into sixth place in the lessor table. Among the rest, the biggest growers over the last 12 months were CDB Leasing (adding 70 aircraft), BCC (35), BOC Aviation (32) and Orix Aviation (30).
Two new entries this year are Jackson Square Aviation and Apollo Aviation Group, who both topped the 100 jet aircraft level required for inclusion. Falling out of the table this survey are Connecticut-based SkyWorks Leasing and Tokyo-based MC Aviation Partners, both of whose portfolios have dipped under 100 jet aircraft.
In terms of firm orders, GECAS added more than 140 new aircraft to its order book over the last 12 months, returning it to the top of the outstanding lessor order table and overtaking both Air Lease Corporation and AerCap.
Thanks to that, the Big Two now account for 37.7% of the total outstanding orders from lessors with 100+ aircraft, compared with 33.5% as of 12 months ago. Among the other lessors, the big net order increasers were ACG, with 51 extra orders, and Avolon, with 50.
Over the following pages Aviation Strategy profiles the leading lessors — which we define as owning or managing more than 100 jet aircraft — in descending order of portfolio size.
General Electric Capital Aviation Services (GECAS)
GECAS is headquartered in Dublin and operates 25 other offices around the world, with total employees of around 575.
The lessor has trimmed its owned and managed aircraft portfolio by around 110 aircraft over the last 12 months, to 1,340 today — some 500+ lower than the portfolio it had six years ago.
However, this is likely to be the "low-point" of the portfolio, as at this year's Paris air show GECAS announced a flurry of new narrowbody orders, which helped to increase the outstanding order book by 143 aircraft in a year. It now stands at 393, comprising 185 Boeing aircraft (170 737 MAXs, five 737-800s and 10 787-10s) and 208 Airbus units (176 A320neos and 32 A321neos).
The average age of the fleet is around eight years, and 63% of the jet portfolio by value is represented by narrowbodies, with widebodies accounting for 30% and cargo 7%.
GECAS's portfolio is placed with 264 customers around the world. After Europe overtook the US last year to become GECAS's most important market, this year Asia has come top of the pile, with Asian customers accounting for 27% of the lessor's fleet by value, ahead of Europe with 23% and North America with 22%. Compared with 10 years ago, when 38% of the portfolio by value was placed in North America, this represents a significant diversification of business; indeed 56% of the fleet in 2017 was placed in what GECAS calls "high growth regions", compared with 40% in 2007.
AerCap
AerCap continues to reduce its portfolio, falling from 1,202 a year ago to 1,110 today (of which 998 are owned and 112 managed).
Thanks to disposals, the average age of the owned fleet is also falling; it currently stands at 7.3 years, as at mid-year. In the second quarter of 2017 AerCap acquired 11 aircraft and sold 24, the latter with an average age of 16 years.
The majority of the owned fleet continues to comprise narrowbodies, including 421 A320 family aircraft and 290 737NG, although AerCap also has 90 A330s, 56 777s and 49 787s.
AerCap is based in Dublin and has a presence in Amsterdam, Los Angeles, Shannon, Miami, Singapore, Shanghai, Abu Dhabi, Seattle and Toulouse. Its fleet is placed with 200 customers in 80 countries.
In the second quarter of 2017 AerCap ordered 30 787-9s. and its total outstanding firm orders now stands at 198 Airbus aircraft (144 A320neos, 44 A321neos and 10 A350-900s) and 130 Boeing models (100 737 MAX 8s and 30 787-9s), which overall is 34 orders less than it had a year ago.
Avolon
A subsidiary of China's Bohai Leasing (part of the Chinese conglomerate HNA Group), Avolon leapfrogged into third position in the leasing chart when it completed the $10.8bn purchase of CIT Aerospace from the giant US bank holding company CIT Group in April this year (and therefore achieving its "medium-term objective" of becoming a Top Three lessor — which some analysts previously scoffed at).
With the absorption of the CIT fleet, Avolon's owned and managed portfolio has therefore jumped from 244.to 574 aircraft over the last 12 months. The 560 owned aircraft have an average age of 4.9 years (as of end June 2017), which is slightly older than the 3.5 average a year ago thanks to the older age profile of the CIT fleet.
The owned portfolio is skewed towards narrowbodies, with 253 A320 family ceos and neos, and 165 737s, though it also has 58 A330s and 13 787s. The newly-enlarged fleet is placed with 151 airlines in 64 countries.
Avolon's headquarters is in Dublin, with other offices in Connecticut, Dubai, Shanghai, Singapore and Hong Kong.
At the Paris air show Avolon signed an MOU for 75 737 MAXs, valued at $8.4bn at list prices, but in terms of confirmed orders Avolon now has 183 aircraft on outstanding order — 57 737 MAXs, 19 787-9s, 66 A320neos, one A321neo, 30 A330-900s and 10 A350-900s.
SMBC Aviation Capital
SMBC Aviation Capital is part of the Sumitomo Mitsui Banking Corporation and based in Dublin, with other offices in New York, Miami, Toulouse, Amsterdam, Tokyo, Hong Kong, Beijing, Shanghai and Singapore.
SMBC's portfolio has remained virtually flat year-on-year, and totals 452 aircraft, of which 280 are owned and 172 managed. All but 10 of the owned fleet are narrowbodies, including 152 A320 family aircraft and 118 737-800s.
SMBC's outstanding order book has remained virtually static over the last 12 months, and comprises 90 737 MAXs, three 737-800s and 110 A320neos.
BBAM
BBAM's portfolio has also stayed essentially the same over the last 12 months, with 405 managed aircraft that include 168 737s, 131 A320 family aircraft, 39 777s and 29 787s. They are leased to more than 200 airlines in more than 50 countries.
BBAM's 120 employees work at a headquarters in San Francisco and offices in New York, Santiago, London, Dublin, Zurich, Singapore and Tokyo. BBAM has no outstanding orders, and it obstinately remains the only Top 10 lessor not to have any.
Dubai Aerospace Enterprise
Dubai Aerospace Enterprise (DAE) completed the acquisition of AWAS from private equity house Terra Firma and the Canada Pension Plan Investment Board in late August this year, fending off competition from a host of potential Chinese investors.
With the addition of the 240-strong AWAS fleet to DAE's existing portfolio, the combined jet fleet comprises an estimated 306 owned and managed aircraft, comprising a mix of narrowbodies and widebodies, and which are placed with 117 airline customers in 57 countries.
Based in Dubai, DAE now operates offices in Dublin, Singapore, Miami, Bellevue and New York, though its order book stands at just 15 aircraft, all of which are A320ceos.
BOC Aviation
BOC Aviation increased its portfolio by 32 units in 12 months, to reach 297 owned and managed aircraft. Of these 261 are owned and 36 are managed, and the owned portion includes 127 A320 family aircraft, 91 737NGs, 21 777-300ERs and 12 A330s.
The portfolio has an average of just over three years, which is a reduction from 12 months ago as the lessor sold 19 older aircraft in the first half of 2017; as a result, no aircraft older than 10 years remain in the owned portion of the fleet. The portfolio has a net book value of $12.1bn, and it is placed with 65 airlines in 34 countries.
With its headquarters in Singapore and with other offices in Dublin, London, New York and Tianjin, BOC Aviation is majority-owned by the Bank of China.
It has 170 aircraft on outstanding order (41 less than last year) — 61 737 MAX 8s, 22 737-800s, four 787-9s. nine A320ceos, 46 A320neos, eight A321ceos, 17 A321neos, one A330-300 and two A330-900s. In August this year BOC firmed up a MoU agreed at the Paris air show for 10 737 MAX 10s, though this has not yet filtered through in Boeing's official order list.
ICBC Leasing
ICBC Leasing has increased its portfolio by nine aircraft in the last 12 months, to 278 today. The majority of these are narrowbodies, including 137 A320s family aircraft and 90 737s, although it also has 23 777s.
ICBC Leasing is based in Beijing and has other offices in Tianjin and Dublin, and is owned by the Industrial and Commercial Bank of China.
It has almost 50 customers spread across the globe, although the majority of these are in the Asia/Pacific region. Unsurprisingly, China is its single largest market, with a roll-call of 14 customers that includes the "Big Three" of Air China, China Eastern and China Southern.
The lessor has outstanding orders for 57 aircraft — two A320ceos, 36 A320neos, two A321neos, 15 737-800s and two 737 MAX 8s.
Air Lease Corporation
For the first time Air Lease Corporation has contracted its portfolio, reducing the owned and managed fleet to 268 aircraft (compared with 278 a year ago); in the second quarter of 2017 ALC sold 17 aircraft, raising net proceeds of $334m.
Of these, 240 are owned and 48 are managed. The owned fleet has an average age of 3.6 years (as of end June 2017) and includes 107 737NGs, 80 A320 family aircraft, 25 777s. 21 A330s and six 787s.
ALC is based in Los Angeles and Dublin and its portfolio is placed with 88 airlines in 54 countries. By total net book value ($12.7bn), the largest market for ALC remains the Asia/Pacific region, at 46.3% (with 21.4% alone coming from Chinese customers), followed by Europe with 32.5% and the Middle East and Africa with 8.3%.
Though it has fallen marginally, at 371 aircraft ALC still has an immense order book, which comprises 130 737 MAXs, 20 787-9s, 25 787-10s, one A320ceo, 22 A320neos, one A321ceo, 118 A321neos, 25 A330-900s, 20 A350-900s and nine A350-1000s.
Aviation Capital Group
Aviation Capital Group's portfolio has remained steady over the last 12 months at an estimated 265 owned or managed aircraft. The majority of the portfolio are narrowbodies, and the fleet is placed with more than 100 airlines in around 46 countries.
ACG is a subsidiary of US insurance group Pacific Life, and is based in Newport Beach, California, with other offices in Dublin, Santiago, Seattle, Beijing, Shanghai and Singapore.
In June this year ACG became the launch customer for the 737 MAX 10, placing an MOU for 10 units of the model. It's official orderbook stands at 150 (51 higher than a year earlier) — 80 737-MAXs, five 787-9s, one A320ceo, 47 A320neos, three A321ceos and 14 A321neos.
Boeing Capital Corporation
Based at Renton, Washington, Boeing Capital Corporation (BCC) is a lender of last resort finance for all types of Boeing equipment. After previously reducing commercial aircraft exposure, over the last 12 months, BCC's portfolio of fully- and partially-owned aircraft has increased — from 175 to an estimated 210 today.
As at the end of June 2017, the net value of BCC's portfolio's value was $3.9bn — slightly higher than the $3.8bn value as of 12 months previously (though that is substantially less than the portfolio value of $6.4bn as of eight years ago).
BCC release little details of the composition of its portfolio, although their website lists a small number of aircraft for sale with a variety of age profiles, ranging from an ancient 727 manufactured in 1970 to two 737-900ERs made in 1987.
Macquarie AirFinance
Macquarie AirFinance's portfolio has eased back by seven aircraft in 12 months, and now totals 206, all but two of which are owned. More than 90% of the portfolio is narrowbodies, including 114 A320 family aircraft and 75 737NGs, supplemented by a handful of widebodies, including nine A330s.
The portfolio is placed with 88 customers in 50 countries around the world, with the most important market continuing to be the Asia/Pacific region (where 73 aircraft are placed to customers such as AirAsia, Korean Air and Lion Air), followed by Europe (where 62 aircraft are placed) and the Americas (47).
Macquarie AirFinance is owned by finance giant Macquarie Group and is based in Dublin, with offices in London, Singapore and San Francisco. The lessor has no aircraft on firm order.
Aircastle
Aircastle's portfolio keeps on growing — with 24 aircraft added over the last 12 months — to stand at 203 now, of which 190 are owned.
The owned fleet has a net book value of $6.2bn and an average age of 8.3 years (as at the end of June 2017). It comprises 153 new generation narrowbodies, 31 new generation widebodies and six freighters. Aircastle specialises in slightly older aircraft that other lessors; in the first half of 2017 it sold 14 aircraft (with an average age of 12 years) and acquired 15 (also with an average age of 12)
Aircastle leases its portfolio to 71 airlines in 38 countries, and the Asia/Pacific region continues to be the lessor's largest market, accounting for 36% of total aircraft leased by net book value, ahead of the European market (27%), South America (19%) and the Middle East/Africa (10%). Europe, however, accounted for the majority of aircraft placed — 69, ahead of 56 units leased in the Asia/Pacific region.
Aircastle is based in Connecticut, with offices in Dublin and Singapore, and has no outstanding orders from Airbus or Boeing, although it expects to invest $1bn in the second-half of 2017 on acquiring second-hand aircraft.
ORIX Aviation
ORIX Aviation is a subsidiary of the Japanese financial services group Orix Corporation, and has a headquarters in Dublin and other offices in Hong Kong (opened in March 2017) and Japan.
Its owned and managed fleet has risen by 30 aircraft over the last 12 months, to 200 units today. The majority of the fleet is narrowbodies, and they are placed with 75 airline clients around the world, such as Vueling and Ryanair in Europe, and Hainan and Lion Air in the Asia/Pacific region. There are no aircraft on outstanding order.
CDB Leasing
CDB Leasing is based in Shenzhen and Dublin, and is part of the China Development Bank. It leases a wide range of industrial equipment, and over the last 12 months has expanded its aviation portfolio significantly, by an estimated jet 70 aircraft to 200, and with an average age of less than five years. They are placed with 41 customers across 22 countries — mostly in the Asia/Pacific region.
CDB appointed a new CEO — Peter Change — in January 2017, and he says "our new vision is to propel CDB Aviation into a formidable global aviation leasing platform".
Its official outstanding order book stands at 44 aircraft, comprising 30 737-MAXs and 14 737-800s. However, at the Paris air show CDB signed an MoU for 46 737 MAXs and eight 787-9s, plus 45 A320neo family aircraft, comprising 30 A320s and 15 A321s. At the same time, it said it would convert an outstanding order for six 737 MAX-8s into 737 MAX-10s.
Apollo Aviation Group
The Apollo Aviation Group is based in Miami, Dublin and Singapore, and specialises in older aircraft. The lessor was launched back in 2002 but has raised significant amounts of debt and equity over the last three years to fund expansion.
Its portfolio has grown above the 100 level over the last 12 months, and enters our table with a portfolio of 135 aircraft. They have an average age of under 15 years and primarily comprise narrowbodies, although the lessor also has 17 A330s. They are placed with more than 60 airlines globally, although most of its business is within Europe.
Jackson Square Aviation
Based in San Francisco and with other offices in Dublin, Toulouse, Singapore, Beijing and Lima, Jackson Square Aviation is owned by the Mitsubishi UFJ Lease & Finance Company.
Its jet portfolio broke through the 100 level over the last 12 months, to stand at an estimated 120 aircraft today, of which more than 100 are narrowbodies. These aircraft are placed with 49 airlines in 25 countries.
MAJOR LESSORS
Total
6,569
545
892
1,022
1,914
206
Orders
Company
Total portfolio
Change
Boeing
Airbus
Total
Change
GECAS
1,340
-110
185
208
393
143
AerCap
1,110
-92
130
198
328
-34
Avolon
574
330
76
107
183
50
SMBC Aviation Capital
452
-3
93
110
203
1
BBAM
405
-3
Dubai Aerospace Enterprise
306
240
15
15
15
BOC Aviation
297
32
87
83
170
-41
ICBC Leasing
278
9
17
40
57
7
Air Lease Corporation
268
-10
175
196
371
-4
ACG
265
85
65
150
51
BCC
210
35
Macquarie AirFinance
206
-7
Aircastle
203
24
ORIX Aviation
200
30
CDB Leasing
200
70
44
44
18
Apollo Aviation Group
135
Jackson Square Aviation
120
Note: This table includes jet lessors with at least 100 owned or managed aircraft; we exclude entities set up solely to manage the leasing activities of a specific airline. † from 12 months ago