Jet2.com: Solid
northern English LCC
Aug/Sep 2016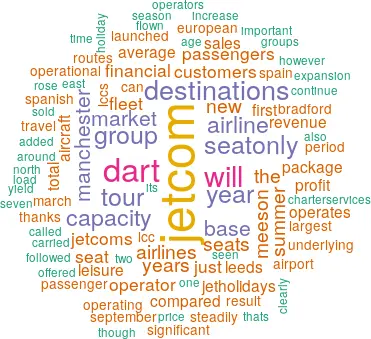 UK-based LCC Jet2.com and its sister tour operator Jet2Holidays posted significant rises in both revenue and profits in 2015/16 — but can the trend continue now that UK LCCs and tour operator airlines are pouring capacity into European destinations and away from North Africa?
Jet2.com was launched by a local entrepreneur back in the 1970s as Express Air Services, a Bournemouth-based airline that operated a variety of charter and cargo services to the Channel Islands with HPR-7 Herald turboprops.
In 1983 the carrier was bought by a former RAF pilot, Philip Meeson, and changed its name to Channel Express after winning contracts to deliver mail for the Royal Mail. In 2001 international passenger charter services began with 737s, and two years later the airline launched a low cost brand called Jet2, out of Leeds Bradford airport. The first route was to Amsterdam Schiphol, and the concept was so successful that further routes were quickly added, with operational bases opened at Manchester in 2004 and Newcastle, Blackpool and Edinburgh in 2005.
The airline rebranded entirely as Jet2 in 2006, at the same time relocating its main base from Bournemouth to Leeds Bradford. In 2007 Jet2Holidays — a sister tour operator — was launched, and the group grew steadily. Today Jet2.com operates a fleet of 63 aircraft on scheduled routes between 66 airports in the UK, 18 other European countries and the US, with seven operational bases in the UK plus one in Alicante.
The most important European market for Jet2.com is Spain, where it serves 14 destinations, followed by Greece (seven), France (six) and Italy (five). In this summer season Leeds Bradford operates to 46 destinations, with 11 aircraft based there, with its next most important base in terms of destinations being Manchester (42) followed by East Midlands (35), Edinburgh and Newcastle (29 each), Glasgow (26) and Belfast (14). An eighth UK base will open in March 2017 at Birmingham airport, with four 737-800s to be stationed there that will operate 57 weekly flights to 15 destinations in the summer of 2017, with daily flights to Alicante, Faro and Majorca.
In September, the airline announced its first excursion outside its northern heartland, with the establishment of a base, probably with four aircraft, at London Stansted, where it is clearly confident that it can exploit Ryanair's reduced post-Brexit expansion plans there.
Jet2.com also operates a winter and autumn route (with both package and seat-only sales) to New York Newark from East Midlands, Glasgow, Leeds Bradford, Manchester and Newcastle, using 757s.
Fleet renewal
Jet2.com's fleet comprises 27 737-300s, 23 737-800s, 12 757-200s and a single A321, of which approximately three-quarters are owned. However, the average fleet age is almost 22 years, and the older -300 models (which have an average age of more than 26 years) will be steadily replaced by outstanding orders for 30 737-800s. A firm order for 27 737-800s was placed in September 2015, which are being delivered over the period September 2016 to April 2018 and which are costing $2.6bn at list prices (though Dart will have secured a significant discount — 50%-plus?).
This was the airline's first direct order from the manufacturer, after years of Boeing wooing Phillip Meeson who had preferred to put excess cash into his dividends rather than new aircraft; the second followed soon after when another three 737-800s were ordered in December 2015, with the same delivery schedule as the first deal.
Jet2.com is owned by holding company the Dart Group (whose chairman and chief executive is Philip Meeson), which also combines Jet2Holidays (now the UK's third largest ATOL tour operator) and Fowler Welch, a distributor of food throughout the UK, and with a total group workforce of more than 5,100. Incidentally, Meeson is perhaps the closest equivalent the UK has to Michael O'Leary; he once called striking French air traffic controllers "lazy frogs", and a few years ago police were called to an incident at Manchester airport after he reportedly "flew into a rage" at his own staff after becoming angry at the time they were taking to check-in a long line of passengers.
In its 2015/16 financial year — the 12-month period ending March 31st 2016 — the Dart Group recorded revenue of £1,405m, a 12.1% increase compared with the 2014/15 financial year. The group's underlying operating profit more than doubled year-on-year to £105m, with underlying profit before tax increasing by 82.2% to £104.2m.
Of the total group revenue, just £144m (representing 10.2%) came from Fowler Welch, with the rest coming from what Dart calls "Leisure Travel", which comprises Jet2.com and Jet2Holidays. Its £1.26bn revenue for the six-month period was up 14.5% compared with 2014/15.
The Dart Group provides no figures for operating profit by individual business unit (the airline and the tour operation), but it does say that Leisure Travel's underlying operating profit rose from £46.9m in 2014/15 to £99.6m in 2015/16 — accounting for almost 95% of total group profit.
Package holiday customers increased by 22% to 1.22m in 2015/16, representing 40% of customers flown overall; that's a significant rise year-on-year, as package holiday customers accounted for 33% of customers flown in 2014/15. Interestingly, Dart says its higher margin package holidays "continue to outperform the market", and that they will continue to provide an increasingly larger proportion of the passengers carried on Jet2.com.
Around half of Jet2Holidays' packages are sold online, with approximately 17% made though the company's call centre in Leeds (which employs 300 staff) and the rest through high street travel agents and other online outlets. Around 40% of the company's packages are sold on an all-inclusive basis, which Dart says "gives families certainty of price, and which have proven particularly successful in challenging economic times".
Seat-only drops
For Jet2.com, seat-only customers in 2015/16 totalled 3.63m, but that fell 10% compared to the 4.05m seat-only passengers flown in the 2014/15 financial year. 99% of Jet2.com's flight-only seats are booked on the Jet2.com website.
Overall, total airline passengers carried reached 6.07m in 2015/16 (comprising 2.44m Jet2Holiday passenger seats and the 3.63m seat-only passengers), which was just 0.3% higher than passengers carried in 2014/15.
This was a result of a policy that Dart describes as "careful seat capacity management" in the 2015/16 financial year, which resulted in record average load factor for the airline of 92.5% (compared with 91.2% a year earlier) and an increase in Jet2.com's average net ticket yield of 14%, to £91.11 per passenger in the six-month period.
Jet2.com follows a typical LCC strategy, and ancillary revenue per passenger grew 3.5% in 2015/16 to £31.98, thanks to a push on what Dart calls pre-departure customer contact, which has boosted advance sales of baggage, seat assignment, meals and other items.
Immediate prospects
Meeson describes Jet2.com as "the North's leading leisure airline", and as can be seen in the chart, Dart Group's share price (it is quoted on London's junior AIM market) rose more or less steadily from 2003 (the date that the Jet2.com brand was launched) all the way through to March of this year, since when the price has fallen back, the result of the Brexit vote depressing the valuation by 30% from the peak.
The Dart Group's finances are robust. Long-term debt is negligible, and cash and money market deposits rose by £109m in 2015/16 to £412m as at March 31st, although that includes advance deposits from Leisure Travel customers of £385.8m (compared with £318.7m a year earlier).
Looking ahead, in July Meeson said that "current financial year has started well in our Leisure Travel business — although we were disappointed at the result of the EU referendum".
The underlying challenge to Jet2.com is — inevitably — other LCCs, and increasing seat-only sales from tour operators' airlines. That challenge is seen clearly at its largest operational base in terms of seat capacity, Manchester, where — according to OAG data for this summer's schedules — Jet2.com has an 11% share of seats offered at the airport. That's just behind Ryanair (with 14% of seats offered this summer) but the same as Thomson Airways (11%) and just ahead of easyJet (10%) and Thomas Cook Airlines (10%), with Monarch Airlines not too far behind, on 7%. That's the very definition of a competitive market.
Jet2.com's largest destination market by far is Spain, which accounts for close to 60% of all seats offered during this summer season (with no other country reaching double digits). Demand to Spain has been very strong but the problem is that this year almost all tour operators (including the Big Two — TUI and Thomas Cook) have switched significant capacity from troubled markets in North Africa and the eastern Mediterranean to Spanish destinations. That trend is also being seen at LCCs, though to a lesser extent that the tour operators.
Altogether, total seats out of the UK to Spain this summer is estimated to have grown by around 20%, and while demand from holidaymakers is growing too (again thanks to concerns about some east European and all North African destinations), some analysts believe the UK-Spain market is significantly oversupplied, which inevitably will depress yield for everyone, including Jet2.com.
At Manchester, for example, Jet2.com operates to 14 Spanish destinations, while Ryanair has routes to 13 — of which seven are the same (Fuerteventura, Gran Canaria, Ibiza, Lanzarote, Malaga, Murcia and Tenerife). An even bigger challenge comes from Thomson Airways, which operates to 13 Spanish destinations out of Manchester, all but one of which are the same as Jet2.com's Spanish network.
Add in the other airlines operating out of Manchester, and the result is fierce competition for seat-only sales on all of Jet2.com's routes to its largest market from its most important operational base.
Against this competitive background, the first of 30 new 189-seat 737-800s start arriving this September. In the 18 months Jet2.com has been conservative in its growth; in the 2015/16 financial year it added just three new destinations — Antalya, Kefalonia and Malta — and only two destinations were added for the summer 2016 season — to Costa de Almeria, starting in April, and to Halkidiki in Greece, commencing in May.
It's unclear at the moment just how much extra capacity the new 30 737-800s will effectively provide; the Dart Group has previously said that they will "a sensational capacity increase at every base", but clearly they will replace the 27 737-300s in the fleet over time. In addition, the existing 27 737-800s in the Jet2.com fleet have an average age of more than 15 years themselves, and some of them may need to be replaced too.
Cautious growth?
Meeson and the Dart Group have usually tended to err on the side of caution, and indeed it can be argued that this has been the basis of its success over the years (while many of its UK tour operator rivals have faltered) — and so it's unlikely that in the current climate that radical expansion is envisaged, However, the Dart Group always has the option to change gear and expand in the future, which will necessitate the placing of further new aircraft orders.
In the short- and medium-term, however, its focus is clear — to keep a tight control of seat capacity (which means limited net increases) so that load factors and yield remain high (see chart, which shows how load factor has risen steadily since 2007), with a major component of that being a gradual and continuing "switch" of seat capacity from seat-only sales to seats sold as part of holiday packages, which is a contrary to charter airline trends.
This should help Jet2.com mitigate against increasingly brutal fare wars in the UK seat-only sector thanks to growing competition from LCCs and tour operator airlines alike. And while it's too early to forecast what level Sterling will be at in 2017, it has taken a substantial hit this summer against the Euro thanks to the Brexit vote, and this will undoubtedly encourage some (or many?) UK holidaymakers to stay at home in 2016 and potentially 2017.
With terrorist attacks in mainland Europe adding to uncertainty, seat-only fares are only heading one way in the short- and probably medium-term, and Jet2.com is possibly right to try to switch capacity to its differentiated and therefore more defendable package holidays. Its, as yet, tentative expansion into southern England, with the new base at Stansted, is an indication of the owner's confidence in this particular LCC model.
JET2.COM FLEET
| | | |
| --- | --- | --- |
| Total | 63 | 28 |
| | In service | Order |
| 737-300 | 27 | |
| 737-800 | 23 | 28 |
| 757-200 | 12 | |
| A321 | 1 | |