Mexico's LCCs: Domestic discipline
and US expansion September 2015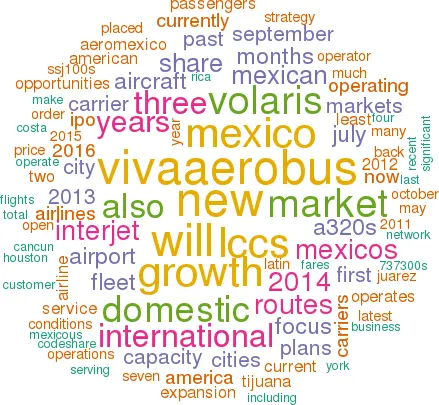 After a challenging first-half 2014 characterised by overcapacity and price wars, the past 12 months have seen an improvement in airline industry conditions in Mexico. Capacity discipline has taken hold in the domestic market, leading to a stronger revenue environment.
Much of the improvement was a result of a decision by Volaris — the main instigator of the earlier fare wars — to drastically slow growth in the domestic market. Volaris had seen three consecutive quarters of operating and net losses, but after opting to focus on yield domestically and channelling growth efforts to international markets, it quickly returned to healthy profitability.
Mexico's LCCs have also benefited from a relatively robust economy, by Latin America's current standards at least. Mexico's GDP growth, which had dipped to 1.4% in 2013 after 4%-level growth in 2011 and 2012, recovered to 2.1% in 2014 and is projected to be 2.5% in 2015 and 3% in 2016. In contrast, Brazil is in a recession and IMF expects the Latin America region as a whole to record only 0.5% GDP growth in 2015.
Mexico was unfortunate in that oil prices fell sharply just as the government abolished the state-owned oil company's production monopoly and hoped to attract foreign investors into the sector. But, importantly, consumer demand has not weakened.
Because of the strength of travel demand and the stimulation provided by the LCCs' low fares, Mexico's domestic market has continued to grow at a healthy pace. Passenger numbers rose by 13% in the first seven months of 2015. By comparison, 2014, 2013 and 2012 saw 7%, 8.5% and 10.3% growth, respectively, but before that there was stagnation in 2010-2011 and an 11.6% contraction in 2009.
The six years up to and including 2011 were tumultuous on the Mexican aviation scene. First, the emergence of three vibrant LCCs (Interjet in December 2005, Volaris in March 2006 and VivaAerobus in November 2006) led to overcapacity in the domestic market. Much of that excess capacity was removed when Mexicana, formerly the country's second-largest carrier, filed for bankruptcy and ceased operations in August 2010. The late 2000s also saw seven other smaller airlines fail.
Mexicana's demise gave the new-entrant LCCs unique growth opportunities. By 2012 the three top LCCs had captured a 57% share of Mexico's domestic passengers and a third of Mexican carriers' international passengers. The latest DGAC statistics show that those shares were 63% and 41% in July 2015.
While Aeromexico and its regional unit Aeromexico Connect also initially captured significant chunks of Mexicana's domestic market share, since 2012 Grupo Aeromexico has ceded all of those gains to the LCCs. Its domestic passenger share (31.1% in July) is now back to the level it was in 2009.
Since the top three LCCs have focused on international expansion this year, their combined international share has surged by 5.8 percentage points in the past year (July over July) — all captured from Aeromexico.
While Volaris has been the clear winner in the market share battles in recent years, Interjet has caught up somewhat in the past 12 months as it has accelerated international growth.
VivaAerobus has been the least successful of the three, both financially and in the marketplace. The carrier has managed to build only 13% and 2.3% domestic and international market shares, respectively. In the past 12 months it has actually lost 0.3 points in domestic market share. And the international share is set to fall back below 1% now that VivaAerobus is suspending the US routes it added last winter.
Analysts blame VivaAerobus' troubles mainly on its old fleet (average age 17.5 years), which has led to quality issues, delays and customer complaints. After nine years, VivaAerobus still only operates 18 aircraft.
However, VivaAerobus expects to complete a transition from 737-300s to an all-new A320 fleet by early 2016. That and some strategy refinements (discussed in the section below) could revitalise the carrier and lead to a growth spurt at some point.
In the first seven months of 2015, the three top Mexican LCCs' combined international passenger numbers surged by 27%, as the airlines tapped mostly US growth opportunities. That helped boost growth in the total international market to and from Mexico to 10.8%, up from 8.5% growth in 2014.
US expansion has helped Mexican carriers deal with the past year's currency headwinds. The Mexican peso has declined against the US dollar by 23% over the past 12 months, which has increased Mexican carriers' dollar-denominated costs, such as fuel, maintenance and lease expenses. The US services bring in dollar revenues, providing a natural currency hedge.
Of the three LCCs, Volaris is the best positioned on the currency front, as about 30% of its total revenues are dollar-denominated. It has the most extensive US operations and on a typical Mexico-US route sells half of its tickets in the US.
But Mexico's LCCs face the challenge of funding the $13bn-plus of new aircraft orders they have placed since 2010. While Volaris went public successfully in September 2013, Interjet and VivaAerobus are now seeing their IPO plans again delayed, this time because of stock market volatility caused by concerns about China and other emerging economies. Not surprisingly, aircraft lessors have been very active in Mexico this year.
Another challenge for the LCCs is serious congestion and lack of slots at Mexico City's Benito Juarez International Airport, which has been operating at capacity for years.
In September 2014 Mexican president Enrique Pena Nieto announced plans to build a new $9.2bn, six-runway airport for Mexico City, to replace Juarez. Construction began in September. The airport, which is being built next to Juarez on government-owned land, will be able to handle almost 120m passengers a year, quadrupling Juarez's capacity. The initial three-runway airport, with capacity to handle 50m passengers, is scheduled to open in October 2020.
So in the long term Mexico's airlines will have the capacity they need to grow their operations out of the nation's capital and most important business and leisure traffic hub.
In the meantime, though, the airlines are scrambling to find alternative strategies. While Toluca Airport is taking much of the overspill, the LCCs are also developing new focus cities (VivaAerobus at Tijuana), temporarily operating more nonstop flights from secondary cities that bypass Mexico City (Interjet at Monterrey) and operating larger aircraft at Juarez (Volaris' upgauge to A321).
Mexico City's future mega-airport will also accommodate significant growth by foreign carriers. That and the liberalised US-Mexico ASA, which is expected to take effect in January 2016, and the eventual US-Mexico open skies regime will mean intensified competition for Mexico's LCCs on their US and Latin America routes.
But the LCCs will also benefit from new growth opportunities. They will gain better access to key markets that currently have restrictions, such as Houston, New York and Los Angeles, and they will have increased opportunities for interline or commercial alliances.
It is not clear how much interest there will be in alliances. While Interjet, a JetBlue-style operator, has already embraced the concept, forging interline or codeshare deals with Iberia, BA, American and LAN, the ULCCs will have a harder time finding benefits in such deals.
Volaris briefly had a feeder-type deal with Southwest a couple of years ago, which it says did not make economic sense. The management remains open to partnering with US airlines, but another potential problem is that the current reservations system does not have interlining or codeshare capabilities. Volaris believes that its VFR traffic and secondary city focus will shield it from competition at least in the initial years under the new ASA.
In the following pages Aviation Strategy takes a look at each of the three leading LCCs in turn.
Volaris: Focus on
profitable growth
Volaris completed a well-timed $350m IPO in September 2013, just before industry conditions in Mexico deteriorated (though the airline itself largely contributed to the domestic overcapacity).
After three quarters of losses and a sharp decline in its share price (and indignities such as being hit by a shareholder class-action lawsuit related to the IPO), Volaris took remedial action and returned to profitability in Q3 2014. It has achieved 9-11% operating margins in each of the past four quarters, and the share price has soared this year.
Volaris has seen benefits from multiple factors: lower fuel prices, strong non-ticket revenue growth, good cost controls, a more rational domestic pricing environment and network diversification. Unit costs are benefiting from a project that increases the seating density on the A320s from 174 to 179 and from the arrival of more 220-seat A321s.
The current 55-strong fleet has an average age of 4.3 years and consists of 35 A320s, 18 A319s and two A321s. The 144-seat A319s are being phased out by 2019. The first two of three A321s from Air Lease Corporation arrived in May. Volaris will also receive at least five A321s from ILFC in 2016 and is reportedly keen to acquire additional A321s.
Volaris placed a $4.4bn order for 44 A320neos/A321neos from Airbus in 2012. In 2014 it signed a contract with a lessor for an additional 10 A320neos and six A321neos for delivery in 2016-2018.
Post-IPO, Volaris has not yet started tapping the public markets to fund fleet expansion. It has used pre-delivery payment credit facilities, sale-leasebacks and operating leases.
Volaris is a classic ULCC, with point-to-point operations that target VFR, leisure and cost-conscious business travellers. It currently operates around 140 routes, serving 38 cities in Mexico and 23 internationally.
Much of this year's growth has focused on the Mexico-US market, where Volaris has added numerous new routes, including Guadalajara-New York in July. The heady pace of US expansion continues. Volaris' Mexico-US seat capacity is projected to surge by 32% in 2015.
Volaris has also made its first forays into Central America in recent months, adding service to Guatemala and Costa Rica from both Guadalajara and Cancun.
While Volaris sees further opportunities in Central America and also plans to venture to South America at some point, its main focus continues to be on North America. Earlier this year CEO Enrique Beltranena said that Volaris was currently serving only 40% of its planned US/Canada destinations.
Interjet: Doing well as an
upmarket LCC
Interjet has sought to differentiate itself as a more upmarket, JetBlue-style LCC, one that provides "quality service at an affordable price". It offers a 34-inch seat pitch, free snacks and two free checked bags. The privately held, Toluca-based carrier was reportedly profitable in the second quarter of 2015.
Interjet was the largest beneficiary of Mexicana's shutdown domestically and now operates an extensive 38-point network in Mexico. But it only went international in July 2011 and currently operates to Guatemala, Havana, Costa Rica, Bogota and five US cities.
Interestingly, Interjet is currently making a push into Cuba. Having served Havana from Mexico City and Cancun for some years, the carrier is adding two new routes, Monterrey-Havana and Mexico City-Varadero, in October. The management has even talked of setting up a hub in Cuba in the longer term, when the US sanctions are lifted.
Otherwise, since launching service to Houston in October 2014, Interjet has boosted flights in international markets such as Miami, New York, Bogota and Guatemala. It has signed codeshare deals with American and LAN. It has launched a partnership with US tour operator Vacation Express to operate weekly charter flights from many US cities to resort destinations in Mexico.
CEO Jose Luis Garcia said in a recent interview with Flightglobal that Interjet could add 4-5 new US destinations, including Los Angeles, under the liberalised ASA. Interjet is also interested in South American points such as Lima and Quito, as well as more cities in Colombia.
Interjet's current 55-strong fleet consists of 39 A320s and 16 Superjet SSJ100s. The carrier became the SSJ100's first operator in the Americas in September 2013. The 93-seat SSJ100s are deployed on medium-density domestic routes and on some US routes.
Interjet's current firm orders include 40 A320neos, with deliveries from 2018, and 14 SSJ100s, with 2015-2016 deliveries. The latter include the last four aircraft from the original order and 10 new orders placed in February 2015.
Interjet has been seeking to go public for at least 4-5 years. In 2011 it had to pull a planned $300m IPO when market conditions deteriorated.
The company was known to be targeting a listing on the Mexican stock exchange this autumn; now, its chairman Miguel Aleman Velasco was reported saying at a September conference that "2016 would probably be the year".
In late July there were reports that Interjet was planning to raise 5bn pesos ($300m) through securities-denominated investment certificates known as CBFI (Certificados Bursatiles Fiduciarios Inmobiliarios) on the Mexican stock exchange, with an initial tranche amounting to $30-42m.
VivaAerobus:
New fleet, new strategies
The smallest of the three, VivaAerobus calls itself Mexico's ULCC and a "pioneer in Mexico of the bus-to-air model". The airline is a joint venture between IAMSA, Mexico's leading bus operator, and Ryanair family investment vehicle Irelandia.
The Monterrey-based carrier has grown at a slower pace than its peers and has made many strategy changes. On the network front, there have been two unsuccessful major forays into the US.
The latest of the US forays was last winter. After hitherto serving only one destination north of the border (Houston), VivaAerobus added three cities (Las Vegas, San Antonio and Dallas). By July it operated seven US routes in total from Monterrey, Cancun and Guadalajara.
But VivaAerobus appears to have suspended, or is suspending in September-October, all of those routes except for Houston-Monterrey. The main reason is believed to be competition from US carriers. In the Dallas markets VivaAerobus clashed head-to-head with American and American Eagle.
VivaAerobus has now shifted its focus back to the domestic market, where it currently operates about 50 routes centred on four hubs or focus cities — Monterrey, Cancun, Guadalajara and Mexico City.
In early September VivaAerobus announced plans to develop Tijuana as a new focus city, beginning with service from Mexico City and Guadalajara in November/December and with more routes following in 2016.
VivaAerobus needed new markets for the aircraft that are pulled from US routes. But the Tijuana move may make sense. It is Mexico's fifth largest city and dominated by Aeromexico, which accounts for 60% of its traffic. It is an overpriced market that could be stimulated by ULCC-type fares. VivaAerobus plans to undercut Aeromexico by 28-30% on the Mexico City-Tijuana route.
Tijuana will also soon benefit from the Cross Border Xpress project — an airport terminal being built in San Diego that will have a 160-metre access bridge connecting it to Tijuana Airport. Passengers will be able to check in on the US side and fly out of Tijuana Airport. Scheduled to open in December, the project effectively expands the airport's catchment area to many parts of southern California.
VivaAerobus' leadership has acknowledged on many occasions that the airline has not had the expected results and that its interpretation and execution of the ULCC business model have left much to be desired.
By far the biggest mistake was to operate old aircraft. In a strategy shift in October 2013, VivaAerobus opted to replace its used 737-300s with new A320s. It placed a $5.1bn order for 52 A320s, consisting of 40 A320neos and 12 A320ceos, plus 40 neo options.
VivaAerobus began taking A320s from lessors in March 2014 and received its first aircraft from Airbus in May 2015. By mid-July the A320 fleet totalled eight and the 737-300 fleet had whittled down from the original 19 to 12. The 737s will have gone by March 2016.
The A320s, which have 22% more seats than the 737-300s, offer significant cost and efficiency benefits and a big improvement in cabin comfort. VivaAerobus is counting on the A320s to widen the cost-per-seat advantage that it already claims to possess relative to its peers.
With only 19 of the 52-aircraft order being for replacement (the neo deliveries will continue through 2021), there will be plenty of aircraft available for growth. However, VivaAerobus' ability to grow will depend on it getting its act together also on other fronts.
As part of its latest makeover, VivaAerobus plans to operate more daily frequencies in its markets, ensure that it always offers the lowest fares, increase ancillary revenues and improve its product and customer service.
On its website, VivaAerobus informs its customers that, after 12 months of listening to them, it is starting a "new journey". The long list of product refinements includes assigned seating, a new bundled fare type called VivaSmart, more flexibility to make changes, more booking options and a 72-hour customer service guarantee.
VivaAerobus actually filed for an IPO in Mexico in January 2014, hoping to raise up to 2.8m pesos ($168m) on the back of a profitable 2013, before volatile market conditions scuppered those plans. But the airline's latest challenges have probably delayed a new IPO filing into the more distant future.
Separately, it has been reported that VivaLatinamerica, the Panama-based holding company set up by Irelandia in late 2014, is on track to launch a Viva-brand airline in Costa Rica in 2016. It is also working to coordinate some of VivaAerobus' and VivaColombia's activities, which may materially help those carriers. Given the huge success of Ryanair and other ULCCs elsewhere, it would be strange if the Viva brand did not succeed in Latin America.
MEXICAN AIRLINES MARKET SHARES (%)
Domestic
International
July 2015
2012
2009
July 2015
2012
2009
Aeromexico Group
31.1
37.7
32.3
59.1
67.0
31.1
Volaris
26.3
20.5
12.8
25.5
21.9
2.9
Interjet
23.8
23.9
12.7
13.0
9.0
VivaAerobus
12.9
12.5
5.8
2.3
2.2
0.4
Mexicana
27.2
65.4
Others
5.9
5.3
9.2
0.1
0.2
Total
100%
100%
100%
100%
100%
100%
Top 3 LCCs
63.0
56.9
31.4
40.8
33.1
3.3
Source: SCT/DGAC
MEXICAN LCC FLEETS
Interjet
VivaAerobus
Volaris
In service
Orders
In service
Orders
In service
Orders
A320
39
8
10
55
10
A320neo
40
40
30
737-300
12
Sukhoi Superjet
16
14
Total
55
54
20
50
55
40