Mexico's LCCs gear up for growth and fundraising September 2014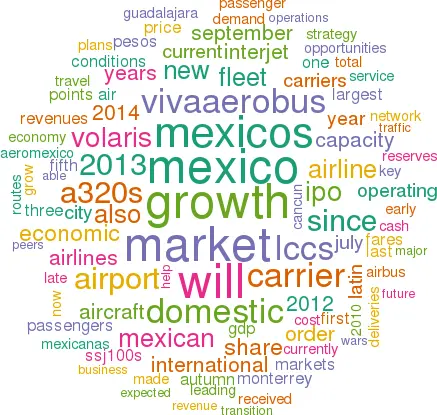 As Mexico's economic recovery gathers pace and airline industry conditions improve, the country's leading LCCs can look forward to new opportunities to fund the $13bn-plus of new aircraft orders they have placed since 2010. While Volaris went public successfully in September 2013, VivaAerobus and Interjet may now be able to revive their IPO plans this autumn or in early 2015.
The past 12-18 months have been challenging in the Mexican aviation market because of Mexico's economic slowdown and the resulting airline price wars. Aeromexico, the country's global airline, has also been plagued by labour strife.
Mexico's GDP expanded by only 1.4% in 2013 – the worst performance since the 2009 recession, when the economy contracted by 6%, and following from 4%, 3.9% and 5.3% growth in 2012, 2011 and 2010, respectively. This year's GDP growth is currently projected to be in the 2.5% to 2.7% range.
The economic slowdown affected domestic air travel demand, leading to extensive fare discounting by the LCCs to maintain load factors and market shares. Mexico's DGAC warned in July that the price wars raging in the domestic market could lead to financial instability.
Volaris – the main instigator of the fare wars and the only one of the LCCs that publicly discloses its financial results — has lost 780m pesos ($58m; 8.4% of revenues) on an operating basis in the nine months to end June 2014. Before that Volaris was profitable, achieving quarterly operating margins in the 1% to 10% range.
Volaris has seen sharp declines in its revenue measures over the past year. The worst performance was in the first quarter of 2014, when average fares, yield and RASM all plummeted by 21%. It was a heavy price to pay for keeping the load factor stable (at 81%) in a weak market.
Because of the stimulation provided by the super-low fares, Mexico's domestic market has continued to grow at a healthy pace. Passenger numbers rose by 8.5% in 2013 (to 30.5m) and by 8.1% in January-July 2014. By comparison, 2012 saw 10.3% growth, but before that there was stagnation in 2010-2011 and an 11.6% contraction in 2009.
Mexico's domestic air travel market is unusual in that the growth has been very bumpy and the market has expanded only minimally overall since 2007, despite the emergence of three vibrant LCCs (Interjet in December 2005, Volaris in March 2006 and VivaAerobus in November 2006). The reasons are Mexicana's demise, the many smaller-airline failures and the sharp 2009 recession.
Mexicana, formerly the country's second-largest carrier, filed for bankruptcy and ceased operations in August 2010. The shutdown of the carrier and its low-cost and regional units Click and Link removed a large chunk of the overcapacity that had developed as a result of five years of intense start-up LCC activity. The seven other smaller-airline failures since 2007 (Azteca, Aladia, Aerocalifornia, Avolar, Alma, Aviacsa and Nova Air) also contributed to the capacity decline.
In addition to helping create a more rational competitive environment, Mexicana's demise gave the new-entrant LCCs unique growth opportunities, both domestically and internationally. The three top LCCs quickly captured an unprecedented 60% share of Mexico's domestic passengers and more than a third of Mexican carriers' international passengers. The latest DGAC statistics show that those shares were 61.2% and 35% in July.
While Aeromexico and its regional unit Aeromexico Connect also initially captured significant chunks of Mexicana's domestic market share, since 2012 Grupo Aeromexico has ceded all of those gains to the LCCs. Its domestic passenger share has returned to the 32%-level it was back in 2009.
Volaris has been the clear winner in the latest market share battles. Since 2012 its domestic market share has increased by 5.2 points to 25.7%, while Interjet's has fallen by 1.6 points to 22.3% and VivaAerobus' has inched up by just 0.7 points to 13.2%. Volaris has overtaken Interjet as the largest carrier in the domestic market.
Could it be that the funds raised in the IPO made Volaris more aggressive with growth and fare discounting? That having much stronger reserves than its peers made it willing to take more risks?
Volaris' cash reserves peaked at 2,974m pesos (23% of the last 12 months' revenues) post-IPO at the end of September 2013, up from 822m pesos at year-end 2012. But by June 30 the reserves had dwindled to 2,088m or about 16% of revenues – a modest level by international airline standards.
But Interjet and VivaAerobus are now also becoming more aggressive. VivaAerobus is planning a major US push this autumn, while Interjet will be adding Houston as its fifth US gateway in October. Both airlines undoubtedly hope to fund part of their substantial new aircraft order commitments through the capital markets.
Therefore IPOs are on the horizon for both of those carriers. It is just a question of when. Will they try to cash in on the current economic momentum and the excitement generated by the Mexico City Airport plans and go for autumn IPOs (if market conditions allow)? Or will they wait until early 2015 when Mexico's economy may have recovered fully?
Improved economic outlook
Mexico is in the process of staging an economic recovery. GDP growth is believed to be accelerating in the second half of 2014 as domestic demand strengthens and demand from the US (Mexico's largest export market) rebounds. Despite the recovery, inflation is expected to slow towards the Mexican Central Bank's target of 3% in 2015. Current projections envisage GDP growth as high as 4.2% in 2015.
The longer-term economic outlook is promising. The recent abolition of the state-owned oil company's production monopoly is expected to help lift Mexico's GDP growth above 5% starting in 2017. The government's newly-expanded $590bn (public/private) National Infrastructure Investment Plan for 2014-2018 is expected to add 1.8-2 percentage points to Mexico's growth rates by 2018. There will be the economic boost provided by the construction of a new airport for Mexico City.
Mexico is the second largest economy in Latin America (after Brazil). The expectation that it will almost certainly outperform Brazil in the next couple of years should help boost global investor interest in Mexican equity offerings.
Mexico's socio-economic trends all point to significant long-term growth in air travel. The population is estimated to grow by 1.4% annually. The number of middle-income households in increasing steadily. There is much more potential to attract traffic from long-distance buses.
Volaris noted in its IPO filings last year that the substantial investments made in airport infrastructure in Mexico in the last decade will help sustain the growth in air travel. Mexico privatised most of its key airports years ago. However, Mexico City has serious airport congestion and capacity issues. Cancun has developing capacity issues. And major airports such as Toluca and Monterrey will near saturation later this decade.
Mexico City's Benito Juarez International Airport has been operating at capacity for years. It handled 31.5m passengers in 2013 and is Latin America's busiest airport in terms of aircraft movements, but it handles relatively little freight because of lack of capacity. An earlier effort to build a replacement airport had to be abandoned in 2002 due to violent protests. Interim measures to ease the crunch at Juarez have included slot restrictions in peak hours, a slot reorganisation and directing spillover traffic to Toluca Airport.
President Enrique Pena Nieto's plan, announced in early September, to build a new $9.2bn, six-runway airport for Mexico City is a clear positive for Mexico's airlines. The airport, which will be built next to Juarez on government-owned land using both public and private funding, will be able to handle almost 120m passengers a year, quadrupling Juarez's capacity. It will ensure that Mexico's airlines will have all the capacity they need in the foreseeable future to grow their operations out of the nation's capital and most important business and leisure traffic hub.
The private Mexican airport operators have their own investment plans for the secondary airports. For example, GAP is planning to invest $459m in airport improvements by 2019, with Guadalajara receiving 40% of the total.
Of course, Mexico City's future mega-airport will also be able to accommodate significant growth by foreign carriers. That and the likely future open skies ASA with the US and the granting of fifth freedom rights to foreign airlines (possibly via Toluca) — all of which are on the table in current ASA negotiations — will mean intensified competition for Mexico's LCCs on their US and Latin America routes.
But the LCCs could benefit from increased opportunities for interline or commercial alliances. Airlines from all corners of the globe are known to be looking to operate 787s or A380s to Mexico City, which could develop into a key hub for Latin America.
Mexico may have little to lose by granting fifth freedom rights and liberalising fully its ASA with the US. In July Mexican carriers accounted for only 25.6% of the total international passengers to and from Mexico, with foreign operators (mostly US airlines) having the lion's share of 74.4%. Mexico might as well go for what its carriers want, which is profitable growth opportunities. Mexico's LCCs support full liberalisation of the ASA.
In the following pages Aviation Strategy takes a look at each of the three leading Mexican LCCs in turn.
Volaris: Growth andlosses since IPO
Volaris raised around $350m in total in its IPO in September 2013, which gave it listings in Mexico and New York (NYSE). The airline received $200m-plus in proceeds; the rest was divided between its backers, which included Indigo Partners.
But the stock's performance has been disappointing, reflecting general market jitters and concerns about the economy and the airline industry, rather than anything specific about Volaris. On the NYSE, after closing at $14.01 after the first day of trading in September 2013, the stock soon began a steady decline, halving to the $7-level by April-May. By mid-June the price had recovered to the $9-level, where it has hovered since.
Volaris used the IPO proceeds to pay down debt, make aircraft pre-delivery payments and boost its cash reserves. Since the IPO the company has had a positive net cash position. It has continued to rely on operating leases; most recently, in early September, it completed sale-leasebacks for seven A320s.
The current 48-strong fleet (as of June 30) is a mix of A320s (29) and A319s (19), with an average age of 4.1 years. Volaris continues to take delivery of larger A320s while gradually returning A319s, with the aim of achieving an all-A320 fleet by 2020.
Volaris placed a $4.4bn order for 44 A320neos/A321neos from Airbus in January 2012. This year it has signed a contract with a lessor for an additional 10 A320neos and six A321neos in 2016-2018. As a result of those deliveries and the A319 returns, Volaris expects to operate 86 aircraft in 2020.
Volaris is a classic ultra-low cost carrier (ULCC) and claims to have the lowest CASM among Latin America's publicly traded airlines. Its high efficiency levels are driven by point-to-point operations, a single fleet type, single-class operation, high-density seating, productive workforce and other factors. The pricing strategy is Ryanair/Spirit-style, with extremely low base fares and optional products and services available for additional fees. The base fares are priced to stimulate the market and compete with long-distance bus fares. The airline regularly offers "bus switching initiatives".
Volaris targets VFR, leisure and cost-conscious business travellers in Mexico and selected Mexico-US markets. Because of its ultra-low costs, the carrier is extremely bullish about its growth prospects and has continued to expand aggressively. After last year's 17.9% growth, ASMs in January-August 2014 were up by 12.4%. The network now includes 120-plus routes connecting 35 cities in Mexico and 15 in the US.
The key post-IPO network developments include, first, building Monterrey as the carrier's fifth base (after Cancun, Guadalajara, Mexico City and Tijuana). Volaris increased its destinations from Monterrey from three to 11 earlier this year.
Second, Volaris' international growth has been especially strong: passenger numbers were up 26% year-over-year in July, compared to the sector's 9.7% increase. The airline has added major US gateways such as Phoenix, San Antonio, Chicago and Denver to its network. This autumn is seeing new services linking Guadalajara with Portland and Orlando, Tijuana with Oakland, Monterrey with JFK and Cancun with Las Vegas.
Volaris has tried to counter the weaker demand and revenue environment by enforcing tighter cost discipline. It has succeeded in reducing total CASM and keeping ex-fuel CASM flat since 2012. One interesting measure has been to further increase the seating density on the A320s from 174 to 179. The fleet transition from the A319s to the larger A320s is also helping keep unit costs in check.
Volaris has also taken action to develop ancillary revenues. Late last year it amended its baggage policy and introduced on-board sales of food, beverages and products. As a result, its non-ticket revenue per passenger grew by 46% to $21 in the second quarter.
Interjet: Mexico's upmarket LCC
Interjet has sought to differentiate itself as a more upmarket, JetBlue-style LCC, one that provides "quality service at an affordable price". It offers a generous 34-inch seat pitch and imposes no extra charges for luggage or other items.
The Toluca-based carrier was the largest beneficiary of Mexicana's shutdown domestically and now operates an extensive 38-point network in Mexico. But it only went international in July 2011 and currently operates to Guatemala, Havana, Costa Rica, Bogotá and four US cities. Interjet began codesharing with Iberia in July and will be launching its fifth US route, Monterrey-Houston, in late October.
Interjet's current fleet consists of 42 A320s and eight Superjet SSJ100s. It achieved fame by becoming the SSJ100's first operator in the Americas in September 2013. The 93-seat SSJ100s are deployed on medium-density domestic routes and on some US routes.
Interjet has ordered about $4.2bn of new aircraft since 2010. Its outstanding firm orders include 40 A320neos and 12 SSJ100s. The SSJ100 deliveries will be completed by year-end 2015 (assuming that those deliveries will not be affected by the US, EU or Russian sanctions).
Interjet has been taking on debt to fund aircraft, and has also secured ECA financing for at least some of the SSJ100s. In 2011 Interjet had to pull its IPO when market conditions deteriorated. Since then its owners have repeatedly indicated that they would rather wait for truly robust market conditions in order to get a good price.
VivaAerobus: Big US push this autumn
The smallest of the three, VivaAerobus calls itself "Mexico's ultra-low cost carrier" and a "pioneer in Mexico of the bus-to-air model". A joint venture between Mexico's leading bus company IAMSA and Ryanair family investment vehicle Irelandia (each holding 46.1%), the carrier has a Ryanair-style no-frills business model and claims to enjoy the lowest cost per seat on the entire continent.
The Monterrey-based carrier has grown at a slower pace than its Mexican peers and has made many strategy changes. It currently operates about 49 domestic routes, which are typically secondary markets that bypass Mexico City. The leadership has stated that the carrier hopes to grow its domestic market share from the current 13.2% (July) to 20-25% by 2021.
VivaAerobus has a miniscule 0.8% international market share because it currently serves only one destination outside Mexico (Houston), having earlier pulled out of several US markets that it had added in 2011.
In late 2013 VivaAerobus indicated that it was evaluating 20-25 markets in Central and South America in view or launching service to some of those points in late 2014. But none of that has materialised. Instead, the carrier will be staging a strong return to the US markets this autumn. It is returning to San Antonio and Las Vegas (both from Monterrey) and adding two more routes to Houston (from Guadalajara and Cancun) in November-December. It has also applied to start service to Dallas Fort Worth in December from as many as four cities in Mexico.
In a fleet strategy switch a year ago, VivaAerobus opted to replace its used 737-300s with new A320s. It placed a $5.1bn order for 52 A320s (including 40 A320neos and 12 A320ceos) plus 40 neo options in October 2013, thus joining its Mexican LCC peers as an Airbus customer. The transaction was hailed as the largest order Airbus had ever received from a single airline in Latin America.
This autumn's US expansion is possible because VivaAerobus has already begun receiving the A320s, which have 22% more seats than the 737-300s (180 versus 148). The first two A320s entered commercial service in April and the carrier expects to have received five by year-end.
As of August 18, the number of 737s in the fleet had whittled down from the original 19 to 15, and the carrier had received four A320s. The fleet transition will be completed by 2016, while the firm A320neo deliveries will continue through 2021. One of the key objectives with the fleet transition is to widen the cost-per-seat advantage that VivaAerobus already claims to possess.
The initial A320s appear to have come from lessors. However, when the Airbus order was announced VivaAerobus CEO Juan Carlos Zuazua said that the "optimum mix" for the total order would be 60% purchased/40% leased.
VivaAerobus actually filed for an IPO in Mexico in January 2014, hoping to raise up to 2.8bn pesos ($208m), but those plans had to be shelved in February due to volatile market conditions. Recently there were reports that VivaAerobus was again ready to proceed with an IPO and was just waiting for the right market conditions.
According to the early-2014 IPO filings, VivaAerobus generated a 203m pesos ($15.1m) operating profit on revenues of 2.87bn ($213m) in January-September 2013 – an operating margin of 7.1%. Interestingly, the company sought to benefit from the Ryanair connection, in that the prospectus boasted that the other Irelandia-backed LCCs had generated average returns of 22% following their IPOs.
By Heini Nuutinen
hnuutinen@nyct.net
Mexican Airlines' Market Shares
Domestic Passengers
International Passengers
% of total
% of total
July 2014
2012
2009
Jul-14
2012
2009
Aeromexico Group
32.4
37.7
32.3
64.5
67.0
31.1
Volaris
25.7
20.5
12.8
23.9
21.9
2.9
Interjet
22.3
23.9
12.7
10.3
9.0
0.0
VivaAerobus
13.2
12.5
5.8
0.8
2.2
0.4
Mexicana
27.2
65.4
Others
6.4
5.3
9.2
0.4
0.2
Total
100%
100%
100%
100%
100%
100%
Top 3 LCCs
61.2
56.9
31.4
35.0
33.1
3.3
Source: SCT/DGAC