South African Airways: eighth turnaround plan September 2013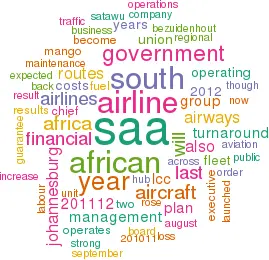 Ever-changing senior management, inefficient operations, rising fuel prices, overcapacity in the South African market, the weak Rand and expected massive losses in 2012/13 are just some of the challenges facing the country's flag carrier.
A struggling SAA is significant for the continent as a whole. SAA remains the largest African airline, with history going back to 1934, accounting for a quarter of all intercontinental capacity offered by African carriers (though this falls to less than 10% once non-African airlines — which provide more than two-thirds of international traffic to/from Africa — are taken into account).
Given that size — and with strong forecast GDP growth across Africa over the next decade (and Boeing ,for example, forecasting African passenger traffic rising by 5.7% p.a. during 2013-32) combining with a continental land transport infrastructure that ranges from average to abysmal — SAA should be the exemplar African airline that other carriers aspire to match.
SAA is a 100% state-owned company reporting to the government's Department of Public Enterprise, with a dual mandate. As Cheryl Carolus, the airline's former chairwoman, put it last year: the SAA Group has not only to be a successful business but also "an enabler for policies and projects, which have been designed to transform the political and socio-economic landscape of our nation and continent".
The inevitable result is that government-appointed management is caught between making purely commercial decisions and ones that fit in with (or at least don't offend) government policy. In years when the economy was strong and fuel prices low this contradiction wasn't too problematical, but the last five years has seen the airline's operational and financial position become steadily weaker, and the need for strong commercial management free of government interference is now essential.
While 2010/11 results were boosted by the 2010 World Cup held in South Africa, once that effect faded away the global recession hit SAA hard. The SAA group only revealed its results for the 2011/12 financial year (ending March 31st) in October last year; while revenue rose 3.8% to R23.9bn ($2.7bn), at the operating level a profit of R1bn in 2010/11 turned into a R1.3bn ($147m) operating loss in 2011/12. The net result similarly went from a R782m profit in 2010/11 to a R843m ($94m) loss in 2011/12. The reasons are multiple — fuel costs rose by 36%, increasing to 33% of operating expenditure compared with 28% in the previous financial year; maintenance costs rose by 32% and "passenger revenue was below target for all sectors as expected demand did not materialise".
But it's more than just one bad year, with a steady decline in airline operations apparent over the last few years. From FY 2007/08 to FY 2011/12 load factor has declined from 76% to 72% (despite capacity falling by 6.2% over the period), yield has remained flat and unit labour costs have risen by 40%.
The financial situation is dire. While analysts estimate the South African government has invested more than $1bn into SAA over the past two decades in order to save the airline from bankruptcy, the group's cash flow became so bad in 2012 that in September that year it received an emergency R5bn ($560m) funding guarantee for the next 24 months from the government. This enabled SAA to continue operating as a going concern and borrow sums (against the government guarantee) to pay for fuel and avoid the real danger of the fleet being grounded. In May this year $167m of this facility was used but it's clearly only a short-term solution to problems, and the guarantee was given under the condition that the airline presented a sustainable turnaround plan.
The underlying problem for SAA is that it's difficult to create a sustainable plan (let alone execute it) when there is a never-ending procession of senior executives. Chairwoman Cheryl Carolus and 14 board members resigned in September 2012, citing the fact that the airline's relationship with the South African government had become "untenable" after the ministry of public enterprises minister cancelled the airline's annual general meeting and postponed the release of its annual report.
After that, chief executive officer Siza Mzimela left suddenly in October 2012, to be replaced by acting chief executive Vuyisile Kona — who was then suspended by the airline in February 2013 over "certain allegations that have come to the attention of the board, in respect of which the board has a fiduciary duty to investigate," He was fired a month later and it was then the turn of Nico Bezuidenhout — the chief executive of SAA's LCC business unit, called Mango — to become acting CEO. He then faced media allegations — denied by SAA — that he "misrepresented" qualifications on his CV, and in April he was replaced by Monwabisi Kalawe on a five-year contract as (hopefully) a permanent CEO (with Bezuidenhout returning to manage Mango). Kalawe was previously the managing director for the South African operation of food services company Compass, although he has aviation experience as GM of Cape Town airport from 1998 to 2004.
In the midst of that managerial chaos, earlier this year the airline submitted a 20-year turnaround plan (catchily called the "Long Term Turnaround Strategy") to the government, though astonishingly this was the eighth turnaround plan put together by (different) management in the last decade.
That plan attempts to address many problems, perhaps the most urgent of which is the cost base. SAA has previously implemented cost-cutting measures but they simply have not been on a similar scale to those adopted at European or North American carriers.
The most obvious area for cost-cutting is labour; the group has more than 11,000 employees worldwide, but reducing costs here is very troublesome. For example, in August South African Airways Technical (SAAT), the maintenance subsidiary of the group, became embroiled in a dispute with the South African Transport and Allied Workers Union (SATAWU) over a number of issues, including the use of uncertified engineers on aircraft (a claim vehemently refuted by management). The main argument however is over pay: the union wants a 12% increase. In late August the airline agreed a one-year settlement with another union — the Aviation Union of Southern Africa (AUSA) — including one-off payments and an overdue increase from the previous year in a deal that airline says will increase its labour costs by 6.5% year-on-year.
That settlement wasn't acceptable to SATAWU, whose 750 members continued to take industrial action and which led to the airline breaking off from negotiations at the end of August. In September the dispute escalated as the airline took legal action against the union to stop "striking employees from acts of intimidation, assault and vandalising property", and followed this up with contempt of court proceedings after it claimed SATAWU had clearly ignored the earlier court action.
One area where SAA is making some progress is in bringing in fleet renewal. In July SAA received the first two A320s from an outstanding order for 20 of the type, which will replace the 13 737-800s currently in the fleet. 12 of these have been sold to and leased back from UK-based leasing company Pembroke, owned by Standard Chartered bank.
SAA is also looking to order between 25 and 35 widebody aircraft to replace ageing A340s (it retired its last 747-400s in 2010), with a choice likely to be made soon between 787s or A350s as the tender process draws to a conclusion. With new widebody aircraft unlikely to arrive for several years, SAA will is also looking for and will sign deals for the lease of interim aircraft, with former chief executive Nico Bezuidenhout saying that "it is imperative for us to get the Airbus A340-600s phased out as soon as possible".
Replacement aircraft — whether leased or owned — will be used to expand routes into east Asia in particular. SAA has 10 direct routes and 19 codeshares outside the continent, and with 26 routes into other African countries it accounted for an estimated 38% of international traffic to-from South Africa in the 2011/12 financial year.
Aviation across Africa is very much hub-based (Johannesburg, Nairobi, Lagos, Addis Ababa, Lagos etc), and while there is large potential for more point-to-point routes SAA has long wanted to establish hubs in east and west Africa (see Aviation Strategy, July/August 2004) to complement the airline's Johannesburg base, but the airline has never been able to realise its ambitions. Now South African Public Enterprise Minister Malusi Gigaba wants the airline to set up a joint venture airline in Ghana, which will allow more east-west routes — though where the cash to finance that will come from remains to be seen.
SAA also has ambitious plans to position Johannesburg as a hub for passengers travelling between South America and parts of Asia, although global ambitions more realistically lie with codeshare deals, of which SAA has signed a raft of over the last year. These include a codeshare with fellow Star member US Airways in December 2012; with Jet Airways in April 2013; with Etihad Airways in July; and with JetBlue Airways and Brazil's TAM Airlines in August.
At its Johannesburg hub SAA competes against more than 50 airlines, with more than 20 direct and indirect competitors on London routes alone. As a result pressure on fares is intense, with competition on domestic and regional routes being particularly fierce.
Comair (of which British Airways owns 18%) operates BA's domestic South African and regional flights as a franchisee; it concentrates on point-to-point services out of its Johannesburg hub with 17 737 aircraft. And Comair's LCC subsidiary Kulala.com — launched in 2001 — today operates 10 737s domestically.
LCCs have been trying to break into South Africa for some time now, but with a lack of cheap secondary airports and a low internet penetration it's not the easiest of markets for the business model. LCC 1time was launched in 2004, initially on a route between Cape Town and Johannesburg with two DC-9s and two MD-82s, with fares it claimed were up to two-thirds cheaper than SAA, and built the fleet up to 10 MD-80s operating domestically and internationally before filing for bankruptcy in late 2012. Velvet Sky, another LCC, started operations in March 2011 out of Durban and built up to four 737s before closing down less than year later.
Another potentially more dangerous LCC challenger — Tanzania-based FastJet, backed by easyJet founder Stelios Haji-Ioannou — is keen to enter the South African market.
SAA's own LCC seems to be growing painfully slowly. Mango launched in 2006 and operates completely independently of SAA but still only has a fleet of nine aircraft, all borrowed from SAA and with an average age of more than 12 years. Based at Oliver Tambo airport in Johannesburg, Mango operates domestically to six destinations as well as to Zanzibar in Tanzania and while its results are not reported separately within the SAA group, the airline carried 1.6m passengers in 2011/12 (compared with 1.4m the year before) and is believed to have made a substantial loss in 2012/13.
SAA also partners with state-owned regional carrier South African Express (which has 22 Bombardier aircraft) as well as privately-owned SA Airlink (with 29 Avro RJ85s, Embraer ERJs and BAe Jetstream 41s), both of which provide a feed network into SAA's hubs across the country. SAA also moves approximately 60% of all air cargo in South Africa through SAA Cargo, and the SAA group also contains an aircraft maintenance, repair and overhaul unit (SAA Technical); in-flight catering (Air Chefs); and a travel agent chain (SA Travel Centre).
As to the future, any chance the latest turnaround plan has of succeeding depends on some continuity in management and continued financial support from the government. It's a "Catch 22" situation for SAA — without short- and probably medium-term financial backing from the government it has no chance of turning around and returning to profitability, but it's that very dependence on the government that is so damaging to the airline in the long-term.
Though rumours of privatisation have been doing the rounds for the last decade, the government is faced with pressure from voters and trade unionists not to nationalise for fear that new owners would drastically cut back the workforce, with one analyst believing privatisation is "unthinkable". But with results due out imminently for the 2012/13 financial year that are expected to be very poor, perhaps the unthinkable will have to become thinkable.
SAA Fleet
| | | |
| --- | --- | --- |
| | Fleet | Order (Options) |
| Mainline | | |
| A319 | 11 | |
| A320 | 4 | 18 |
| A321 | | 10 |
| A330-200 | 6 | |
| A340-300 | 8 | |
| A340-600 | 9 | |
| 737-800 | 13 | |
| Cargo | | |
| 737-200 | 1 | |
| 737-300 | 2 | 1 |
| 737-400 | 1 | |
| Mango | | |
| 737-300 | 1 | |
| 737-800 | 8 | |
| Total | 64 | 29 |