ANA's expanding business portfolio: Peach, Vanilla, Asian Wings, Pan Am, etc. September 2013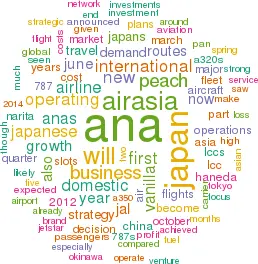 All Nippon Airways (ANA) has had a rough year, marred by the 787's long grounding, continued slowdown on China routes, yen depreciation and the associated surge in fuel costs, unexpectedly high losses at AirAsia Japan, and the June decision to dissolve the AirAsia JV. Those negatives led to a ¥5.6bn operating loss at ANA Holdings in the June quarter ($56m; $1.6% of revenues), when rival Japan Airlines (JAL) managed a ¥22bn operating profit ($222m; 7.5% of revenues).
Of course, this is just a blip in an otherwise impressively steady annual profit performance. ANA has posted an annual operating loss only once in the past decade (FY 2009) and achieved a 7% operating margin in each of the past two years, despite the devastating effects of the March 2011 earthquake and nuclear disaster in Fukushima. ANA continues to project a 6.8% operating margin for FY 2013.
While ANA's main focus is on the full-service carrier part of the business and growing its international operations — especially after new slots become available at the Tokyo airports in the summer of 2014 (Haneda) and summer 2015 (Narita) — the most interesting part of its strategy is the decision to diversify into "new growth segments". That means developing multiple airline brands and making strategic investments — in both aviation and non-aviation fields — especially in Asia.
The multi-brand strategy kicked off last year with the launch of the two Japan-based joint venture LCCs: Peach Aviation in March 2012 and AirAsia Japan in August 2012. When the relationship with AirAsia soured, ANA bought its partner's 49% stake for ¥2.45bn ($25m) in June and now plans to rebrand carrier as "Vanilla Air", with a new fleet and new strategies.
Recent months have seen the official kick-off of the "strategic investments" part of the diversification strategy. First, ANA established an investment firm in Singapore to oversee and accelerate those activities in Asia.
Second, as a major move into the global pilot training business, in July ANA announced a deal to acquire Miami-based Pan Am Holdings and its subsidiary Pan Am International Flight Academy for around ¥13.7bn or $138m (the transaction is expected to close by year-end). ANA plans to expand Pan Am into Asia and views it as a great business opportunity, given Asia's enormous air travel growth potential and hence likely significant demand for the development and training of airline pilots.
Third, in August ANA announced its first airline investment in Asia: a 49% stake, for ¥3bn ($30.3m), in Myanmar carrier Asian Wings. The Yangon-based airline operates only one A321 and three ATR72s on domestic routes but is keen to expand its Airbus fleet. After decades of military rule, Myanmar moved towards democracy in 2011 and is now seeing rapid growth in tourism and an inflow of investment. ANA, which resumed service to Yangon in late 2012 after a 12-year suspension, is now well-positioned to benefit from those trends.
ANA is also planning an MRO business at Okinawa (Naha). Having also developed a cargo hub and a JV logistics business there in recent years, ANA intends to promote more strategic business development that uses Okinawa as a base for expansion into Asia.
Further investments and acquisitions are likely as opportunities arise. ANA has the funds because it raised ¥182bn ($1.8bn) in a secondary share offering in July/August 2012. Also, in April 2013 ANA switched to a holding company structure to make it easier to manage the various airline brands and subsidiaries.
ANA's justification for the strategy is that the new revenue platforms will "increase the likelihood of achieving our medium-term goals" (among other things, a 10% operating margin and 10% ROE).
But it is a somewhat risky strategy, with uncertain profit prospects. Is it wise for an airline to get involved in everything? ANA already has some 57 consolidated subsidiaries and 19 affiliates, spanning passenger and cargo operations, catering, IT services, MRO and suchlike. Globally the trend for many years has been the opposite: shedding non-airline subsidiaries and refocusing on core activities.
Other intriguing questions: What exactly went wrong with AirAsia Japan? If AirAsia Japan did not work, can Vanilla succeed? And does it make sense to keep Peach and Vanilla separate?
Near-term challenges
The Japanese carriers saw the going get tougher in mid-2012, when Japan's GDP growth slowed, a strong yen began to hamper export growth, and Europe's recession and the global economic slowdown were accelerating.
Adding to the woes, Japan-China routes have been affected by China's slowing economic growth and, since September 2012, a flare-up of the longstanding territorial dispute between China and Japan over a tiny group of uninhabited islands known as Senkaku in Japan and Diaoyu in China. Anti-Japan sentiment, violent protects and a boycott of Japanese goods in China have led to a sharp reduction in travel demand between the two countries. China is a huge market that Japanese businesses depend on and one that ANA and JAL had been counting on for expansion.
The effects of the territorial spat have lasted much longer than expected. In April-June, ANA's total passengers on China routes were still more than 20% below year-earlier levels, though business travel demand had recovered.
Although Japan's domestic market is growing for the first time in decades because of all the new LCC activity, it has been at the expense of yields and profitability. ANA's June quarter domestic statistics were illustrative: RPKs up 2.4%, RASK down 5.6%, yield down 3.6% and revenues down 1.3%.
With Europe and Asia stagnating, North America was the only international region in ANA's network that saw traffic growth (in double-digits) in the June quarter. But ANA has seen strong business class demand on medium and long haul routes generally, reflecting route mix changes and the yen's depreciation.
The biggest blow this year has been the surge in fuel costs: up ¥15.7bn ($158m) for ANA in the June quarter, of which ¥9bn was attributed to the weakening of the yen.
As the 787's launch customer and largest operator, ANA was hit the hardest by the grounding, losing an estimated ¥12.5bn ($126m) in revenue between mid-January and the end of May. Of course, ANA will receive compensation from Boeing. Importantly, ANA was able to return to the original route plans and 787 deployment in the July-September peak travel period.
ANA has maintained its full-year forecast of a record ¥110bn ($1.1bn) operating profit, first, because Japan's economy appears to be on a gradual recovery path. Second, the yen's weakening is boosting exports, leading to stronger international business travel demand. Third, ANA expects to achieve another ¥25bn of cost savings this year, as part of its Y100bn ($1bn) four-year cost cutting programme initiated in FY 2011.
Plans for Peach and Vanilla
Peach Aviation — ANA's JV with Hong-Kong-based Far Eastern Investment Group and Innovation Network Corporation of Japan — has been much more successful than AirAsia Japan. ANA has a 38.7% stake in the well-funded Kansai (Osaka)-based venture.
In its initial 18 months, Peach has grown its fleet to 10 A320s and its network to eight domestic and four international points (Seoul, Hong Kong, Taipei and Busan). In October it will enter the Kansai-Narita market, where demand has been so strong that a third daily flight has already been announced from January. Peach has just begun building a second hub at Okinawa (Naha), initially linking it with Ishigaki and Taipei.
Peach has made a big effort to differentiate itself. It has a highly branded approach, friendly in-flight service and "cute and cool" aircraft design. It goes for aggressive US LCC-style fare sales, collaborative ventures with various companies and gimmicky marketing campaigns. Its slogan is 'Making the skies more fun and bringing Asia closer together'.
Importantly, Peach is striving to cater for Japanese tastes and preferences. For example, it sells tickets through convenience stores and includes menu items such as "first authentic in-flight "okonomiyaki" (Japanese pancakes) for passengers to purchase on flights. It has achieved high on-time performance and flight completion rates — also important in the Japanese market.
Peach has benefited from being based at Kansai's T2, which became Japan's first airport terminal dedicated to LCCs when it opened in October 2012. T2 allows 24-hour operations.
As a result, Peach has seen faster than anticipated traffic growth, healthy load factors and relatively modest financial losses. In its first year ended March 31, Peach incurred a ¥900m ($9m) operating loss on revenues of ¥14.3bn ($144m). It is now expected to become profitable in the current fiscal year, which would be a year ahead of schedule.
In contrast, AirAsia Japan lost almost four times as much as Peach on an operating basis in the fiscal year ended March 31 (¥3.5bn or $35m), a period that included the first eight months' operations. In the June quarter, its domestic and international load factors averaged only 55.5% and 52.1%.
AirAsia Japan's growth was slow compared to the other LCCs. At its peak in July-August the airline operated only five A320s, compared to 13 at JAL's LCC venture Jetstar Japan (which launched operations only a month earlier). At its peak AirAsia Japan served five domestic and three overseas points (Seoul, Busan and Taipei).
AirAsia Japan will continue to operate under that brand until the end of October, when all of its A320s will have been returned to AirAsia. It seems likely that the LCC will briefly suspend operations, before being relaunched as Vanilla Air in December.
The JV was hampered by fundamental disagreements about AirAsia Japan's strategy. ANA was concerned about a revenue shortfall, which it blamed on the venture's online ticketing system and AirAsia's poor brand recognition in Japan. AirAsia has blamed the cost structure, misguided route choices and ANA's corporate culture.
Clearly, AirAsia Japan has not been able to achieve a low-enough cost structure. It feels the full brunt of the high costs associated with operating out of Narita — congestion, high landing fees, restricted operating hours, etc. Notably, Jetstar Japan has won some relief by establishing a secondary base at Kansai.
But it is also clear that the AirAsia brand and product offering have not worked in Japan. ANA executives have argued that not enough attention was given to adapting to the Japanese market.
One example is the booking method. AirAsia apparently insisted that the Japan-based airline offered only online ticketing (a key part of the AirAsia business model), but in Japan many people like to book and pay for air tickets through travel agents or convenience stores.
Therefore ANA plans to make Vanilla an LCC that is "tailored to Japan". Among other things, it will have a more user-friendly website, new non-internet sales channels and more promotions.
Vanilla will continue to be based at Narita, but it will focus more on international routes, especially to tourist destinations. This will help capture broader demand and better schedule flights around Narita's night curfew, thus improving aircraft utilisation and reducing unit costs. Vanilla will also operate from Nagoya (Chubu) Airport, which allows 24-hour operations. ANA expects to disclose more detail about the venture in late September.
The success of Peach and the experience gained in working with AirAsia have given ANA confidence that it can succeed with Vanilla. Though fleet plans have not yet been announced, ANA has said that it want to grow Vanilla's fleet much faster than what happened at AirAsia Japan.
Importantly, cost pressures for Narita-based low-cost carriers should ease when the planned terminal dedicated to LCCs opens there by March 2015.
ANA seems determined to make the dual-LCC strategy work. But it will always have the option to merge Vanilla and Peach — something that was seriously considered but rejected at this stage.
LCCs have already helped revitalise Japan's aviation market. According to the MLIT, domestic passengers have grown in 2013 for the first time in six years. With many more airports planning special facilities for LCCs, and with the government adopting more favourable policies (reductions in domestic fuel taxes, easing of tourist visa requirements, etc.), LCCs look set to eventually become a major force in Japan.
In June the Japanese government introduced a new target of 30m foreign visitors by 2030 (the previous target of 10m will be achieved in 2013). With China's decline, the current focus is on Southeast Asia. The 2020 Olympics in Tokyo will provide an extra boost to tourism and the economy. All of that should ensure policies that help LCCs.
But it will mean intense competition. On its home turf, Vanilla faces Jetstar Japan, which has grown rapidly (though has delayed international entry) and is on track to become profitable.
Among foreign competition, China's Spring Airlines has established a 33%-owned Narita-based LCC unit that is due to start domestic flights with 737-800s in spring 2014. Spring Airlines Japan is the first domestic LCC with no Japanese airline shareholders.
Then there is AirAsia's possible solo return. As its CEO Tony Fernandez explained recently: "We have not given up on the dream of changing air travel in Japan and look forward to returning to the market". However, it may not be for some time, and Fernandez has said that the future carrier would not be based at Narita. In the meantime, AirAsia X has boosted its flights from Kuala Lumpur to Japan (Tokyo and Osaka) and reaffirmed its intention to serve additional cities in Japan within five years.
Big aircraft and Haneda decisions
ANA resumed commercial service with the 787 on June 1 and has now redeployed it on all four international routes operated before the grounding (Haneda-Frankfurt, Narita-San Jose, Haneda-Beijing and Narita-Seattle). Three more Asian routes have been upgraded to the 787 (Haneda-Taipei and Narita to Beijing and Shanghai), with Narita-Singapore following on October 1. Narita-Munich became a 787 operation on September 1. This was part of an expansion drive that also saw doubling of 777-300ER flights on the Narita-Chicago route.
At the end August ANA had received 21 of the 66 787s it has on firm order, of which 36 are 787-8s and 30 are 787-9s. The 787 gradually replaces ANA's 767s and 777-200s.
All eyes are now on two upcoming events of global significance that involve ANA. First, like JAL, ANA is nearing decision on the 777 replacement. It is expected to place an order for up to 30 aircraft, either the A350 or the 777X, by next spring.
The A350 would be a riskier choice as a new aircraft type, but it would be available earlier (from 2017). It remains to be seen if the 787's delivery delays and technical problems will play into ANA's decision. If ANA opts for the A350, it would be a major coup for Airbus, enabling it to break Boeing's near-monopoly in Japan (though ANA does operate A320s).
The other important event will be the Japanese government's October decision on how to allocate 20 new slots in 2014 at Haneda, the airport nearest to downtown Tokyo that business passengers prefer to use. It is likely to be the last major slot distribution at Haneda for years.
Normally new long-haul slots would be divided equally between JAL and ANA, but ANA has mounted an aggressive campaign to secure all 20 of those slots. ANA wants political intervention to rebalance the competitive landscape after the ¥350bn ($3.5bn) government bailout of JAL in 2010 and other favouritism shown to JAL to help it turn around financially.
This subject has been debated for years, but in the last year or so there has been a major shift in the political climate to favour ANA. There is now broad agreement in the ruling LDP circles that the JAL rescue went too far. ANA has seized on that support and the issue has become a mighty battleground.
The problem now is that Haneda has become vital also for JAL's and ANA's foreign airline partners and their global alliances, oneworld and Star. If ANA gets all 20 slots, Star would then have 50% of international flights at Haneda, compared to oneworld's 20% share. So, any attempt to right the wrongs between ANA and JAL could blow into an international conflict.