Air France-KLM - Transforming? September 2013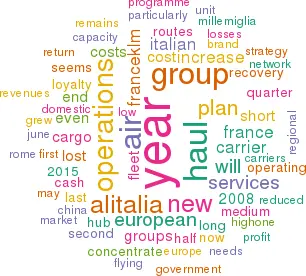 The largest of the three European network carriers, Air France-KLM, is in the process of a restructuring exercise designed to return it to a reasonable level of profitability by 2015 (alright, so are the other two European majors). At the tail end of last year it revealed its strategic plan under the imaginative soubriquet of "Transformation 2015" with the aim of cutting debt by €2bn, manageable non-fuel unit costs by 15%; renegotiating all staff contracts, cutting staffing levels by 8% (9% at Air France and 6% at KLM), and importantly trying to return the short-medium haul operations to at least break even from losses of around €700m.
At the publication of the group's first half results in September, the group's new CEO Alexandre de Juniac affirmed that the plan was on track. At least, for the first time since 2008, the group was able to produce an operating profit in the June quarter (albeit a small €79m) up from a restated loss in the same period the year before of a similar amount — even after implementing the ludicrous IAS19 accounting policy on pensions. Revenues, however, only grew by 1% year on year, somewhat below the group's targets; the management admitted that the revenue environment, particularly in Europe, was weaker than it had expected at this stage of the plan. As a result the turnaround in the medium haul European network and in Cargo was taking far longer than hoped.
For the period of the restructuring, the group has abandoned its old idea of growing in line with the market. Passenger capacity grew by only 2.6% year on year in the quarter, mostly on long haul operations while traffic grew by 3.2% giving a half point increase in load factors to 83.2%. Cargo remains in the doldrums with a 6% drop in traffic against capacity down by 4% and cargo revenues down by a further 7% year on year. Unit revenues actually fell in the quarter by 1.9% year on year or 1.3% on a constant currency basis while unit costs fell by 5% year on year, helped by a 8% decline in the fuel price and a modest 0.6% fall in staffing costs.
The overall group net result rolled out at a modest loss of €163m down from losses of €897m in the second quarter 2012 while losses for the first half of the year totalled €793m compared with €1.3bn the year before. Definitely an improvement.
The original vision of the transformation plan saw 2012 as being the year for laying the foundations for the group's turnaround; implementing immediate cost reduction measures, imposing strict capacity discipline and reduced investment, renegotiation of all collective labour agreements and the establishment of the structural operational changes.
2013 equally was meant to be the year for the roll out of the measures when the group could start to benefit from the cost reductions, the restructured short haul operations, a hoped for recovery in cargo and "initiatives to reconquer the customer base".
2014 is meant to be the year when the full impact would be felt allowing for a recovery to 6-8% operating margins by 2015.
It now seems that the group accepts that more needs be done. Firstly, medium term economic forecasts have fallen — although there is recovery visible in the US, and possibly the UK; Continental Europe remains stubbornly sluggish, and prospects for the BRICs have tended to be downgraded. Secondly, the weakness in Europe and France has not helped the plans to re-invent the short haul offering, while the weakness in the air freight business is hampering recovery there.
Staff cuts
By the end of June the group had reduced total employment levels by 5,600 FTE positions or 5.3% compared with June 2011 -through natural wastage, voluntary early retirement and redundancies. Last week Air France told its Central Works Council that it would need to find another 2,800 jobs to get rid of. The unions so far seem to have accepted this with equanimity, although there have been suggestions that it may prove difficult to achieve these cuts without compulsion. The target remains to reduce total staff costs by over €400m by the end of 2014.
Short haul reinvention
One of the dilemmas for a network carrier is how to justify unprofitable short haul feed to long haul operations, or unprofitable short haul operations that do not touch its hub and have to compete with low cost and ultra low cost operators. For Air France, admitting that it had lost some €700m on medium haul operations in 2011, while insisting, perversely, that non-hub European flying was vital for market presence, this was particularly pertinent.
For mainline operations the group has reduced its short haul AF A320 fleet by 16 units over the past year to 135, while KLM has "densified" its 737 fleet (ie, added more seats). At the beginning of this year Air France restructured its domestic regional feed (previously run under BritAir, Régional, and newly-consolidated Airlinair) into a single new "brand" called Hop! (obviously the exclamation mark was felt to be important, and the brand name may work for francophones). It excluded CityJet, which it put up for sale (but has seemingly yet to come to an agreement over the amount of cash it needs to pay any buyer to take it of its hands). It has not done much to the regional fleet, except to get rid of 5 ERJs, but has the aim of reducing ACMI costs by some 15%.
It had originally developed the idea of creating quasi "low cost" operations from regional French bases as add-ons to its domestic shuttle services to Orly and as a way to cut costs by relocating crews away from Paris to the provinces for local overnighting, and increasing utilisation — but, with limited real success (for which read significant failure?). It seems to have scaled back its expectations and operations.
Transavia France (originally a "leisure" brand to compete with LCCs) has been handed a few more aircraft, and it appears that the group is aiming to copy Lufthansa's strategy (of using germanwings for non-hub intra-Europe flying) by giving Transavia various routes from Orly. Meanwhile, on cargo operations the group continues to reduce its all-freight fleet (mostly from Martinair) to concentrate more on belly hold capacity
While it has all this on its plate, the group has been faced with the issue of whether to invest even more in Alitalia (it currently owns 25%, acquired on the "privatisation" of the bankrupt state owned carrier in 2008 — see Aviation Strategy, March 2008). The now privately-owned Italian carrier is once again in need of cash, and wants to call on shareholders by the end of the year. The Italian government now seems willing to allow Air France-KLM to take a majority stake — but this perennial loss-maker is the last thing the AF-KL board needs at the moment. The prospect of the full consolidation, even to protect the air-bridge from Italy into CDG and its southern flank from rivals Lufthansa and IAG, must gall.
Conclusions?
Turning round a legacy carrier is a difficult task — and Air France-KLM seems now to admit that it has a lot more to do to meet its 2015 targets. It has a lot of strengths: a prime base at Paris Roissy — the second major European O&D destination after London; the longest established cross-border merged group in the current era; a strong North Atlantic joint venture with Delta (being extended no doubt with the addition of Virgin Atlantic); superior links into the higher growth regions, particularly into China with its alliance links to four carriers through SkyTeam, joint ventures with both China Southern and China Eastern, and code-shares with Xiamen. It has even swallowed gallic pride to link up in a code share agreement with Etihad. It is doing its best to return to profitability. It may just be a bit further away than planned.
---
Alitalia — con passione
In July Alitalia's new CEO, Gabriele Del Torchio, outlined the Italian flag carrier's new four-year "Industrial Plan". It will focus on three principal businesses: Alitalia, Air One and Alitalia Loyalty (an effective spin-off of its frequent flyer programme). It also has a catchy new mission statement: "Proud to show the best of our country. With Passion."
Alitalia itself will focus domestic and international services at Rome Fiumicino. Beginning at the start of the winter IATA season this year it is realigning the operations at FCO to provide a much better wave system to try to improve the "hub". It aims to add an extra six aircraft to its long haul fleet in the next four years to expand intercontinental services, increase frequencies on existing routes, open new routes and concentrate on areas with "high Italian community presence". But having said it will concentrate on hub operations out of Rome, the company also states that it will be introducing long haul routes from Milan (to Shanghai, Abu Dhabi and Osaka), and from Venice (to Tokyo).
At Milan Linate it will be reducing services on the lucrative Milan-Rome route (it lost its monopoly when easyJet gained access last year) to make room to re-introduce services from Linate to other European destinations, while at Malpensa it will be adding services to medium haul non-European routes.
Air One is being rebranded to "bring it closer to Alitalia" and is being relegated to base operations from Catania, Palermo, Venice and Pisa. The group somehow hopes that this will increase the separation and differentiation between the brands and prevent overlap. Interestingly, the plan suggests an intention to increase international flying from Sicily, where they see "high demand", and from Northern Italy to recover market share lost to other European airports in recent years.
As for Alitalia Loyalty we can only quote verbatim from the company's release: "The main guidelines of the Plan relating to the operation of Alitalia Loyalty include: the push to increase the number of members of the MilleMiglia programme, the development of new ways to redeem miles on flights or other services, the creation of high value partnerships with leading financial and credit institutions, the entrance of the MilleMiglia programme in a coalition of many loyalty programs to increase the opportunities of earning and redeeming Alitalia miles, the development of new forms of communication and marketing towards MilleMiglia members." This probably speaks for itself.
The group at the same time stated that it aimed under this strategy to achieve a positive operating profit in the second half of 2013, annual break-even at the operating level in 2014, a "balanced budget" in 2015 and a profit by 2016. This is predicated on raising €300m in equity from its shareholders by December.
Does all this sound familiar? Between 1999 and 2007 the former majority-state-owned Alitalia lost over €3bn and entered 2008 in dire straits, running out of cash. It went bankrupt at the end of 2008, despite an offer from Air France-KLM, and with the help of the then new Berlusconi government which refused to allow majority foreign ownership of the flag carrier. The Italian government effectively wrote off the bad parts and the new Alitalia emerged as a combination with the former second largest Italian carrier Air One; and Air France-KLM holding 25%. The strategic plan was to concentrate on Rome Fiumicino as the group's intercontinental hub. Since 2009 Alitalia has lost €850m and is again running out of cash.
Air France-KLM Fleet
| | | | | | | |
| --- | --- | --- | --- | --- | --- | --- |
| | Aircraft Type | In service | Change | On Order | Options | In Storage |
| Mainline | | | | | | |
| Air France | 747 | 7 | -1 | | | |
| | 777 | 62 | | 3 | 10 | |
| | A330 | 15 | | | 2 | |
| | A340 | 13 | | | | |
| | A350 | | | 25 | | |
| | A380 | 9 | +1 | 3 | 1 | |
| | | | | | | |
| | A320 Family | 135 | -9 | 4 | 16 | 1 |
| | | | | | | |
| KLM | 747 | 22 | | | | |
| | 777 | 23 | +2 | 3 | 2 | |
| | 787 | | | 23 | | |
| | A330 | 16 | +2 | | 18 | |
| | MD-11 | 5 | -5 | | | 1 |
| | | | | | | |
| | 737 | 45 | +1 | 2 | 8 | |
| | | | | | | |
| Transavia | 737 | 35 | +1 | 2 | 3 | |
| Transavia France | 737 | 12 | +3 | | | |
| | | | | | | |
| Cargo | | | | | | |
| Air France | 747F | 3 | | | | |
| | 777F | 2 | | | | |
| Martinair | 747F | 4 | -2 | | | 2 |
| | MD-11F | 6 | | | | |
| | | | | | | |
| Regional | | | | | | |
| Hop! | ATR 42/72 | 23 | | | | |
| | CRJ | 39 | | 1 | 2 | 1 |
| | E170/190 | 25 | | | 9 | |
| | ERJ | 20 | -5 | | | 1 |
| | | | | | | |
| KLM Cityhopper | E170/190 | 22 | | 6 | 9 | |
| | F100 | | -1 | | | 1 |
| | F70 | 26 | | | | |
| | | | | | | |
| Cityjet | RJ | 19 | | | | 2 |
| | | | | | | |
| Total | | 588 | -13 | 72 | 80 | 9 |