Annual survey of the leasing industry: GECAS, ILFC, BBAM, CIT, AerCap, BCC, ACG, AWAS and more September 2012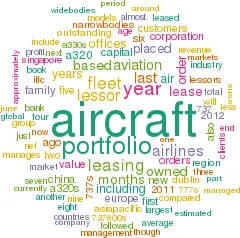 It was another solid 12 months of recovery for the global leasing industry. The trend first noted in last year's survey, of airlines appearing to commit to a higher proportion of leased aircraft as a permanent part of their strategy, is now less of a disputed idea within the industry.
That's because the proportion of leased aircraft in the global aviation fleet has broken through the 40% level according to most analysts (compared with between 34% and 36% a year ago — and 25% a decade ago), and some are even forecasting the proportion may keep rising to more than 50% by 2015.
There are many "negative" reasons for this continued trend, most notably the continuing battle by many airlines to stay profitable in the face of struggling economies and high fuel prices. Cash flow and access to funding is still problematic for many airlines, even though the situation is much improved compared with two years ago.
Consequently, a significant number of airlines are selling and leasing back aircraft, and these deals are being readily snapped up by a handful of lessors with a longer-term perspective and deep enough pockets to fund portfolio expansion, even though lease rates are still struggling to reach levels of the previous cycle.
But lease rates can only go one way, once interest rates start to rise the lessors are highly likely to pass this increased cost straight onto their customers through higher lease rates, but airlines will be unlikely to reduce their increased reliance on operating leases due to the fact that they just are not generating the cash to be able to afford to buy assets. That's good news for the leasing industry in general, which likes its customers to be profitable but not robust enough to be able to do without a substantial amount of operating leases.
Looking ahead, as well as the probable structural realignment to a permanently higher proportion of aircraft that airlines
1) Continuing improvement in global passenger traffic. According to IATA, in the first half of 2012 international RPKs rose by 7.5% compared with the same period of 2011, while domestic RPKs were up by 4.8%. Of course there are wide regional variations – international traffic to/from North America increased by just 2.3% in the first six months of 2012, whereas Latin American traffic was up 10% and the Middle East was up by 18%. It's clear that for at least the medium-term the most exciting markets for the aviation industry (and therefore the leasing companies as well) will be those outside of North America and Europe, and that's backed up by the offices that lessors are continuing to open in the Asia/Pacific region in particular.
2) Fleet age. Despite sluggish passenger growth in Europe and North America, the good news for the leasing industry in those regions is that many airlines there have relatively old fleets that will need significant upgrading over the coming decade. Around 20% of the global fleet is more than 20 years of age, and this percentage rises to more than 30% in the US fleet, which means that sooner or later there will have to be a wave of significant fleet replacement. The troubled finances of airlines in the western hemisphere has meant that few carriers can afford to renew fleets through straight purchases (and the global order backlog of more than 8,000 isn't expected to change substantially over the next 12 months), but in dribs and drabs the ageing fleets at those airlines will be renewed over the next few years (and it's arguable that this process has already started), with the leasing industry more than eager to help airlines with this task.
The leasing market has certainly improved enough to enable troubled UK bank RBS to finally sell its leasing subsidiary,
In Aviation Strategy's annual survey of the leasing industry (see table, above and following page), the overall fleet has continued its slow growth, rising from 7,352 aircraft as of a year ago to 7,502 now – a little over a 2% rise in a year.
Interestingly, for the first time in a few years the concentration of the leasing industry has lessened slightly — together the Top 10 lessors now account for 66.5% of the total lessor fleet, compared with 68% a year ago, while the Big Two (GECAS and ILFC) together account for 36.5% of the total lessor fleet (down from 39% as of 12 months ago). One year's data is not enough to predict any trend, but there is certainly a determined push by newer lessors to expand and move up the lessor rankings, and Steven Udvar-Hazy's Air Lease Corporation poses the biggest danger to the largest incumbents.
What is undisputable is that the outstanding order book has leapt considerably in the last 12 months, with new orders from Air Lease Corporation, Alafco and others boosting total orders to 1,402 – some 20% higher than the 1,171 outstanding orders from lessors as of 12 months ago (see Aviation Strategy, September 2011). However, Air Lease Corporation and Alafco combined are responsible for 262 new orders over the last year, so it could be argued that these two lessors are distorting the market, with the order book in the rest of the industry pretty static at best. On the other hand other lessors did make substantial "commitments" to new orders at Farnborough this year, and when/if they are converted into firm orders the positive trend in lessor orders will surely continue for another 12 months.
Over the next few pages Aviation Strategy profiles the leading lessors in descending order of portfolio size.
General Electric Capital Aviation Services (GECAS)
Part of the giant conglomerate GE (which has more than 300,000 employees globally), GECAS has eased its portfolio back significantly over the last 12 months from 1,830 owned and managed aircraft down to 1,710; almost a 10% reduction.
The fleet has an average age of just over seven years, but despite continuing attempts to reduce the amount of older assets, GECAS's fleet is getting older — by value 41% of the portfolio is five years old or less (compared with 47% a year ago), while 24% is aged between six and 10 years (33% a year ago), 26% is between 11 and 15 years (12%) and 9% is aged 16 years or more (8%).
Narrowbodies account for 57% of the fleet by value, with 20% being widebodies, 11% RJs and 8% cargo variants. All but a few per cent of the narrowbody fleet are A320 family and 737NG aircraft, with the widebodies comprising mostly 767s, 777s and A330s.
The portfolio is placed with 235 customers and the biggest market for GECAS is the US, where 32% of the fleet by value is placed. However, this is the first time since 2009 that its percentage share in that market has gone up (the share previously fell from 47% in 2009 to 30% in 2011). After the US, the next most important market remains Europe (24% of overall fleet value), followed by the Asia/Pacific region (18%), the Americas (11%) and all other markets (15%).
GECAS has almost 500 staff based at a headquarters in Stamford, Connecticut and 23 other offices around the globe, and in the first six months of 2012 the lessor saw revenue remain flat at $2.6bn, with segment profit also unchanged at $626m.
GECAS's current order book has fallen from 244 aircraft a year ago to 190 today (which means it has fallen behind ILFC in terms of outstanding orders), comprising 67 Boeing aircraft (47 737s, two 747s and 18 777s) and 123 Airbus aircraft (105 A320s, eight A321s and 10 A330s). However at Farnborough in July, GECAS made a "commitment" to 75 737 MAX 8s and 25 737-800s, the former of which would be delivered from 2018 onwards if these are turned into firm orders at some point.
International Lease Finance Corporation (ILFC)
After insurance giant owner AIG's unsuccessful attempt to find a buyer for its lessor subsidiary last year, AIG announced it would carry out an IPO for ILFC by the end of 2012 — an event that obviously didn't happen in the proposed timeframe.
AIG insists it is still committed to a float, although in its latest 10Q ILFC says that the "number of shares to be offered, price range and timing of the proposed offering have not yet been determined". In 2011 a reported 25% of ILFC was going to be offered to the market at price of up to $2bn, but whether that price is achievable now is open to debate. From AIG's point of view the need to get other investors into ILFC has not gone away — ILFC's outstanding debt as at mid 2012 was some $24.2bn, almost identical to the total at the end of 2011, and this debt overhang remains a critical issue that clouds the future of the lessor.
The good news, however, is that in the first half of this calendar year ILFC reported revenue of $2.3bn, identical to the same period in 2011, with net income more than doubling, to $322m.
ILFC's fleet has been static over the last 12 months, at 1,030 aircraft (compared with 1,027 a year ago), comprising 940 owned and 90 managed aircraft. The owned aircraft have an average age of just over eight years and have a net book value of approximately $35.1bn (compared with a value of $37.7bn a year ago). As of June 30th ILFC has contracted leases for all but a handful of its portfolio with 179 clients in 77 countries.
Going forward, ILFC's focus is to increase its presence in "frontier and emerging markets that have high potential for passenger growth and other markets that have significant demand for new aircraft". Based in Los Angeles, ILFC has offices across the globe and in the last 12 months has opened offices in Amsterdam, Singapore and Beijing.
The lessor has (temporarily?) stopped building its order book back up from the low of just over a 100 aircraft as of two years ago, and outstanding orders now stand at 228 aircraft (compared with 233 a year ago), comprising 75 A320s, 25 A319s, 20 A350s, 74 787s and 34 737-800s. They will all be delivered in the period through to 2019, and all aircraft due to be delivered through to 2013 have already been placed with customers.
BBAM
Operating out of San Francisco and nine other offices around the world (including Dublin, Santiago, Zurich and Tokyo), BBAM's managed fleet has risen to 452 aircraft over the last 12 months, which are valued at approximately US$14bn.
The portfolio comprises 173 737NGs, 168 A320 family aircraft, 44 747 Classics, 27 747/757s, 14 A330/340s, eight 777s, seven 767s, six 717s and five MD models. They are placed with more than 80 airlines around the globe, including British Airways, Air France and Ryanair in Europe, the "Big Three" in China, and Emirates and Fly Dubai in the Middle East.
85% of the lessor is owned by its management team, led by CEO Steve Zissis, and 15% by Dublin-based Fly Leasing (see Fly Leasing profile below). BBAM has outstanding orders for just 13 737s, making it the Top 10 lessor (excluding BCC) with the smallest order book.
CIT Aerospace
The lessor has seen its portfolio rise from 310 to 325 aircraft over the last year, which comprise a wide range of narrowbody and widebody types including 737NGs, A320 family aircraft, A310s A330s, A350s and 757s, placed with more than 110 airlines in 55 countries around the globe.
The portfolio has an average age of approximately six years and the lessor has been reducing that average by selling off older models and placing orders for new aircraft.
Through 2012 CIT placed orders for 10 A330s, with deliveries scheduled to arrive from 2014. In total CIT Aerospace has 137 aircraft on order, including 38 737s, 10 787s, 69 A320 family aircraft, 15 A330s and five A350s, which gives it the fourth largest order total of all lessors.
AerCap
AerCap is headquartered in Amsterdam and also has offices in the US, Ireland, China, the UAE and Singapore. It describes itself as "the world's leading independent aircraft leasing company", but that may soon change as in May this year AerCap "decided to explore a range of strategic alternatives to enhance shareholder value, including continued execution of our operating strategies, further share repurchases, aircraft portfolio sales or a sale or merger of the company".
The lessor is repurchasing up to $200m of shares in the period to June 2013, but inevitably there is much speculation over who might be interested in acquiring the lessor – though at the time of going to press no firm news is available.
In the first six months of 2011 AerCap's revenue fell 6% to $511m, primarily due to a 4% fall in lease revenue compared with the same period in 2011. The net profit fell by 13% to $128m. In the second quarter of this year (the three months to the end of June), AerCap signed new lease deals for 20 aircraft, bought five and sold six aircraft, and the portfolio currently stands at 292 owned and managed aircraft (compared with 335 a year ago), with a total asset value of $9.3bn, 3% down on a year earlier.
The average age of the 256-strong owned fleet is 5.7 years, and the overall portfolio is dominated by narrowbodies, with 163 A320 family aircraft and 81 737 NGs and Classics The lessor has seven A330s, four A320s and 10 737-800s on order, and all of the aircraft that will be arriving through to the end of 2016 have already been contracted with customers.
The largest market for AerCap's aircraft is Europe, which accounted for 38% of all revenue in the first-half of 2012, followed by the Asia Pacific region, accounting for more than 30% of revenue. The single largest customer for the lessor is Aeroflot, accounting for 7% of all lease revenue in the first half of 2012, followed by TUI (6%) and Asiana (5%).
Boeing Capital Corporation (BCC)
Headquartered at Renton, Washington, and with other offices in Los Angeles, Moscow and Hong Kong, Boeing Capital Corporation provides so-called "last resort" finance for all of Boeing's product range, from aircraft to space and defence.
BCC is continuing to trim its exposure — as at the end of June 2011 BCC owned 222 aircraft (compared with 236 a year ago and 267 in 2010) and had partial ownership or interest in another 50. The portfolio's value totalled $4.3bn, substantially less than the value of its portfolio three years ago ($6.4bn) – which is partly a function of having fewer aircraft and partly due to a decline in aircraft values.
BCC employs 160 and in the first six months of 2012 it reported a 23% decrease in revenue, to $224m, with net profit down 39% to $43m.
As usual BCC was again highly exposed to a handful of airlines as of June 30th 2012 — 57% of the fleet by value is with just four US carriers — AirTran/Southwest, Continental, Hawaiian and American. AirTran/Southwest alone accounts for 30% of BCC's entire portfolio by value, up by 1% compared with 12 months ago. Overall, 71% of the portfolio by value is placed with US airlines, far ahead of the second place market – Europe, with 18% of the fleet value.
As a lender of last resort, BCC has ended up financing the very oldest models, less than 4% of BCC's portfolio by value is in aircraft that were manufactured in 2007 or later, with 45% by value being of a 2002-2006 vintage, 40% made in 1997-2001 and almost 12% being manufactured prior to 1997. In terms of individual models, BCC's exposure to older models is made even clearer — 717s account for 46% of the portfolio value, with the next biggest model categories being 757s (15% of value) and 737s (9%).
Aviation Capital Group
Aviation Capital Group (ACG) operates out of Newport Beach, California, and also has a presence in Seattle, London, Santiago, Shanghai and Singapore. In the 2011 calendar year, ACG saw revenue remain virtually level at $655m but net income fell by almost 12% to $105m, which was due partly to a change in accounting procedures. There were better results in the first half of 2012, with revenue rising 3.1% to $327m and net profit increasing by 1.6% to $41.7m.
ACG is owned by US insurance group Pacific LifeCorp and has a portfolio of 245 owned or managed aircraft (five greater than it had 12 months ago) that includes the A320 family, A330s, 737s (both classics and NGs), 757s, 767s and freighters, which are contracted to just under 100 customers in approximately 40 countries.
ACG has now lost its position in holding the third-largest order book of any lessor (after GECAS and ILFC), having been overtaken by both CIT and Air Lease Corporation over the last 12 months, though in November last year it ordered 30 A320 Neos and 20 737-800s, and its outstanding orders now total 135 aircraft (59 737s, five 787s, 59 A320s and 12 A321s).
AWAS
Based in Dublin and with offices in New York, Miami and Singapore, AWAS's fleet has risen from 209 to 240 over the last year. AWAS's portfolio has a very wide mix of types, with no less than 10 narrowbody models and seven widebody types, as well as a variety of freighters.
That portfolio is on lease to more than 90 airlines in 47 countries, with clients that range from easyJet and Air France in Europe to Cathay Pacific and Air China in the Asia/Pacific region.
In its last financial year (the 12 month period ending November 30th 2011), AWAS saw revenue rise 6% to US$777m, with net profit up 12% to $126m, although cash and cash equivalents fell $116m to $685m thanks to fleet expansion. In that 12 month period, 38% of AWAS's lease revenue came from Asia/Pacific clients, followed by European airlines (26%) and North American and Caribbean customers (21%).
In the six month period to the end of May 2012 AWAS says it "continued to focus on prudently growing our platform", during which it completed 35 new lease contract transactions with 21 airlines, while acquiring 26 aircraft and disposing of nine. AWAS has also completed a deal to buy 12 aircraft from GECAS's portfolio, comprising five 737s-800s and seven A320 family aircraft – all of which are placed with customers.
AWAS has currently has 83 aircraft on order, including 18 737s, 63 A320 family aircraft and two A350s.
AWAS is still majority-owned 60% by private equity house Terra Firma, and a fairly good indication of the approach of the peak in the next leasing industry cycle will come when Guy Hands puts the lessor up for sale in order to secure a hefty profit on its investment.
SMBC Aviation Capital
At long last, troubled UK bank RBS — majority owned by the UK state — has managed to sell off its aircraft leasing arm. After a failed attempt in 2010 the process started again last summer, with a whole host of companies expressing initial interest, including Macquarie Aerospace, MC Aviation Partners and Wells Fargo. However, by the end of the year two bidders remained, according to reports: CDB Leasing and Sumitomo Mitsui Banking Corporation (SMBC), perhaps indicating where the serious investment money is to be found in the leasing world at the moment.
SMBC emerged the winner in January this year, paying an estimated $7.3bn, and the deal was closed formally in early June, after which RBS Aviation Capital was renamed as SMBC Aviation Capital. Based in Dublin and with offices in New York, Seattle, Hong Kong, Shanghai, Toulouse, Beijing, Singapore and Tokyo, SMBC owns a fleet of 202 aircraft and manages another 36 aircraft.
Narrowbodies make up most of the owned fleet, including 77 737-800s, 63 A320s, 35 A319s and 11 A321s. Those aircraft have an average age of less than five years. The overall portfolio is valued at more than $8bn and is placed with airlines in more than 40 countries around the globe, with the most important markets continuing to be the Asia/Pacific region (including the "Big Three" Chinese airlines and Europe (where clients include Air France and Ryanair).
On order are 80 aircraft, comprising 35 737s and 45 A320s, and it will be interesting to see whether the new owners provide funds to expand the order book substantially over the next 12 months.
BOC Aviation
Completing the Top 10 lessors and owned by the Bank of China, BOC Aviation has continued its growth, with the portfolio now totalling 188 aircraft, of which 169 are owned and 19 managed.
The owned fleet comprises 78 A320 family aircraft, 67 737NGs, 15 777s and a handful of A330s, 737 Classics, 747s and E190s, and overall the portfolio has an average age of less than four years.
BOC Aviation has its headquarters in Singapore and also has offices in Dublin, London and Seattle, and last year the lessor saw net profit increase 20% to US$201m, with total assets as the end of 2011 totalling US$7.6bn, up by 14% compared with 2010.
BOC also raised US$1.7bn in debt funding last year (of which more than 70% came from Asia/Pacific financial institutions) and this will fund continued growth of BOC's portfolio. In July the lessor agreed a deal to buy and lease back eight A330-300s with International Airlines Group scheduled for delivery from January 2013 through to April 2014, and in addition BOC Aviation's order book currently comprises 48 aircraft, including 10 737s, eight 777s, 25 A320s, two A321s and three A330s.
Macquarie AirFinance
Based in Dublin with offices in Singapore, San Francisco and London, Macquarie AirFinance is part of the finance giant Macquarie Group.
Macquarie owns 134 aircraft and manages another 21, and almost all of the owned portfolio is narrowbodies, including 72 A320 family aircraft and 52 737NGs.
These aircraft are placed with 76 customers in 42 countries, with three main markets accounting for all but 19 of its portfolio – 61 aircraft are placed in Europe (with clients that include Air France, Iberia and Air Berlin), 40 are in the Asia/Pacific region (including Qantas, China Southern and China Eastern), and 35 in the Americas (including United and Southwest).
Excluding BCC, Macquarie AirFinance continues to have the dubious honour of being the largest lessor (held jointly with Aircastle) not to have any Airbus or Boeing aircraft on outstanding order.
Aircastle
Based in Connecticut (and with offices in Dublin and Singapore), Aircastle recorded a 10% rise in revenue in the first six months of 2012, to $337m, but net profit fell 26% to $49m, primarily due to higher interest costs, reduced income from the sale of aircraft and higher depreciation.
During the first six months of 2012 Aircastle acquired 14 aircraft and sold three, and since the last survey (12 months ago) Aircastle's fleet has increased by nine aircraft, to 155, all of which are owned (with a net book value of $4.7bn and an average age of more than 11 years). Of that 155 fleet, 26 aircraft are freighters and 129 are passenger models, of which the vast majority (96) are narrowbodies.
The Aircastle fleet is placed with 67 customers in 36 countries, and just under three-quarters of all aircraft is placed into two markets, with the most important one being Europe, where 69 aircraft are placed, followed by the Asia/Pacific region, where there are 45 aircraft. Nevertheless the single largest customer is US Airways, which leases 11 aircraft, followed by Hainan Airlines with nine and GOL with seven.
Air Lease Corporation
Air Lease Corporation — launched in 2010 by ILFC founder Steven Udvar-Hazy — has continued to grow rapidly over the last 12 months, exactly doubling its portfolio from 65 to 130 aircraft. The Los Angeles-based lessor is fast becoming a major player in the industry, helped by the substantial amount of debt and equity funding it has raised over the last two years, and is highly likely to break into the Top 10 lessors within the next year.
Its ambitions don't stop there though. Air Lease Corporation's intent was clearly demonstrated with a raft of new orders earlier this year. In June the lessor firmed up an earlier MoU with Airbus into an order for 36 A320 Neo family aircraft, of which 20 will A321 models, plus options for another 14 aircraft. Then at Farnborough in July, Air Lease Corporation announced an order for 60 737 MAX 8s, 15 737 MAX 9s and options for another 25 737 MAXs. The order was the first 737 MAX one placed by a lessor, and the aircraft have a list price of $7.2bn.
In total Air Lease Corporation has outstanding orders for a huge 243 new aircraft (giving the largest order book of any lessor), comprising 152 737s, 12 787s, five 777s 48 A320s, 22 A321s and four A330s. They will arrive at the rate of approximately 30 aircraft a year through the rest of the decade.
Air Lease Corporation's current portfolio includes 54 A320 family aircraft, 40 737NGs and 26 E175/190s, and by net book value 40% of the fleet is placed with customers in Europe, closely followed by the Asia/Pacific region (34% of book value). The total portfolio has an average age of just over three years, giving it one of the newest fleets in the entire leasing industry.
In the first six months of 2012 Air Lease Corporation reported revenue of $291 and a net profit of $55m – both figures being substantially up on the corresponding period in 2011.
ORIX Aviation
Dublin-based ORIX Aviation is owned by the Orix Corporation, a Japanese financial services group, and has seen its portfolio increase from 87 to 121 in the last year. The majority of aircraft are narrowbodies, although it has a wide mix of models as well as a spread of older and newer aircraft.
Europe and North America are the largest markets for ORIX, and together they account 50% of placements in the lessor's portfolio.
ORIX does not have any aircraft on outstanding order, but earlier this year the lessor bought a package of four A320s and 29 Boeing Classics from GECAS, while in July ORIX said that it was in discussions to buy and lease back a number of 787s from airlines that had ordered the model.
FLY Leasing
Formerly known as Babcock and Brown Air until 2010, FLY Leasing has seen its portfolio increase from 62 to 111 aircraft in the last year, of which all but eight are narrowbodies, including 49 A320 family aircraft and 39 737s. The jump in the portfolio came from the $1.4bn purchase of 49 aircraft from Global Aviation Asset Management (GAAM), which was completed in October 2011.
Listed on the NYSE, FLY's portfolio has an average age of less than nine years and is placed with 53 airlines in 29 countries. The largest market is Europe, where 48 aircraft are placed with customers that include British Airways, Air France and Turkish Airlines, followed by the Asia/Pacific region, with 32 units (where clients include Qantas, Air China and Hainan Airlines). FLY Leasing also owns 15% of BBAM.
MC Aviation Partners (MCAP)
MC Aviation Partners (MCAP) is based in Tokyo and has offices in Dublin and Los Angeles, and is a subsidiary of giant Japanese conglomerate the Mitsubishi Corporation.
MCAP's 65 employees manage a portfolio that has nudged up slightly in the last 12 months from 100 aircraft to 110, of which 60 are owned and 50 managed for others. The vast majority of aircraft are narrowbodies, including 44 737-800s, 36 A320s and six A321s, and almost two-thirds of its fleet is less than five years' old.
Unsurprisingly MCAP's main focus is the Asia/Pacific region – for example in June the lessor leased five A320s to Jetstar Japan while in July the lessor bought and leased back five new Airbus A320-200s to Tiger Airways. Altogether MCAP has placed 56 aircraft in the Asia/Pacific region, with its second most important market being 'Europe and Africa', where it has 29 aircraft.
Avolon
Yet another lessor based in Dublin, in the two and a half years since launching Avolon has grown its portfolio to 105 aircraft and it remains on target to reach its target of 150 by 2014.
The portfolio comprises 51 A320 family aircraft, 37 737-800s, six A330s, five 777s and six E190s, which are placed with 32 clients in 20 countries. The single largest market is the Asia/Pacific region, where Avolon has 30 aircraft, followed by Europe with 25 aircraft and Latin America with 17 aircraft.
The lessor also has offices in Connecticut, Shanghai and Singapore, and is owned by three private equity funds — Cinven, CVC Capital Partners and Oak Hill Capital Partners — plus the Singaporean sovereign wealth fund GIC.
Avolon has orders outstanding for eight A320s and nine 737s, but the lessor's drive to becoming a major player was shown at Farnborough this year when it revealed new "commitments" for 15 737 MAXs (plus five options), 10 737-800s and 15 A320 Neos (which together have a list price of $3.8bn) — though these are still to be turned into firm orders.
Sumisho Aircraft Asset Management
After expansion in 2010 and early 2011, Sumisho Aircraft Asset Management appears to have deviated from its previously stated plan to reach 150 aircraft by 2014 by adding just one aircraft over the last 12 months. Its fleet of 91 aircraft are placed primarily in Europe, where clients include Iberia (nine A320 family aircraft) and British Airways (seven A320s and a 777). With 12 employees, SAAM is based in Amsterdam and is a subsidiary of Japan's giant Sumitomo Corporation, which employs more than 5,000 in offices around the globe.
Pembroke Group
Pembroke Group is owned by Standard Chartered and has offices in Dublin and Limerick. It has increased its portfolio over the last year from 76 to 84 aircraft, of which 65 are owned and 19 managed on behalf of others. They include a wide mix of models (no less than 18 types), including 25 A320 family aircraft, 36 737s, nine 777s and four 717s. The portfolio is placed with 24 airlines, including Emirates, Cathay Pacific, SIA and AirArabia.
Hong Kong Aviation Capital
Hong Kong Aviation Capital (HKAC) is owned by the HNA Group, Bravia Capital Partners, the Agricultural Bank of China, the China Development Bank and the China Exim Bank, and includes the former portfolio of Sydney-based Allco Finance, bought by the HNA Group in 2010.
Based in Hong Kong and with offices in Dublin, London and Sydney, HKAC has a portfolio of 68 aircraft, including 32 A320s, 10 737-800s and 10 A330s. They are placed with 13 clients, the largest of which is Qantas, with 19 aircraft, followed by Ryanair and Indigo (11 each) and Emirates (eight aircraft).
ICBC Leasing
ICBC Leasing has increased its portfolio again in the last 12 months, and currently has 63 aircraft. Owned by the Industrial and Commercial Bank of China, in autumn 2011 ICBC Leasing announced it was aiming to triple its fleet by 2013, with a target of more than 250 aircraft in that year. Three-quarters of that fleet will be narrowbodies by that date, but in the longer term 737s and A320s will be joined by China's own narrowbody, the 168-190 seat Comac C919, which is currently scheduled to be deliverable from 2016 onwards. ICBC Leasing ordered 45 of the type in September last year, becoming the model's launch customer, and in June this year also placed orders for 39 A320s and three A321s.
Alafco
Though listed on the Kuwait stock exchange, Alafco is 54% owned by the Kuwait Finance House and 11% by Kuwait Airways. It specialises in Sharia-compliant leasing and in the first half of its 2011/12 financial year (the six months ending March 31st 2012) Alafco posted a net profit of US$65m.
It currently owns 48 Airbus and Boeing aircraft and manages another 12 on behalf of various investors. The owned portfolio comprises 27 A320s, 15 737-800s, two 737-900ERs and four 777s, which are placed with 15 customers around the world – though the most important market is the Asia/Pacific region, where 14 aircraft are at China Eastern, China Southern, Go Air, VietJet Air, Malaysian Airlines and Okay Airways. The Middle East is the next most important market — where 13 A320s are leased to Saudi Arabian Airlines and two more of the type are with Royal Jordanian — followed by Europe, with 12 aircraft.
In February Alafco placed an order for another 35 A320 Neo aircraft, bringing to 85 the number of outstanding orders for A320 family aircraft. Also on order are eight 787s and 12 A350s – the lessor is well on the way towards its target of a 100-strong fleet by the end of the decade. ALAFCO also "committed" to 20 737 MAX 8s at Farnborough this year, though as yet they have not been turned into a firm order.
DAE Capital
DAE Capital – the leasing arm of the state's Dubai Aerospace Enterprise (DAE) – has stabilised following the troubles affecting the Dubai economy, the departure of CEO Robert Genise in 2011 and the cancellation of more than 100 outstanding orders.
After refinancing in 2011 its portfolio has crept up by two aircraft over the last 12 months, to 48, and now comprises 15 A320 family aircraft, 11 A330s, 16 737NGs and six 777s, which are leased to 18 customers that include easyJet, Emirates, China Southern, Turkish Airlines and Virgin Blue. It has 10 747s and nine 777s on order.
Jackson Square Aviation
Since being launched at the end of 2009 with funding from Oaktree Capital Management, Jackson Square Aviation has grown rapidly and today owns or manages a portfolio of 46 aircraft. The lessor is based in San Francisco and has other offices in London, Seattle, Miami, Toulouse, Singapore, and — just opened this year — in Beijing. It has a medium-term target of 100 aircraft. However, earlier this year Oaktree hired an advisor to carry out a sale of its stake in the lessor.
Other lessors
SkyWorks Leasing is headquartered in Greenwich, Connecticut, and has a diverse portfolio of 95 aircraft, including widebodies, narrowbodies and regional jets. Among a number of San Francisco-based lessors is Sky Holding, which also has offices in Miami, Tucson and Buenos Aires. It has increased its portfolio by more than a third in the last year and today manages or owns 90 aircraft, leased to customers that include American, Delta, China Eastern and China Southern.
Cargo Aircraft Management is a freighter specialist based in Orlando, Florida, with a portfolio of 78 aircraft that includes 43 767s, 13 727s and five 757s. China's CDB Financial Leasing has increased its fleet by almost 20 aircraft in the last year to a portfolio of 70 widebodies, narrowbodies and regional aircraft. A subsidiary of state-owned China Development Bank, CDB is based in Shenzhen and aims to become one of the leading lessors in the Asia/Pacific region within the next few years.
Guggenheim Aviation Partners operates out of Chicago and is owned by Guggenheim Partners, a financial services company with more than 20 offices around the world. The lessor has seen its portfolio increase by just one aircraft over the last year, to 50 aircraft, split equally between narrowbodies and widebodies.
Volito Aviation Services is based in Malmo, Dublin and Singapore and is owned jointly by Volito Aviation (80%) and Goldman Sachs (20%). It manages a fleet of 47 aircraft, most of which are younger narrowbodies with a customer base that is based largely in Europe, including Air Berlin and TAP Air Portugal.
Miami-based Apollo Aviation Group has a 44-strong portfolio, with a wide mix of aircraft types leased to clients that include Air France, American and Southwest. Amentum Capital is based in Dublin and owned by Germany's HSH Nordbank. Its staff of 14 manages a portfolio of 44 aircraft (slightly up year-on-year), worth an estimated $2bn and on lease to 17 customers, with its single largest clients being TUI (five 737-800s), easyJet (five A319s), Lion Air (four 737-900s) and AeroLogic (four 777s).
Based near Gatwick airport, Aircraft Leasing and Management manages 42 aircraft, including 21 737s and seven A320 family aircraft, all of which are with clients in Europe or the Asia/Pacific region. Dublin-based lessor AerGo Capital also has offices in Chicago, Johannesburg, Nairobi and Santiago de Chile and specialises in older narrowbodies in its fleet of 40 aircraft, almost all of which are 737 Classics and MD-80s.
Moscow lessor VTB-Leasing has a portfolio of 36 aircraft and is part of major Russian finance group VTB Bank, while Jetscape is based in Fort Lauderdale, Florida, and owns or manages 36 aircraft, comprising two A319s, four 737 Classics, two MD-80s, nine E-170s and 19 E-190s, which are placed with 22 customers in 16 countries. Based in Florida and with other offices in the US, UK, Ireland and Singapore, AerSale is a leasing and equipment spares company with an estimated portfolio of 35 aircraft.
Part of Bank America Merrill Lynch, Banc of America Leasing is a general equipment leasing company that has a small aircraft leasing operation. Based in the US and Dublin, Banc of America Leasing has a portfolio of approximately 30 widebody and narrowbody aircraft. Doric Asset Finance is a Frankfurt-based lessor with offices in London and New York. Its portfolio has stayed almost flat over the last year, at 27 aircraft, which are mostly widebodies.
Deucalion Capital is owned by Germany's DVB Bank group and has an estimated portfolio of 25 aircraft, including four A300-600Rs bought in July this year that are currently on lease to Monarch Airlines.
Automatic is a Florida-based lessor with another office in Hamburg. It has recently bought a number of 737s from Lufthansa, and has an estimated 25 aircraft. Novus Aviation is headquartered in Geneva and has an office in Beirut, and currently has a fleet of approximately 25 aircraft, with customers that include Emirates and Air China. It is expanding its portfolio and is concentrating on acquiring mid-life widebodies – in January it bought a new A330, which is leased to Malaysian Airlines, while in May it acquired a new 777-300ER that is now on lease to Emirates.
Listed on the London Stock Exchange but based in Singapore, Avation has an estimated 21 aircraft in its portfolio, and seven more aircraft are due to be added over the next year and a half as part of a contract with Virgin Blue and SkyWest. AAR is an aviation support group based in Chicago with 60 offices across the world. Its leasing arm manages or owns a portfolio of 20 aircraft, all but three of which are 737 family aircraft.
Skytech-AIC is based near Farnborough and manages a fleet of approximately 20 aircraft. Airbus Asset Management has 40 employees and sells or leases used aircraft for the manufacturer, but is nowhere near the scale of its Boeing equivalent with an estimated 20 leased aircraft in its portfolio.
With offices in Dublin and Colorado, GMT Global Republic Aviation is a subsidiary of the US-based Republic Financial Corporation and manages 19 aircraft. Aldus Aviation specialises in Embraer E170/175s and E190/195s, of which the Irish lessor has 19 of the type, with two new E195s being delivered to AZUL Brazilian Airlines earlier this year. Operating out of Australia, Investec Global Aircraft Fund has 19 aircraft and wants to double its fleet over the short-term. VEB-Leasing — owned by Russian bank Vnesheconombank – operates out of Moscow and has 18 aircraft on its books.
Launched in 2006, Dragon Aviation Leasing calls itself "the first true aircraft operating lessor based in China". Based in Beijing, it has 17 aircraft that are on lease to seven airlines, including Juneyao Airlines, Sichuan Airlines and Shandong Airlines. In February this year Dragon raised $40m through an equity issue subscribed to by the existing shareholders — who are the China Aviation Supplies Holding Company (50%), AerCap (25%) and Calyon AirFinance, which is part of Credit Agricole (25%) – as it targets a portfolio of 40 aircraft by 2014.
Based in New York, Deutsche Bank Equipment Leasing has a legacy portfolio of older model A320s, 737s and 757s, which has remained steady at a total of 16 aircraft over the past 12 months. Veling is based in Mauritius and also has a London office, and has 16 widebody aircraft in its portfolio, including seven 777-200s (all on lease to Emirates), four A340-300s and three A310-300Fs. Dublin's Santos Dumont Aircraft Management has a portfolio of 15, most of which are narrowbodies.
Tokyo's Showa Leasing is a general equipment leasing company with a 14-strong aircraft portfolio. Goal is a Munich based lessor that is a joint venture between Lufthansa (which owns 40%) and asset finance company KGAL (60%), though its portfolio has almost halved over the last 12 months to 13 aircraft as it has sold off part of its fleet. The portfolio now comprises A310s, a single A320, CRJs and E195LRs.
Lease Corporation International is headquartered in Dublin and owned by the Libra Group, a Greece-based conglomerate. In January this year LCI appointed a new CEO — Michael Platt, a leasing industry veteran who has worked at Aircastle and ILFC. It has a mixed fleet of 13 aircraft, including eight A330-300s that are leased to Singapore Airlines.
Denmark-based Nordic Aviation Capital also operates out of Ireland, France and Switzerland, and although it is a turboprop lease specialist it also has 12 jet aircraft in its portfolio. Avequis is based in Paris and has 11 aircraft, while Amsterdam based Itochu Airlease is part of the Japanese conglomerate Itochu Corporation and has an estimated portfolio of 10 aircraft.
GA Telesis is an aerospace services company based in Fort Lauderdale, Florida, with nine aircraft in its portfolio, while Global Aviation Leasing is a South African company also with an office in Gibraltar, and has a fleet of approximately nine DC-9/10s. RPK Capital Management, based in Chicago, has an estimated nine aircraft in its portfolio, while Intrepid Aviation is a freighter leasing specialist based in Memphis, Tennessee, with a fleet of four widebodies and with 18 outstanding A330 freighters on order.
AlphaStream Capital Management is based in Switzerland and has an outstanding order for 15 A320 family aircraft, while US-based OH Avion has eight A330-200Fs on order.
THE LESSORS' FLEETS
THE LESSORS' FLEETS
Company
Total
Boeing orders
Airbus orders
Total orders
GECAS
1,710
67
123
190
ILFC
1,030
108
120
228
BBAM
452
13
13
CIT
325
48
89
137
AerCap
292
10
11
21
BCC
272
ACG
245
64
71
135
AWAS
240
18
65
83
SMBC Aviation Capital
238
35
45
80
BOC Aviation
188
18
30
48
Macquarie AirFinance
155
Aircastle
155
Air Lease Corporation
130
169
74
243
ORIX Aviation
121
FLY Leasing
111
MCAP
110
Avolon
105
9
8
17
SkyWorks Leasing
Sumisho
91
Sky Holding
90
Pembroke Group
84
Cargo Aircraft Management
78
CDB Financial Leasing
70
Hong Kong Aviation Capital
68
ICBC Leasing
63
42
42
Alafco
60
8
97
105
Guggenheim
50
DAE Capital
48
19
19
Volito Aviation Services
47
Jackson Square Aviation
46
Apollo Aviation Group
44
THE LESSORS' FLEETS (cont.)
THE LESSORS' FLEETS (cont.)
Company
Total
Boeing orders
Airbus orders
Total orders
Amentum Capital
44
Aircraft Leasing and Management
42
Aergo Capital
40
Jetscape
36
VTB-Leasing
36
AerSale
35
Banc of America Leasing
30
Doric Asset Finance
27
Deucalion Capital
25
Automatic
25
Novus Aviation
25
Avation
21
AAR
20
Skytech-AIC
20
Airbus Asset Management
20
GMT Global
19
Aldus Aviation
19
Investec Global Aicraft Fund
19
VEB-Leasing
18
Dragon Aviation Leasing
17
Deutsche Bank Equipment Leasing
16
Veling
16
Santos Dumont Aircraft Management
15
Showa Leasing
14
Goal
13
Lease Corporation International
13
Nordic Aviation Capital
12
Avequis
11
Itochu Airlease
10
GA Telesis
9
Global Aviation Leasing
9
RPK Capital Management
9
Intrepid Aviation
4
18
18
Alphastream
15
15
OH Avion
8
8
TOTAL
7,502
586
816
1,402