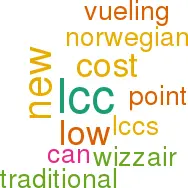 There are only two pure LCCs left in Europe – Ryanair and Wizzair. This was the impression generated at the September World Low Cost Airlines Congress held at London Heathrow. The rest are evolving new models.
easyJet's strong message is that it is courting the business passenger, now comprising 20% of its passenger base. It has redefined low cost to mean "lowest cost to deliver value", which sounds much like what traditional airlines would claim. It has developed new sales channels using GDS, to make certain tickets easier to book and to enhance the brand, as well as introducing new flexible premium fares to target business segments .
easyJet is also moving rapidly to traditional allocated seating – "the death of the scrum". This is partly because the old low rationale for unallocated seating has been undermined: firstly, it didn't necessarily improve turn-around times; secondly, it used to be part of the airport deal (increasing dwell time for easyJet passengers and so increasing airport retail spend).
Vueling has embraced GDS distribution, frequent flyer programmes, transfer traffic (10% of the total) and part ownership by IAG. From its base at Barcelona, it appears to be branding itself as the flag-carrier of Catalonia. Interestingly, the airline was able to quantify the type of fare premium that its product can command against a traditional LCC, but on business-orientated routes only — €140 against €60.
Whether the limited financial success Vueling has achieved so far can be maintained in Spain's stressed economy remains to be seen, and it is slightly disturbing to note that 85% of the capacity that was removed from the market when Spanair went bankrupt has now been replaced. Vueling itself is on the point of announcing a major order, probably for a 100 or so narrowbodies.
There is still, however, a limit to how far Vueling's LCC model can be stretched. That is where the schedule starts to be designed to accommodate connections rather than being optimised for point to point traffic demand and hence aircraft utilisation.
Norwegian is undertaking the most ambitious LCC transformation – taking the European LCC model into the long-haul – a move it thinks will be followed by other LCCs. Norwegian says "it has done the maths" and confidently predicts that with feed from its short-haul network, the seat-kilometre costs of the 787, and astute basing of the Dreamliners (some in Bangkok, for instance), long-haul LCC operations will be the major trend of the next decade. As a reality check, Norwegian net profit in 2011 was $22m and it has seven 787s on order plus 279 737MAXs and A320NEOs.
The last word should perhaps be left to Joszef Varadi, CEO of Wizzair. He said he had no change whatsoever of Wizzair's ultra low cost focus – indeed Wizzair was going to start charging for cabin baggage – and implied that the new LCC strategies would not pay off.