The lessors react to growing fleet flexibility September 2011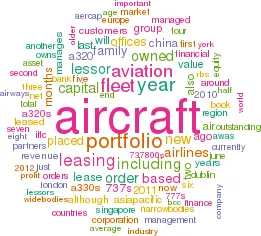 The leasing industry has continued its steady recovery in 2011, with customer demand, lease rates and lease contract lengths all moving in the right direction. That's not to say there aren't massive challenges ahead for the industry, but rather that the doom and gloom that abounded two or three years ago has now largely dispersed.
The good news for the industry is that the deep aviation recession appears to have effected a strategic change in many airlines, in that there has been a conscious decision by many major airlines to retain more flexibility in their fleets – which of course means a larger proportion of leased aircraft.
In previous cycles the rush to leased aircraft in a downturn is usually reversed as the aviation cycle turns upwards, but this time around airlines appear more skittish about fuel prices and the strength of recovery, which may account for a sustained interest in a higher proportion of leased aircraft.
Though accurate figures are notoriously difficult to calculate, the proportion of the global fleet that is leased has risen to around 34%-36%, although this does vary considerably by region, with Europe leading the way with more than 42% of its fleet being leased, followed by the Asia/Pacific region with 38%- 40% and falling to 24%-26% in both the African and North American markets.
On the downside, while traffic is continuing to rebound, the price of oil remains a huge concern to airlines and lessors alike, although this is accelerating the drive to designing and releasing new, more fuel–efficient models from the manufacturers.
Ambiguous reaction to neos
That's both an opportunity and threat to the lessors. While older, classic narrowbodies continue to be retired, it's still too early to say how excited the leasing world will be by the Airbus A320neo programme or Boeing's new 737 MAX family. Some lessors are concerned about the effect the new aircraft will have on the residual values of the existing A320 family, which will be 15% less fuel efficient than the neos. A large swathe of new (non–neo) narrowbody aircraft is due to be delivered over the next 24 month period. About half of the entire narrowbody backlog (3,800 aircraft in total) is scheduled for delivery by 2013, with Asia/Pacific and European airlines accounting for most of these. Similarly, an estimated 42% of the widebody backlog (2,200 aircraft) will be delivered by 2013.
As has occurred many times before in the down cycle, the traumatic market conditions of the last few years have proved ideal opportunities for existing and new lessors backed by deep pockets to pick up cheap assets. The market has even recovered enough for ILFC to join the ranks of those placing new orders, which surely is the surest sign yet that everything is almost back to normal in the leasing industry.
New entrants such as Air Lease, Jackson Square and Avolon are forging ahead with their fleet expansion and have already established themselves as mid–ranking lessors, while new entrants are still emerging, such as Infinity Aviation Capital.
Merger speculation is still doing the rounds in the industry, and after an unsuccessful attempt last year RBS is again trying to offload RBS Aviation Capital — and this time it should succeed in finding a buyer. If Terra Firma could combine RBS Aviation Capital with AWAS that would create the third–largest lessor behind only the "Big Two" of GECAS and ILFC. There is sure to be interest from other potential acquirers, including Macquarie Group, perhaps looking for a second major aircraft acquisition in under two years, but whether the Chinese will be interested is open to doubt. While they have deep pockets, the likes of BOC Aviation are probably more interested in organic growth and slowly expanding their office network and reach outside of the Asia/Pacific region,rather than making a lumpy (and risky) acquisition.
In Aviation Strategy's annual survey of the leasing industry (see tables, pages 7/8), the overall fleet has continued to grow, rising from 7,308 aircraft as of a year ago to 7,352 at present. It's still a very concentrated industry, with the grip of the top 10 lessors tightening further – together they now account for 68% of the total lessor fleet, compared with 67% a year ago. And the Big Two – GECAS and ILFC – together account for no less than 39% of the total lessor fleet (the same proportion as 12 months ago).
However, the outstanding order book has eased back slightly, with new orders from ILFC and others being outstripped by deliveries and cancellations, so that there are currently 1,171 outstanding orders from lessors, compared with 1,189 as of 12 months ago (see Aviation Strategy, September 2010).
GECAS
General Electric Capital Aviation Services (GECAS) has kept its portfolio steady over the last 12 months at 1,530 owned and 300 managed aircraft, but comfortably retains its position as the world's largest lessor, backed by the might of parent company GE, the finance, services and technology conglomerate that employs no fewer than 300,000 people worldwide and has a turnover of more than $150bn.
In the second quarter of 2011 GECAS saw revenue increase by 5% to $1.3bn, with net profit up 11% to $321m. As at June 30th GECAS's assets were valued at $48.8bn, slightly up on the $48.6bn value as 12 months earlier.
The portfolio has an average age of seven years, although by value 47% of the fleet is five years old or less, 33% is aged between six and 10 years, 12% is between 11 and 15 years, while 8% is aged 15 years or more.
Narrowbodies account for 58% of the fleet, with 20% being widebodies, 12% RJs and 10% cargo variants. All but 8% of the narrowbody fleet are A320 family and 737NG aircraft, while the widebody fleet consists largely of A330s, 767s and 777s.
Based in Stamford, Connecticut, and with 24 other offices around world, GECAS's staff of 480 have placed this portfolio with 245 airlines in 75 countries. The US remains the single most important market for GECAS, although its percentage share (as measured by value of the overall fleet) has fallen yet again, to 30% (compared with 32% last year and 47% in 2009), as a result of the lessor's strategy to spread its business (and risk) more evenly through the globe. After the US, the next most important market is Europe (22% of overall fleet value), followed by the Asia/Pacific region (20%), the Americas (13%) and all other markets (15%).
Over the year–to–date GECAS has placed a raft of new orders, including 12 A330s in January, 10 777–300ERs in March, and 60 A320neo family aircraft (available from 2015 onwards at the earliest) as well as eight 777- 300ERs and two 747–8 freighters in June.
GECAS's current order book now stands at 244 aircraft, comprising 94 Boeing aircraft (72 737s, two 747s and 20 777s) and 150 Airbus aircraft (138 A320s and 12 A330s). That's the second year in a row the order book has jumped significantly (it stood at 211 a year ago and 145 in mid–2009) although it is now only marginally ahead of the order book of the other "Big Two" lessor — ILFC.
ILFC
AIG's inability to find a trade buyer or private equity house willing to digest the massive portfolio of International Lease Finance Corporation (ILFC) has forced a strategic rethink, and the latest plan, announced in July, is to carry out an IPO at ILFC, potentially to be completed before the end of the year. A reported 25% of ILFC will be offered at a price of up to $2bn, which if successful will help ease the financial pressures on the company.
In the meantime continued fleet trimming has seen the portfolio fall from 946 owned and 103 managed aircraft as of a year ago (a total of 1,049 units) to 937 owned and 90 managed aircraft as at the end of June (a total of 1,027 aircraft), which have an average age of seven and a half years. The owned fleet has an asset value of $37.7bn, but as the portfolio fleet has contracted so have revenues. In the first six months of 2011 ILFC saw revenue fall by 5% to $2.3bn, although net profit rose from $47.9m in the first six months of 2010 to $146.4m in the first six months of 2011.
At least ILFC is now back in the market for new orders. After a peak in its order book of 360 aircraft in 2004, the total had fallen since then to a low of just over 100 aircraft as of a year ago. However, earlier this year ILFC placed its first order for new aircraft since 2007 — in March the lessor ordered 75 A320neos and 25 A321neos for delivery between 2015 and 2019 (although at the same time it also cancelled an existing order for 10 A380s). In the same month it also placed an order for 33 737–800s, for delivery during 2012 to 2019.
At an estimated value of $7.5bn, these first quarter orders were made possible by a raft of new finance deals and aircraft sales over the past 12 months that have raised $16bn in funding. For example, in March ILFC raised a $1.3bn loan from a consortium of 15 banks globally, although this will be used to repay bank facilities that mature in 2011 and 2012.
The order book now stands at 233 (compared with 115 a year ago), including those 100 recently–ordered A320neo family aircraft, six A350–800s, 14 A350–900s, 39 737s and 74 787s. These will all be delivered in the period through to 2019, and have an aggregated purchase value of $17.6bn.
BBAM
BBAM is a San Francisco–based lessor that manages a fleet of 380 aircraft, valued at approximately $11bn, and placed with clients that include BA, Ryanair and easyJet in Europe, Air China and China Southern in the Asia/Pacific region and United and Delta in the Americas. BBAM has nine other offices around the globe, including London, Dubai, Singapore and Tokyo, and has outstanding orders for 18 737s.
The lessor is 85% is owned by its management, led by CEO Steve Zissis, and 15% by Dublin–based Fly Leasing, which was previously known as Babcock and Brown Air until changing its name in June 2010, and for whom BBAM manages its portfolio of 62 aircraft. The Fly Leasing portfolio consists largely of A320 family aircraft and 737s, with a handful of widebodies, and is placed with 24 airlines globally.
AerCap
Following the merger of Dutch–based AerCap with Genesis Lease last year, its fleet has now grown to 335 owned and managed aircraft, with a total asset value of $9.3bn. The average age of the owned fleet is 5.4 years, which includes A320 family aircraft, 737 NGs and Classics, 757s, MD–80s, MD–11s, A330s and 767s. The lessor has four A330s and 10 737–800s on order.
The portfolio is currently placed with 114 airlines in 49 countries, the majority of which are based in Europe (48 customers, including Air France, easyJet, Aeroflot and Virgin Atlantic), followed by North and South America (30, including United, Southwest and Virgin America), the Asia/Pacific region (29, including JAL, Air China and SIA), the Middle East (five) and Africa (two).
AerCap also has offices in the US, UK, Ireland, China, the UAE and Singapore, and in the first six months of 2011 the lessor saw revenue fall 24% to $727m, though this was due largely to $254m less of revenue from the sale of aircraft in the second quarter of 2011 compared with the same period in 2010. At the net level, profit rose 24% to $103m, and AerCap has considerable cash reserves, amounting to more than $0.5bn as at the end of June 2011. In August AerCap announced a new share repurchase programme, with just under $49m of shares authorised to be bought and cancelled by the end of the year.
In August AerCap agreed a deal to sell its AerTurbine subsidiary to ILFC for $228m, which will be completed by the end of 2011.
Miami–based AerTurbine was bought by AerCap in 2006 and specialises in engine leasing and trading, as well as airframe and engine disassembly. AerCap says the company was bought to help the lessor manage its older aircraft, but now that the proportion of older aircraft in its portfolio has decreased it makes strategic sense to dispose of AerTurbine, with funds raised going to portfolio development.
CIT Aerospace
Part of the CIT Group, CIT Aerospace has a portfolio of 310 narrowbody and widebody aircraft, slightly higher than the 300 aircraft it owned or managed a year ago. They are placed with 120 airlines in 45 countries, and served from CIT Aerospace's New York headquarters as well as offices in Florida, Los Angeles, Dallas, Connecticut, Dublin and Singapore.
The fleet is a mixture of types, from 737s and A320 family aircraft to A310s, A330s, A350s, 747s, 777s and CRJ–100s. CIT Aerospace has 97 aircraft on order, including 44 737s, 10 787s, 25 A320 family aircraft, 13 A330s and five A350s.
Boeing Capital Corporation (BCC)
Boeing Capital Corporation continues its traditional role of providing "last resort" finance for the entire range of Boeing products, from aircraft to space and defence.
Headquartered at Renton, Washington, its 160 employees are also based at offices in Los Angeles, St. Louis, Moscow and Hong Kong. Inthe January to June period of 2011 BCC reported a 9% drop in revenue, to $290m, although net profit rose to $70m compared with $62m in January–June 2010.
As at the end of June 2011 BCC owned 236 aircraft (267 a year ago) and had partial ownership or interest in another 42 (the same as 12 months ago). BCC's total portfolio is worth $4.4bn, a substantial decrease on the $5.3bn value a year earlier (and $6.4bn as of 24 months previously). That's mostly a function of owning fewer aircraft but also partly due to the declining value of the very oldest aircraft, of which BCC has a substantial amount.
Less than 4% of its portfolio by value is in aircraft that were manufactured in 2006 or later, 64% by value are of a 2001–2005 vintage, 20% were made in 1996–2000 and just over 12% manufactured prior to 1996.
That exposure to older aircraft becomes even clearer when looking at individual models — 717s account for 47% of portfolio value(up from 42% a year ago), with the next biggest categories being 757s (15%), 767s (8%) and 737s (8%). Additionally, BCC is highly exposed to a handful of airlines — 77% of the fleet by value is with US carriers, and 61% is with five customers: AirTran, American, Hawaiian, Continental and Korean Air. AirTran Airways alone accounts for 30% of BCC's entire portfolio by value, although its acquisition by Southwest earlier this will be comforting to BCC. Intriguingly, in its latest 10Q filing (for the period April–June 2011), BCC says that in July "Boeing committed to provide financing to a customer for up to 100 737 aircraft for delivery beginning in 2013. Any requirement to fund these commitments could significantly increase our portfolio concentration, although we expect to work with third party financiers to provide alternative financing to this customer."
Aviation Capital Group
Aviation Capital Group (ACG) is part of insurance giant Pacific LifeCorp and is based in Newport Beach, California, with other offices in Seattle, London, Santiago, Shanghai and Singapore – the last of which opened in December.
In the 2010 calendar year ACG saw revenue rise 10% to $650m, although that was due partly to the sale of aircraft, and underlying lease income was up just 2%, to $590m. During the year ACG raised more than $1bn of unsecured debt in order to "improve financial flexibility", and followed this up by selling $750m of senior notes in April of this year. ACG's portfolio of 245 owned or managed aircraft include the A320 family, A330s, 737 (both classic models and NGs), 757s, 767s and freighters, and they are leased to more than 90 customers in 38 countries around the world. ACG continues to hold the third–largest order book of any lessor (after GECAS and ILFC of course), which currently stands at 118 aircraft (56 737s, five 787s and 57 A320s).
RBS Aviation Capital
No longer considered a core asset by parent RBS (83% owned by the UK state), lessor RBS Aviation Capital couldn't find a buyer last year and it was "off the market" until conditions improved – which is now, with RBS announcing in July that it will attempt to sell the leasing aim yet again (and perhaps a move that is made even more urgent by parent RBS's dismal £1.4bn net loss for the first six months of 2011).
With an improving leasing market RBS aims to raise at least £4bn, but that will depend on the strength of demand. Macquarie Group have recently been reported as leading the list of potential bidders, which includes Asian players (specifically the Bank of China) and also Terra Firma, although General Electric is also on an unconfirmed list of companies that have expressed an interest (as reported in the UK press). RBS is keen to get a substantial amount for its leasing arm, but the recent loss at the parent combined with the embarrassment if it couldn't find a buyer yet again may mean that this time around it will be more willing to compromise on the price.
Despite the uncertainty over its future the 90–strong team based at the lessor's head office in Dublin — and other offices in London, New York, Hong Kong, Shanghai, Toulouse, Beijing, Singapore and Tokyo – continue to operate a portfolio of 200 owned and 36 managed aircraft. They are placed with approximately 100 airlines in 38 countries, with the most important markets continuing to be Europe (32 customers, including Air France, British Airways and Lufthansa) and the Asia/Pacific region (30 airlines, including the "Big Three" in China). On order are 90 aircraft, comprising 38 737s, 51 A320s and a single A321.
AWAS
AWAS had a mixed set of results in its latest financial year (the 12 month period ending November 30th 2010), when it recorded lease revenue of $763m, more than 4% down on the previous year (which itself was down 9% year–on–year), thanks largely to the sale of 11 aircraft and lower lease rates on floating rate leases tied to LIBOR. However, it reported a net profit of $112.8m, a significant improvement on the $3.8m net loss it made in the previous financial year (due to a large impairment charge on aircraft values).
Headquartered in Dublin, AWAS also has offices in New York, Miami and Singapore, and its 120 employees manage a portfolio of 209 aircraft, leased to more than 90 customers in 44 countries.
In the last financial year AWAS signed 27 new lease deals with 16 airlines, while receiving another seven new aircraft, all of which were placed with clients. While in 2009 Europe and the Asia/Pacific region were jointly the most important markets for AWAS, each accounting for just over 30% of lease revenue, through 2010 the Asia/Pacific market clearly became the most important for AWAS, now accounting for 36% of revenue, as opposed to 31% from European clients. They are significantly ahead of the next most important market for AWAS – North America and the Caribbean, which provides 19% of lease revenue.
However, as a counter–balance to its dependence on two markets, AWAS has a much lesser dependence on a handful of major clients, with its top five customers accounting for no more than 22% of all revenue in the last financial year.
The average age of the fleet is around eight years, with 56% of the fleet by value being narrowbodies, and 44% widebodies. AWAS has 105 aircraft on order (the fourth–largest lessor order book), including 29 737s, one 787, 73 A320 family aircraft and two A350s.
In order to fund its growth, AWAS has undergone a major round of equity raising in 2011, including $266m from the Canada Pension Plan Investment Board (CPPIB), $246m from Terra Firma and $17m from other investors. Following this round of funding, AWAS is owned 60% by Terra Firma, 25% by CPPIB and 15% by other co–investors. Led by Guy Hands, private equity house Terra Firma is undoubtedly watching the aviation and leasing cycle recovery very carefully as it contemplates the best time to try and crystallise a hefty return on its leasing investment, although an attempt to create even more value by buying and merging with another mid–ranking leasing player cannot be ruled out.
BOC Aviation
BOC Aviation (previously known as Singapore Aircraft Leasing Enterprise – SALE) put in another year of growth over the last 12 months, with an extra 33 aircraft increasing its owned and managed fleet to 175 aircraft.
With an average age of just four years, the portfolio is based heavily on 737NGs and A320 family aircraft, and is placed with more than 40 airlines worldwide.
Based in Singapore, BOC Aviation also has offices in Dublin, London and Seattle, and in 2010 the lessor saw net profit rise 22% to $168m. BOC Aviation is backed by the considerable wealth of owner Bank of China, which has more than US$1 trillion of assets, and which pumped in another US$200m of equity into its aviation leasing arm in December 2010.
Last year BOC Aviation added to its existing order book with eight 777–300ERs and 30 A320 family aircraft, for delivery from 2012 to 2014, and the current total for new aircraft stands at 55, including five 737s, eight 777s, 37 A320s and five A330–200Fs.
Macquarie AirFinance
Macquarie AirFinance — owned 37.5% by Macquarie Bank — is headquartered in Dublin and has other offices in London, Singapore and San Francisco. It owns 135 aircraft and manages another 24, with the owned portfolio being dominated by modern narrowbodies, including 73 A320 family aircraft and 51 737NGs.
The fleet is currently placed with 79 airlines in 44 countries, with Europe providing the majority of customers (33 carriers, ranging from Air Berlin to Vueling), followed by the Asia/Pacific region (20 airlines, including Cathay Pacific, Qantas and China Eastern) and the Americas (17 customers, including Frontier, JetBlue and Southwest). Excluding BCC, Macquarie AirFinance is the largest lessor not to have any aircraft on outstanding order.
Aircastle
Based in Connecticut, Aircastle's fleet has nudged up by seven aircraft in the last 12 months, to 136 aircraft, all of which are owned and which have an average age of just under 11 years. The portfolio has a net book value of $4.1bn and comprises 114 passenger models and 22 freighters. By net book value 32% of the fleet is in new generation narrowbodies, 26% is in A330s, 26% in 747–400 freighters, 8% in 767s and 777s, and 8% in a mixture of other models.Also with offices in Dublin and Singapore, Aircastle's portfolio is placed with 59 airlines in 32 countries, and in the first six months of 2011 Aircastle's revenue rose 18% to $307m, with net profit up 78% to $66m. Improving financials have enabled the lessor to repurchase its own shares, and in June this year $60m worth of shares were bought, with a further purchase of $30m worth authorised in the same month. Aircastle is also looking to make opportunistic portfolio additions though the second half of the year, financed by a combination of cash reserves (which totalled $369m at the end of June) and bond market financing. All but 11 aircraft are leased to clients outside of the US, and by value 44% of the portfolio is placed with European airlines, 24% is in the Asia/Pacific region, 14% in the Middle East/Africa, 10% in North America and 6% in Latin America. The top 10 customers account for 52% of Aircastle's portfolio by total value, and the three largest customers are China Eastern, with 10 aircraft, US Airways (8) and China's NHA Group (8).
So far this year five new A330s have been delivered (and placed on lease, to South African Airways and the HNA Group), and the lessor now has an outstanding order for three A330s, with two arriving in the second half of the year and one in the spring of 2012.
Looking ahead, 24 aircraft have leases that will expire in 2012, and so far seven of these have been renegotiated on lease extensions.
BAe Systems Asset Management
Based in the UK and with offices in the US, Colombia and Malaysia, BAe Systems Asset Management has a portfolio of 112 jets of all types, including MD–80s, 737s, 757s and RJs.
However, this is down substantially on the 148 jets it managed as of a year ago as BAe Systems hasn't regarded the lessor as a core business for some time, and indeed in May BAe Systems announced an agreement to sell the entire leasing unit (both jets and turboprops) to the US–based Fortress Investment Group for $187m. The deal is expected to be completed "by the third quarter of 2011".
MC Aviation Partners (MCAP)
Based in Tokyo and with offices in Dublin and Los Angeles, MC Aviation Partners (MCAP) is part of the giant Mitsubishi Corporation, which employs 60,000 in more than 500 subsidiaries.
MCAP's 65 employees manage a portfolio of 100 aircraft, of which 24 are 737–800s, 19 are 767–300ERs and 15 are A320s. A quarter of its portfolio is less than five years' old, but another 25 aircraft are 15 years or older.
Unsurprisingly, it's most important market is the Asia/Pacific region, where 50 of its aircraft are based. 35 aircraft are with clients in Europe or Africa, with the remainder in North and South America.
Sumisho
Sumisho Aircraft Asset Management is based in Amsterdam and is a subsidiary of Japan's Sumitomo Corporation. It has increased its portfolio by 20 units over the last 12 months to approximately 90, of which most are new generation 737s and 320 family aircraft. SAAM is targeting a fleet of around 150 aircraft over the next three years.
Avolon
Just 18 months after launching, Dublinbased Avolon has grown its fleet to 80 aircraft, comprising 47 A320s, 29 737–900s, three A330s and a single 777. Placed with 21 customers in 16 countries, 34 aircraft currently are with airlines in the Asia/Pacific region, 17 in Europe and 11 in Latin America.
Also with offices in New York, Shanghai, Hong Kong and Connecticut, Avolon appears to be quickly spending the $3bn it raised from debt and equity (including a total of $1.8bn in equity investment from three private equity funds – Cinven, CVC Capital Partners and Oak Hill Capital Partners) as it seeks to build a portfolio close to 150 aircraft and worth $6bn by 2015.
In the short–term Avolon has been carrying out a series of sale and leaseback deals with airlines, but aims to top that up with new aircraft in the medium–term. In December last year it ordered eight A320s, all of which will be delivered in 2014. They add to 12 737s on order that will be delivered between 2012 and 2014.
Pembroke
Irish lessor Pembroke has eased back its portfolio from 111 to 76 aircraft over the last12 months, of which 46 are owned and 30 managed on behalf of others.
They are placed with 24 airlines, including Air China, Emirates, SIA and TUI. Most of Pembroke's fleet are narrowbodies, including 15 A320 family aircraft and 35 737s (including 16 737–700s and 13 737–800s), although it also eight 777s and four A330s. The lessor is owned by Standard Chartered.
Hong Kong Aviation
After the HNA Group — a Chinese state–owned transport and logistics group that also owns Hainan Airline — bought the leasing assets of Sydney–based Allco Finance in early 2010, these were later transferred into Hong Kong Aviation, a partnership between Bravia Capital Partners, the Agricultural Bank of China, the China Development Bank and HNA Group.
With offices also in London and Sydney, Hong Kong Aviation has a portfolio of 70 aircraft, with the majority of aircraft placed with customers in the Asia/Pacific region, including Qantas and Singapore Airlines.
Airplanes Group
Based in Delaware and Jersey (in the Channel Islands), Airplanes Group now has a portfolio of 69 jet aircraft as it continues to slim down its fleet. They are entirely older model aircraft, including 11 MD–83s and 20 737–400s, all of which are at least 18 years' old. Unsurprisingly the lessor says that "the environment is deeply challenging for aircraft of the age and type comprising our portfolio".
The aircraft are leased to an eclectic mix of smaller airlines all around the world, with the largest single market being Russia, where it has placed 12 aircraft. In its 2010/11 financial year (ending March 31st), revenue rose 8% to $226m, although $35m of that came from the sales of assets, including 14 jet aircraft.
Air Lease Corporation
Los Angeles–based Air Lease Corporation — the lessor launched in 2010 by ILFC founder Steven Udvar–Hazy – had $1.3bn in equity funding and $2bn in debt financing under its belt even before it completed an IPO on the New York stock exchange in April this year, which raised gross proceeds of $923m.
In the first six months of this year Air Lease Corporation reported revenue of $130m and a net profit of $10m, but its priority is expansion, and with a substantial amount of financial backing it's no surprise that the lessor is growing rapidly, adding 16 aircraft in the second quarter of 2011 to bring its fleet up to 65 aircraft. The portfolio has an average age of less than four years and comprises 26 A320 family aircraft, five A330s, 29 737NGs, a 767 and four 777s. They are placed with customers all around the world, with the two most important markets being Europe (where 24 aircraft are leased) and the Asia/Pacific region (22 aircraft).
ICBC Leasing
The fleet will reach at least 100 aircraft by the end of 2011, and it has 53 new aircraft on order — 24 A320s, 22 A321s and seven A330s. ICBC Leasing, owned by the Industrial and Commercial Bank of China, is experiencing strong growth and its fleet has risen from 20 to 54 in the last 12 months. Through this year and 2012 ICBC is buying 18 A320s and 737s from Air Berlin, eight of which will be leased back to the German airline, while in March ICBC signed a deal to provide US$8bn in financing to support customers of Bombardier.
Aergo Capital
Aergo Capital is headquartered in Dublin and has other offices in Chicago, Johannesburg, Nairobi and Santiago de Chile. It's a specialist in older narrowbodies, with its portfolio of 53 aircraft comprised largely of classic 737s and MD–80s, leased to clients that include British Airways, South African Airlines and Transaero.
CDB Financial Leasing
CDB Financial Leasing is a subsidiary of state–owned China Development Bank, with some 52 aircraft in its portfolio. It has a strategic agreement with Embraer to finance the sale of its regional jets into China, and in January this year signed a deal to buy and lease 10 E–190s to China Southern, with the first aircraft being delivered in the second half of 2011.
GAAM
Global Aviation Asset Management (GAAM) has headquarters in Sydney and other offices in London and Dublin, and currently has a portfolio of 49 aircraft, of which 23 are A320 family aircraft and 17 are 737s.
They are leased to 23 airlines, including Air France and British Airways in Europe, Qantas, Air China and China Eastern in the Asia/Pacific region and South African Airways and Kenya Airways in Africa.
Guggenheim Aviation Partners
Guggenheim Aviation Partners is part of Guggenheim Partners, a financial services company with 25 offices around the world and more than $80bn of assets under management.
The aviation leasing arm operates out of Chicago and has a portfolio of 49 aircraft worth around $2.7bn, with four aircraft on order — two 777s and two A330s. Guggenheim did have four 747–8Fs on order, but cancelled two in 2010 and the other two in January this year, due to the delays in delivering the variant by Boeing.
Alafco
Kuwaiti lessor Alafco continues to expand, from 34 owned and managed aircraft a year ago to 47 today as it chases a targeted 100- strong fleet by 2015. The current portfolio includes 27 A320s, 14 737–800s, two 737- 900ERs and four 777s.
Those aircraft are placed at 14 airlines, with the most important market – unsurprisingly – being the Middle East, where 18 aircraft are placed. Saudi Arabian Airlines has 13 A320s, though in March the collapse of Kuwaiti customer Wataniya Airways, to which Alafco had three A320s on lease, led the lessor to pursue the airline for US$70m in lease payments it would have received for aircraft that were contracted through to 2017. Elsewhere, Alafco has 14 aircraft in Europe (including five at THY), 11 with Asia/Pacific customers and four 737–800s at Ethiopian Airlines.
In the first half of its 2010/11 financial year (the six months ending March 31st 2011) Alafco posted a 39% rise in revenue to US$92m; Alafco is majority–owned by the Kuwait Finance House and also has a listing on the Kuwait stock exchange.
Alafco has outstanding orders for 33 aircraft – 14 787s, one A320 and 18 A350–900s – although at this year's Paris air show Alafco also signed an MoU for 30 A320neos.
DAE Capital
DAE Capital is the leasing arm of the state's Dubai Aerospace Enterprise (DAE), which has continued to suffer from the troubles affecting the Dubai economy. As a result the leasing subsidiary in is nothing short of turmoil, with its CEO — Robert Genise — leaving his post in the summer in order to "fulfil his desire to be involved in a more entrepreneurial venture", according to the lessor.
Only 12 months ago DAE Capital had outstanding order for a massive 166 aircraft, including 91 from Boeing and 75 Airbus, but earlier this year it cancelled orders for 30 Airbuses and 32 Boeing aircraft, and in July this was followed by the news that it had cancelled a further 34 A320s and 11 A350–900s, completely wiping out its Airbus order book.
Other DAE orders have also disappeared from the outstanding Boeing order book, which now lists just 15 747s and six 777s for DAE Capital – and these outstanding orders must also be in severe doubt.
Unsurprisingly, the cancellation of new aircraft orders has been accompanied by a contraction of the portfolio, which has gone from 67 to 46 owned aircraft in just 12 months. Those aircraft comprise 15 A320 family aircraft, 11 A330s, 16 737NGs and four 777s, which are leased to 19 airlines, including easyJet, Emirates, Eva Air, China Southern and Virgin Blue.
The cancellation of so many orders and the departure of its well–known CEO puts the future of DAE's commercial aircraft leasing subsidiary in severe doubt.
Jackson Square Aviation
Based in San Francisco and with offices in London, Seattle, Miami, Toulouse and Singapore, Jackson Square Aviation was funded with $0.5bn of equity from Oaktree Capital Management at the end of 2009 and added a $400m in secured credit in 2010 and another $220m secured credit facility in June this year, this one underwritten by Norddeutsche Landesbank Girozentrale and UniCredit Bank.
It currently manages a fleet of 30 aircraft and will increase the portfolio to around 70 by 2012, with a longer–term target of 100–plus aircraft.
Waha Capital
Based in Abu Dhabi and majority–owned by the emirate, Waha Capital is a holding company for a variety of finance and infrastructure subsidiaries, including leasing arm Waha Leasing. Waha Capital had also owned 50% of AerVenture, but in late 2010 it restructured its leasing interests in a deal that exchanged that stake, a 40% share in Waha Leasing and US$105m for a 20% equity position in AerCap (which had owned the other 50% of AerVenture). Waha Leasing owns a mixed portfolio of 16 narrowbody and widebody aircraft, which are now managed by AerCap.
Other lessors
Dublin–based ORIX Aviation is owned by the Orix Corporation, a Japanese financial services group, and manages a portfolio of 94 aircraft. Sky Holding is a San Francisco–based lessor that also has offices in Miami, Tucson and Buenos Aires. It manages or owns an estimated 65 aircraft, currently leased to customers that include Spanair, Transaero, American, China Eastern and China Southern. World Star Aviation is a San Franciscobased lessor managing 54 aircraft placed with 30 airlines, including 737s, 747, 757s, MD–80s, 747 freighters and A320s.
Based at Gatwick airport, Aircraft Leasing and Management manages 53 aircraft, the majority of which are narrowbodies, including 23 737s and 10 A320 family aircraft.
Volito Aviation Services and its subsidiary VGS manage a fleet of 50 aircraft out of Malmo and Dublin. A narrowbody specialist, its single largest is Europe, where 25 aircraft are placed with 17 airlines, including two A320s at Air Berlin, three 737–800s at Transavia and two A319s at Meridiana.
Compass Capital is an asset finance company based in San Francisco and with other offices in the US and Singapore that manages or owns 45 narrowbodies and widebodies.
Dublin's Amentum Capital is owned by the HSH Nordbank and manages a fleet of 40 aircraft, including five A319s at easyJet, five 737–800s at TUI and four 737–900s with Lion Air.
Fort Lauderdale–based Jetscape owns or manages 40 aircraft, including seven E–170s, 19 E–190s and eight 737 family aircraft, which are placed with 22 customers in 16 countries.
Chicago–based BCI Aircraft Leasing has eased back its portfolio from 45 aircraft a year ago to 32 at present. SkyWorks Leasing manages an estimated 30 jet aircraft out of its Connecticut office.
Q Aviation operates out of Dublin and Texas, and currently has a fleet of 26 aircraft with an average age of just over seven years.
Three quarters of the fleet are narrowbodies, including 14 A320 family aircraft. AAR is an aviation support group based in Chicago and with 60 offices across the world. Its leasing arm manages or owns a portfolio of 26 aircraft, the majority of which are 737 family aircraft.
Based, in Frankfurt, Doric Asset Finance also operates out of London and New York, and its portfolio has grown yet again in the last year, to 26 aircraft. The majority of these are widebodies, of which 10 are A380s.
Operating out of San Francisco, Vx Capital Partners bought seven aircraft last year – a 737–300, three 737–400s, two 747–300s and an MD–11 – and its fleet now totals 23.
GA Telesis is an aerospace support and maintenance company based in Florida, and with a portfolio of 22 aircraft. Munich–based Goal is owned 40% by Lufthansa and 60% by KG Allgemeine Leasing, and its portfolio has remained steady over the last year, at 22 aircraft, comprising A320s, 737s, A310s, CRJs and Embraer 195LRs.
AerVenture, (now completely owned by AerCap), owns a fleet of 22 A320 family aircraft, and has outstanding orders for another five of the model. First Greenwich Kahala is headquartered in New Jersey and manages or owns 22 aircraft. California's Mitsui Bussan Aerospace is owned by Japan's Matsui & Co and has a fleet of 21 aircraft, which includes the assets of Tombo Aviation.
Deucalion Capital, part of Germany's DVB Bank group, has a portfolio of 21 aircraft, half of which are passenger or freighter widebodies. Automatic is based in Orlando, Florida, and in June this year signed a deal to buy seven 737–500s from Lufthansa in the second half of 2011. It has an estimated 20 aircraft in its fleet.
Global Knafaim Leasing (GKL) is an Israeli lessor based in Tel Aviv, with a fleet of 18 aircraft, while Dublin–based GMT Global Republic Aviation (GMT Global) also has an office in Colorado and owns or manages 18 aircraft, including both narrowbodies and widebodies. Aldus Aviation is an Irish lessor that specialises in Embraer E170/175s and E190/195s, with 16 of the type currently in its portfolio.
Deutsche Bank Equipment Leasing is a New York lessor specialising in older model A320s, 737s and 757s, and has 16 aircraft in its portfolio. With offices in the Mauritius and the UK, Veling has 15 aircraft, including four A340–300s (on lease to Sri Lankan Airlines), three A310–300Fs (with cargo specialist Deccan 360) and six 777–200s (on lease to Emirates).
Munich lessor Bavaria International Aircraft Leasing — owned by German corporate group Schorghuber — has eased back its fleet to 15 aircraft over the last 12 months, all of which are narrowbodies.
Novus Aviation is a Swiss lessor with a 15- strong portfolio, including A320 family aircraft, 737s and 747s, while Skytech-AIC is a British lessor that specialises in widebodies, and owns or manages a fleet of approximately 15 aircraft.
Airbus Asset Management sells and leases aircraft for the manufacturer, with 14 aircraft in its portfolio, while Lease Corporation International has offices in Dublin, London and Singapore, and has a fleet of 13 aircraft.
Sojitz Aircraft Leasing is based in Amsterdam and owned by the Sojitz Corporation, a Japanese conglomerate. It has 12 Boeing aircraft in its portfolio, down from 20 as of a year ago.
Singapore–based Avation obtained a listing on the London stock exchange at the end of 2010 and has 11 aircraft in its portfolio. In January it entered into a contract to lease up to 18 aircraft to Virgin Blue on 10–year leases, starting in the second half of 2011.
China–based Dragon Aviation Leasing has a subsidiary called AerDragon Aviation Partners operating out of Shannon Ireland, and is a joint venture owned 50% by the China Aviation Supplies Import & Export Group Corporation, 25% by AerCap and 25% by Caylon AirFinance. It has received 11 aircraft from an order for 13 A320s.
Itochu Airlease, owned by Japan's Itochu Corporation and based in Amsterdam, has a portfolio of 10 aircraft, while Global Aviation Leasing has offices in Gibraltar and South Africa and has a fleet of nine DC–9/10s and MD–80s. Also with nine aircraft in its portfolio is RPK Capital Management, which is based in Chicago.
Upcoming entrants
Based in New York and Memphis, Intrepid Aviation is a freighter leasing specialist that in June appointed Frank Pray – formerly CEO at AWAS between 2006 and 2010 – as its CEO. It manages three aircraft at present but has 20 A330–200 freighters on order.
AlphaStream Capital Management is based in Switzerland and has an outstanding order for 15 A320 family aircraft.
US–based OH Avion has eight A330–200Fs on order, while US private equity company MatlinPatterson also has six A330–200Fs on order. Based in Dubai, Low-Cost Aircraft Leasing (LCAL) has five 787s on order, while Oak Hill Capital Partners, another US private equity firm, has two 777s on order.
Infinity Aviation Capital was launched this summer in joint venture with Perella Weinberg Partners by a trio of leasing industry veterans — Richard Baudouin (co–founder of Aviation Capital Group), Khawer Ali and Jerrold Rosen. Based in New York, Infinity Aviation Capital has already acquired three 737s–600s on lease to SAS.
THE LESSORS' FLEETS
THE LESSORS' FLEETS
Fleet
Boeing
Airbus
Total
Company
Total
orders
orders
orders
GECAS
1,830
94
150
244
ILFC
1,027
113
120
233
BBAM
380
18
18
AerCap
335
10
4
14
CIT Aerospace
310
54
43
97
Boeing Capital Corporation
278
Aviation Capital Group
245
61
57
118
RBS Aviation Capital
236
38
52
90
AWAS
209
30
75
105
BOC Aviation
175
13
42
55
Macquarie AirFinance
159
Aircastle
136
3
3
BAe Systems Asset Management
112
MC Aviation Partners
100
ORIX Aviation
94
Sumisho Aircraft Asset Management
90
Avolon
80
12
8
20
Pembroke
76
Hong Kong Aviation
70
Airplanes Group
69
Sky Holding
65
Air Lease Corporation
65
53
53
World Star Aviation
54
ICBC Leasing
54
Aergo Capital
53
Aircraft Leasing and Management
53
CDB Financial Leasing
52
Volito Aviation Services/VGS
50
Global Aviation Asset Management
49
Guggenheim
49
2
2
4
Alafco
47
14
19
33
DAE Capital
46
21
21
Compass Capital
45
Amentum Capital
40
Jetscape
40
BCI Aircraft Leasing
32
SkyWorks Leasing
30
THE LESSORS' FLEETS (cont.)
THE LESSORS' FLEETS (cont.)
Fleet
Boeing
Airbus
Total
Company
Total
orders
orders
orders
Jackson Square Aviation
30
Q Aviation
26
AAR
26
Doric Asset Finance
26
Vx Capital Partners
23
GA Telesis
22
Goal
22
AerVenture
22
5
5
First Greenwich Kahala
22
Mitsui Bussan Aerospace
21
Deucalion Capital
21
Automatic
20
Global Knafaim Leasing
18
GMT Global
18
Aldus Aviation
16
Waha Capital
16
Deutsche Bank Equipment Leasing
16
Veling
15
Bavaria
15
Novus Aviation
15
Skytech-AIC
15
Airbus Asset Management
14
Lease Corporation International
13
Sojitz Aircraft Leasing
12
Avation
11
Dragon Aviation Leasing
11
2
2
Itochu Airlease
10
Global Aviation Leasing
9
RPK Capital Management
9
Intrepid Aviation
3
20
20
Alphastream
15
15
OH Avion
8
8
MatlinPatterson
6
6
LCAL
5
5
Oak Hill Capital Partners
2
2
TOTAL
7,352
487
684
1,171